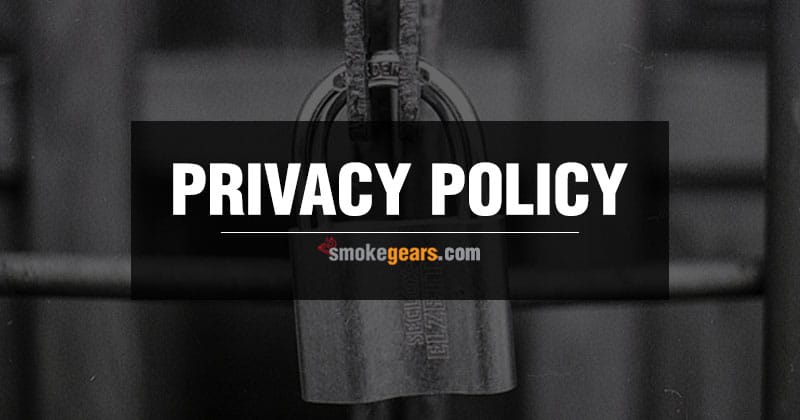 Privacy Policy
smokegears.com is committed to safeguarding your privacy. Contact us at if you have any questions or problems regarding the use of your Personal Data and we will gladly assist you.
By using this site or/and our services, you consent to the Processing of your Personal Data as described in this Privacy Policy.
Personal Data – any information relating to an identified or identifiable natural person.
Processing – any operation or set of operations which is performed on Personal Data or on sets of Personal Data.
Data subject – a natural person whose Personal Data is being Processed.
Child – a natural person under 16 years of age.
Data Protection Principles:
We promise to follow the following data protection principles:
The Data Subject has the following rights:
The information you have provided us with - This might be your e-mail address, name, billing address, home address etc – mainly information that is necessary for delivering you a product/service or to enhance your customer experience with us. We save the information you provide us with in order for you to comment or perform other activities on the website. This information includes, for example, your name and e-mail address.
The information automatically collected about you - This includes information that is automatically stored by cookies and other session tools. For example, it could be your shopping cart information, your IP address, your shopping history (if there is any) etc. This information is used to improve your customer experience. When you use our services or look at the contents of our website, your activities may be logged.
The information from our partners - We gather information from our trusted partners with confirmation that they have legal grounds to share that information with us. This is either information you have provided them directly with or that they have gathered about you on other legal grounds.
Publicly available information - We might gather information about you that is publicly available.
Technical information - In addition, and in order to ensure that each visitor to any of our websites can use and navigate the site effectively, we collect the following:
Comments - When visitors leave comments on the site we collect the data shown in the comments form, and also the visitor's IP address and browser user agent string to help spam detection.
An anonymized string created from your email address (also called a hash) may be provided to the Gravatar service to see if you are using it. The Gravatar service privacy policy is available here: https://automattic.com/privacy/. After approval of your comment, your profile picture is visible to the public in the context of your comment.
Media - If you upload images to the website, you should avoid uploading images with embedded location data (EXIF GPS) included. Visitors to the website can download and extract any location data from images on the website.
Contact forms - We may use contact form submission information to get in touch with you. We do not use the information submitted through contact form for marketing purposes.
Embedded content from other websites - Articles on this site may include embedded content (e.g. videos, images, articles, etc.). Embedded content from other websites behaves in the exact same way as if the visitor has visited the other website.
These websites may collect data about you, use cookies, embed additional third-party tracking, and monitor your interaction with that embedded content, including tracing your interaction with the embedded content if you have an account and are logged in to that website.
We use Google AdSense and Amazon Advertising on our website.
Google, as a third-party vendor, uses cookies to serve ads on our site. Google's use of the DART cookie enables it to serve ads to our users based on previous visits to our site and other sites on the Internet. Users may opt-out of the use of the DART cookie by visiting the Google Ad and Content Network privacy policy.
Our website uses Google AdSense for:
We, along with third-party vendors such as Google use first-party cookies (such as the Google Analytics cookies) and third-party cookies (such as the DoubleClick cookie) or other third-party identifiers together to compile data regarding user interactions with ad impressions and other ad service functions as they relate to our website.
Users can set preferences for how Google advertises to you using the Google Ad Settings page. Alternatively, you can opt out by visiting the Network Advertising Initiative Opt Out page or by using the Google Analytics Opt Out Browser add on.
Occasionally, at our discretion, we may include or offer third-party products or services on our website. These third-party sites have separate and independent privacy policies. We therefore have no responsibility or liability for the content and activities of these linked sites. Nonetheless, we seek to protect the integrity of our site and welcome any feedback about these sites.
How we use your Personal Data:
We use your Personal Data in order to:
As long as you have not informed us otherwise, we consider offering you products/services that are similar or same to your purchasing history/browsing behaviour to be our legitimate interest.
With your consent we Process your Personal Data for the following purposes:
We Process your Personal Data in order to fulfill obligation rising from law and/or use your Personal Data for options provided by law. We reserve the right to anonymize Personal Data gathered and to use any such data. We will use data outside the scope of this Policy only when it is anonymized.
We might process your Personal Data for additional purposes that are not mentioned here, but are compatible with the original purpose for which the data was gathered. To do this, we will ensure that:
We will inform you of any further Processing and purposes.
Who else can access your Personal Data:
We do not share your Personal Data with strangers. Personal Data about you is in some cases provided to our trusted partners in order to either make providing the service to you possible or to enhance your customer experience.
For example, we share your data with:
We only work with Processing partners who are able to ensure an adequate level of protection to your Personal Data. We disclose your Personal Data to third parties or public officials when we are legally obliged to do so. We might disclose your Personal Data to third parties if you have consented to it or if there are other legal grounds for it.
We do our best to keep your Personal Data safe. We use anonymizing and pseudonymizing where suitable. We monitor our systems for possible vulnerabilities and attacks. We do not use vulnerability scanning and/or scanning to PCI standards.
We have what we believe are appropriate security controls in place to protect personal data. We do not, however, have any control over what happens between your device and the boundary of our information infrastructure. You should be aware of the many information security risks that exist and take appropriate steps to safeguard your own information. We accept no liability in respect of breaches that occur beyond our sphere of control.
Even though we try our best we can not guarantee the security of information. However, we promise to notify suitable authorities of data breaches. We will also notify you if there is a threat to your rights or interests. We will do everything we reasonably can to prevent security breaches and to assist authorities should any breaches occur.
If you have an account with us, note that you have to keep your username and password secret.
We do not intend to collect or knowingly collect information from children. We do not target children with our services.
Cookies and other technologies we use:
We use cookies and/or similar technologies to analyze customer behaviour, administer the website, track users' movements, and to collect information about users. This is done in order to personalize and enhance your experience with us.
A cookie is a tiny text file stored on your computer. Cookies store information that is used to help make sites work. Only we can access the cookies created by our website. You can control your cookies at the browser level. Choosing to disable cookies may hinder your use of certain functions.
We use cookies for the following purposes:
For example, if you leave a comment on our site you may opt-in to saving your name, email address and website in cookies. These are for your convenience so that you do not have to fill in your details again when you leave another comment. These cookies will last for one year.
If you have an account and you log in to this site, we will set a temporary cookie to determine if your browser accepts cookies. This cookie contains no personal data and is discarded when you close your browser.
We may also use trusted third-party services that track this information on our behalf.
You can choose to have your computer warn you each time a cookie is being sent, or you can choose to turn off all cookies. You do this through your browser settings. You can also remove cookies stored in your computer via your browser settings.
If you turn cookies off, it won't affect your website experience.
We use Google Analytics to measure traffic on our website. Google has their own Privacy Policy which you can review here. If you'd like to opt out of tracking by Google Analytics, visit the Google Analytics opt-out page.
Changes to this Privacy Policy:
We reserve the right to make changes to this Privacy Policy. Last modification was made May 27, 2018.
Contact Information - 
Concerns or questions about this privacy policy can be directed to support@smokegears.com for further clarification.