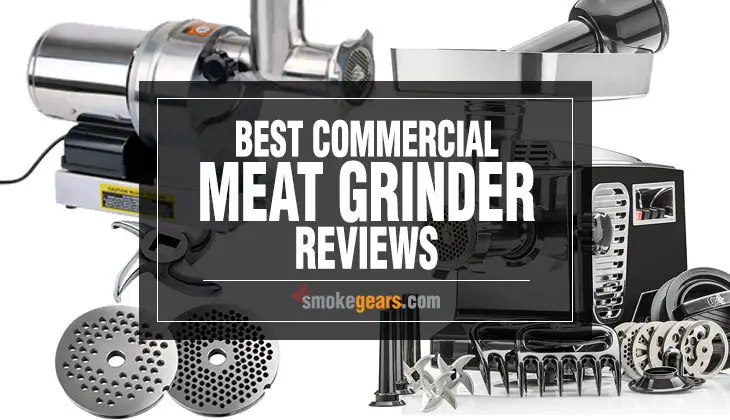 Top 5 Best Commercial Meat Grinder Reviews in 2021
Some of us eat to live, and some of us live so that we can enjoy the delicious foods the world has to offer. It is impressive how one ingredient can be used in different ways to give it an entirely different flavor.
This is possible with spices, protein, vegetables, and what not? You can prepare the meat with different techniques to make a whole new dish. Serrate the meat with a professional knife to make the thinnest slices possible, or the best commercial meat grinder can help you make the softest kebabs in town.
More...
These techniques rely a lot on the tools you are using, and a meat grinder is an important tool for the kitchen. It can open the window to other amazing dishes, as well. So, keep reading to know exactly how this one tool can change your kitchen game.
Capacity: 720 lbs/hour

Dimension: 17x24.8x15.5 in

Type: Electric

Capacity: up to 225 lbs/hour

Dimension: 19 x 8 x 14 in

Type: Electric

Capacity: 1080 lbs/hour

Dimension: 23.8x10.9x18.3

Type: Electric

Capacity: 375 lbs/hour

Dimension: 20.1x16.4x11.4

Type: Electric

Capacity: 1,700 lbs/hour

Dimension: 31.8 x 27 x 16.7

Type: Electric
5 Best Commercial Meat Grinder Reviews For The Money
Whenever something is used for commercial purposes, it usually needs a lot of power and strength. A commercial grinder is also a heavy-duty meat grinder, and you need to know which machine will be suitable for your kitchen. So, to help your research, we have made a list.
Cooking is not just about heating and spicing. It requires a good amount of work for prepping and storing, as well. The same goes for meat grinders, and if you want efficiency in the entire process, then you should keep an eye out for the Weston meat grinder.
This particular machine belongs to the improved proline, which can increase the overall efficiency by 50%. It does so by managing a quicker grind time and dispatching in an organized way on to the storage box. Many other components are working in sync to make this possible.
For example, the 1125 watt motor, which is also air-cooled, plays a monumental role in churning out the meat. It can even crush the bones into small bits allowing you versatility and more options. The air cooler helps the motor stay at optimum range, thus ensuring more run time.
This machine can grind 12 lbs of meat per minute! That makes an average of 720 lbs in an hour, and with that cooling system, you can bet your bottom dollar that it can run for more than 1 hour. There are offset head designs that also assist in high-speed output, and the guard tray makes sure that your hands stay out of the danger zone. There is also a storage stray that holds other accessories needed for the whole process.
The construction of the machine is stainless steel, which means the meat will not be infected from the rust or other dirt particles. The built-in knife sharpener ensures that the entire batch of meat has been evenly chopped, and there are no lumps. You can easily open the machine apart to clean individual parts, as well.
Some of the most useful kitchen utensils are now becoming electric, and you must be wondering if there is a heavy-duty electric meat grinder. Well, your suspicion is not wrong as STX International has its own line of electric meat grinders.
This machine is a beast, and like a beast, it can chop that meat into the smoothest pile you've ever seen. The motor has an impressive output of 2000 watts. With that much power, the machine can easily chop the hardest of meat cuts. The professionals would love the versatility of this machine.
It runs on 120 volts and has the capacity of grinding up to 225 lbs of meat per hour. This number can vary depending on the cut of the meat. However, several plugins make the process even smoother. You will get six different grinding plates, one of which can even make sausage shapes. Kibbe attachments, meat pusher, and meat shredder claws are also available with the set.
This model also offers a food grade aluminum tray that is large enough to hold 3 lbs of meat. Thus, the user will not have to shift trays every 5 minutes. The meat claws are extremely durable and can be used to pick up hot pieces of meat too. This reduces the chances of accidents. Multi-prong claws are also available for carving hot food.
The electric foot pedal is a great addition for users who wants hand free machines. It makes the user more efficient. It also makes preparing sausage so much easier as both your hands are open for use. The machine, in general, is durable as it has an excellent air cooling system.
When food and utensils come to play, it is essential to check whether the machine body and other parts are contamination free. That is why the grinder body also needs to be impeccable. Kitchener manufactures their grinders with caution and top quality material.
The plain stainless steel on the machine will ensure that the outer, as well as the inner parts, stay rust-free. Thus, eliminating every scope of contamination, whether it be prepping, churning, or the dispatching stage. The overall construction is also very user-friendly.
This machine is also electric and runs on an average voltage range. It can churn up to 18 lbs per minute, managing around 1080 lbs every hour. This is the equivalent of 1100 watt output. The motor is also of superior quality and has air-cooled steel gear, which prolongs the motor's life.
The Kitchener also has various safety features. It has waterproof switch systems as the machine is electric, and you will always be around water while in the kitchen. It really is one of the best professional meat grinders. Other safety features include a cooling system and easy assembly and dispatch system so that the user won't cut their hands accidentally.
It also has several accessories to work with. The auger cutting knife really helps in prepping the meat. The model has generously sized pans for holding the meat. It also includes coarse as well as fine cutting and stuffing plates and a meat stomper. You can use all of this in two speeds; forward and reverse.
Commercial kitchens and household kitchens are very different. Your average utensils will not cut it in a professional environment, which is why you will need a commercial-grade meat grinder to work efficiently. For this, Happybuy has the perfect product for you.
One fundamental reason as to why this product is perfect for a professional kitchen is its food-grade safety. Each and every part is made of food-grade material, and with the amount of meat that will be used in this machine, it will not wear down any coating.
Hence, there is absolutely no chance of contamination or fungal attacks. The engine is all copper, which can drastically reduce the noise and improve durability.
It is an electric grinder with 1.5 hp motor that can provide an output of 1100 watt. This means it can crush 450 lbs of meat per hour.
The ground meat is perfectly smooth and malleable and can be turned into a patty, sausage, kebab, or any other thing the chef desires to make. Since it is versatile, it can be used in supermarkets, butcher-shops, and restaurant kitchens.
It comes with a proper ventilation system for dissipating heat properly so that the motor does not get overheated. The maintenance of this machine is also easy as it can be dissembled with ease, and individual parts can be cleaned. The accessories help in dispatching and prepping as well making it an excellent industrial meat grinder.
If you have a smaller kitchen and you want to save some space, then what better way than to combine two different working spaces into one. The Pro-Cut manages to do exactly that to give you more working space.
This machine combines a head table and grinder by eliminating the need to use a washer. Hence, the user can save up on different supplies needed for that purpose and also save space up for another machine. It reduces the maintenance cost of the grinder as well.
The pro-cut has a 1 HP motor that can generate enough power to process at least 1700 lbs of meat per hour. The motor needs 110 volts to function, and that requirement is within the household voltage range.
The machine is user-friendly and can be used in open places and super shops as well. The stainless steel body makes for robust construction and provides more durability to the product. It also helps in the washer-less process. The tin-plated cast iron helps the machine stay sanitary and also resists corrosion.
There are multiple plates and attachments available for the machine, which turn the grinder into a food processor. With this feature, you can jelly, marmalade, salsa, and guacamole.
Maintaining this device is also very easy, as clear instructions are given for each part. The K-22-W and the overall construction of the machine comply with the NSF and UL international standards.
What to Look for Before You Buy a Professional Meat Grinder?
As there are different types of meat and other parts, you will require a different set of claws, trays, and stuffers for grinding. The overall construction might also vary, which is why you need to know more about each segment individually other than commercial meat grinder reviews.
1. Motor
Whether the machine is electric or manual, the motor is very important for the process. The strength of the motor will decide the amount it can work. Generally, manual motors have less strength, and it is a fairly easy component.
An electric motor is more complicated, but they have more strength. Most commonly, a heavy-duty grinder has 1.3 - 1.5 HP motor, which can grind any cut of meat with ease. It is important to keep in check that the motor stays at the optimum temperature for better outcomes.
Depending on the power, the user can decide whether they can grind bones with a meat grinder too.
2. Grinding Amount
As mentioned earlier, manual motors produce less in quantity, but it does not affect the quality of meat. In fact, a manual grinder can work better on small batches of meat. The amount purely depends on the user's strength to rotate the chain to move the motor. At an average, you can grind 4 lbs of meat using a manual grinder.
On the other hand, an electric grinder can produce an output of 12-18 lbs depending on the capacity of the grinder. This improves efficiency in the kitchen, and you can prepare more dishes. However, the satisfaction of thoroughly crushing the meat will be absent.
3. Required Time 
Manual machines do not have any time limit, so you can grind as much as you want provided that your arm doesn't fall off in the process. If you work for an hour, you can crush 240 lbs of meat in one hour, which is not bad for a professional kitchen.
However, a top-rated meat grinder, such as an electric grinder can produce up to 1000 lbs of crushed meat in an hour. Electric grinders can also be more expensive. So, depending on an individual's kitchen workflow, the user can choose the type of grinder he/she will need.
4. Attachments
Different types of attachments really will make or break the deal. There are types of trays that you might overlook, but they do come in handy. The steel plates are an absolute must for chopping the meat into different shapes for making it more malleable.
Metal claws can be used to breakdown the ligaments beforehand and also be used to hold the meat pieces in case they are hot. Some machines also come with a detachable washstand, which makes the workspace compact and portable.
There are sausage rollers and burger patty makers too. So, depending on the user's need, they should look out for attachments they want to work with.
5. Maintenance
Since this machine deals with food, it is absolutely necessary to wash it every time after use and to keep it squeaky clean. However, old fashioned grinders were one piece, and it was impossible to disassemble the machine to clean it thoroughly.
The commercial food grinder available in the market can be opened apart easily and can also be put together. No professionals will be needed. If the machine parts are dishwasher friendly, then it also becomes easier to maintain.
6. Ease of Use
Some machines can be very technical and complicated for no reason. An electric grinder should be easy to use. All you need to do is load the meat, and the claws will automatically shred the meat. A manual machine will need some extra work, but that is also easy. Some electric machines might also have foot pedals.
7. Versatility
Any professional environment always seeks versatility, and if one machine can do two works at a time, then it is always a great benefit. So, even though meat grinders are meant for meat, some machines can also crush bones. Users who have pets at home can use this feature to make pet food.
The heavy duty electric meat grinder can handle any cut of meat, whether it is ribs or loin. It will be more hassle if one machine needs to be dedicated for separate meat cuts. So, if the user wants to save more buck, they should definitely look for versatile grinders.
8. Safety Features
It is always a good idea to make kitchen utensils waterproof, which is why some electric grinders have waterproof switches. The ventilation system also needs to be flawless as the motor can get heated. Some grinders have a patented quad air cooling system built into the motor.
This not only keeps the machine up and running for a longer time but also increases the shelf life of the product. Making sure that assembling and dissembling pose no potential accidents such as cuts and bruises are also taken into account by most manufacturers.
9. Durability
It is essential to check whether the product is in good condition. Otherwise, it can contaminate food. Most grinders made of stainless or copper metal last for a longer time. Using proper voltage settings and giving adequate rest to the machine can also improve its longevity.
Types of Meat Grinders
Industrial meat grinders for sale can be of various kinds, and over the years, manufacturers have introduced new features to such products. Also, your kitchen needs might drastically vary, which is why one type of grinder will not work in every kitchen.
• Manual Grinder
These are usually small and compact grinders which has a central motor system for running the claws. The motor is connected to a lever which protrudes outside of the machine and can be turned by the user. It is a standing machine, and it needs to be placed on a solid flat surface.
There are a meat dispenser and a stuffer that is used to push the meat further into the chute. When it reaches the sharp claws, the meat is shredded, and it comes out of the metal plates in the form of strings. These kinds of machines are suitable for small restaurants or home kitchens where less amount of meat is processed.
• Electric Grinder
Depending on the power generation, electric grinders can be diverse. The voltage, power output, and motor type decide a lot about the total efficiency of the product. Electric grinders are easy to use as both hands can be used for prepping the meat, and in most cases, a meat stuffer is not even necessary.
The primary mechanism is the same, but instead of a lever, the motor generates all the power needed to shred the meat. Electric motors also have a lot of options when it comes to attachments.
There are different speed options, as well. Some manufacturers offer to increase the output by including a foot pedal with electric grinders. You can make sausages and patties with this product.
An electric grinder is more suitable for places where a large quantity of processing is needed. It can also decrease the time requirement.
FAQs: Frequently Asked Questions
Q1. Is stainless steel suitable for meat grinders?
Stainless steel is food grade and will not rust, which is why it cannot contaminate food. So, it is suitable for meat grinders.
Q2. How much meat can be processed using a professional grinder?
If it is manual, it can handle an average of up to 240 lbs. If it is an electric machine, then it can go up to 1000 pounds at an average.
Q3. Is an aluminum tray essential?
Yes, an aluminum tray is necessary to hold the processed meat that is dispatched from the machine. The aluminum material is safe for food.
Q4. Can a meat stuffer help the process?
Yes, the stuffer can help in loading the meat on to the machine quickly.
Q5. Which kind of grinder is the best?
It depends on personal preference, but an electric grinder can give better output, whereas a manual grinder is less expensive.
Q6. Can meat grinders crush bones?
Yes, heavy-duty meat grinders can crush bones.
Final Words: What is fine dining or fast food without a different assortment of meat? You certainly cannot expect to grind that much meat with two hands and a basher. Let the best commercial meat grinder do that for you. Because with a meat grinder in hand, all you need next is a recipe card and your passion for cooking.