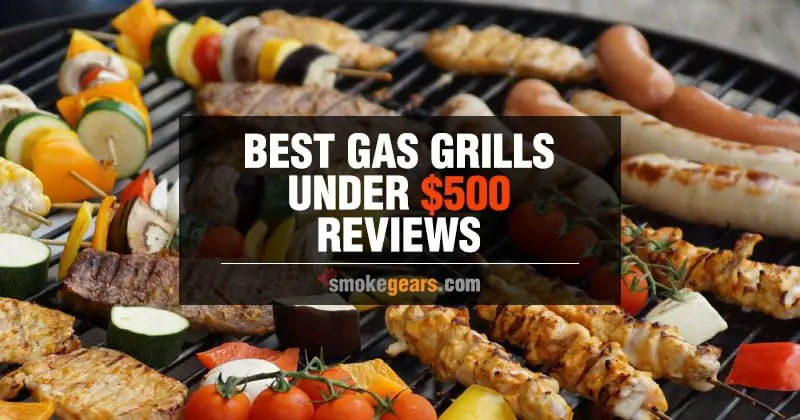 The Best Gas Grills Under $500 Review in 2019
Enjoying grill time with family or friends is one of the most pleasant experiences in life. And when you do it with a quality appliance in your backyard – then this experience gets even better.
But finding a quality grill nowadays can be sort of expensive. Luckily, the best gas grills under $500 are always there so you can get high-quality appliances without spending a fortune.
And that's precisely what we're going to talk about today – cheap gas grills that will make a fantastic grilling experience possible.
Want to learn more about them? Simply scroll and read below.
More...
Our Top 5 Picks for the Best Natural Gas Grill under 500
Surface: 720 sq. inches

Dimension: 62.5 x 22x36 in

BTUs: 60,000

Surface: 360 sq. inches

Dimension:

24.1 x 51.2 x 43.5 inches

BTUs: 30,000

Surface: 462 square-inch

Dimension:

55.5 x 50.2 x 30 inches

BTUs: 21,700

Surface: 340 square-inch

Dimension:

21.9 x 46.1 x 45.7 inches

BTUs: 20,000

Surface: 475 sq. inches

Dimension:

25.8 x 53.1 x 45 inches

BTUs: 36,000
Benefits of Using Best BBQ Grill for the Money
Before learning about the top rated gas grills under 500, let's learn how a gas grill can make your life better. For that, here are four reasons why having a gas grill is a good choice:
• Quicker Cooking
When compared to charcoal grilling, a gas model offers a much faster cooking experience from the ignition to the end result.
You won't have to wait for the charcoal or wood to heat up. And you will have an almost instant flame the starts cooking your food in seconds.
• Faster Cleaning
But similarly to cooking fast, they also cool down quickly. This will make the cleaning process much more practical and less time-consuming than with coal models.
And of course, not having to use charcoal or wood saves the ash-cleaning process that can be pretty annoying. The same happens with burn spots and other similar side effects of cooking with charcoal & wood.
• Better Temp Control
Controlling a gas grill is way easier too. You won't have to use a stick to move the charcoal around, get the grids closer to the charcoal, or eventually add more charcoal if the heat is not enough. Instead, you'll just need to turn the knob to your desired heat level, and that's it.
• Cheaper Overall
While it seems counter-intuitive, gas grills are actually cheaper than charcoal or wood ones. This happens because they save a lot of time, effort, and energy that cooking with other types consumes. And as we all know, all those things eventually translate to a better experience and better use of your money.
Top 10 Best Gas Grills under $500 Review
You went through the benefits of picking a gas grill over any other model – now it is time to learn the best of them out there. Here are ten different models that will provide a fantastic experience under $500.
1. Blackstone 1554 Station 4-Burner Propane 36 inch Outdoor Flat Top Gas Grill
When it comes to the best grills 2019 – few options will deliver the quality of results that you'll get with the Blackstone 1554.
From the practical design to its effective cooking performance – this is a grill you don't want to dismiss.
• Powerful & Effective
The first thing you'll notice is the grilling platform on top. It offers the ability to cook any of your meals from hamburgers to regular meats, vegetables, and even some fries.
But the real advantage comes from the fast ignition using an electric push-button. You won't have to go through the grill to heat up the burners, you just push a button, and that's it.
It has a total cooking output of 60,000 BTU with 4 burners – that's how powerful the grill is.
• Adjustable Cooking
But the cooking is not as simple as it seems. In fact, this appliance comes with 4 adjustable heat zones with the 4 burners.
Each zone will offer the chance to cook a specific type of food with a different heat output than the other 3 zones. This gives tons of adjustability to the grill.
And it gets better with the temp controls, 4 rubber knobs that will make it easy to adjust depending on your needs.
In total, you get 720 square inches of cooking area, so cooking four different meals and tons of food becomes a total piece of cake.
You may also remove the top griddle if needed, for extra adjustments for your cooking.
• Long-Lasting Build
Overall, this appliance will provide a robust capacity that will take your grilling to another level.
It boasts solid stainless steel burners and a thick rolled steel surface. Everything will last a lifetime without problems.
They will also promote a much better heat distribution, so cooking becomes even easier than with any other model.
• Fast Assembly & Handy Design
Finally, this grill doesn't let anyone down when it comes to practicality. Starting from the quick assembly process, you won't have to spend much time or effort doing it.
The ignition process starts in a single push of a button. And the rear and front drain for the grease will make the cleaning effortless.
You can also enjoy the caster wheels with industrial strength. They will add movability to the appliance but will also lock firmly when needed.
How to Seasoning Your Blackstone Griddle Top:
2. Smoke Hollow 205 Stainless Steel TableTop Propane Gas Grill
When a large gas grill doesn't make it, you can go for a small and more portable option like the Smoke Hollow 205.
We can even say that this is the best BBQ grill for the money that you will find out there. And it is also the ideal choice for campers & hikers.
• Ideal Design for Portability
Anyone who loves going for a few days to the beach, forest, or country where there's no way to cook food than with a fire – then a gas grill like this one comes like a perfect choice.
It all comes down to its compact design at only 19 inches long and 32 inches wide. This will fit on almost any truck or large car without problems – so anyone can bring it around.
But the real portability comes from foldable legs may of stainless steel, a locking hood, and its light construction.
• Enough Cooking Area
Despite its small design, this appliance offers 310 square inches of total cooking area. This divides into a 205-square-inch grill and a 105-square-inch warming rack.
You will have enough space for cooking enough food for up to three or four people at the same time.
• Decent Power Output
Another feature that stands out is the power, although it is pretty tiny is the power capacity. You can heat up food using its 10,000 BTUs of power coming directly from the U burner in the bottom.
This will make the cooking process a lot more enjoyable and fast than with any other small model. And with the temperature gauge on top – you can enjoy precise cooking as well.
• Reliable Build
To make it last a lifetime, you can enjoy a high-quality construction made of stainless steel in its entirety. From the drip tray to the grids, the U burner, the exterior, feet, and even the lid handle – everything is made with stainless steel.
You can use this grill for anything and in any place thanks to its build. From the beach to the camp, in a boat or a small cabin in the forest – this is the gas grill you want to go for.
3. Weber Q3200 Liquid Propane Grill
Weber is a brand that takes performance & functionality to a whole new level. And with the Q3200 grill, you'll get one of the best barbecue grills under 500.
If you want a gas grill that goes the extra mile to provide exceptional results, then this is the appliance you're looking for.
• Practical Design & Build
Its fantastic capacity starts with an attractive design that doesn't leave any handiness behind. You can enjoy large grips, easy-to-use temp knobs, and comfy side handles for extra portability if needed.
Then, you'll enjoy front and rear cradles for extra convenience, and a fold-down set of tables so you can place food after/before cooking it.
The entire frame is made of glass-reinforced with nylon that delivers exceptional strength. This gets better with the porcelain-enameled grates made of stainless steel. And with the cast-aluminum body and lid – you can expect no less than superb durability.
• Large Cooking Surface
As for the cooking surface, this is not the largest but also not the smallest grill out there. With 393-square-inches of the cooking area – you can cook enough food for 5 people at the same time.
Then you get small warming areas that offer about 70-square-inches of extra space so you can place already-cooked food when needed.
• Effective Heat Capacity
When it comes to cooking, you will get no less than 21,700 BTUs of power from this grill. That's enough to cook even the hardest of meats into just minutes.
You will also get an infinite control valve that makes adjustability easy. And with the electronic ignition system, turning this grill on will be easier than ABC.
• Excellent Extra Features
With its hugely practical design and astonishing cooking capacity, it also comes with several features that will make it worthwhile to use.
For example, you get a built-in thermometer on top of the lid. Then, you'll enjoy a grill light that makes it easy to cook in dark areas. You will also get 3 hooks for hanging tools, and 2 warming racks on the sides for placing already-cooked foods.
To make it even better, you get a set of sturdy wheels so you can move the cart around if needed. And with the bracket behind the screen on the bottom, installing a propane or gas tank becomes effortless.
4. Char-Broil Performance TRU-Infrared 340 2-Burner Gas Grill
One of the hardest things to get with a gas appliance is receiving consistent heating. Luckily, the Infrared design of the Char-Broil Performance 340 doesn't come any short on that.
It is easily the best natural gas grill with an infrared system – ideal for better cooking results & much more effectiveness.
• Unique Cooking System
The TRU infrared system is one of the most practical things you can have in a gas grill. It reduces flare-ups and makes sure the heat distributes consistently all around the grill for superior results overall.
The appliance still features two stainless steel burners delivering 20,000 BTUs each. This is enough to make any of your favorite meals without having to let anything undercooked or with raw parts.
• Spacious Cooking Area
You will still get enough space to cook any meal without problems. The main cooking area offers 340 square inches of space that fits several pounds of food. And with the additional 125 square inches of cooking for the warming area, you can get top-notch results without letting your food cool down.
• Stylish & Well-Made
The whole appliance comes with an excellent paint that adds a good-looking touch to its design. But what really stands out is now how it looks, but how well it is built.
For example, the stainless steel grates over the burners come with a porcelain coating. This improves the overall effectiveness of cooking while increasing the durability of the product.
On top of that, the lid comes with a stainless steel build as well, the control panel is pretty sturdy, and the stainless steel in the bottom storage shelf adds both convenience & exceptional looks.
• Handy & Easy to Operate
To finish an already fantastic grill, you can enjoy a Surefire electronic ignition that makes starting fires a piece of cake.
To make the burners work, you'll have temperature gauges on top of the lid. And with the control knob, you can adjust the temperature to your liking in just seconds.
The cart design also adds some convenience to the piece, especially with the side shelves for extra storage capacity. And surely, the four casters on the bottom with two boasting a locking mechanism will increase the storage and mobility of the appliance in its entirety.
5. Char-Broil Performance 475 4-Burner Cart Liquid Propane Gas Grill
Offering a slight improvement from its previous design, the Performance 475 series from Char-Broil is much more than a simple gas grill.
The convenience, overall cooking effectiveness, and superb durability it offers are almost unbeatable for the price.
• Excellent Cooking Area
The first thing you'll notice is the large design on the cooking surface. Offering a total of 475 square inches of space, you can enjoy fast & effective cooking for several people without problems.
The appliance also comes with an additional warming rack of 175 square inches, ideal for cooking small or delicate foods – or just keeping them warm.
You can swing-away the warming rack if needed, and with the handy design of the main cooking space, you can enjoy an exciting cooking experience.
• Superb Power Delivery
When it comes to how well it cooks, this grill won't let you down either. The first excellent feature is the addition of 4 burners offering 9,000 BTUs each for a total 36,000 BTUs. You will get enough cooking power for preparing foods for up to 20 people at the same time.
This gets better with the 10,000 BTU Lidded Side burner, so you can prepare delicate foods, sauces, or warm up your meals.
The whole system is easy to use as well, with an electronic ignition that makes starting effortless and 5 different temp knobs in front.
• High-Quality Build
Regarding the durability of the appliance, you'll notice that the cast-iron grates on the burners are of exceptional quality. They come with a porcelain coating for extra rust resistance and top-notch resilience.
Then, you'll find a lid, a control panel, and a handle all made with stainless steel. The metal side shelves also come with metal construction, adding an even more long-lasting effect to the piece.
• Practical Operation & Maintenance
Apart from all its performance-oriented features, this appliance also comes with decent functionality.
The temperature gauge on the lid, the two metal shelves on the side, and its 7-inches wheels all help to get a much handier product overall.
Then, you can enjoy a removable grease pan for easy & fast cleaning and straightforward & light design for excellent mobility.
6. Char-Broil Classic 360 3-Burner Liquid Propane Gas Grill
Char-Broil will never let you down. That's for sure. And the Classic 360 model is among the best buy gas grills you can pick.
With its compact yet practical design as well as its wide array of features – this appliance makes grilling a magnificent experience in its entirety.
• High Grill Power
This is a small grill when compared to other models, but that doesn't mean it will lose cooking power.
Offering 30,000 BTUs of power with its 3 main burners, this appliance cooks even the hardest of foods in no time. But it also provides enough capacity for preparing several dishes at the same time.
But that's not all. You also get an 8,000 BTU side burner that helps to cook sauces and side dishes. You may also use it for warming already cooked foods and the like.
And to make it even better, this burner system comes with a Piezo ignition. This increases the reliability & speed of the grill.
• Convenient Cooking Space
As for space, you get 360 square inches in total. This is enough to cook several burgers and sausages at the same time and still get enough space for some veggies.
On top of that, you get 170 square inches in the side burner. This swing-a-way rack offers the chance to for extra space, so you can place your cooked foods without feeling uncomfortable.
Overall, you can cook food for up to 10 people at the same time – and still get some space left.
• Sturdy Build
The construction of this grill also stays above what you can expect. It boasts three stainless steel burners offering 10,000 BTU each. These are durable enough for superb reliability at all times.
The grates are made of steel and come with a porcelain coating both in the firebox and the lid as well.
• Handy Design
Finally, this appliance comes with casters for moving it around effortlessly, and two metal shelves on the sides – offering enough space for extra storage.
It will provide enough convenience so you can cook without worries and get everything you need at all times.
7. Weber Spirit E330 Lp Black Grill
A great contestant for the best grill under 500 will be the Spirit E330 from Weber. This is a high-quality black grill that works with liquid propane – ideal for excellent energy efficiency.
If you want something that cooks your food in the most effective way possible, then this is the grill to go for.
• Excellent Cooking Area
The first thing you'll notice is the huge cooking space. Despite its seemingly medium-sized design, it manages to offer 424 square inches of cooking area so you can fit tons of food in the main burner. Then, you get 105 on the warming rack. This will give a total of 529 square inches for all your cooking needs.
Everything works really well nonetheless; you'll have the chance to cook any food either on the main grill or in the side burner if needed.
• Top-Notch Power Output
When it comes to delivering excellent results, the 32,000 BTUs of power in the main chamber will make sure that all your foods don't have an inch of rawness.
The sear station or side burner offers 12,000 BTU – and the additional sear station offers a magnificent 7,500 BTU for an outstanding total of 51,500 BTU.
It uses liquid propane still, which is a highly efficient fuel source. This pairs up really well with the infinite control valve for extra practicality, a built-in thermometer in the lid, and an electronic ignition system. Putting it all together makes this grill a total pleasure to cook with.
• Heavy-Duty Construction
You can also rely on this appliance for years, as it boasts cast-iron grids with porcelain enamel. This will increase the overall heat distribution but also prevent rust and heat-related side effects.
The lid also comes with a porcelain coating, along with the cook-box – both with stainless steel construction for extra durability.
They will last several years of use and prevent common issues as well. On top of that, they are easy to clean and will keep you off from worries that other models will not.
• Perfect Convenience Level
Lastly, you can enjoy a handy appliance overall. It all starts with its 2 side tables so you can place utensils and food.
Then, you get 2 casters with swivel, for extra mobility. And with the tool hooks, you can place utensils when not using.
You also get flavorizer bars, a grill cabinet with a painted steel door, and a front-access grease tray for excellent cleaning ease.
8. Dyna-Glo Black & Stainless Premium Grills
In the world of reputable brands for outdoor appliances, few brands offer what Dyna-Glo is capable of. And with the Black & Stainless Premium model – you get the best gas grill under $500 if you want simplicity and exceptional results.
• Extremely Effective Cooking Power
You'll notice that this machine comes with 5 different burners. Four of them are inside the main chamber, delivering 12,000 BTUs each for a total of 48,000 BTUs. This will be enough for cooking all your favorite meals without problems.
Then you can enjoy a side burner of 12,000 BTU, ideal for extra cooking capacity and convenience. This adds up to a total of 60,000 BTU that will make all your grilling experiences much more enjoyable.
Surely, though – you can enjoy an infinity ignition system along with effortless valves settings for secure handling.
• Decent Cooking Area
Along with its outstanding power output, you also get a large cooking area. With a total of 667 square inches, you can also enjoy enough space for placing tons of food without setbacks.
Cooking food for up to ten people will be a piece of cake with this appliance. It will save you the time and effort that small grills do not.
• High-Quality Construction
But we could say with total certainty that the best part of this grill is the high-quality construction overall.
You can enjoy a commercial-grade set of steel burners, heavy-gauge steel tents for protecting the burners, porcelain-coated cast-iron grates, and an enameled warming rack made of steel. In short, you get reliability, durability, and exceptional heat distribution all around.
On top of that, the stainless steel finish makes it easy to clean and maintain – so it is not only durable but also practical.
• Handy & Easy to Use
Now that we're talking about practicality, it is time to go a little deeper – considering the 4 casters for added mobility. You can place it anywhere without problems.
Then, you can enjoy a side burner for warming & cooking fragile foods. This goes really well with the chrome-plated control valves for the 5 different burners.
Finally, you get a temperature gauge and a bottom cabinet with two doors for extra storage.
9. Dyna-Glo DGE Series Propane Grill
Once again with a Dyna-Glo grill but this time using only propane. Yes, this is one of the highest-quality options you can get for a decent cost and with exceptional convenient features.
Yet, there's still a lot more you should know about the DGE Series propane grill.
• Small Design with Huge Cooking Area
The first thing you'll notice is that the grill is not the largest out there. It measures 53 inches in length, 24 inches in width, and only 47 inches in height. You will have the chance to install it anywhere for sure.
Still, what really stands out is the cooking area. Boasting an outstanding 708 square inches space, you can make it work with tons of food and still get exceptional results.
• Long-Lasting Build
The second thing that will attract your attention will be the high-quality construction. This grill boasts a heavy-duty surface with a stainless steel finish. It will look stylish but also provide high resistance against nature's effects.
The grates are also of the highest quality, with stainless steel for extra heat retention and distribution. They will also provide an easier-to-clean experience than its competitors.
And the burners don't stay behind, coming with a commercial-grade construction that will make them last a lifetime.
• Excellent Heat Capacity
A superb construction doesn't work by itself – that's why you need enough power output. Here's where the 50,000 BTUs of total heating capacity get into work – coming directly from 5 different burners in the appliance.
Then, you get 12,000 BTUs that come from the side burner – so it will go the extra mile to provide a handier experience with enough cooking power.
All the burners start with electronic ignition and infinite settings. They are both hugely practical and easy to use.
• Practical Design & Features
To make this fantastic grill an even better choice, you will get a temperature gauge for effortless & precise cooking. With the full storage cart design with two doors compartment, you will get an even more practical option.
Then, you can enjoy a stainless steel burner for more cooking capacity, a stainless thermometer, and a fast-exit design for the propane tank. Putting it all together will deliver a superb product in its entirety.
10. MASTER COOK Outdoor Propane Grills, 4-Bunner Gas Side Bunner
To finish the list, we couldn't forget about the best gas grill under 500 – the Master Cook Outdoor Propane Grill.
With its high heating capacity and its excellent construction overall, cooking your favorite foods is a piece of cake.
• Great Power Output
It all comes down to its 36,000 BTU of heating power. With 4 burners offering 9,000 BTUs each, you can enjoy decent cooking results in no time and with little effort.
The Lidded Side Burner on the side also offers decent power at 12,000 BTU – perfect for practical cooking on the side. You can use it for almost anything that demands high heating power.
Putting it all together, you get 48,000 BTUs of power in total – ideal for exceptional cooking results. And they go really well with the piezo ignition system, for fast flame creation.
• Excellent Cooking Area
It still manages to offer enough cooking space for any meal you want to prepare. In the main chamber, you can enjoy 400 square inches of space. This fits enough food for about 5 to 8 people without problems.
But you also get the small side burner with 118 square inches of space, ideal for placing any pan or pot.
• Unbeatable Build Quality
Everything about this model is of high durability & strength too. The grill lid, for example, comes with stainless steel construction that looks amazing but also delivers decent durability and resilience.
The grates are also made of the highest-quality cast-iron. They will promote an exceptional heat distribution with their retention for swift & effective cooking.
Finally, you get the superb stainless steel burners. These SS tube burners promote consistent performance and increase the overall effectiveness of the cooking.
• Convenient Design & Features
To add even better features to an already fantastic grill, you can consider the 4 casters for mobility, a stable cabinet in the bottom with two doors, and a warming rack on the left side so you can place food after cooking it.
You also get a black-powder in the metal cabinet and a high-quality thermometer that makes temperature reading a piece of cake.
Our Definitive Buying Guide: What you should think about before buying best barbecue grills under 500
Reading some reviews is useful for choosing the ideal gas grill. But there are still many other factors to consider if you want a decent product.

Here's what you should think about before buying:
1. Fuel Options: Propane or Gas?
Propane and gas are clean ways to cook food. But they have a slightly different set of advantages and drawbacks.
For example, gas is highly efficient because it costs way less and produces less CO2 than propane. But on the negative side, gas tends to be harder to find – and it obligatorily demands having a gas line in the installation site for it to work.
For propane, you won't have to worry too much. It takes more than half of the gas grill market, so you will very likely find propane out there without problems. The only issue is that propane is not the cleanest power source. Apart from that, it is also less efficient and durable.
The best natural gas grill under 500 will be your ideal choice if you're in a place where finding propane can be a problem. But overall, propane is the way to go if you want a decently efficient grill that doesn't cost too much.
2. Fuel Versatility
While getting a gas or propane grill is an excellent choice – you can always enjoy having both options for your appliance. This will add even more convenience & versatility to the product.
But this is not easy to find. In fact, most grills that use liquid propane have a specific type of valve and tubing that works at higher temperatures but lower pressure. This will make it harder to get natural gas working on the grill, which can be a huge downside.
But you can still use a natural gas tank in a propane grill – the result just won't be the same. The efficiency will be really low, the power output will lower down, and the overall flames in the appliance will diminish exponentially.
For that, you'll have to look for a conversion system apart. This can be a little expensive and difficult to install but can add further versatility to the product. Most conversion kits are made by the same manufacturers, so you may not need to waste any time looking.
The only issue is that after the time and effort of installing a conversion kit, you won't be able to go back. So be sure you want that versatility unless you don't have any problem committing to changing it later.
3. Power Output: BTU Capacity
This is a vital part of every grill you pick. In fact, we can go as far as to say that this is the most critical factor to think about.
The best BBQ grills under 500 should offer enough power output. It is measured in BTU and goes between 5,000 up to 50,000 or more in some models.
Of course, the more BTU the product has, the better it will be at cooking. So it is crucial to choose one with as much BTUs of power as possible.
Overall, the BTU is a good measure for the cooking effectiveness of any grill. But the real advantage comes from how well-made the product is overall. You can get an excellent grill with tons of BTUs but with a huge design that doesn't match the heating capacity and doesn't distribute heat well enough.
But for practical experience, we recommend going no less than 10,000 BTU if you want decent results. Also, make sure you have at least 5,000 BTU for every 100 square inches of cooking space. Next, we'll explain how that works.
4. Size of Cooking Area
Size is important because it tells you where you can place the appliance. But it also tells you how much cooking area you will have.
The best grills to buy should have a big-enough cooking space so you can place as many foods as necessary and still get decent cooking results.
This space for cooking is usually measured in square inches. The more square inches the appliance has, the larger the area and the more food you'll be able to cook.
Here, we recommend taking all your needs into consideration. Start by what type of grilling you're going to do. If it is just for you, then you don't need more than 200 square inches or even less. But if it is for a small family or group of friends, you'll need at least 400 square inches.
On the other hand, if you're consistently cooking for up to 10 people or more – then you should get nothing smaller than 600 square inches.
The ideal measure would be 60 square inches per person. But you can still fit a little more food as long as the cooking area comes with excellent power output.
5. Overall Dimensions
Sure, the cooking area will make a big difference in how convenient the grill is. But it won't be that handy if the design of the whole appliance is too big or too small.
In this price range, getting a design can be really hard. You are more likely to find tiny models that offer decent cooking space and power output. But with proper research, you can still get an excellent product overall.
The best grill to buy, though, should one that fits in the backyard or porch and that still offers enough space for handling & moving around if needed.
For example, if you're living in a small apartment – you'll want a model with less than 50 inches in width and length. Otherwise, it may end up causing trouble with space.
But if you own a big house with enough space for a gigantic grill – then look no further than the bigger of them all. It is still advisable to pick something that's just large enough and not too much. You may end up with an uncomfortable appliance if you don't take this into account.
6. Type of Ignition
Now that we went over all the design and heating-capacity features, it is time to learn about the ignition system.
This is critical because it makes all the difference between a deficient grill and a perfect one.​
We could say that the easier the grill is to fire up, the much more convenient and enjoyable it will be in the long run. For that, go no further than for electronic ignition systems. You may need to buy some batteries for the grill or just connect it to electricity. But they still offer excellent results.
Other models may come with assisted ignitions directly on the temperature knobs that can also be time-saving. But if you need to fire up the burners directly with a match or lighter – then that's probably a model you want to get away from.
7. Number of Burners
After you pick the right ignition system, it is time you go over the number of burners. This will be essential because they go pretty well depending on the amount of BTU the grill offers and how the heat distribution works.
The best gas grills under $500 will come with no less than 2 burners if you want a decent heat distribution and fast cooking.
Having more burners will also help in getting better control on the grill. If you pick a model with 3 or 4 burners, you will have better heat control and the same amount of temperature knobs, so cooking becomes easier and more precise.
On top of that, you can create all types of heat zones inside the grill. You can set two burners on one side to small flames and the other two to high temps.
This will help you cook more effectively one side than the other, which could be a considerable advantage when cooking different types of food at the same time.
So, if you want even higher versatility and practicality, go for as many burners as possible. Each burner should offer no less than 5,000 BTUs, and you should strive for at least 2 burners per 150 square inches of cooking space.
8. Types of Burners
Even if it looks a little unnecessary, the type of burner is also a vital factor when it comes to overall heating effectiveness.
There are many designs to go for, and talking about them could take an entire article without problems. But to give you an idea, the best gas grills under 500 should come with at least 2 different types of burners.
The first type is the gas burner (U-shaped, L-shaped, or circular). These often go in the main chamber, which helps to cook everything from meats to vegetables and more.
The second type would be the side burner. This is an ideal option if you want extra cooking versatility. They are often similarly powerful to the burners inside the chamber, but these offer an experience closer to a stove – so you can cook anything from sauces to soups, and more.
Then, you'll find the warming rack or searing burner. This is often pretty small and doesn't offer too much power output – so it is better for cooking delicate foods or just keeping them warm.
Lastly, you can find smokers or rotisseries. These are similar to the central chamber, but the heat is not directly on the food as a regular grid. Instead, it cooks a little slower and fills the chamber with smoke or roasting heat to create a unique surface on the meats.
For the best experience, we recommend getting a gas grill with at least 2 of these burners. They all should be made with steel if you want durability & great results.
9. Grates or Grids
The burners are critical to effectiveness, while grills are essential for cleaning & durability. Without the right grids – you may end up wasting more time, effort, and money than with the right ones.
First, make sure the design is perfect for your favorite foods. While this tends to become a problem rarely, in some models, the grid design could make it challenging to place food over. But it should also offer ideal heat distribution.
For that, it should have a small but decent space between each grid. These should be large enough to let the heat come through and pierce the food over the grates.
But the real advantage comes from the material. We recommend stainless steel and cast-iron models with porcelain coatings. Those two will be the perfect ones if you want excellent cooking & durability.
That would make sure that your food cooks well but that the grates also last a lifetime without problems.
To finish, make sure the grids fit well on the appliance, without any flimsiness, and high/low enough for the ideal cooking experience.
10. The Hood or Lid
There's another aspect that many people tend to forget about when choosing a grill. And that is the hood or lid.
The best grill for under 500 should improve how the heat inside distributes and cooks the food. It should have decent insulation and never let a single inch of space for the heat to go out.
Apart from that, you should make sure that the hood is durable and resistant to most problems they tend to suffer from. Cast aluminum and stainless steel are two options we highly recommend. Then you can find cast-iron which is not as durable, resistant or light, but can still make a good choice with the right coating.
To make it short, focus on getting a grill lid that improves the cooking and the handling. That's what you should strive for.
11. Overall Build Quality
The whole construction should also offer enough durability & resistance to outdoor factors like moisture, rain, dust, and debris.
That's why you should go for the highest-quality product possible. We recommend stainless steel construction with powder coatings if possible. But cast-aluminum and cast-iron with coatings may also work really well.
Your focus should be on getting something sturdy and weather-resistant. That would solve most physical problems with grills.
12. Additional Features
There are many other features you may need to consider when buying a gas grill. One of them is probability.
You'll want the grill to be effortless to move around in your backyard or porch. We recommend going for models with wheelies or casters for this advantage. Otherwise, you may want to go for small designs with light constructions if you want mobility.
The best gas grills to buy will also come with other features like extra shelves. These are pretty useful for placing the gas/propane tanks. But you may also like some additional work surfaces like a warming rack or a small table on the side – they always add extra convenience to a grill.
Hooks to hang utensils are also necessary. Another feature to go for is a temperature gauge or thermometer – they make the cooking way more manageable.
Finally, a flavorizer or area to place seasonings and sauces can also add tons of handiness to the product.
If the grill comes with practical features that will make the grilling experience better – don't overlook it.
Tips To Maintain Your Gas Grill
Now that you've learned all about the best grills under 500 – it is time to know a little more about gas grill maintenance. Here are a few factors you may want to consider:
These would be enough to make your cleaning more efficiently. But still, remember that maintenance is all about proper use. So when you're using, keep in mind that you want the grill to last a lifetime and provide practical cooking while it lasts. So don't damage it if you want a long-lasting experience.
FAQs: Frequently Asked Questions
You may have learned a lot about the best grills under $500 already. But there's still a lot more you may don't know. The following section may help you out:
Q1: How many years does a gas grill last?
Any gas grill can last a lifetime without problems. But of course, it all comes down to the use, maintenance, and care of the user. With improper upkeep, a gas grill can last up to a decade or less.
Q2: What kind of food can I cook on a gas grill?
You can cook practically anything except for soups and liquids. From meats to vegetables, fruits, seafood, nuts, and more – you just need to make sure that they are easy to clean and don't fall into the burners.
Q3: Is it safe to use a gas grill on an apartment?
Most grills are specifically designed to be used in an outdoor environment. So, using a gas grill in an apartment can be a bad idea. But placing a grill in a balcony or roofless space can always be a great option.
Q4: Should the flames of the burners come with a specific color?
Yes. The top half of the flame should be yellowish, the bottom part should be bluish, and the part that goes out directly from the burner should be transparent. If the flame pattern is different, then there's probably a problem with the burner, the valves, or the fuel source.
Q5: Can I bring a gas grill to camping or beach trips?
It depends on the size and design of the model you pick. Some small models offer the chance of fast disassembly so you can take them anywhere without problems.
Final Words: In the end, to pick the best gas grills under $500 you'll have to consider all our previous advice, recommendations, and the reviews of the products we talked about.
As long as you do that, choosing a reliable, long-lasting, and an adequate gas grill for your house will be a piece of cake.
What are you waiting for, then? Your next grill is waiting for you. Choose one now!