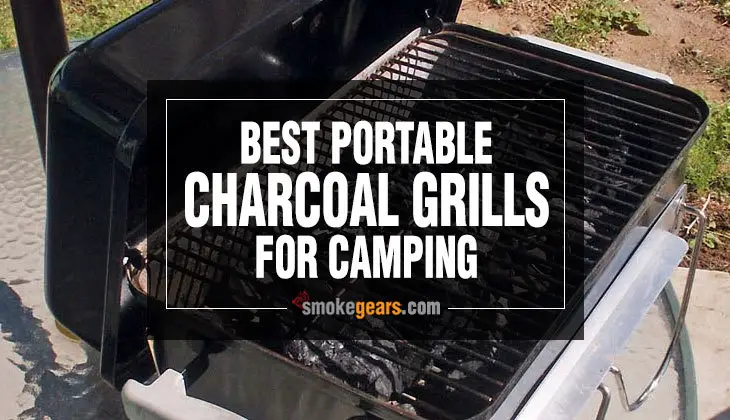 Top 5 Best Portable Charcoal Grills For Camping
When it comes to ease-of-use and convenience, there are nothing better than having the best portable charcoal grills by your side. Apart from the fact that you get to have this go-to grilling machine every time you go camping or a family trip, what sets this thing apart from the rest?
The answer would be the premium food quality and superior grilling performance.
If you are a grill enthusiast, you know the classic taste of that sweet and savory meat is merely exquisite. Only with the usage of a charcoal grill, you can deliver such taste. Then you have the added factor of portability.
So, if you want to gain that experience along with leniency, give this article a look and save yourself a ton of time.
More...
Surface: 363 sq inches

Dimensions: 25 x 22.5 x 39.5 in

Weight: 33.1 pounds

​Style: Outdoor

Surface: 153 sq inches
Dimensions: 19x8.25x10.25 in
Weight: 27 pounds
Style: Hibachi

Surface: 147 sq inches

Dimensions: 15.4 x 15.6 x 9.2 in

Weight: 9.8 pounds

​Style: Outdoor

Surface: 160 sq inches

Dimensions: 12.2 x 21 x 14.5 in

Weight: 14 pounds

Style: Outdoor

Surface: 304 sq inches

Dimensions: 19.75x20.75x27 in

Weight: 75.6 pounds

Style: Outdoor
Benefits and Drawbacks of Charcoal Grill
One of the main reasons people choose to go for charcoal grills is because of the natural cooking experience in provides. The authenticity in that smoky grilled flavor is something everyone desires. So, have a look at some of the most significant advantages and disadvantages of having such a portable grill.
Benefits:
Purchasing a portable charcoal grill has its perks. These are the beneficial factors of having this machinery:
Drawbacks:
Everything has a downside. We often tend to get overlooked by the advantages, whereas we should also be cautious. Here are the drawbacks:
5 Best Portable Charcoal Grill Reviews
Now grilling is a critical task, but what's more difficult is finding the best charcoal portable grill. The reason is the fact that there are so many vintage brands involved. However, after going through a lot of research and tests, we have narrowed down the list down to the five best models available in the market.
Weber, with its strong lineage, is probably the most valuable brand out there in the market. This model hence provides everything that you would expect from a brand like Weber and more.
Firstly, it comes along with a large capacity for cooking space. The 22-inch model consists of approximately 363 square inches. Hence, you'll be able to make multiple steaks and burgers at one go quite quickly.
To keep the consistency and retention of heat, you have got yourself a porcelain-enameled bowl and a 7.5-inch lid. Not only will you get to keep the heat running for a consistent period, but the material will also make sure corrosion infection doesn't take place. Hence, you have got no reason to worry about whether the machine will wear out or not.
Cleaning is probably the most challenging part, especially if you are using a charcoal grill. Things get messy after everything is completed. However, with this model, you will get to clean things up with a single touch.
Moreover, the ash catcher, which takes all the debris and charcoal ash, is entirely rust-resistant. So, you are getting a hassle-free cleaning experience.
For controlling the temperature, durable dampers are inserted. With the usage of these dampers, you will be able to adjust the temperature leniently without having to lift the lid.
Moreover, there is a sturdy steel-plated cooking grate installed. It is a fantastic attribute when it comes to retaining and withstanding heat. These grates are also very easy to clean-up.
To ensure you with complete convenience, the brand has installed dual durable wheels underneath. These wheels are formulated in sturdy materials that will be able to withstand high impacts. Hence, you will be able to move around the grill anywhere around the backyard without having to lift the whole structure.
Here comes a compact-sized charcoal grill that boasts a lot of features that will make your grilling experience easy. It is starting with the fact that the structure of this grill is wholly coated with cast iron. This means you'll be getting superior heat retention when it comes to comparison with other products.
Moreover, if the model is adequately taken care of, the cast iron will make sure it lasts for decades.
Moving on to the capacity of the product, the cooking space involves around 120 square inches. This is more than enough to make a couple of delicious steaks and 4 to 5 grilled burgers at a time. Hence, this is simply the perfect grilling machine for any type of small family gatherings.
The total weighing of the model is approximately 33 pounds. This may be heavy for some people, but because the product is formulated in cast iron, it is quite light in weight. Hence, you won't be facing any strains or fatigue in the long run while carrying the whole thing.
Speaking of carriage, there is an iron handle enabled for more leniency. This will allow you to have a good grip on the grill while you are moving around with it. It is a highly beneficial attribute for those who tend to struggle when it comes to carrying.
So, whether it is tailgating, camping or small picnics, the grill moves anywhere effortlessly.
For temperature adjustments, there is a small sliding vent inserted at the bottom of the structure. Moreover, there is also a front door installed, which will allow you to have access to wood and charcoal. Hence, you will be able to move around and insert more coals in time of need quite easily. Lastly, the grill consists of two different ways to adjust heights.
Another model to make it to this list from the Weber series. This one is as light as they come. Weighing around 9.8 pounds within a measurement of 9 x 15.5 x 15.5-inches. Moreover, there is a steel handle inserted. Hence, you will face absolutely no stress when it comes to carrying the grill.
With porcelain enamel coated throughout the interior and exterior segments of the structure, it is almost impossible for rust to infect. Hence, the product is sure to last for an extended period since a lethal threat has been eliminated.
Additionally, you can also be assured of the fact that you will be able to maintain superior heat distribution because of the materials involved. Also, there is a Tuck N Carry lid lock system inserted, which allows you to carry the structure regardless of the heat because the lid turns into a shield.
Maintenance of heat retention is greatly done through the 4-Hole Vents, which is formulated in aluminum. These dampers make sure you get to have a great hand at controlling the temperature. This feature ensures greater leniency as having control of heat in a charcoal grill is extremely difficult.
There is a 14.5-inch in diameter nickel-plated cooking grate inserted. The grate is coated with heavy-duty steel to make sure they remain sturdy and durable. Corrosion is something that will not attract a cooking grate of such a category.
Moreover, you do not have to go through too much stress, because the cleaning of the cooking grate can be done effortlessly in this model.
The grate consists of offering a cooking space of 147 square inches. This will allow you to cook at least three grilled steaks and more than 5 burgers per usage. Hence, the cooking area is more than enough to provide enjoyable meals for your loved ones.
Furthermore, you will be able to keep this grill on several surfaces with ease due to the stable metal legs.
Weber reigns supreme with the third model in this list. But, what sets this product apart from the rest? Apart from all the several features involved with this machine, the most highlighted attribute would be its compact design.
It is as easy as it gets, and with the added factor of lightweight, which is less than 15 pounds, makes the grill even better.
Let's move on to the other features. Firstly, the foldability. An interesting part of the Go-Anywhere would be this system. The steel-plated legs which are inserted in the bottom for precise placement can be folded to secure the lock.
Then, with the usage of the nylon coated handle, you can easily transport the whole thing anywhere you go, just like a briefcase.
There are two air vents installed at the top of the grill. This allows you to adjust the temperature effortlessly. The dampers are also very easy to control and can even cancel out air circulation altogether, which ensures you with additional leniency.
Hence, from now on, you will be able to achieve the right amount of heat to bring out the best flavor in your food.
The base and lid of the design are entirely porcelain-enameled. This material will ensure the grill does not get affected by rust or wear out over time. Hence, you can expect your product to last for many years to come. Moreover, the enamel greatly assists in temperature regulation by making sure the heat is reflected to the food.
To top it all off, the heavy-duty steel-plated grate are excellent at heat retention. You can easily clean up the cooking grate because the steel material coating isn't that sticky.
Moreover, the grill contains a cooking area of 160 square inches. Such capacity can accommodate multiple hotdogs, burgers, and steaks without even breaking a sweat.
Komodo is one of the most prominent examples in the industry that a great portable charcoal grill doesn't have to be all that lenient in a carriage. To adapt to the current market, Komodo decided to manufacture a product that is lighter than its best-seller ''Joe Classic''.
The ''Joe Jr'' has all components and functionalities of its larger version, but with the added factor of additional convenience.
Let's start with the fact that it consists of a weight which is right under 70 pounds. That is very light in importance when it comes to comparison with the big brother, which is over 200 pounds.
So, you can easily transport the thing wherever you go without having to face many difficulties. Yes, it is heavier than most brands out there, but think about the value you will be attaining.
Cast Iron and ceramic materials have been used to formulate the structure of this charcoal grill. Hence, the model's resiliency and ability to take on high impacts enhances by a large percentage.
Moreover, you are also getting an ash tool attached beneath the grill. This makes your work a lot more lenient because we all know how difficult it is to clean-up charcoal.
The cooking grates are coated with stainless steel, making the whole thing very sturdy. Also, the grates deliver a cooking space of nearly 150 square inches. That is highly reasonable if you are looking to serve exquisite food for multiple people in a gathering.
Since ceramic bodyguards the structure, it will be able to lock in the moisture and heat competently. There is an air vent installed right at the bottom of the structure to have control over the temperature. This plays a vital role because being able to get the right temperature is very crucial when it comes to cleaning.
Moreover, there is a built-in thermometer provided for you to know about the grill's internal temperature.
What Makes a Perfect Portable Charcoal Grill?
You must familiarize yourself with all the features and attributes of a charcoal grill before going for the purchase. Whether you are a professional or a beginner, when it comes to charcoal grilling, there are some specific factors you have to consider before getting yourself the perfect product.
1. Weight of the Model
This is entirely determined by the amount of space you require for cooking. If you are someone who is always on the go and prefers convenience, a lightweight model would be the best option.
Fortunately for you, every model reviewed in this article is lightweight. So, all you have to do is to make a wise decision to achieve greater value.
2. Cooking Grate Diameter/ Cooking Space 
The size will not be playing much of a factor if you are looking to serve steak for two on a romantic getaway, because most portable grills tend to have enough space to serve a couple. However, the real issue arrives when the number of individuals increases, and that is when the importance of cooking space will rise.
Hence, you have to give a really good thought about how much space do you need in the short and long run. Because slight changes in inches can make a massive difference.
3. Materials Used for Production
Factors such as longevity, durability, heat-resistance, and resiliency, all depend on which materials are used to formulate your product. Ceramic, Stainless Steel, and Porcelain Enameled materials are highly recommended. Because these materials have the compatibility to withstand the highest of heat temperature.
Furthermore, it is a must that you go for a product that includes materials which can be easily cleaned. Otherwise, all those factors will not have much value as the residues will claim the better of your grill.
On the other hand, alloy materials are not preferable. Aluminum is considered lightweight, which is beneficial. But, when it comes to taking on heat, an aluminum coating doesn't stand a chance.
4. Legs/Stand
If you are looking to save some cash and also gain stability, you should get yourself a charcoal grill that has legs inserted. But, the factor that you have to consider whether that stand or the legs are durable enough.
It should be formulated to be thick and sturdy steel. Otherwise, there are high chances that the legs will fall off in time, causing severe damages to the machine. Foldable legs are highly beneficial too.
5. Handles and Wheels
When it comes to having a solid grip over your grill, the handles play an essential role. Because, you are already carrying a hefty object regardless of whether your product is lightweight or not, and there is always a potential for the grill to slip from your hands.
A reinforced nylon handle will be the best option if you are looking for an anti-skid grip.
Wheels are there for easy transportation. At a certain point, you will end up getting severe fatigue if carrying is the only option for your grill to move around. Choose wheels that are durable enough to withstand some heavy impacts from the surface.
Otherwise, if the wheels do not last long, you will have to pay an extra amount of cash for new ones.
6. Air Vents
This one is a critical factor. By hook or by crook, you have to ensure that your grill consists of vents or dampers. You will be grilling blindly if you own a product that does not have such features. It is already difficult to gain control of temperature while using a charcoal grill. 
Hence, these dampers or vents provides you with an assist in gaining control over the airflow. Some dampers tend to cancel out the air circulation completely, saving you a ton of charcoal.
7. Additional Features
Ashtrays, temperature gauges, and recipe books are just a few great examples of extra features. Well, they do not affect your cooking directly. But, in terms of convenience, these features take the product to a whole new level. Sometimes, we tend to overlook these attributes until we realize how important they are.
FAQs: Frequently Asked Questions
After going through all that, your head must be spinning with several questions. Have a look at the most popular ones:
Q1. What would be the ideal size in the cooking area for four individuals?
Well, 200 square inches is sufficient enough. But, if you want to be on the safe side, then going for more than 300 square inches would be a great option.
Q2. While using a lighter liquid, what are the safety precautions that should be taken?
There are numerous precautions, but the important ones would be:
Q3. Should vents be closed or opened while cooking?
Answer: Air vents should only be closed when you are trying to extinguish the flame.
Q4. Which factor plays the biggest role in ensuring portability?
Answer: Several factors are involved in the answer to this question. However, the most important role is played by the weight.
Q5. Which surface would be perfect for grilling?
Answer: That solemnly depends on how many people you are serving. If you are grilling for a rave or party, then you'll need a larger surface. But, if it is a small gathering, then a corner of the backyard would be just fine.
Final Words: Overall, we can be assured of the fact that charcoal grilling is an excruciating task. But, if you can do it properly, you know the end result is going to be absolutely delightful. Hence, have the best charcoal portable grill in your arsenal to achieve convenience and ease of accessibility.