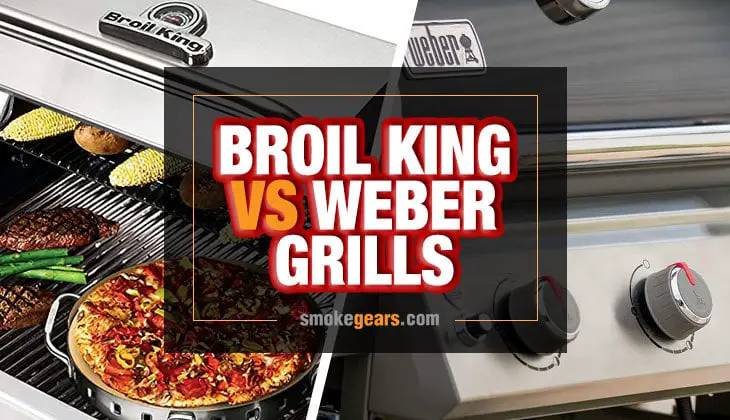 Broil King Vs Weber Grills: Who Comes out on Top?
It is the dream of any grilling enthusiast to work with a grill that excels in its performance; if you are among them, then you would need to have certain criteria in mind before you make a perfect choice.
Broil King is known for equipping its grills with innovative technology that makes it easier for any user, whether it is a pro or a beginner, to have the ability to use and create a fabulous meal for their friends and family.
But if you wish to compare the Broil Kings with any other brands, the only contender that has any scope of standing a chance is the Weber series of gas grills.
More...
Weber is a top-notch brand and makes high-quality grills. Their grills offer quality and durability, a combination that customers look for before purchasing. Therefore, to give you an idea of which popular models from both companies stand a better chance, we compared some below.
Broil King Vs Weber Gas Grills
Let's dive into the debate between Broil King vs. Weber Gas grills, and see how they fare against each other.
Broil King Regal S420 Pro Vs Weber genesis II e310
• Burners and Heat Capacity
The Regal S420 Pro is built with four dual-tube burners with sturdy stainless-steel construction. These burners are potent and have over 120 ports, with eight rows of two-ribbon flame per burner, which provide the grill with an optimal flame height.
Furthermore, the stainless steel Flav-R-Wave cooking system on the Regal provides along with a uniform distribution of heat throughout the gas grill. This feature increases the amount of heat generated by the grill per square inch to about 50,000 BTUs of performance.
Weber has three stainless steel burners that can produce a total of 37,500 BTU of heat. This feature aids the user in cooking comfortably. For reaching an ideal preheat temperature, it takes about eight minutes.
• Cooking Space
The Regal S420 Pro comes with 695 inches of total cooking space, including secondary cooking surface. It has an excellent exterior made out of quality North American steel. The durable storage cabinet comes with stainless steel doors and handles.
On the other hand, Genesis II e310 has a total grilling area of 513 square inches. The two porcelain-coated grates featuring cast-iron gives the user adequate space to cook. Imagine having the ability to put 24 medium-sized hamburgers side by side without any hassle.
• Sturdiness and Built
The Broil King features top-tier stainless steel for many other components while the rest are coated with zinc, and for additional protection, they use epoxy paint. This superior triple coat process provides extensive fortification against rust.
Regal S420 Pro comes equipped with a premium thermometer which presents the exact temperature. The product features cast aluminum end caps that boosts heat retention and durability. More so, the lid comes with a handle and is effortless to lift.
When you are grilling at night, you'll find convenient control knob illumination, creating a stylish look. For people looking to keep all their grilling tools in one place, this has shelves with comfortable condiment bins that feature stainless steel construction.
The Weber Genesis II e310 is a stainless-steel grill that combines the quality construction Weber is known for with the convenience of wide grilling area, heat retention, and even cooking to give you a superior grilling experience.
This product tends to maintain heat consistency, which prevents the meat from drying up. It has a removable central section that makes the grill versatile.
There is a range of accessories that you can use, including the cast iron griddle, ceramic pizza stone, and a poultry roaster. It has an elevation system warming rack, which you can easily fold for storage. Also, you can use it for skewers or kabobs.
Thick-gauge stainless steel makes this grill stand apart from its counterparts. Moreover, porcelain covered hoods enhance heat retention. While cooking, the grill feels stable, and side shelves can comfortably carry any additional cooking equipment.
• Special Features
Broil king stainless steel cooking grids deliver excellent heat retention and long-lasting durability. The heavy gauge rod is about nine-millimeter long. Moreover, The genius design ensures effortless cleaning, and while using it, there would be no difficulties.
Drippings that fall under the flavor-wave are instantly vaporized. The vapor process created through this process infuses back into the food for that unmistakable barbecue flavor.
More so, a deep cook box provides efficient convection style heat circulation to cook larger items like roast or poultry. With this grill, you can roast, slow cook, and even sear the meat in the way you like. The touch control knobs allow you to control the intensity of the flame fully.
Regal S420 pro makes tank change quick and easy with a pull-out tank drawer; it brings your propane tank to you and avoids the strain on your back and shoulders. Also, it has two durable leg levelers that quickly and firmly stabilize on an uneven surface.
With the combination of Broil King's two burners and the Flav-R-Wave cooking system along with the grids, you can quickly get a good sear on high flames.
The Weber Genesis has a robust electronic igniter so that your barbecue lights up at once. It has an efficient grease management system with fat being funneled down through the grill into a removable collection tray.
Broil King Imperial Series Vs Weber Genesis II LX 440
• Burners and Heat Capacity
The Imperial XLS model comes with six top-notch stainless-steel dual tube side ported burners. These burners are potent and assist in providing adequate heat by using 100 ports and more. With two ribbons of flame for each burner, it consists of eight to ten or twelve rows throughout the grill.
Weber Genesis comes with four stainless steel burners which allow you to cook on high settings. They have the combined potential to generate about 52,000 BTUs along with a side burner, which can provide up to 21,000 BTUs.
• Cooking Space
The Imperial XLS has the most massive cooking space by far. It has two independent ovens which account for 1000 square inch cooking area.
Weber Genesis II LX S-440, on the other, has a total cook area of about 844 square inches, which is a little less than that that Broil King. The grill comes with heat deflectors, flavorizer bars, and cooking grates.
Unlike grates of the Imperial XLS, which are nine millimeters thick, Genesis's cooking grates are only that of seven millimeters.
However, it has an adjustable warming rack on top, which has a space of 198 square inches, so you needn't worry about your food that you have kept aside getting cold until the end of the grill session.
• Sturdiness and Built
The Imperial XLS comes with two independent cook boxes, a side burner, a rotisserie with a stainless-steel rod, and a motor. With the side burner, you can cook sauces or any other side dishes while you are grilling.
Furthermore, the rotisserie rod is adjustable. You can easily remove it when you don't need it, which in turn creates more space for grilling. The motor allows a smooth rotation of the rotisserie so that the heat is evenly distributed on the meat.
Users can relish in the fact that there are multiple options available when it comes to the cabinet drawers. You can either choose black powder-coat paint or the standard stainless-steel.
The same goes for the lifting lid as well. Whether you opt for the black porcelain enamel or the usual stainless steel is up to you.
With the push of a button, the control knobs light up, and then open the lid to reveal the built-in oven lights. The right-side shelves open up for even more storage and find all your grilling essentials at hand reach. They come with leg levelers and lock-in casters that comfortably and firmly steady your grill.
For Weber, there is a thermometer that is mounted upon the hood. However, it doesn't give as accurate readings as that of the meat probe. It can only give you an approximation of the internal temperature.
However, the grill is manufactured with iGrill-3 applications, which makes it compatible with any of your mobile devices. It gives you the exact real-time temperature of your meal as it is being cooked.
The control knobs of the Weber series have light features that switch on as you turn the knobs. This particular feature has a more appealing aesthetic when you are grilling in the evening.
Moreover, it has cast-aluminum racks and three tool hooks for your skewers. It also has a pretty efficient grease management system. The Genesis II LX grills have two locking caster wheels at the bottom that prevents the grill from wobbling on uneven surfaces.
Broil King Baron 320 VS Weber Spirit II e-310
• Burners and Heat Capacity
The Broil King Baron offers both versatility and performance in a variety of sizes, both for small and large gatherings of hungry guests. It features three stainless steel dual-tube burners, which provide a total heating output of about 30,000 BTUs, and it heats up both steadily and swiftly.
Furthermore, it also has an additional reliable side burner that has a heating capacity of 10,000 BTU. The rotisserie burner comes with a premium stainless-steel spit rod and a motor that provides full coverage when you are roasting evenly.
Broil king cast iron cooking grids have two sides. You'll find one is optimum for consistent basting, and the other side is perfect for ideal steakhouse sear marks.
All Baron models come with professional-grade cast iron cooking grids. Unsurprisingly, the grids offer incredible heat retention. For locking in more flavor and juices, it also has excellent searing power.
Weber Spirit II e-310 gas grill has three burners with a heating capacity of 32,000 BTUs. The GS4 Grilling system available is meant to provide even heat and superior grease management.
Porcelain-enameled cast-iron cooking grates retain heat for better sear marks and are effortless to clean with a stainless-steel grill brush.
The grill comes with the optional igrill3 digital thermometer along with the bi-metal thermostat present on the hood. There is a digital thermometer that gives a more accurate reading of the temperature of your food.
• Cooking Space
Furthermore, the Broil King has a total cooking area of about 440 square inches, of which the primary cooking area is 330 square inches, and the remainder accounts for the side burner.
The Weber Spirit II e-310 has a 529 square inch cooking area, which is pretty sizable for grilling for any occasion. You can fit twelve burger patties comfortably on its cast-iron grates.
• Sturdiness and Built
Broil King Baron 320 has a substantial body of stainless steel with foldable shelves. It also has Level Q caster wheels that help keep the grill stable.
The firebox of the Weber is solid cast aluminum with an opening at the bottom where a slide-out grease tray is located. Additionally, a removable grease tray makes it easier for you to clean the grill. The ignition system consists of a single igniter and a crossover design to light the middle and right burners.
There is a heat diffuser available in the grill that will mitigate any issues that may arise if you are grilling on a windy day. It has five flavorizer bars that will help distribute heat, sizzle drippings and reduce the accumulation of grease at the bottom.
The Weber Spirit has a unique way of attaching its propane tank; it has a beautiful side mount that you can use. This feature makes sure that it is out of your way when you are cooking and also is safely secured in place. At the same time, it allows you to check the fuel gauge to see how much fuel is left.
A sleek open-cart design on the Weber Spirit provides additional room and accessibility for grilling tools and accessories. The Spirit II gas grill features a left-side table that conveniently folds down for smaller spaces.
Who Comes out on Top?
As it has become evident, it is quite challenging to announce whether one prevails over another. Each model has its unique features and advantages that aims at making the grilling experience as enjoyable and easy-going for you.
At the end of the day, it boils down to what criteria or range of features matter the most to you. So, if you choose the Broil King over the Weber series or vice versa, you cannot go wrong either way.
Both grills offer versatile applications. If you want to narrow down your choices, understand what you want. We hope our discussion of Broil King vs Weber Gas Grills comes in handy for you.