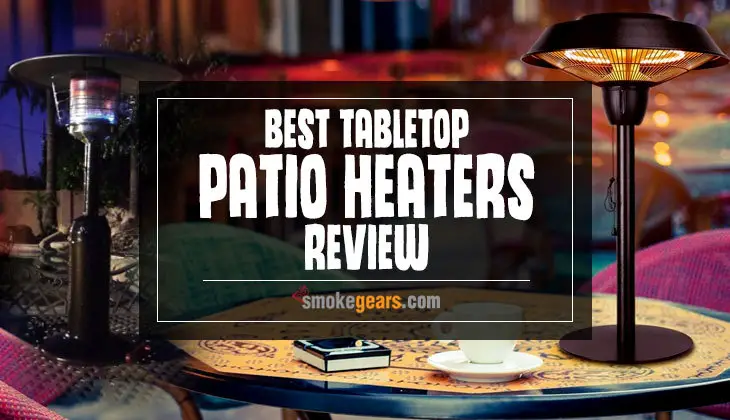 Best Tabletop Patio Heaters Review in 2021 [Propane and Electric]
Barbecuing with friends and family on warm, sunny days is always a rewarding experience but what about on colder days? Be it the middle of winter or a chilly summer evening, cold weather can really dampen the mood with an outdoor barbecue.
While the option to eat inside remains, all your barbecue equipment is outside, and it's not the same to barbecue without friends and family around; they are sitting inside while you're out in the cold cooking, it's not fun for anyone.
More...
For many cooks, the answer to the cold lies in outdoor heaters! Regardless of the weather, an outdoor heater ensures your family and friends are nice and toasty.
| | | | | | | | |
| --- | --- | --- | --- | --- | --- | --- | --- |
| | | | | | | | |
| | | | | | | | |
| | | | | | | | |
| | | | Steel, Aluminum, Plastic, Glass | | | | |
Top 4 Best Tabletop Patio Heater Reviews
In this section we are going to talk about four best tabletop outdoor heaters for your indoor and outdoor table. There are 2 fuel types of the patio heater on the market. We are writing both propane gas and electric heaters review for you.
Best Tabletop Propane Patio Heaters:
Fire Sense is one of our favorite brands and is right up there with Napoleon when it comes to tabletop heating. With the 61322, the first thing to mention is that it comes in two colors. Bronze, which we have, and stainless steel.
There is no difference between the stainless steel or bronze, but the bronze fits our patio better.
The 61322 is as reliable as every other Fire Sense heater we've used. The heater is powered by a one-pound propane bottle that fits nice and discretely inside the base. The propane bottle also adds extra stability, although this model was pretty stable even without it. The construction is very solid and there didn't seem to be anything flimsy.
How about the output? Advertised as having a BTU of 10,000 and heating an area of one hundred square feet, our test saw the heater do just that. It provided a nice range of heat around the table we had it placed on, making it perfect for barbecues during cold days.
Of course, the output of heat is adjustable with a dial on the front so no need to worry about it being turned on at full heat.
Speaking of, we tested the safety a bit. As advertised, there is an anti-tilt feature, but we were more impressed with the included burner guard. It's nice to see these tabletop heaters coming with burner guards.
As for stability, which we mentioned earlier, the 61322 is a very stable heater so unless you live in an area that has 40 MPH wind, not much is going to knock this heater over.
Overall, the Fire Sense 61322 is a fantastic heater that provides a good output of heat for the one pound of propane required. If you need it running longer, you can always use a hose to hook it up to a bigger tank.
The Legacy Heating brand isn't a brand we've worked much with, but hearing the good reviews on their large heaters we picked up their table-top heater to try out. While we were a bit concerned with the price being low, we were pleasantly surprised by how well it worked. The two colors are steel, which we chose as a contrast to the Fire Sense heater, and Mocha; a kind of bronze-like color.
The design of this heater is similar to the Fire Sense heater, where the one-pound propane tank fits in the housing. Standing in at 38-inches tall, this heater is quite sturdy even with the height. The advertisement says a stability plate is added as a caution, and we can believe it! The heater is solidly constructed, and we're very pleased with the look and feel.
So, what about heat? Providing 11,000 BTU we found that this heater has a range of one hundred and twenty square feet. Which, again, we were pleasantly surprised with. This provides a wonderful diameter of heat that extends past the table. And needing only one pound of propane, and being cheap to boot, getting two wouldn't be a bad idea.
For safety, an anti-tilt feature is included, and we have burner guards once again. Burner guards always seem to be a sign of a good quality product, and as mentioned, the heater is really solid. You can use a hose to connect this heater to a larger propane tank if need be.
Best Tabletop Electric Patio Heaters:
To be quite honest, we were rather hesitant to try out electric heaters. We always hear stories on how they don't work like a propane heater. The first electric heater we tested was the Hiland HIL-1821 and while we honestly prefer propane heaters more. The HIL-1821 is a great heater! Unlike the other heaters we reviewed, it only came in one color; silver.
For design, it would be easier to just say this heater looks like a lamp. Given it's electric, that shouldn't be too much of a surprise. This heater stands in at 38 inches tall and is very easy to use. Just plug it in and turn it on.
It's 1500 watts, so it doesn't eat up the electricity bill too much, and comes with a 96-inch power cord. So, it has a pretty long reach. 
For heating, no BTU was given but the advertisement said it could heat up to fifty square feet. A smaller range compared to a propane heater, but unlike a propane heater, it can be used indoors.
The heater's construction is sturdy and it didn't look to us that it would fall over anytime soon. Thankfully, a burner guard was built into the heater. Even if it doesn't use a flame, a heater guard never goes amass.
Other safety features include an anti-tilt function and are certified as waterproof. The doomed hood forces water away from the heat source. So, it can survive a drizzle, but we wouldn't recommend keeping it outside during a storm, however.
The last heater has the shortest range of any heater yet, at only twelve square feet and with a BTU of 5100. However, it came in the most finishes including Black, Sandy Black, Hammered Bronze BT and CT.
We went with the Hammered Bronze CT ourselves, given the HIL-1821 was silver, and we like to have a contrast of heater colors.
While not providing the most amount of heat, the 1566-CT is still sturdy in construction. The usual protection measures are included such as the anti-tilt protection, waterproof, and a burner guard.
Like the HIL-1821 it uses 1500 watts, but the advertisement says the light inside can run for over eight thousand hours before needing replacement. We weren't able to test this out, but we're not going to say they're wrong either. 
This heater, we feel, works for smaller tables. If you're having a romantic barbecue, you'll want this heater. Because it's electric, it can be used inside and provides a good amount of heat.
So, replacing a lamp with this heater during colder months doesn't seem like a bad idea. A perfect heater for nooks, not so much for barbecue. Again, the construction is solid, and it feels sturdy, so we can recommend this for heating purposes.
What is a Tabletop Patio Heater?
Generally speaking, an outdoor heater is a device that relies on either gas, infrared, or electricity to heat the surrounding air. Unlike other heating devices, which just blows hot air in a direction, outdoor heaters radiate the surrounding air so you can be comfortable in the cold.
Tabletop patio heaters work exactly like outdoor heaters, the biggest difference being they're smaller, portable, but don't provide as much output as we'll discuss below.
Why Should You Buy a Tabletop Outdoor Heater?
The main reason why anyone should invest in an outdoor heater is that they need a reliable source of heat for colder months or days. As mentioned, heaters come in a variety of sizes from the smaller tabletop patio heaters to much larger models that can heat your entire patio.
If you want to host outdoor cookouts or barbecue in the winter, then you need to invest in an outdoor heater of some type.
Are There Any Drawbacks?
The biggest drawback to outdoor heating is that the heater can break. Be its misuse, a faulty part, or just age an outdoor heater will eventually have something that breaks. While some stores can fix your heater or the very least refund you. The smaller tabletop patio heaters rarely have such an offer.
Normally you'll need to contact the company and see what they recommend. It might be a repair you can do, or you might need to be sent a new heater.
The second most encountered problem is the wind. High wind speeds, normally of fifteen miles-per-hour or more, can negate the effects of the heater, and you'll have to look into wind protection.
This said outdoor heaters aren't prone to starting fines unless they're tampered with or have combustible material nearby. All models feature inbuilt protection that shuts off the fire if the heater is tilted or falls, so accidentally starting a fire with a heater is very rare.
What Makes a Good Tabletop Heater?
When deciding on your tabletop heater, there are a few things you want to take into consideration. The biggest one, of course, is if a tabletop heater is right for you. Ideally, if you want to heat a small section of your patio, you'll want a tabletop heater over a full-sized one.
In this guide, we'll cover the basics of what you want to look for in a heater. 
1. How Much Does It Heat?
The first thing you'll want to consider when looking at the different heaters on the market is how much heat each one produces. If the heater uses gas, the heat output is measured in BTU; this stands for British Thermal Unit. One BTU is equal to the amount of energy needed to heat one pound of water by one-degree Fahrenheit.
You don't have to take out your calculator for this. Most heaters have a BTU output of ten thousand to twelve thousand. What you want to focus on is the area it heats, which varies from heater to heater. If you want a heater for a table, make sure to find a model that provides heats for a minimum distance of ten feet. Make sure to read the dimensions, not just the BTU.
Heaters are not a good source of light, producing a weak flame. While this can illuminate a small surrounding area, like guests sitting around a table, it won't provide the same light output as a lamp. Some, however, may prefer the soft glow of a tabletop heater over electric sources.
2. Safety Features 
As standard, all heaters come with anti-tilt valves. This means that if the heater is tipped over, for any reason, it will automatically turn off. Most heaters are made of aluminum or stainless steel, so they are sturdy in the face of wind or shaking. This doesn't mean the fire is safe from said winds and shaking, especially for gas models, and a strong gust of wind could knock out the fire.
One feature that isn't standard are burner guards. You can't buy a burner guard for a tabletop heater, unlike a stove or grill. Always be sure to pick a model with a burner guard just as a precaution. Likewise, never leave anything flammable near the heater for too long. While it's not common for a tabletop heater to start a fire, it's best to not find out either.
Due to their construction, tabletop heaters are usually cool to the touch at a base level but can burn you the closer you get to the top. Most heaters will stand around two-to-three feet in height, so make sure to place it in an area people won't touch it or accidentally knock into it.
3. Weight
The biggest advantage of a tabletop heater over a full-sized heater is the weight. Tabletop heaters are portable. You move them to where you need heat. This doesn't, however, make them light. On average a tabletop heater will weight between ten and twenty pounds. Even electric heaters can weigh in at over fifteen pounds.
If you're using a nice, sturdy outdoor table than weight shouldn't be an issue. But more flimsy tables, or glass tables, you'll want to think twice before setting your heater on them. While their weight and design make them sturdy, accidents can happen so place your heater away from ledges where people might bump into it.
4. Quality and Price
Which heater is the best one? That's the question everyone asks, and the answer is a bit tricky. If you look on other websites, you'll see that unlike larger heaters, tabletop heaters seem to have much lower reviews.
The two brands that seem to always score high are Napoleon and Fire Sense. The lowest price for a heater from either company is over one hundred dollars, the most expensive at one hundred and fifty dollars.
While there are cheap brands, including heaters that run below one hundred dollars, the major complaint is they don't provide enough warmth, or they simply don't work. While they won't cause fires, they won't do much besides provide minimal warmth and looking pretty.
5. Fuel
The most common heaters you'll find are propane heaters. Many models allow for a one-pound propane tank to be placed inside, although the heaters will eat through this fast. On average the heater will run for one or two hours if on the highest setting, and four to five hours on the lowest setting.
Some models come with optional hoses or have connection ports for a hose, to connect to larger propane tanks.
Electric heaters don't require any fuel, just plug them into an outlet and you're good to go. The problem is that, like the gas heaters, electric heaters are very energy hungry. If accidentally left on, an electric heater can run up the electric bill.
Extension cords will be needed if you like to place it further away from an outlet, which poses the risk of a tripping hazard that could also damage the heater and a guest.
6. Warranty
As a standard, all heaters come with a one-year limited warranty. Normally these warranties will cover broken parts, defects in the product, or missing parts. Extended warranties may be available based on the retailer. Truth be told, due to the rather simplicity of a tabletop heater compared to their larger counterparts, a limited warranty is all that's really needed.
7. What to Look For
Having gone over all the basics, what tabletop heater is right for you? Pick a heater that will warm the local surrounding area, ideally just a table where your guests will be sitting. Choose propane over electric as unless you're having cookouts every single day you won't go through propane fast, especially if you set the heater on the lower setting.
Price wise, you're going to be looking to spend over one hundred dollars easily for your new heater. As anti-tilt valves come standard in all heaters, make sure to pick a heater that has a burn guard and has a solid base to stop it from tipping over.
Fire Sense and Napoleon are the best brands when it comes to table-top heaters, although you can try out other brands and return them if they don't work.
Tabletop Heater vs A Traditional Full-Size Heater
One question you'll ask yourself when shopping for outdoor heating is if you want to use a larger heater or a smaller, tabletop heater. Both traditional and tabletop heaters function in the same way.
The biggest difference is the output of heat, the cost of fuel and or power, and of course just regular cost. Tabletop heaters are found around the fifty-to-one-hundred-dollar price range, whereas traditional heaters start at one hundred and fifty dollars minimum.
As to be expected, traditional heaters produce more warmth than a tabletop heater. The drawback is their larger size requires more fuel and or electricity consumption than the smaller heaters.
The drawback of a full-sized heater is wasted heat. Higher output means more areas of the patio are heated, even if no one is using that spot of the patio. Tabletop heaters, meanwhile, don't have this issue. 
Finally, there is the weight. A traditional heater can weigh upwards of fifty pounds or more, and if it's a natural gas-powered heater than moving it is impossible as its fixed installation.
Tabletop heaters are designed to be portable, weighing only a few pounds usually. This means that they provide the warmth you need when you need it.
This isn't to say a full-sized heater is by any means bad, but unless you're expecting large gatherings anytime soon a tabletop heater will provide significant heat when you need it. 
Propane Gas vs Electric Patio Heater
When choosing your heater, you'll come across models that are powered with either gas or electricity. Just like the debate between gas or electric grills, both models have advantages and disadvantages.
Gas heaters you'll find are powered by propane, and while natural gas heaters are available, they have to be professionally installed and tap into the gas main. Best natural gas patio heater can provide more heat, but require refueling. 
Electric heaters, meanwhile, don't require a fuel source and all you need to do is plug them in. This can create a problem for tables that don't have direct access to an electrical outlet which will then require an extension cord that might create a tripping hazard.
Another problem electric heater face is that the heat provided is often considered "softer" than the heat provided by a gas heater.
The big draw of electric heaters is that they only need to be plugged in, and extension cord problem withstanding, are becoming an increasingly popular choice for outdoor patios. For those more environmentally concerned, electric heaters provide no emissions, unlike a gas heater. They are often cheaper, both upfront and in the long run.
Some, however, still enjoy the warmth of a gas heater and the choice comes down to the individual and what fits their budget, style, concerns, etc.
Frequently Asked Questions:
Q1. Which patio heaters are the best?
The two best brands are Napoleon and Fire Sense propane heaters. These two brands are widely trusted, highly praised, and their heaters are both sturdy and work as advertised.
Q2. How long does a tabletop patio heater last?
On average, a patio heater will last for one to two hours on maximum heat with a one-pound propane tank, or four to five hours on the lowest setting. For the actual lifespan of a patio heater, they will last for years if properly maintained. Electric heaters, or the bulbs they use, typically have a lifespan of eight to ten thousand hours.
Q3. Do patio heaters really work?
Yes! Patio heaters work by heating the air, not by blowing hot air in a general direction. This is why they provide a gradual warming effect and not just instant heat.
Q4. Do pyramid patio heaters work?
Yes. Despite the design, they work like other patio heaters to heat the surrounding air. It depends on the brand for actual quality, but they will still provide heat.
Q5. How long does a 20-pound propane tank last on a patio heater?
A twenty-pound propane tank will fuel your heater for a full day if you leave it on high. More practically, this means you can use your patio heater for months on end without the need to refuel. As it depends on the heater in question, expect a solid two months minimum before needing a new propane tank.
Q6. Do patio heaters work in the winter?
Yes, and this is when they're normally used. This said a patio heater won't suddenly make your surroundings nice and toasty where you and your guests can walk around in shorts and t-shirts. They will instead provide enough heat to where sitting outside in the winter is comfortable.
Q7. Can you use a patio heater on a covered porch?
Yes! While gas heaters do have open flames, they usually have burn guard and shielding installed, so the flame doesn't get loose. But because you're in an enclosed space, the smell might be too much. Electric heaters don't produce a smell, so if you have a covered porch consider an electric heater over gas. 
Q8. What is the best type of outdoor heater?
This depends on what you need. The absolute best are the much larger heaters that can heat your entire patio. But normally, a tabletop heater will work well for cookouts and other outdoor activities.
You'll want to pick gas over electric, and chose an electric heater if you have an enclosed space or just need a small area heated like around a reading chair.
Q9. How warm are patio heaters?
Normally they're constructed so you can touch the base and structure without burning yourself. Touching the open flame or bulb is, of course, ill-advised as that will cause burns. For the actual warmth they produce, most heaters can raise the surrounding temperature by twenty degrees or more.
Q10. Do patio heaters keep bugs away?
No. In fact, some claim they attract bugs. As these heaters use either gas or electricity, and produce light, they don't provide any incentive for insects to stay away. You'll still need bug spray, traps, or citronella candles to keep the critters at bay.
Summary:
Just like you need a grill for your barbecue, you'll want a best tabletop outdoor heaters for your guests. They're cheap and mobile, and set up is very simple. 
While there are a few drawbacks, such as the possibility of breaking or the electric model needing extension cords, said drawbacks are very minor.
As previously mentioned, you'll find a tabletop patio heater is portable so you can get all the warmth you and your friends need, when you need it. 
All said and done, tabletop patio heaters are going to be the best heating source for outdoors you can find. In fact, there isn't really a downside to not owning one. They're affordable, flexible, and reliable. If you don't have a tabletop patio heater, now's the perfect time to look for one!