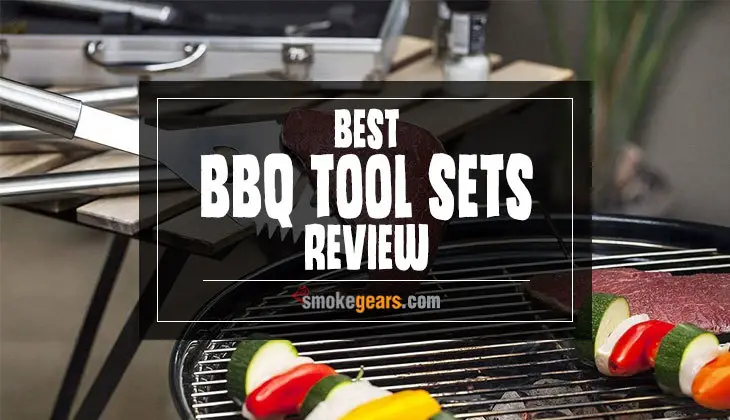 Best BBQ Tool Sets in 2021 [Top 3 Reviews and Buying Guide]
If you want to start BBQing right now, you need the right tools. You may think you have everything you need in the house, but chances are you don't. Of course, there are the basics tools like tongs and spatulas, but what about basting brushes? Meat tenderizers? What about skewers?
Chances are, you likely don't have everything to start your backyard BBQ but that's no reason to fret! Today will be reviewing a selection of the best grill tool sets to get you right into the action! 
More...
Aluminum

17.4 x 3.4 x 8.4 in

Aluminum

16.5 x 12.2 x 3.2 in

Aluminum

17.7 x 9.7 x 3 in

Gift Box Pack

17.9 x 8.2 x 2.8 in
Why Should You Buy A Grill Tool Set?
BBQ is as much of an art as painting, and just like the painting, you need the right tools for the trade. You don't buy a single brush and expect that to fill all your needs, much like you don't buy one skewer and think you have everything you need to start barbecuing.
There are a variety of grill sets on the market including simple sets which include tongs, spatulas, and barbecue forks, to more expensive sets which come with knives, skewers, basters, wire cleaners, and other assorted tools for BBQ.
We'll cover some sets below to give you an idea of how the different grill sets on the market vary in terms of what they include and the price point. The best BBQ grill tool sets also make great gifts, especially for those wanting to start barbecuing or for those who just moved into their first home or apartment! 
Top 3 Best BBQ Tool Sets Review
Right off the bat, the biggest issue with this set is that it only includes nineteen tools and not twenty. The case is listed as part of the set, not an addition. This said, Cuisinart is a fantastic brand, so their products being quality made is to be expected.
The tools are all constructed of stainless steel, they handle well and they're easy to hold. We put the set through the usual assortment of meats and vegetables including corn, kebabs, a steak, and some hamburgers.
The skewers worked like a charm and held up to direct heat, while the tongs and spatula worked perfectly. The basting brush was a particularly nice piece, with the silicon head providing a nice, even coating of marinade on the meats.
Finally, the corn holders worked as well as you'd expect from Cuisinart being easy to hold and gripping the corn tightly. This said, the main draw of this tool set is the digital temperature fork. It's advertised as being able to tell the meat temperature and provide an alert when it's done.
We tested it on our steak and can confirm it does everything as advertised and more! The fork requires setting beforehand, which wasn't a problem. It's very user friendly. It told us the temperature of the steak and even gave an estimate of when it would be done.
As a final touch, the fork has a built-in LED light and a backlight for when you grill at night you will have no trouble reading the temperatures. Lastly, even though it was bulky, it still felt very good in the hand and was easy to use.
Cleaning was a breeze, and after one trip through the dishwasher everything came out looking new. Of course, the fork had to be hand cleaned to avoid ruining any of the electronics, but even hand scrubbing wasn't an issue.
The wire brush also did a good job cleaning the grate and maybe the best wire brush we've reviewed so far in one of these kits. Cuisinart puts a lot of work in their products, so we were happy to see even the wire brush was a staple of their quality.
A large set with practically everything you need for BBQ. First off, the tool quality is solid, and we didn't have any issues with the tools included. Everything was made of stainless steel and was the perfect length for our grill.
For testing the set, we grilled corn, a steak, burgers, and made some kebabs. The tongs worked as we'd expect, as did the fork. No sticking to the meats. The spatula worked as well, even with having a bottle cap opener and serrated edges. None of these features affected the burgers.
The apron and glove worked well and as intended, with the glove fitting perfectly. The knife worked wonders and was very sharp right out of the case. It cut through the steak without any problems at all.
The corn holders gripped the corn well and were comfortable to handle. The skewers gave us no trouble, but we wouldn't recommend placing them directly on the grill. The silicon brush provided a nice marinade layer, and the shakers worked wonders with no salt or pepper getting stuck.
The only item we did not use was the meat shredders, but they were easy enough to grip and hold so using them for pulled pork or other pulled meats wouldn't be an issue. With cleaning, the wire head brush really did a great job cleaning the grate and the tools are dishwasher safe!
While a small kit, the provided tools are a great selection and perfect for starting a BBQ! They're made from solid stainless steel, so they feel incredibly sturdy. The tools were the perfect length for the grill we're using and were comfortable to hold.
We've read, however, that the skewers are flimsy and will wrap or even break if applied to direct heat. The manufacturer even recommended to not place the skewers directly on the grill. So, when we tested our kebabs, we did not place them on the grill directly.
For testing, we grilled burgers, a steak, some corn, and cooked kebabs. When we had burgers on the grill, the tongs and spatulas worked like a charm. No issue at all moving and flipping the meats. With the steak, we tried out the fork and it too moved the meat around without an issue.
The fork also did well in both piercing and removing itself from the steak. Although it would have been nice to have wooden or silicon handles. Speaking of, the basting brush head was made of silicon and provided a good marinade coating for our meats. The skewers also held up well, the meat slides right off.
The knife required a quick sharpen but worked just as advertised while the corn holders gripped the corn tightly and were comfortable to hold. Everything was dishwasher safe, with only one pass in the wash to come out spotless. Lastly, the wire brush did an excellent job cleaning the grate. 
Buying Guide:
Thinks to Consider Before Buying BBQ Tool Set
When you're selecting a tool set to buy, there are a few things to consider beforehand. How many pieces does the set come with? What is the set made out of? Does it come with storage? These are all questions you want to ask yourself, and we're happy to answer in order to help you decide which set is right for you!
The Essentials: Here are the tools of the trade for BBQ.
Tongs:
To some, this is the most essential tool. Tongs allow you to handle the meats and vegetables on the grill without having to touch them directly and risk burning yourself.
Barbecue Fork:
Like the tongs, a barbecue fork allows you to handle your meats from afar. Shaped like a fork with two large prongs, the barbecue fork is used for jabbing the meats which are why some cookers don't like it as they feel it can let juices escape.
Spatula:
Unlike spatulas for baking, a spatula for BBQ is going to have a large, flat surface with a slanted, thin handle. Spatulas are what you'll use for flipping burgers, fish, or other flatter meats.
Skewers:
Thin metal rods that are perfect if you like making kebabs, the skewers found in tool sets are reusable, unlike wooden skewers you find in stores.
Corn Holders:
Sometimes included in tool sets are small handles for corn. Just like skewers these can be washed and reused and some even have the handles shaped like fruits or vegetables.
Grill Brush:
A true essential tool, as a dirty grill, will ruin your food. Grill brushes are for cleaning the grill's grate, something you need to do every time you use your grill.
Basting Brush:
Basting brushes are used for applying sauces and marinade to your meats and even vegetables. Some recommend having multiple brushes for different sauces and marinades.
Thermometer:
Designed for meats and other foods, a thermometer checks the temperature of the food. This is especially important for the insides of your food, as they may not be the same temperature as the outside. 
Value and Size:
Typically, the larger the tool set the more expensive it is. This isn't a universal truth, however, as if you look on Amazon the first two sets, you'll see are Alpha Grillers four-piece set and the twenty-one-piece Romanticist, with both sets having a similar price.
Why is the four-piece set nearly as expensive as the twenty-one-piece set? Reading the description, you'll find that the four-piece set is massive while the twenty-one-piece set is only slightly smaller.
Both sets are made of stainless steel, and only the twenty-one-piece set has a case. Do you pick the bigger set and possibly not use all of its components or the smaller set that has the essentials?
The general rule is that the bigger set is going to have the most value. At worst, you'll only use the tong, brush, spatula, and grill cleaner with the twenty-one-piece set. This still gives you all the components you need and a case to store them all.
However, it must be said that bigger sets or more expensive sets aren't always better. You can still find sets that have everything you need and nothing you don't. The question, however, is will you want to add more pieces later? If you think you will, then you should buy a larger set and save those pieces for later.
Cases:
It's common to see the tool sets sold with a case. Is this case worth it? A case does provide you with storage for all your tools, but some might not need the case and be perfectly content putting their tools away in the separate drawer. It's heavily up to you, but we'd argue that a case is part of the value with a tool set.
Construction:
Tool sets are normally composed of stainless steel as this is a heat-resistant metal that's easy to clean. Wood or rubber grips are also common to provide you a better grip, while the head of basting brushes is normally made of silicon. Unlike fibers, silicon is much easier to clean and doesn't get blunted or ripped like fiber brushes.
You always want to make sure that the construction of your tools ensures that they don't get too hot and burn you, that they're easy to clean and comfortable to hold. So, buying an all stainless-steel set may not be the best idea if it means the risk of you getting burned or dropping your tools. 
Now that we've gone over some sets that you can find on the market, sets we personally enjoy and use, it's time to make the decision of which BBQ tool set is right for you. Now you might think that the most expensive set on the market is the one right for you.
Keep in mind that just because it's expensive doesn't mean that it's the best one. Certainly, larger sets are a better value than buying all the components separately, but you need to ask yourself just how much you really need corn holders or skewers if you don't think you'll ever use them.
The three main tools you'll want to keep in mind are the spatula, the barbecue fork, and the tong. These will be the main go-to components that you'll always use. So, a simple set with just these three may be enough until you ready to start skewing meat or roasting corn on a grill.
Another thing to keep in mind is the grill you're using. Some sets are designed specifically for larger or smaller grills. Take this into consideration when buying your tool set based on size. Having tools with longer handles while you're working with a small grill on the porch will make for awkward handling.
This is another thing to keep in mind, the comfort of the tools. You want to make sure that you can keep a firm grip on them, so read the product descriptions very carefully to find the information about handle size. 
Tips for Using a Grill Set
Once you've picked out the right tool set, it's time to have a go at barbecuing! Here are some general tips to help you on your way.
FAQ:
Q: Do I need to buy a set that has a carrying case or storage case?
A: You won't really need a carrying case, but a storage case may not be a bad idea. This will keep your tools separate from your other utensils. It will also save you the embarrassment of having to make your guests wait as you try to find the tongs. This said, if you already have a storage place/set up in mind, you can go without a case.
Q: Isn't it cheaper to buy the tools separately?
A: That depends. The point behind a tool set is that the tools are all from the same manufacture and will have the same quality. While you can buy the parts separately, you don't have a guarantee of quality like a tool set. This is why it's best to buy a tool set and keep that as your base, and add more tools as you need them.
Q: Will I need more tools in the future?
A: Again, this depends. Some BBQers will suddenly find the need to add another set of tongs, several new skewers, and a brand-new set of corn holders. Others will buy a tool set and never need anything else. Like said before, it's best to add more tools as you need them and not overstock on tools you'll never use.
Q: Is cleaning a tool set easy? Is there anything special I have to do?
A: All BBQ grill tool sets will give you specific instructions for cleaning if they need to, but for the most part treat the tools like you would regular utensils. Most, if not all, the tools in the set are dishwasher safe but its common practice to attempt to scrub off some grease and fat before putting them in the dishwasher.
Now you know why a best grill tools set is a great investment. We talked about some different sets on the market we enjoyed, some good tips, and answered a few questions. If you still have more questions, look through some of our other articles or leave a comment. These barbecue tool sets still make wonderful gifts as well for the BBQers in your family.