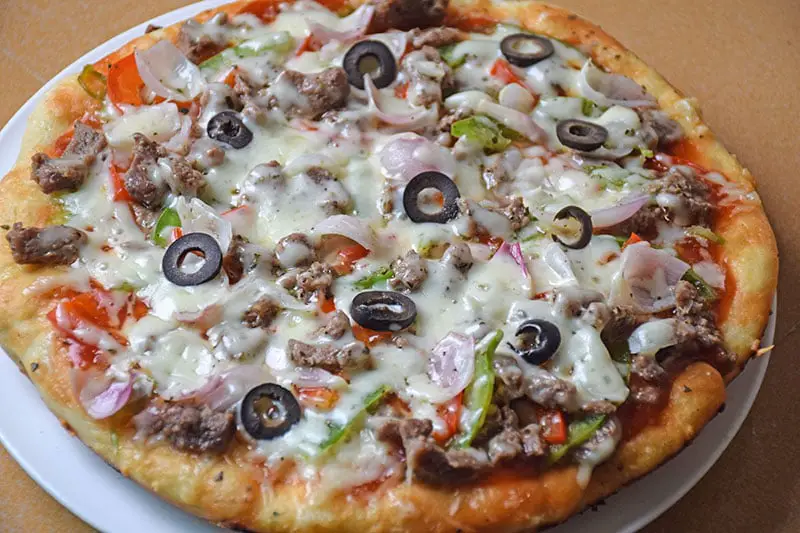 How to Make BBQ Chicken Pizza at Home Without Oven
Making a chicken pizza isn't so hard. In this BBQ Chicken Pizza Recipes, I will try to help you to make pizza, if you want to make chicken pizza at home without oven.
As a BBQ chicken pizza lover, I spend huge time and extra money to go restaurant every week, sometimes twice a week. Sometimes I don't get enough time to go outside for taking care of my child and home. Every mother knows, it's difficult. So, I decide to learn homemade chicken pizza recipe.
After completed my first Pizza, I'm thinking it will be great if I share this easy chicken pizza recipe with our readers.
More...
One of my best friend Jessica, who helps me to make my first chicken pizza. I will show you what Jessica taught me and I have implemented to make my first pizza. Really it's easy. After reading this post you will also realize how easy to cook chicken pizza at home without oven.
There are different types and flavours of pizza in the BBQ world. Among them, beef pizza, fish pizza and chicken pizza are most popular for pizza lovers. Let's start to make your first chicken pizza!
Ingredients of Chicken Pizza:
To Make BBQ Chicken Pizza follow the Steps One By One:
Step 1: Yeast Mixer
In a small Bowl take a half cup of milk, two teaspoons of yeast and one teaspoon of sugar. Stir and mix Milk, Yeast and Sugar properly.
Keep in a dry place this mixer for 15 minutes.
Step 2: Flour/Pizza Dough
Take another medium-size bowl to make flour dough for your pizza. Put two cups of flour in this bowl. Use salt as needed to taste. I used 1 teaspoon. Don't forget to use an egg and two tablespoons of olive oil. Now pour yeast mixer in this bowl what we made previously.
Mix flour, yeast mixer, olive oil, egg, salt and make flour dough. Don't use water. You can watch the video how I mixed and made pizza dough.
Now cover the bowl and keep in a dry and warm place for around 2 hours.
Step 3: Cut Necessary Ingredients
Now huge time in your hand to cut Onion, Black Olive, Chicken, Red Capsicum and Green Capsicum.
Also, you have gotten some time to take care of your child and home. After 2 hours our flour dough will be look like the Image below:
Step 4: Prepare/Cook Chicken for Pizza
In a Frying Pan - Pour Cooking Oil 1 Tablespoon. I used Soybean Oil. Keep burner and temperature low at this time. Now put Ginger paste half teaspoon, Onion paste half teaspoon, Garlic paste half teaspoon and Cumin paste half teaspoon one by one.
Now put chicken meat. Stir and mix chicken with spices.
Use salt as needed to taste. I used a half teaspoon of cooking salt. Pour half cup water to boil chicken meat perfectly.
Stir chicken and spices at low temperature. Cook for 15 minutes or as needed.
Step 5: Making Chicken Pizza
This is the final step. Now In your hand, you have pizza dough and cooked chicken to take taste your own homemade chicken pizza.
Take the flour dough in another frying pan. At this time keep burner off. And make flour dough pizza shape.
Now decorate your pizza with the following ingredients one by one: Red Pizza Sauce, Mozzarella Cheese. Sliced Green Capsicum, Red Capsicum, and Onion and cooked chicken what we recently cooked. Put Mozzarella Cheese again and Sliced black olive.
Finally, cover the frying pan. Light the burner and keep the temperature low. Within 5 to 10 minutes Pizza will be ready.
Yes! After 10 minutes for me.
Now our Chicken Pizza is ready to serve.
How to Make Beef Pizza Without Oven?
Quick Tips:
If you have pizza dough and cooked chicken in your refrigerator you can make your pizza within around 20 minutes. Just heat your cooked chicken and pizza dough keeps in a dry place for a little time. And finally, follow only step 5. Otherwise, it will take to make around 3 hours.
You can use Liquid Smoke to increase its taste. Homemade Liquid Smoke is safe to take taste. It's easy to make at home or you can collect from a store.
Don't forget to try at your home. It's super easy. We encourage you to send your Pizza's image in the comment section.