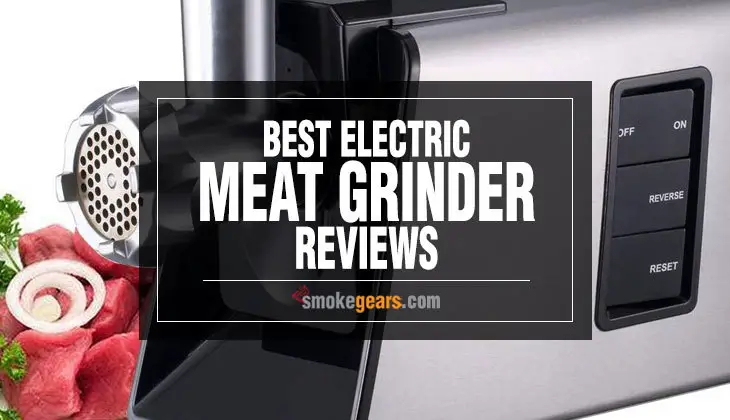 Best Electric Meat Grinder in 2021 – Top 5 Picks Review
Are you an avid fan of burgers? Or do you prefer having sausages for breakfast? In any case, grinding meat should be regular business for you. Because let's face it, home-cooked meals always beat the ones available outside.
A meat grinder is undoubtedly a vital kitchen appliance. Without it, you will have to rely on processed meat. And we all know how unhealthy that can be. So, grind your meat at home with the help of the best electric meat grinder.
But if you are worried about these products giving you a hard time, then don't be because they are very convenient and comfortable to use. All while producing incredible results!
More...
| | | | | | | | |
| --- | --- | --- | --- | --- | --- | --- | --- |
| | | | | | | | |
| | | | | | | | |
| | | | Stainless Steel, Cast Aluminum | | | | |
| | | | | | | | |
| | | | | | | | |
Benefits of Electric Meat Grinder
Before spending some bucks on a product, it's only reasonable to think about the benefits it can offer. And technologically advanced tools are quite ahead on that, such as an electric meat grinder.
5 Best Electric Meat Grinder Reviews For The Money
With a lot of electric meat grinder reviews out there, picking one tool can get quite tricky for you. And that's why we will be providing you with all the necessary information. Now, you can think of choosing a piece of cake.
As a newbie, or even as a pro, choosing one tool out of many options can be tough. But we have got a product for you that you will love. This is one of the best electric grinder available in the market. Whether you want one for regular use or occasions, this one won't disappoint.
It is generously ahead of its competitors when it comes to power and capacity. This powerful home-use grinder has a locked motor -wattage of 3000 -watts.
But don't worry, it generally operates between 800-1200 -watts so it won't consume additional electricity unnecessarily. What's more, it can grind between 180-240 pounds of meat per hour.
You will get a lot of parts with this that will enhance your grinding experience. It includes size 12 aluminium head and a meat hopper along with three stainless-steel cutting blades.
Three different sizes of grinding plates and sausage stuffing tubes are also available. Moreover, you will even get two meat shredder claws and a 3-in-1 burger slider press!
With its size 12 hopper and head, you can grind more significant portions of meat. The different sizes of plates and tubes have various capacities. What's more, this can work with versatile cuts of meat as well. Whether they are striped or cubed, this machine can work with them all.
If you are looking forward to grinding tendons or vegetables, then that's not happening with this tool. You should be careful and make sure there are no bones in the meat. Plus, it has a plastic casing, which may end up being short-lasting.
Are you looking for something that will last for a long time and perform well? Because then, you are looking at the right product! And the name is just about accurate because this can grind significant portions of meat at once! This might as well be the best grinder on amazon.
Let's talk about how long-lasting it is, shall we? It has a stainless-steel motor housing, head, drill, and meat pan. So, you can already smell how it won't rust.
And you can also be reassured that it won't break or bend even in years. But if you are still having doubts, then you should know that it has a five-year factory guarantee.
With its big bite technology, you can't expect disappointment. It has all-metal gears with roller bearings — 2-1/4-inch hole in head where the pan is inserted. What's more, you even get a heavy-duty handle for easy moving; and a built-in circuit breaker to avoid any electrical accident.
But that's not all; it can grind large portions of meat without clogging at all. It can even grind bones so you can get reckless. Moreover, you get a stainless-steel knife and stuffing plate with this. It also includes two stainless-steel stuffing plates along with a meat stomper and three stuffing tubes.
However, be a little careful when grinding because it leaves steel grey staining on the meat. This can be quite unpleasant. Also, it's not very powerful. So, don't try to grind a lot of meat at once in an hour. But, it the best home meat grinder for single use.
If you need the best value meat grinder, then look no further. This is a product that will never make you feel like you wasted your bucks. This is highly functional and will live up to any expectations that you may have regarding it. Perfect, isn't it?
This is not only affordable but also easy to use and long-lasting as well. Its entire body is made of stainless-steel, while it's big capacity tray and grinder head are made of polished cast aluminum.
So, you can expect absolutely no rust on this. But that's not all, it's also straightforward to assemble, so you can effortlessly get started.
What's more, it has high power and a strong motor. It has 1000 -watts max locked power, while it generally operates using 600 -watts power. Plus, it can grind up to 185 pounds per hour. But don't worry, it is entirely safe. It has a built-in circuit breaker along with a safety switch.
Moreover, it comes with a lot of additional parts that will let you use this machine diversely. Starting from stainless-steel cutting plates for three different textures of meat to sausage stuffing tubes, it has everything that you will need. Plus, all of these are ETL certified, so you know they are secure to use.
This machine works well, but it becomes a little slow when making sausage. So, you need to have a little patience there. Plus, it clogs up when grinding deer meat, so it's better if you don't use it for such purposes.
Need something industrial and heavy for a new business? Or looking for a reliable replacement for a grinder in your restaurant? Well, in both cases, this product will serve your needs. Plus, if you are a huge deer fan, then this will keep you quite happy as it is the best meat grinder for deer.
Using electrical appliances can be quite scary. But there's nothing to fear with this equipment. Its motor is completely protected, all thanks to the built-in circuit breaker. So, there will be no motor breakout from overload. What's more, this safe to use motor can grind large portions of meat at once as well.
This is one product that has all metal parts. You can tell that it is built to last and will accompany you for a long time. All of its additional plates and blades are also made from stainless-steel. They can easily grind-heavy pieces of meat into your desirable cut. Hence, you get both strength and durability with this.
A mess is undesirable for just about anyone. So, here is an effortless to clean tool for you that will help get rid of the mess quite easily. You can dismantle the hopper and the grinder cap. Then you can easily wash them. But that's not all; their sausage stuffing tubes are pretty comfortable to clean as well.
Although, the medium plate that comes with it isn't as good as the rest two. So, you could be a little disappointed there. Also, it is not very powerful. Hence, it cannot operate using large amounts of electricity or grind using a lot of grit.
If you are searching for something cheap and powerful, then this is the right tool for you. With a high-grade grinder and a sturdy motor, it serves its purpose well. You can do some heavy work on it without spending a lot of bucks. This is the best cheap meat grinder you can get your hands on.
This equipment is such a time-saver that you would think it values your time more than you do. It comes with some kitchen essentials that will let you grind fresh meat at home quite effortlessly. Such as, it includes a food pusher, kubbe attachment, and feeding hopper.
Guess what else this cheap meat grinder includes? Three grinder plates for coarse medium and fine grinds of meat. You can make patties with them, or sausages, etc. But that's not all. You can even work with vegetables and fruits to make purees and soup. Could it get any more versatile? 
Along with all this, it comes with a motor that has 2000-watt power. But don't worry, you will have complete control over it. Its settings give you full control over the meat grinding power. On the left side, some buttons let you stop and start from scratch without any trouble.
However, you should be a little careful when using water on it because it rusts quite easily. You wouldn't want to get rust all over the meat. Also, don't try to grind bones with this equipment. They can clog up, or the tool might malfunction. It's best to be cautious.
Buying Guide: What You Need to Know Before Buying?
Surely, you are looking for a powerful grinder that can stand up to your expectations. But with multiple options out there, it wouldn't be too hard to get disappointed. Hence, here are some features that the best meat grinder would consist.
1. Long-Lasting
If you are investing your time and money into buying a product, you would surely want it to last. You wouldn't want to be looking for a replacement anytime soon. Hence, it is imperative to check the material of the product. If it is plastic, there's a good chance it will break quite easily.
However, if it's metal, you need to make sure it won't rust. A lot of metals rust, which can give your food a bad taste and make your equipment weaker. So, you would want to go for products made of stainless-steel.
This material will keep your equipment durable and rust-free. But along with the body, make sure the additional parts are rust-resistant as well.
2. Easy to Use, Assemble and Clean
The process of cooking can get quite stressful. You wouldn't want to worsen it by using tools that give you a hard time. If you spend unnecessary time assembling, operating, or cleaning, it can get quite exhausting. Hence, being effortless to use is one feature you should prioritize.
3. Size According to Your Preference and Suitability
Although this one depends on your preference, you should still lookout for the product's size. Sometimes, it ought to be quite heavy, which may make using it quite unpleasant. Especially if you are buying one for regular use, you would want to opt for something lightweight.
But if it's for a business or a restaurant, then heavy industrial ones would be more suitable as they can provide more power and work faster.
4. Has an Adequate Amount of Power
Speaking of power, this is one feature you need to keep an eye on. It may sound like a character that may not have much importance. But that couldn't be further from the truth. How much meat you grind at a time and how fast you do it, all depends on motor power.
Usually, you need to purchase one with 500--watt or more power. That is the ideal amount. Although several grinders offer much more power, the point is, if you don't need that much power, don't spend money on it. You should only buy a tool that provides as much power as you would need.
5. Has Multiple Functions and Diverse Uses
If you are going to get a fancy grinder for yourself, then you might as well get one that has numerous features. It should at least offer you multiple ways to grind the meat. You wouldn't want the same consistency every time. What's more, it is needed even when you would want to try out different recipes.
Some tools cannot work with different cuts of meat. So, you should make sure that your equipment can grind any cut. However, some grinders are so multi-functional that they can work with meat, bones, and even vegetables. But that's a different story! Go for diversity according to your preferences.
Frequently Asked Questions:
Q1. Can I grind vegetables in an electric meat grinder? 
That depends on the equipment. However, most of the grinders can grind vegetables as long as they fit the chute. But still, to make sure, go through an electric meat grinder review.
Q2. Can an electric meat grinder be used for cooked meat?
They can grind cooked meat, but they may show some issues with that. Such as, the grinder may become a little contaminated without thorough washing.
Q3. Can I grind bones in an electric meat grinder? 
While some grinders do allow bone grinding, you should rather avoid that. They may clog up your tool or make it malfunction.
Q4. How many meat grinder plates should I have?
Normally, three is good enough. You would need them for coarse, medium, and fine cuts of meat. But if you only want a specific texture, then only one would do too.
Q5. Can I change the plates or the blades of meat grinders? 
While you can easily change plates because the sizes are interchangeable, the same cannot be said for the blades. So, you will have to use the blades that come with your grinder.
Final Words: Grinding raw meat is no child's play. If you want the best outcome, then you will need the best electric meat grinder for it. But finding one according to your needs won't be hard with all the information. So, good luck with meat grinding!