1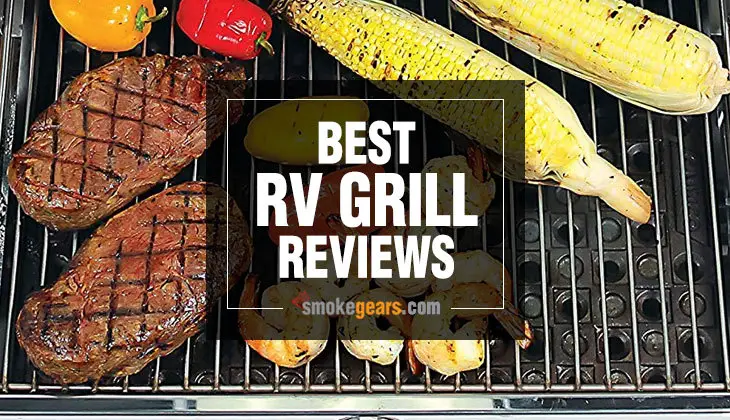 Top 5 Best RV Grill Reviews of 2021 – How to Choose?
Events like picnics or camping allow us to escape our mundane life. Such gathering would be incomplete without grilling or barbecue.
To prepare delicious smoked food or barbecue, you will need a grill. And herein, an RV grill can be a better choice due to its compact size and performance.
Buying the best RV grill is pretty challenging, as there are hundreds of options screaming to be the best. To make sure you don't waste, this article will enlighten your queries to help you pick the top one.
Our detail product reviews and the other common findings related to the RV grill will be presented to you as you keep on reading.
More...
5 Best RV BBQ Grill Reviews
Out of all the RV grills out there, we have compiled a list of the top ones available in the market. Without further due let's dive in.
This high-quality, unique grill is manufactured to use with your RV. You can also use it as a tabletop outdoor grill as it has folding feet.
Made from very lightweight stainless steel, it can be used with a quickly connected propane safety valve of a low-pressure RV. It is designed in a way that is bound to retain and increase the flavor of grilled food and also bars sudden flare-ups caused by grease vapor.
As an additional feature, you will get a smoker plate of cast iron. This smoker plate extends the food flavor to the utmost level. There is a mounting bracket too. You can use it on RV's mounting rail, or just hang the grill in this bracket from RV's side.
There is a grease tray to keep the dripping of cooking foods. Without the tray, cleaning a grill is so troublesome. Thanks to Camco RV grill for making cleaning quick and easy by providing a grease tray. To keep the tray sheen, wash it with warm water and soap.
Another feature of it is the temperature gauge. You will be able to see the accurate heat inside of your cooker. It is essential to know the inner temperature of the grill as different types of food need different temperatures to be cooked properly.
Moreover, for safety purposes, it is equipped with a shut-off valve to avoid any kind of accidental fuel discharge. Such an accident can be fatal too. So, your grilling time will be worry-free due to this safety feature.
Considering the overall features, this model of Weber is one of the best compact grills. What are those fantastic features then?
Having the size of 280 square inches of cooking space, this grill provides perfect temperature to grill your food. This product comes with a steel made single burner. It heats up faster than other RV grills.
Usually, the cooking grates of RV grills are not much durable. But this grate is cast-iron made so lasts long. Even, it is coated with porcelain-enamel and of course because of this cleaning will be more comfortable.
The enjoyable meal always follows by the tiresome task of cleaning. Thankfully, this product has got a grease tray to accumulate all the remaining food crumbs and drippings. So it is quite manageable and does not consume much time to clean it. 
Some other features of this grill include electronic ignition for an accurate, quick, and secure cook. The aluminum hood is also impressive that can be used in cooking chicken roast or turkeys. Its knobs and handles are pretty big and perfect to give a better grip- how concerned the company is about customer satisfaction!
Wait, we are not done yet to mention all its features. Another thing to talk about is getting extra accessories. With it, you will get a folding side table. During food preparation, you can it also use it to keep utensils. Where there is limited space, you can easily fold it down.
This is more than perfect for road trips with an RV. The compact size of this grill, along with pre-assembled things, shows the sigh of relief. Now, don't you think this is the best camping grill?
Within this article, this particular grill generates the most heat. Amazingly, you can divide its dual burners to operate it as two individual burners. The griddle and grill box can be used together or separately. If you remove them, you will get open burners for using pans or pots.
This split feature brings out the most versatile grilling experience. So, it can cook two different items of food with the separately required temperature at the same time. Anyway, its set up is easy too, as it is supplied pre-assembled.
Apart from this superb heat-generating and split burner features, it has adjustable legs. It makes the portability incredibly easy. These legs are stable enough to be set in on the uneven ground. 
Due to these legs, it becomes too easy to store. You won't face any problem while moving it from place to place like a park to a campground. Of course, you need a transport conveyance.
To enhance longevity, its grill box is manufactured heavily along with vent and handle. The grates are made of cast iron. It also includes a griddle plate of rolled steel. The outer part of the unit is furnished with a powder coat that is strong too.
If you are not in a tight budget, we would recommend you to get this one. You will not regret it, we promise. For camping trips, this grill fits well. You can also count it as the best RV gas grill.
It would not be the best gas grill, but it has certain facets to adore. As the name suggests, it has a built-in bracket for mounting. This can be mounted on the trailer or the side of RV, thus became way too convenient for the RV owners.
This grill comes with an upper grill deck and a changeable flame controller. The size of the grilling space is 214 sq inches, weighing somewhat near 22 pounds. The top grill helps to warm and toast food. To have this upper deck also means you are getting a bit more space to grill. So, stop worrying about the space crisis and prepare burgers for everyone.
To retain mounting security and prevent accidental sliding, it is designed with two locking clips. You will also find a hanging rack with it, which can be used as stands or legs if you need the grill to stand free. Therefore, it makes it perfect for camping or tailgating.
However, you should know that this grill is only manufactured to be connected with the LP gas system. This LP should be RV's system. To attach it correctly with the RV's LP gas system, you may require buying an extra hose that fits well with it.
This model would be a great choice only when you desire for effortless setup and smooth functionality.
Often portable grills lack some necessary features. Some provide a small cooking area, whereas others fail to offer precise temperatures or do not get evenly hot.
But with this grill, you will not face the problem mentioned above. It comes with three burners; it grants enough power to grill your food correctly. Extra wind protection is achieved by the bottom burner housing which also minimizes cold an hot spots.
The most likable feature of it is its versatility. You can use it as both a grill and a stove. Just put a pan or pot above the burner on the grates to broil, simmer or sauté your meal. Even you can heat other meals like pasta or soup.
The opening of the grates is narrower than the grates of burner grill to bar the falling of foods. These grates are pre-seasoned cast iron made and offer even heat transfer and bring you an excellent sear.
It also provides a barbecue box so that you can grill food directly on the grates. It redirects and circulates heat to the grates above; thus, cooking becomes more accurate. The box captivates and vaporizes the dripping of grease and helps to retain the smoky aroma of food. Are you ready to get the best camping bbq on your next trip?
The barbecue box owns a thermometer along with a lid damper valve. You can control the burner, set it low to smoke food, or turn it to high to have the burgers ready within a short time. The thermometer works like an oven.
This grill comes with an array of accessories that includes grease cup, cover, griddles, shelves, hook to hang utensils, and paper towel holder. There is a removal grill box that provides a regulator and hose.
Though heavy to transport, it is easier to use. During the transportation of the grill, it is better you remove or fold up the legs and use the given hardware to protect the grates.
Things to Consider Before Buying
Now you already know the details of RV grills, but what features to check out in an RV grill while buying one? No need to wonder more, check out the listed facets below before you intend to purchase one.
1. Type
The market will offer you various types of RV grills. Mostly they fall into two categories, namely propane or charcoal. So you need to make a choice about which one is more suitable and meet your needs. We have detailed the types of RV grills later in this article.
As a quick preview, know that if you own a class A or larger RV, you will like to have a propane grill. But why? Because you will get better performance with it though they are quite big in size and expensive.
On the other hand, charcoal grills are more compact, portable, and weigh less. Thus, they become the best option for RVers who like small camping and such things. If you have limited space in the store, you will be fine with it. Also, try to get models with enhanced technology.
2. Material
High-quality, durable material is a pivotal issue when you buy a grill. The best RV camping grills are made of aluminum, stainless steel, ceramic, or iron. But these days people prefer stainless steel grill as it does not need much maintenance.
As we often don't like to spend much time cleaning things, a stainless steel RV grill will help us in this regard, and it also prevents rust.
Another factor that comes here with the material is portability. Your grill will weigh less if it is made of stainless steel rather than a ceramic one. And for the small camper, it would be illogical to buy a hefty grill.
It won't be a problem to get the heavy material grill if you own an RV of Class A as it has extra space for storage.
3. Functionality
Try to find the one with an easy assembly system, or pre-assembled one. It saves time in cooking. User-friendly grills are a top-notch choice among customers.
4. Burner
It is essential to ensure that you get the burner, which is made from brass or stainless steel only if you opt for a propane grill. Both of these materials help to cease corrosion and extend durability.
Burners can be made of other materials. Do avoid burners made from cast iron and aluminum as cast iron gets rusty, and aluminum tends to burn out. So, there is no point in spending money on things that do not survive for a long time.
Another noticeable thing is to confirm that your propane grill has a metal deflector. It usually sits between the grate and the burner. This assists in producing accurate heat and lessen the hot blotches of the grate. It lessens the risk of dripping hot grease by the burner
What if you do not pick a propane grill? Then opt for the one with multiple burners. More burners will help you to control the output of heat efficiently.
However, the number of burners does not matter in a charcoal grill as it does not have this feature. Whereas, it is an essential and critical facet in a propane grill as it determines the grill's quality.
5. Grate
The grate of the burner is essential to check. You can pick up the chrome or nickel-plated grates. Most of the time, they are supplied with a cord core. Note that, being lightweight, they do not hold heat effectively. Even these materials are prone to chip and rust.
It is far better to choose cast iron made grates. They work quite efficiently regarding conducting and retaining heat. This metal tends to get rusty, too, but maintaining it with oil can prevent rust.
The best option is to get a stainless-steel grate. Its performance is impressive, and it is easy to clean. This is highly portable and does not get rusty. RV owners find it as the ideal one.
6. Temperature Control
Most of the portable grill owns a single temperature control feature due to its compact size. It is a better feature to have in a grill that is easy to operate too.
But if you opt for a double burner grill, then it will be better to choose a grill with double temperature controls. This feature assures you to get two different temperatures while cooking.
7. Flavorizer
The company Weber has popularized this term. These flavorizer bars transform the burner's output heat to infrared power. You will not see dripping in the burners, and so the grill remains clean due to this feature.
8. Price
One should never buy something that does not value the money. Look for the one which is not unnecessarily expensive compared to its features. Also, buying a grill at the lowest rate that lacks efficiency in performance will not be profitable in the long run.
On the other hand, propane grills are more expensive than the charcoal grill, but it provides a better performance, so it's worth the money.
9. Additional Feature
Each grill has a unique feature to offer and compete with the rest of the grills available in the market. Before you purchase one, check out all of its features or do a little research on other grills features.
By doing so, you can limit your search. Suppose, you want a grill with mounting capability. Then you will only search for this type of grills. You do not even need to go through every other grill's feature when you narrow down your options. You can find a simple charcoal grill with that desired additional feature.
It would not be time-consuming and confusing when you have limited options. Eventually, it helps to determine what grill will be the best fit according to your needs. You will get the right one only when you find the grill that matches all your requirements.
10. Warranty and Customer Service
You should check if there is a warranty that provides comprehensive coverage. Companies often provide lifetime-coverage while some do not offer any.
You only know about the manufacturer's customer service when you put it to the test.
Look out for social media posts, other customer's responses. The feedback section on the manufacturer's website can tell you more about how they behave with customers.
What Are the Different Types of RV Grills?
Have you decided yet what type of grill you need? So buy the one that is essential for you. Apart from the two most common types, as in charcoal and propane grill, the market also offers some others.
All of them have their own useful and negative sides. Read on to make sure what type of grill you are looking for.
Charcoal Grill
For camping generally, people opt for charcoal grill due to its easy portability. It is even highly available in the super shops than the other types of grills. 
This is popular for its perfect smoky flavor. The kettle-type model is most favorite among grillers of different ages. With it, cooking time never exceeds an hour.
One mentionable drawback of this type of grill is its cleaning process. However, the choice is always yours.
Propane Grill
This gas grill is a high-quality product that combines excellent performance like the charcoal grill and offers better and easy cleaning. You do not need to think of disposing of a hot charcoal mess here. 
It heats up faster and saves energy. Sadly, this grill is not as available as a charcoal grill. Moreover, due to its weight, moving the propane tank around is tough. Anyway, for high performance, this will be a good option.
Electric Grills
As the name defines, this grill uses electricity. So, the risk of inhaling fumes diminishes if you choose an electric grill. The operation of it is too easy. Just plug it into any power source, and you are all set for grilling.
It comes in various sizes and offers a wide range of colors. The cleaning process and assembling is nothing strenuous. You don't even need a spacious place to store it.
This can be the best fit for outgoing and camp loving people. With an easy plug in, your food will be ready to grill and enjoy.
Open-Pit Grills
Another much-known name of an open-pit grill is a campfire grill. This conventional method of grilling is still seen in America. It is preferable since it works with radiant heat for grilling and roasting.
Rotisserie Grills
This grill rotates while grilling is in process, hence the name. You will get an evenly cooking experience due to its slow and gentle rotation. Roast with this grill will be tender and juicy inward with a crispy, crunchy outer layer. It infuses both direct and indirect grilling, which is a noteworthy feature.
Tabletop Grill
This is so compact and so easily portable. Short legs support it. For mini parties and beach barbecuing, you can pick this up.
Frequently Asked Questions:
Q1. What are some of the best RV brand grill?
The best brands to consider include Char-Griller, Weber, Smoke Hollow, Camco Olympian, and more. Each of them has its unique features.
Q2. How long will it prevail?
In general, most of the cooking utensil's longevity depends on its usage and maintenance. It will last longer if you store it in a cool place as a humid place may cause rust and clog in the gas valve.
Q3. What are the benefits of using an RV grill?
Portability and size provide a paramount benefit of using RV grill.
Q4. How to clean and maintain an RV grill?
The cleaning and maintenance of an RV are quite easy. It is better to follow the maintenance section of the manual. Nonetheless, few usual cleaning tasks include frequent cleaning of grate, burner, and tubes. Wash the grill and stock propane supply. Even an oven cleaner can help you in the process of cleaning.
Q5. Can gas grill hook be assimilated to the gas line of an RV grill?
No, the gas grill uses high-pressure valves, whereas the RV gas line is manufactured for low-pressure valves.
Q6. Does RV grill work in the wind?
It works fine, just bar the lid properly, and wind wouldn't be an issue.
Final Words: We hope these in-depth reviews on the 5 best RV grills have revealed your findings and will serve your purpose in purchasing the best one as per your requirement.
We are open to feedback and do not hesitate to comment in the comment section if you have any queries. Enjoy your outdoor events with a highly portable RV grill and make the moment unforgettable.