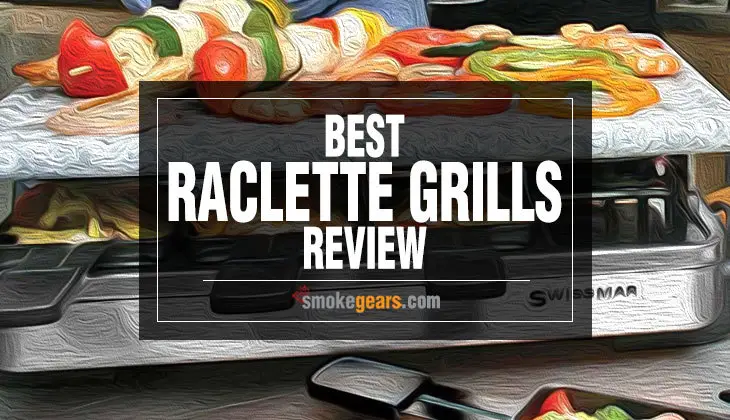 Best Raclette Grills in 2021 [The Ultimate Buying Guide]
Raclette refers to a popular Swiss dish, as well as a Swiss-style dinner party where people stand together around one appliance and cook several dishes.
A raclette grill is a great item to have in your house for making and enjoying all kinds of delicious dishes during small get-togethers with relatives or friends.
Intrigued about how they work? And wondering if you should get one too?
Well, we are here to help you out.
Read on to see our picks for the best raclette grills, and everything else you need to know about these fantastic cooking appliances. Doing so can completely change how you host your parties injecting creativity and intimacy in them.
More...
Granite Stone Grill Top &

Stainless Steel

Stone & Metal Grill Trays
Benefits of Using a Raclette Grill
Raclette grills are the best thing you could use for decreasing the time devoted to cooking, all the while making sure you don't have to compromise with the taste or cut down on the fun.
Also, raclettes turn cooking for a significant number of people into a delight, as well as something about which you can strike up a conversation with someone. Some advantages that are using a raclette grill as opposed to an old-school cooker are:
Unlike chaotic and noisy house parties, a party with a raclette grill can create intimacy among people and keep things organized to a high degree.
5 Best Raclette Grill Reviews
As you now know, the benefits of getting a raclette grill for yourself, browse through our five best raclette reviews, and find out which model deserves a spot in your household.
This brand is popular with a lot of people because of its high-quality products. This particular offering from Swissmar is ideal for a family program.
It is a tabletop appliance coming in two-tiers that can feed eight people. This device is versatile, and everyone can use it to their heart's content to see how creative they can get with food. Its big size means that people don't have to take turns to cook. Everyone can do it together, giving the get-together a big boost of intimacy.
This grill is rectangular and has a grill top. You can reverse. Furthermore, its design allows you to have a trouble-free and fun party. You can make pancakes, fajitas, crepes, etc. after reversing the grill made of cast aluminum. Cooking and cleaning become incredibly easy because of the non-stick trays and cooking surface.
It has a heat-controlling technology so that you can get the perfect temperature for any food. You have to twist a nob to adjust the heat, whether you wish to grill meat or bake something like bread.
All of its trays come with stay-cool handles, so accidents are not much of a concern. It will become a staple for your weekends once you start using it.
The trays cannot be put at the bottom because there are no slots, which is its main problem. This means that the trays will occupy space on your table or counter.
It has eight spatulas, which can be used for scraping off cheese and other things. These spatulas are heat-resistant. The handles on the cheese-melting trays are heat-resistant, as well.
The utensils are safe to put in the dishwasher, and the top cooking plate can also be placed there.
This is a popular model from Swissmar that is a granite version of another of its models. This stone unit will beautify your kitchen and is appropriate for an occasion with friends and family.
Also, this elegant raclette grill has a fusion of a base unit made of stainless steel and a cooktop made of granite. The black trays add a nice touch to this combination.
It is rectangular and meant for eight people. Its maximum power capacity is 1200 Watts. While the upper part is substantial and made of granite, the lower part is open and can keep eight trays. The cooktop has a jagged line around it that works like a drain and lets out the extra oil and fat.
Granite grilling tops are ideal for cooking vegetables, meat, eggs, fish, pancakes, crepes, etc. Instead of fussing, you should use your imagination and work using different combinations. Eventually, you will be able to make everything.
This model will give you a bit of grief when it comes to heating the cooktop. Granite cooktops don't get hot very easily. To work around that, you can half-cook your meat or other things, and boil your vegetables before you put them on the raclette. This will speed up your work. Preheating the grill is also a good option.
You will get eight raclette dishes and eight spatulas with this unit. The spatulas and the handles are all heat resistant. They are also safe to put into the dishwasher.
The base should not be soaked in water. If it gets dirty, you should wipe it clean.
This unit is a cost-effective option for dinner or brunch if your gathering is small. Your guests can come over and cook for themselves using this raclette grill.
It accommodates eight people at the same time, letting your guests' bond while they are cooking whatever they like. This rectangular model has two tiers, with a grill cooking surface at the top and the space to hold eight pans at the bottom. It can use up to 900 Watts of power, and you will have to attach it to a 110 Volt power outlet.
The grill top is made of metal and perfect for grilling sausages, hamburgers, Canadian ham, asparagus, shrimps, or anything else. The temperature control is adjustable and allows you to use the ideal temperature for any item.
Also, the raised edges of the plate prevent spillages and keep everything inside, regardless of how much juice and fat are released from the steaks.
Moreover, the cooktop and pans will not stick, but you should still heat some olive oil before you start grilling. This keeps the sticking to a minimum and the cleaning process neater. Eight big pans for frying eggs, melting the cheese, and making desserts are located on the bottom tier.
Eight spatulas come with the raclette grill so that you can easily remove the contents of the trays. The pans, along with being non-stick, have stay-cool handles. They are also color-coded to help everyone identify their tray easily.
An LED indicator on the unit will let you know whether the grill is switched on or not.
This model has a cooktop you can reverse. This unique model keeps it ahead of most other raclette grills in the market. One side of the cooktop is a non-stick grilling plane that is smooth to the touch.
The rough granite stone on the other side gives a consistent and moderate heat that mostly works for warming things before you cook unique dishes.
Its reversible cooktop that allows you a lot more flexibility to cook is not its only fantastic feature. The granite side of this unit has a drain around it that easily catches the grease and lets you clean it. Cleaning has never been less complicated when it comes to a raclette grill.
This model has eight cooking or cheese trays with lots of different colors so that people can recognize their tray more easily. It also has eight wooden paddles to scrape and spread cheese.
It allows you to adjust the temperature while grilling and even has a light so that you know when it is on. The cooktop, as well as the trays, is safe to put in a dishwasher. Its measurements are 18" x 9-1/4," and it is 5" tall. This is an ETL certified unit that weighs around 21.12 lbs and uses 120 Volts, 1200 Watts, and 60 Hz.
This model does not have its recipe book. So, you will have to try online recipes or get a separate cookbook for ideas about adjusting the temperature or using it in a more versatile manner.
This raclette grill uses 1200 Watts to give you a smooth, hassle-free performance. Even complete newcomers can use it because of its simplicity. You can prepare vegetables, cheese, meat, chocolate, and a lot more with this model.
It has quite a few beautiful features, like a simple plug-in system and a completely adjustable temperature knob.
Furthermore, it has two tiers, which is a popular style with customers. It's separate upper and lower zones will let you and your guests cook big batches of food simultaneously and much more easily. 
But the best part is, this model has two cooking surfaces, one made of metal, and the other one of stone. This gives you the benefits of both worlds.
This appliance was made keeping Swiss-style food in mind. So, it comes with its fondue maker. This feature has made it a huge hit with customers and is sure to delight your guests as well.
The packaging also gives you fondue forks with tips of different colors, so that everyone can keep track of their own and avoid any confusion.
It has dimensions of 9.8" x 21.3" x 6.4", and a mass of 10 lbs. This makes it very easy for you to carry it to be someplace else. Aside from some customers complaining that they could not find their way around the grills, little criticism has been heard about this unit.
Buying Guide:
Before You Buy What to Look for
Raclette grills are made keeping parties in mind, whether we are talking about a dinner date or a gathering of close friends, neighbors, or relatives. Therefore, bringing one into your household is not such a bad idea.
But the question of which models one should get still remains. The myriad of choices and options often leave new users feeling confused. So, have a look at the following attributes to ensure that what you are buying will last long.
1. Style
The two-tire unit is the most common when it comes to raclette grills. In this style, the tier on the bottom is used to melt the cheese on the couple's trays. On the other hand, you use the top tier for cooking food and keeping things warm. Raclette grills come in rectangular, round, or ovular shape.
As the oval shape lets the guests gathering around a grill add their trays more efficiently, this shape is the most popular.
Not all raclette grills are built similarly, and this is also why the size is essential. A basic unit is appropriate for two to four individuals, e.g., a romantic dinner for only a couple or a small gathering of relatives.
If you like to throw parties, get a model that works for eight to twelve people. Some advanced ones are also in the market, and although expensive, they will let you incorporate a fondue maker.
Do bear in mind that you will have more difficulty storing away the advanced units when they are idle, owing to their bigger size. So, you may not want to buy one and see it waste your space unless you need one or have enough space in your backyard or the kitchen where you can put it.
2. Performance
How durable the unit is and how good the quality of the materials is will largely dictate the performance. You should be on the lookout for a model that has a cooking surface made of granite. A cooking stone is excellent when it comes to searing meat while keeping all flavors because it spreads heat evenly across its surface.
Its long period of heat retention is also ideal if you want to keep the dishes warm as long as the party is going on.
But a granite top is not a suitable choice for fast preparations and grilling raw vegetables and meat. This is because it does not get as heated as other surfaces used for grilling would.
A non-stick coating is present on the couples and the top of the grill in some raclettes. This helps with both faster and easier cooking, and with trouble-free cleaning. Some units can be taken apart for separate washing or putting the parts in a dishwasher. This means you get to escape some tedious cleaning after you have had a party.
3. Whether There Is Any Add-on
As most users buy raclettes for using them at parties, it is a wise idea to buy units that bring along all of the accessories that one might need to make their party a success.
Spatulas and dishes are already present in some units, saving you the trouble of separately buying them. In some models, reversible grills or modular grills can be found, which makes flipping or changing them incredibly easy.
The temperature control options in some models make it easier for you to cook meat, vegetables, and fish. Stay-cool handles are also nice additions that reduce the chances of having accidents. You can forego gloves and touch the grills and trays directly.
4. Types of Raclette Grills
As the main difference in raclette grills is in the features and size, any concrete categorization does not exist. But there is a myriad of options you can choose from, and so, you can try to divide them into several groups.
• Basic
The models in this category should have a cooking area in a medium-size, i.e., with enough space to cook for two. It will also need a source of heat, either chemical or electrical. If you are new to this and only want to try things out, the basic models will provide the best value for money.
• Standard
These models will give you the complete experience of using a raclette. They mostly come with a stone surface, like granite, which would create the ideal circumstances for searing meat. As a cooking surface made of stone can lock in flavor and moisture, it can produce steaks with better taste.
• Tabletop
Tabletops are the grills that you should go for if you are throwing small-size celebrations or a party inside your house. These are known to be versatile, and often have a grill top and a hot stone for keeping everything warm. 
Not-stick grilling surfaces can be found in high-quality units, and they will make grilling and cooking much easier. They come in different sizes, the larger ones being suitable for hosting parties and the smaller units being fit for cooking for a small number of people.
• Party
These can serve a minimum of 12 people and offer multiple options for you to prepare fish, meat, vegetables, shrimp, or anything else you want. They have a fondue set that can be replaced with the grill if you want to cook chocolate, stock, or cheese fondues.
How to Use a Raclette Grill?
First, you should read the manual and get some basic ideas about how you should be using the grill. Then you can follow these simple steps:
As for melting the cheese, you should generally do it on trays or in fondue pots. But the fondue pot takes time to heat up, so you could melt your cheese on a stove and then put on the tray. This will speed up your work and also keep your cheese warm enough.
Also, as raclette grills are open surfaces, do not let children close. You should also never touch the surfaces with your hands and should use utensils instead. 
Use heat-resistant add-ons and make sure your cooking surfaces are completely cool before you soak or clean them. You should also never clean your electrical unit without unplugging.
Frequently Asked Questions
Q1. Can you cook steaks on a raclette grill?
Yes, you can. Raclette grills are incredibly versatile and allow you to cook almost everything. However, the thickness of the steak will determine the amount of time you will need to cook it. You can use the cooktop for the bigger pieces and the bottom trays for smaller ones.
Q2. Are raclette grills safe to put in the dishwasher?
In several models, you can take apart a lot of components and easily put them in the dishwasher. No harm will come to them. But bear in mind that the heating part is not dishwasher safe, especially if you are using an electrical unit.
Q3. What are the common measurements of the pans?
The pans are usually 3" x 3" or 10 cm x 10 cm. Each is just enough for one person, i.e., each pan will cook enough food for one small plate.
Q4. Do cast iron raclettes require seasoning?
Yes, they do if you want the best results.
Q5. Can I order extra pans with my raclette grills?
No, you can't. However, you can purchase additional dishes for a lot of models separately.
Final Words: As you have been armed with all the fundamental knowledge about raclette grills, you can now easily figure out which model you should buy and how you should operate it. So, hurry up and get the best raclette grill, and your parties will never be the same!