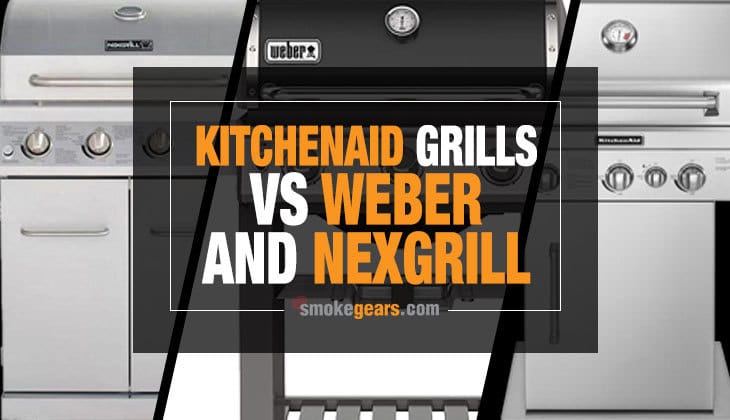 KitchenAid Grills VS Weber and NexGrill: The Ultimate Fight
Summer weekends are all about sunshine on your back, kids playing behind you, and neighbors judging your cooking style on your grilling machine for the umpteenth time.
It's the time for serving great grilled food to your family, friends, and occasionally annoying neighbors.
In this article, we bring you the perfect solution to your criticism-free afternoon with the ultimate fight, aka Kitchen Aid Grills vs. Weber and Nex Grill, so that you can choose the better weapon for the barbecue blast.
More...
Get to Know Reigning Champ: KitchenAid
KitchenAid grills are manufactured by NexGrill under a different name.
They share several features; however, KitchenAid's grills should be the benchmark while comparing it to the other two grills. They're like the flagship appliances. It'll cost you, but the performance would be well worth the investment.
Here, we specify two KitchenAid grills to show you why it should be considered the benchmark.
KitchenAid 720-0787:
KitchenAid 720-0745:
First Contender: Weber Genesis
For comparison, there are two proper genesis grills whose specifications are mentioned below.
Weber Genesis II E-310:
Weber Genesis II E-410:
Second Contender: Nex Grill
Typically, Nex grills are all the same as gas grills. Nonetheless, we listed its specifications at a glance for you to judge.
Nexgrill 4-Burner:
First Fight: Kitchen Aid Vs. Weber Genesis
Many features differ within these two grills. To make it easier for you, we chalked up all the differences and some similarities.
Fuel Type:
Color Options:
Cooking Area:
Ignition System:
Grill Bars:
Burners:
Grease Management System:
Technology:
Quality:
Second Not Much Fight: KitchenAid VS NexGrill
There is hardly any comparison between these two grills as both are quite similar in parts and features and few differences.
More features that are the same in functions are listed above in their specifications.
It is a very short fight as both come from the same manufacturer.
Winner-Winner: What a Griller
According to our preference, we declare Weber as the champ in this ultimate fight of KitchenAid grills vs. Weber and NexGrill.
Weber Genesis can be your best griller to showcase at your gatherings. It has many features that will compliment your cooking style.
Moreover, it is a very safe choice as it keeps a note of grease drips and, more likely to save you from fire hazards. Coming on top in two essential categories makes it an excellent choice for professional and newbie grillers alike.
Thus, you should choose a functional yet safe weapon for your barbecue blast.