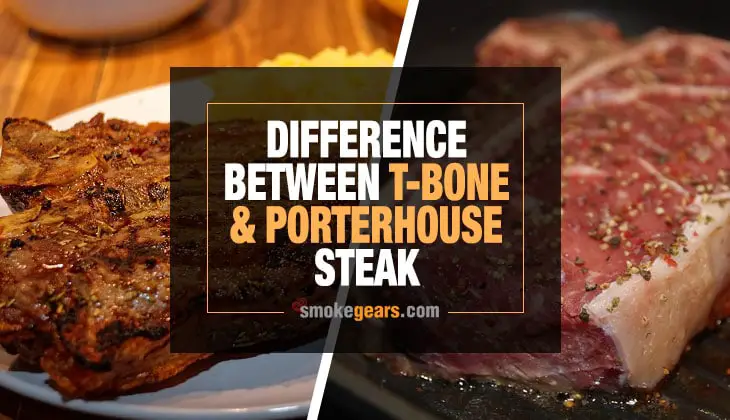 Difference Between T Bone and Porterhouse Steak – Talking about Steaks
First of all, we don't recommend everyday consumption of steak as part of a regular diet. But the first bite of steak is always a pure bliss for a bunch of people.
Steak refers to a thick and flat slice of meat cut from a fleshy part of an animal or large fish. One can mostly find it as grilled meat, and people also refer to it as pan-fried meat. Steak is only as good as the cooking method. Usually, by grilling and broiling, one can get the best results.
There are several different kinds of steaks available for purchase and consumption. However, in this article, we're going to elaborate on the differences between T-bone and Porterhouse steaks.
More...
Types of Steaks
There are various kinds of steaks. For instance, Filet-mignon, Tri-tip, Rib-eye, T-bone, Porterhouse, Flat iron, Top Sirloin, Hangar, New York Strip, etc. The categories mentioned above are some of the most famous steak-cuts. 
Amongst the competition, T-bone and Porterhouse steaks are one of the finest and well-known steaks. Undoubtedly, steak tastes terrific when it lands onto a plate with a beautiful shape.
Differences between T-bone and Porterhouse Steaks
• What is a T Bone Steak?
T-bone steak is a large piece of cut from the sirloin of beef that contains t-shaped bone. It supplies us with the exquisite tenderness and optimal texture similar to Porterhouse steak in terms of taste. Loin primal is the primary home portion where T-bone steak exactly fits in.
Each side consists of filet mignon and New York strip. But here filet mignon is reduced in size. Additionally, T-bone steaks are cut closer ahead. Also, tenderloin is significantly tapered on the T-bone.
Furthermore, the length of the T-bone needs to be 0.5 inches or 13mm at best. Aside from that, the standard mass of this steak should be 600 grams.
However, generally, T-bone steaks are classified as one of the premium quality steaks at steak houses, and prices are consequently high. As reported by USDA, the cost of per pound T-bone steak is around $11.
• What is a Porterhouse Steak?
The legendary beef steak is none other than porterhouse. It is regarded as the staple of steakhouses. Porterhouse steaks are cut from the back end of the short loin. To be more specific, it comes from the broader end of the short loin.
Apart from that, the tenderloin part is larger and rounder on the porterhouse. The prominence of the porterhouse is driven by the fact that it contains both the tender and flavorful muscles on the sphere. And we know fat stands for flavor.
Porterhouse steak remains between New York Strip and Tenderloin. Nevertheless, these are even more highly appreciated due to their more giant tenderloin. In proportion to USDA, per pound porterhouse steak costs around $11, similar to the T-bone steak.
Therefore, size is the predominant point for the difference between porterhouse and T-bone steaks. Other than that, both of the steaks are identical. To conclude, one can say that all porterhouses are qualified as T-bone steaks, but all T-bone steaks cannot be deemed as porterhouse steaks.
Standard and Average Weight of T-bone Steak and Porterhouse Steak
The usual weight of T-bone steak is less than 24 ounces; in contrast, porterhouse steak is either 24 ounces or above 24 ounces. T-bone steak dwells between 1 or 1.25 inches, although 1.25 inches is the minimum requirement for a porterhouse steak.
The Contrast between T-bone Steak and Rib-eye Steak
Another steak-cut worth an honorary mention is the rib-eye. With high fat-content and incredible taste, it's also in the top-tier taste category.
Ribeye steak is a little plumper than the T-bone steak as it resides at a close range of the head of the cow. It plays a starring role by dint of its loaded fat, soft texture, and tenderness, which are strong enough to flicker the appetite of the eaters. This cut is from the primal rib portion.
Furthermore, rib-eye steak is entirely boneless. It is a share of beef ribs named the standing-rib roast, and it stays in between the ribs.
Moreover, high-fat content is the fundamental difference between the T-bone steak and rib-eye steak. T-bone steak is comprised of dense as well as substantial t-shaped bone, whereas rib-eye steak is deboned and highly concentrated with fat. Both of the steaks are amazing in terms of taste.
Why the Popularity of Steaks Vary in Terms of Cuts?
Some cuts such as chuck, bottom sirloin are unappealing or unsavory to the public community due to possessing a lot of connective tissue. Connective tissues draw muscle fibers together, which makes the meat tougher.
On the other hand, few of them are quite expensive as a result of their succulence and tenderness — for instance, porterhouse, t-bone, tenderloin, strip loin, and rib-eye steaks.
Some Rules of Thumb for Cooking Steaks
Jam-packed Toothsome Recipes
Below are how-to ways to some tasty recipes;
How to Keep the Steaks Sear on the Outside but Pink in the Middle?
(oven-baked tender and juicy t-bone steaks)
How to Prepare a Butter-Basted T-bone or Porterhouse Steak?
How to Get a Porterhouse Steak Coupled with Gravy Mushroom Sauce?
How to Serve Porterhouse Steak Together with Potatoes and Shallots?
How to Cook a Country fried Ribeye Steak?
How Are Steaks Associated with Health Challenges or Medical Problems?
We all know there are several downsides to having red meat. Despite being incredibly delicious, we cannot overlook the health-related disadvantages of red-meat. As steak itself is a lump of red meat, it is also detrimental to health.
There are lots of sources of protein that can comply with the requirements of the body — for example, eggs, fish, nuts, etc. But meat is also a good source of protein that can serve your body with 2000 calories one day at a time.
Doctors never suggest steaks as a vital source of protein; instead, they recommend leaner steaks for protein consumption. Remember, red meat poses a significant threat of cardiovascular disease as well as cancer-related mortality.
On the contrary, lean meat is associated with a lower mortality rate concerning cardiovascular disease, including cancer. So, steaks should not be our main meal, in the light of maintaining a healthy lifestyle. However, we can enjoy and relish it from time to time but not regularly.
Have Fun:
We hope our comparative analysis of the difference between T-bone and Porterhouse steak was informative. Make sure to take full advantage of the recipes aforementioned to get yourself a scrumptious meal.