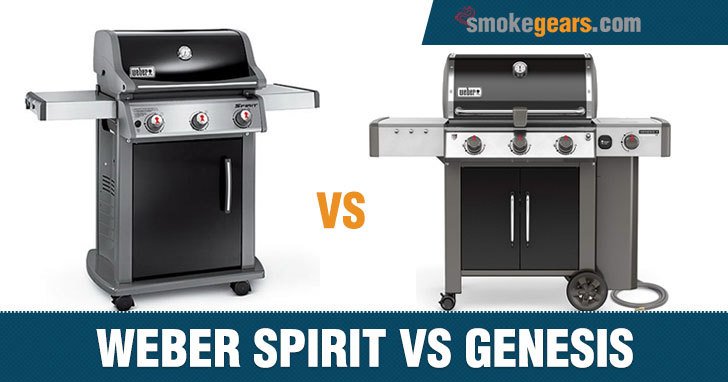 Weber Spirit vs Genesis: What is The Difference and Which Model is Right for You?
With so many grills available for your kitchen making the right choice is not an easy job. You have electric grills, gas grills and also charcoal grills. While some are designed for indoor use, there are others that are suitable for outdoor use. 
In this article we will be doing a comparison between Weber Spirit and Genesis Gas Grill. We are sure it could be helpful for the readers and also prospective customers to make a right decision based on facts and figures.
More...
What Is Common About Spirit and Genesis?
To begin with there are a few things common about these two models of grills.
But these apart there are obviously quite a few differences and that is what we will be looking at over the next few lines.
The Overall Appearance
Let us try and identify a few areas where there are some obvious differences.
The Genesis gas grill comes with a lid that is fancier and has a shinier look. The handle also is the same when compared to the Weber Spirit.
Further the Weber Spirit offers a two wheeled cart. This would require tilting the cart to one side if you wish to move it. It could also require two people depending on the distance you would like to move it.
On the other hand as far as the Weber Genesis is concerned, it has two locking caster. Additionally it also has all-weather wheels. This makes movement from one location to another quite easy and a single person should be able to do it.
Though there are drip pans in both the models, many believe that it can be accessed easier on the Genesis model.
However, in both the Spirit and Genesis, the drip pans are situated at the same place. This is perhaps because the Genesis has a better clearance and lifting it from the wire rack is not a big challenge.
On a closer look at the Genesis gas grill model you will also have one more interesting thing. You have something like a curtain which hangs under the side table. This is not there in the Weber Spirit model. But this curtain according to experts and user is just a cosmetic makeover as far as Genesis is concerned.
A Few More Obvious Differences
The propane tanks on both the grills have to be mounted on the right side table. This is perhaps to balance the weight and scale it evenly if one would like to put it that way. 
However, in the Spirit grill the propane tank is complete visible but this is not the case as far as Genesis is concerned. The Genesis has some metal curtains and the same hide the propane tank and you will not get a clear view. 
There are reasons to believe that these features makes Genesis more stylish, classy and sophisticated.
Read more Weber Performer Deluxe vs Premium: Which one is better?
Comparisons about Technical Specifications
Cooking area:
The cooking area for Weber is 360 inches and it is slightly more with Genesis at 380 square inches.
There is no doubt that the Genesis has a larger warming rack and this also leads to a larger cooking area when compared to the Weber Spirit. This also leads to an increase in the overall dimensions of Spirit compared to Genesis. Further the Genesis also has a tuck-away version which can be folded and kept when it is not in use.
The drip pan is much better as far as Genesis is concerned. This is because it is not only located very in a convenient place but the drip pan is easily accessible when compared to the Weber Spirit.
Warming rack area:
Weber comes with a warming rack of 90 square inches and in comparison Genesis offer a higher warming rack area of 114 square inches. 
The BTU per square inch is 73.6 for Weber Spirit versus 68.4 for Genesis Grill. So in this areas Weber is a better option perhaps.
Material build:
As far as material build is concerned, both Weber Spirit and Genesis Gas grills are built from quality materials. But according to reviews and experts, the quality of steel used in Genesis is slightly better than that of what has been used in Weber Spirit.
Heat control:
Heat control is one of the important attributes when you choose any grills and therefore this feature is automatically compared when one chooses between Weber Spirit and Genesis Grill. Weber Spirit has some of the best and time-tested heat control systems. The technology is sound and is known for its reliability. 
On the other hand Genesis Gas grill uses the best of heating technology which certainly makes it much better. It makes use of special technologies such as infinity ignition and also Bluetooth heating system. This may not have too much of utility but it certainly has quite a bit of cosmetic value and this certainly appeals to many new generation users.
Hence, as far as heat control is concerned, there are reasons to believe that Genesis is much ahead of Weber Spirit.
The Grill Post-Mortem:
When you at the grill of Genesis and Weber in some details, you will have reasons to believe that Genesis is a product of modern technology. It has quite a few takeaways including stainless steel burners and the high tech flavorized bars with enamel coating. 
It has an efficient grease management system. This makes it easy to remove grease and does not take away too much times and effort when compared to Weber Spirit.
In fine there is no doubt that there are quite a few similarities as far as Weber Spirit and Genesis natural gas grill. However, when one has a closer look at the various important parameters like BTU, heating area, ease of operation, ease of cleaning there are many reasons to believe that Genesis could be a better option.
Weber Spirit is also a time-tested, proven and sturdy gas grill which offer very good value for money. Therefore both have their own unique specialties and the onus lies on the customers to choose the one which they feel is in line with their actual needs and requirements. In terms of price there is nothing much to choose between the two and they are priced almost on the same levels.