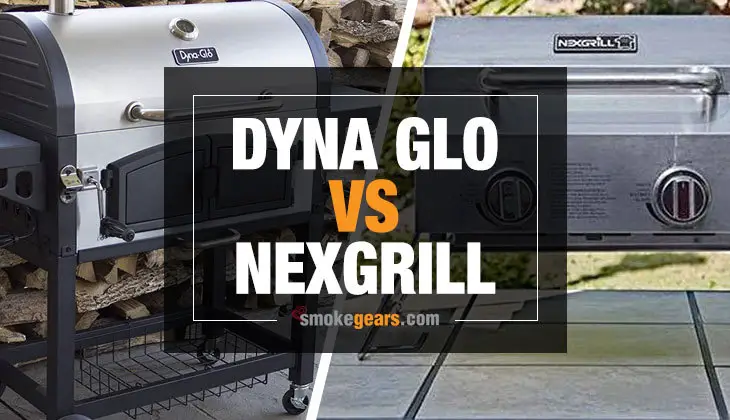 The Better Choice Between Dyna Glo and NexGrill
Whenever you want to purchase a grilling machine, you will see that two types of gas grills are the most famous on the market. It is best to go through some recommendations and ideas if you want to buy the one that meets your demands.
It will not only help you to buy the most suitable one but also satisfy your grilling needs. To help you with your choice, we have made an article about Dyna Glo vs NexGrill, which has all the information you require to get a perfect grill for yourself.
More...
The NexGrill produces the most significant grills while Dyna Glo is budget-friendly and also provides regular performance, which seems as affordable for the present. Still, in the long run, you need to think a bit more.
Usually, people with a limited knowledge get tempted with grills that come with a lot of burners (five or six). Still, we should be aware of the fact that these are just some features which they use to draw us toward their products.
Typically, such grills have a decent performance rate; however, the materials used in them are not of excellent quality. These better-looking burners do not last for a fair amount of time due to their lousy functionality.
Dyna Glo Grills
A renowned company named GHP is the manufacture of Dyna Glo grills. Furthermore, they offer three different types of grills that use natural gas and about 15 categories of propane grills. All of these have a high demand in the marketplace.
The quality of these grills varies from one to another. You will find products that have basic functionality and come with only two burners. On the other hand, there are some extraordinary grills that offer five burners, a stainless-steel finish, and a side burner.
Therefore, you can either go for the basic and cheap one; or you can spend a little cash to purchase something more authentic.
Two-Burner Grills of Dyna Glo
• 2-Burner Open Cart Grill
The Open Cart Grill with two burners is the cheapest among all the other Dyna Glo grills. Also, the specifications that you can find in the open cart grill are very alluring. For starters, the item has a grilling area of 310 square inch area that gives us more space while grilling food of enormous quantity.
In this grill, both the burner can produce a total of 20,000 BTUs together (Each can generate10,000 BTU/hr), and this much heat is enough to get a well-cooked meal for an event.
The cooking grids of this machine are made of steel coated with porcelain. It also has detachable side tables, and this feature makes it easier to clean the appliance properly.
• 2-Burner Smart Space Grill
Another product of this series is the Smart Space grill with two burners. The features that this product owns are a bit different from the other ones, but they are extraordinary.
Smart Space grill has a massive grilling area of 350 square inches, and this area is more significant than the other standard ones. If you are planning to throw a party for a considerable number of people, then this grill is appropriate for your event.
The two burners of this particular grill can create the heat of 15,000 BTU/hr, and this heat can seamlessly cook the food properly in a short time. These two burners can produce a total heat of 30,000 BTUs approximately.
A remarkable fact about this appliance is that this has a grilling space of 85 BTU/ one square inch that means it produces 1055 joules heat per square inch.
Cooking grates of this product are made of enameled cast iron, which is more durable than any other material. It also comes with a firebox and a twin wall lid; both of them are removable, which helps you to clean them properly.
The side tables of this appliance are foldable. This foldable feature can help you to organize it effortlessly. After you are done with it, you can store it in any place without any hassle.
Dyna Glo 3-Burner Grill
Dyna Glo grills also offer grills that contain three burners. These products can cook your food more quickly. The demand for these grills in the market is more than the ones that have only two stoves; however, they cost more than the previous ones.
These grills belong to the mid-size grill category. The unique features of these grills are something that you would want in your product most of the time.
It has a enough grilling space that gives its users comfort to cook their meals with ease. The grill is available in different colors too, and the finishing of its interior is also very eye-catching.
Porcelain-enameled cast iron cook grates give long-lasting durability to the grill. Furthermore, due to this material, the grill can be used for a long time without any issues.
All three burners are each rated at 12,000 BTU/hr. This much heat is more than enough to get your food cooked quickly and adequately. The collapsible side table feature of this grill ensures that you don't require extra space to store it after you are done with cooking your meal.
Now comes the most fantastic feature of this grill, and that is the 390 square inches primary grilling area that gives its user a vast cooking space. This spacious cooking space comes in handy when you will need to cook a meal for many people at the same time.
Moreover, Dyna Glo grills don't only have two-burner or three burner grills. The manufacturing group of this company also makes grills that contain four burner grills. Let us take a quick look at those stoves!!
4-Burner Series
The Dyna Glo, four-burner grills have some impressive specifications, and are unique because of their interior and beautiful visuals. If we overlook the style of these grills, then the four-burner series can be sectioned into three individual groups.
Three specific groups of four-burner grills are DGB, DGA, and DGE. All three of them contain four burners. They cook food better than most other expensive heaters. All these burners are just a bit different from each other because of some individual specifications. Except for that, all these grills offer the same facilities.
DGA (Dissolved Gas Analysis) Series
DGE Series
Dyna Glo Grills (Natural Gas)
Manufacturers of Dyna Glo also produce grills that use natural gas as energy. The heat generated from these grills doesn't harm our environment. However, the only defect in these grills is that they are a bit expensive, and not everyone can afford it.
Nexgrill Grills
Nexgrill has a lot of cheap items. These grills are affordable, readily available, and unique because of their balance of functionality and price range.
This type of grills appeal to a different segment of customers who prefer affordable equipment with excellent features. Except for the fact that the Dyna Glo grill is more budget-friendly than the Nexgrill grill, there are not many differences between the products of these two groups.
There is a high chance that you will get confused when you are buying grills from a local store. It happens because often, you will get grills with almost the same price tag. Most of them are usually of poor quality, and that is not surprising as well.
Many cheap products also have the same price tag as Nexgrill grills. That's why it's better if you collect all the information and know the pros and cons of an excellent grilling device so that you don't have to face any difficulties later.
Evolution Grill
Furthermore, a series of Nexgrill is known as The Evolution grills come with some revolutionary features in it. There is a steel plate right under the cooking grate that works as an infrared emitter. This feature makes your meal juicier and well cooked.
Nevertheless, people are not accustomed to such grills; therefore, they don't have enough information about these types of cooking appliances. Due to their low usage rate, people are still unaware of their accurate specifications and details.
If you are comparing both Dyna Glo grills and Nexgrill grills based on their burner number, then let us tell you that just like the former set of products, this brand also offers you cooking appliances with more than one burner.
Deluxe Six-Burner
The Nexgrill comes with an absolute product that is named as Deluxe Six-Burner grill. These types of cooking-appliances are unique and, at the same time, rare on the market.
In the present, they are not typical for the ordinary folks to use; however, people are showing their concern on burners of this category due to their durability and efficiency.
As if these alluring features were not enough to draw the customers' attention, the manufacturers of the Deluxe grill with six burners also made three versions of the same section.
The first grill of this branch is customized with six burners, as the category name already defines. Along with that, this grill also features an infrared burner made with high heat ceramic and a rotisserie that produces a high range of heat using minimum fuel.
On top of that, the infrared burners of this Six Burner Deluxe grill can reach the temperature of 800F and more. Additionally, they are perfect for roasting steaks and other meals.
Subsequently, these grills with six primary burners and a standard side burner revolutionize the next generation of grilling appliances. Nevertheless, it's regrettable that people have not started to use this group of grills yet. Hence, there are not many reviews of such sections of products.
At the end comes the group of grills belongs to the Nexgrill series, which has six burners, side burners with ceramic infrared, and a rotisserie. Moreover, it has a rotisseries burner with a dedicated infrared system.
When you include all these features in a single product, which is also very cheap in comparison with the other grills in the market, you can decide if it is the grill that you would want to buy.
Go, Grill!!
Last but not least, there are not many dissimilarities between NexGrill and Dyna Glo in the market. Even though they don't have that many variations in comparison, the NexGrill grill has some excellent features that cannot be found in a product of Dyna Glo.
The products of NexGrill possesses every specific feature at a meager price with exceptional durability. Therefore, according to our judgment, NexGrill takes the trophy. So, we conclude the Dyna Glo vs NexGrill debate, and we hope it was helpful for you.