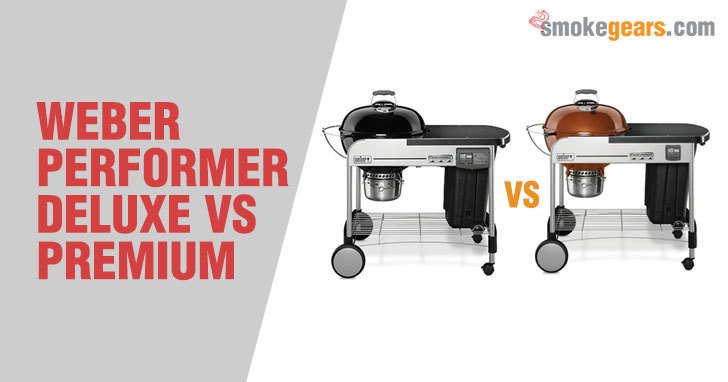 Weber Performer Deluxe vs Premium: Which One is Better?
So, you are confused between Weber Performer Deluxe and Premium. You want to buy the advanced one to serve your interests in the best possible manner. However, both these products have many similar features with a few differences. 
The key difference between the two is Touch N Go gas ignition system. You will find this feature only in the Deluxe. For this feature only, Deluxe costs more than Premium. Before focusing on Weber Performer Deluxe vs Premium Charcoal Grill, we will first discuss both these grills individually.
More...
Weber Performer Deluxe Grill
Features, Benefits, & Improvement Areas: Deluxe is highly appreciated by most of the users for its easy to use features. You can simply assembly this grill within a couple of minutes without any expertise. 
All you need to do is to attach the propane tank and then push the automatic igniter for fire. You do not need a lighter.
Also, Deluxe comes with a large prepping table. You will have enough space to store many of your kitchen needs including spices, condiments, and even serving dishes. You can easily move your grill whenever you want using a single hand. This grill is lightweight and easy to carry.
Many of us find it hard to maintain and clean a grill. You will not have this problem while using Deluxe. The cleaning system below this grill can be easily taken apart. You can clean and maintain it without any hassle. Reattachment is also easy.
Performer Deluxe grill comes with a small trash container that you can use to store extra charcoal. You can also use it for the thrash. It has little hooks on the front that can hold the BBQ tools. When it comes to the looks, it can compliment any interior. You will love both the appearance and usage.
In addition, this grill features an electric ignition. The panel has a remover timer that comes with a backlit LCD screen. Weber also offers a built-in thermometer at the top of the grill lid for better convenience.
The grates are removable inside the grill. However, there is a part that the users can lift to add charcoal without lifting the grill grate. The sear grate is also removable.
When it comes to the improvements, you might want a better handle. The plastic-made handle looks durable and sturdy. But the problem is that it can be a little warm to touch when your grill is warm.
Weber Performer Premium Grill
Features, Benefits, & Improvement Areas: You will find many similar features between these two types of grills. Deluxe has a few advanced features such as the electric-push start ignition and sear grate. 
These two features are lacking in the premium. If you feel that you can manage without both these features, you can go with premium. Premium is less expensive than the previous one.
Performer Premium Grill is compact but big enough to serve your entire family. It offers endless grilling possibilities. You just need to remove its circular grate and replace it with a pizza stone, griddle, poultry roaster, or any BBQ system to prepare your favorite food. It has hinged grates to easily add charcoal while cooking.
The cleaning and maintenance will be easy. It features a one-touch cleaning system to offer hassle-free cleanup. It has the built-in thermometer to display the internal temperature of the grill while grilling to enable the users to adjust the temperature depending on the requirement.
Weber Premium features a mounted timer. A removable LED timer mounts to the work table of this grill. The users can set the timers for preheating and grilling sessions. 
It comes with a CharBin storage container to store the charcoal for easy and convenient usages. The side table is spacious. You can use it to keep the platters, tool, and seasonings.
Performer Premium has made many changes in the basic design. Now it has many advanced features to improve the cooking experience of users. With the new version, there are some upgrades in lid and handle, lid bail, worktable, and ash catcher. 
It features an enclosed ash catcher for easy cleaning. Assembly is also super easy like the previous one. The material is solid and sturdy. They have made some upgrades without any additional cost.
When it comes to the improvement areas, you might not find any lacking. Yes, if you want more advanced features, you might prefer the one with electric-push start ignition.
Read more Weber Spirit vs Genesis Gas Grill: Which one is suitable for you?
Weber Performer Deluxe vs Premium
As stated earlier, both these grills share a lot of common features. You can say that you will find almost everything same expect the gas ignition that is available in the Deluxe only. Both the grills are 22.5-inch kettles. These are easy to assembly and cleanup. 
They feature 43.5″H X 48″W X 30″D assembly dimensions. They also offer the same warranty period. They offer ten years warranty on bowl and lid and five years on the plastic component. When I'm reviewing Deluxe, Weber said, You will get two years warranty on the remainders.
As the kettles come with the standard 22.5-inch design. Weber Performer Deluxe and Premium, they can accept all the cool accessories. Kettles are available in three colors, black, copper, and green. Some other similar features of both Premium and Deluxe are the followings.
Tuck-Away Lid Holder:
The problem with the standard kettle is that you will not find any place to keep the lid while using the grill. With the Weber, you will not have this problem. 
Grill Table:
Both of these grills come with a built-in grill table. Many standard kettles do not have this feature. The Weber comes with a metal side table with enough space. Both grill table and lid holder can enhance your grilling experience.
They also have big charcoal storage bin and oversized wheels. The most notable feature is the built-in slot. This slot stores a removable electronic timer.
From the above comparison, you might have realized that both are designed in the same way. Deluxe gets some extra point for Touch No Gas ignition system. However, Premium is less expensive and can offer all the same benefits.