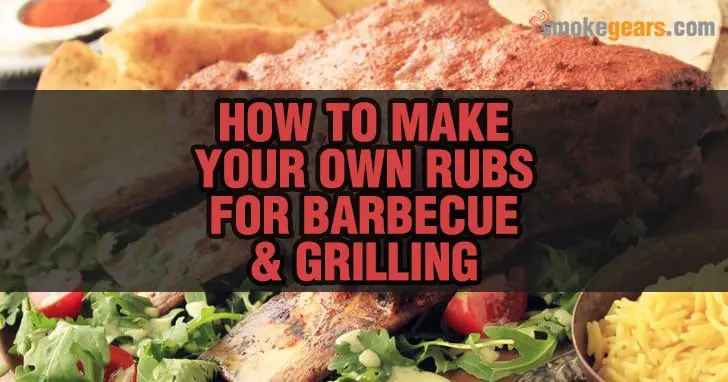 How to Make Your Own Rubs for Barbecue and Grilling
An excellent spice rub will give you great grilled or barbecued meats. You can buy an array of blends from the store, why not you try making your signature rub and master the craft instead?
You know they say, "Charity begins from home," thus, there's no better place than home to get started with creating your own spice BBQ rubs.
Homemade BBQ rubs enhance the taste of many of your summer-grilling dishes. 
Depending on the taste and texture you're going for, you can add the spices of your choice. In this case, you can enjoy absolute freedom, while the options are limited with store-bought rubs.
More...
Most of the BBQ and spice experts and experienced pitmasters believe that the rubs are really good to spice up a pork butt and pork ribs while cooking. But you can always use a spice rub on beef cuts, and other meats too.
Sometimes just the right amount of salt and pepper will get the job one as well. You can also throw in some garlic and cayenne powder into the mix too.
In order to make a rub, you don't have to stick to the recipes. Experiment with various ingredients from time to time. You can find the signature rub while experimenting and crafting your own.
This article will guide you on how to make your own rubs for barbecuing and grilling. 
How to Make Rubs for BBQ
Fundamental Ingredients for any Rub:
Salt and sugar are the most two essential ingredients for any rub. Salt is used for creating flavor and bringing taste, while the sugar forms a nice caramelized coating on the surface of any cuts of meat.
These days' different kinds of smoked sugars and flavored salts are available at the supermarket or online.
Another key ingredient of any rub is- ground pepper. Pepper adds heat to any rub while enhancing the taste. It is used in almost every recipe regardless of flavors of different regions, and level of heat.
How to Begin:
A good rub brings texture on tender meat and creates a tasty crust on the surface. While making a basic rub, you can start with the key or essential ingredients mentioned above. Mix some salt and sugar for balanced flavor, and caramelization.
Next, add little heat and flavor with some black or white pepper. To bring smokiness, you can use cumin or chipotle powder.
Now, either you can keep your rub very simple or step up your game with more herbs or spices of your choice to match the meat you are going to cook.
Other Ingredients Used In Rubs:
There is a wide range of spices to choose from -to make a rub. Different spices bring different flavors, colors, and aromas to your dishes. When it comes to picking seasonings for your rub, the sky is the limit. 
With a little bit of knowledge of spices, you can be the master of making a rub for any occasion. Among hundreds and hundreds of spices -- a few indispensable and elegant seasonings that are recommended for making rubs are mentioned below:
Flavor of Different Regions
Depending on various flavors and the seasonings used in the recipes, most rubs can be categorized under regional cuisines.
Indian, Thai, Mexican, Texan, Kansas style, and the Caribbean – these are the most popular cuisine flavors used in rubs which are applied during grilling and barbecuing all over the world.
The key ingredients required in such recipes can be found at any local store. But sometimes, a few exclusive or regional seasoning might be hard to find.
In that case, you have to seek out specific supermarket or store to get the desired regional spices.
Dry Rub vs. Wet Rub
The main difference between a dry and a wet rub is- dry rub is powered and can be coated over the meat while a wet rub is paste-like. You have to use a brush or your hand to rub wet rub all over the meat.
To make a dry rub, you have to mix all the dry or powdered ingredients in a bowl. If you mix in some oil, or Worcestershire sauce in the same pan, you will get a wet rub.
A wet rub helps the coating to adhere to the meat. You can use mustard before using a dry rub so that it sticks to the meat you are going to cook.
Best Rub for Pork
I already discussed that you have the liberty to pick your own spices and make your rub for any dish or any cuts of meats. 
However, there are certain spices which only complement pork. Here is our selected rub to use with pork for any grilling or barbecuing: 
Ingredients:
Whisk all ingredients together in a bowl, rub or sprinkle it gently on pork meat. You can also store this rub in an airtight container up to a year.
Best Rub for Beef
I love this dry rub recipe for beef. It brings together a lot of seasonings and a wide range of flavors which are suitable for everybody. This recipe contains the following ingredients:
Ingredients:
Put all the ingredients in a mixer, and blend for like 15 to 20 seconds. You will get freshly powdered rub- ready to use with beef for grilling. 
You can also add more ingredients or take out a few elements if required. 
Best Rub for Chicken
If I have enough time in hand to know my way around the spices, I avoid going to the store, instead use a homemade rub. It's one of my favorite dry rubs to use for chicken:
Ingredients:
In a large bowl mix all the ingredients, and apply the dry rub to the whole chicken. You have to make sure that the rub goes underneath the skin before cooking.
Now that you have some idea on how to make your own rubs, and a few recipes in hand, don't forget to fancy up your rub before grilling next time.
Be the backyard pit master, and develop a unique rub for the ultimate summer treats. Happy grilling, folks!