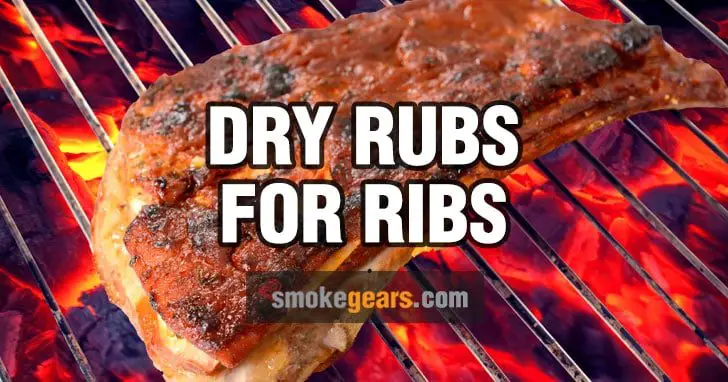 Dry Rub for Ribs
Making a good rub for ribs requires a few essential ingredients which can be found easily in the kitchen. While barbecuing any rib, right seasonings are essential for yummy and enhanced flavored BBQ. 
From my own experience of smoking and grilling, I have always wanted to create my own dry rub for that is very versatile enough to use with any rib. 
More...
Once you find your secret ingredients for the dry rib rub - no matter how you're cooking the ribs, then you don't even need sauce while infusing more BBQ flavor. 
Basic Ingredients to Use in Dry Rubs for Ribs
There are a few basic ingredients that are always used in every dry rub recipe. Those ingredients are:
Brown sugar:
When it comes to making a good homemade dry rib rub, I think brown sugar is the most common and necessary ingredient of every dry rub recipe that is applicable with any rib. 
Especially, pork ribs and sweet are meant to blend together. 
Salt and ground black pepper:
Salt is the most crucial ingredient of any rub. It can ruin or make the rub better, depending on how much salt you will add in the mixture. 
There are many commercial rubs out there in the market which only contain salt and pepper. Blend of salt and pepper work as a "great seasoning."
Fresh ground pepper adds a strong aroma, and heat in the rub — fragments of pepper melt during grilling or barbecuing which generate a subtle fiery delight for your taste buds.
Paprika:
Adding paprika in the dry rub adds flavor, and improve the taste. It also includes a gorgeous red color that pops. 
Depending on your taste, and style of cooking, you should add other ingredients along with these basic elements, for instance, onion, and garlic powders since they are great flavor enhancers. 
You can modify the rubs to your tastes.
How do you mix the Spices and Herbs?
Mix all the ingredients in a large bowl in the right proportions. Use a fork to crush any clumps of sugar or seasonings.
How to Store Dry Rubs?
If you want to keep some basic rubs on hand all the time, it is important to store your homemade dry rib rubs in the right manner.
Storing dry rubs is very easy. You can keep them in an airtight container for up to a month. You can also use ziplock bags to save the rubs.
Don't forget to marinate the meat properly before you grill it.
Texas Style Dry Rub for Ribs Recipe
This widely accessible, "Texas Style Rub" is used in almost every barbeque recipe. Texans love their BBQ to be spicy and colorful. This rub brings contrast and great aroma in the meal. 
Texas style rub complements with beef, pork, ribs, and chicken. Therefore, you can get the mouthwatering southern style BBQ with this rub.
Mix the ingredients and the herbs in few easy steps to make a fantastic Texas-style dry rub at home. 
Ingredients
Spices required to make this rub are -
In a large bowl, you have to combine all these spices mentioned above, using measuring cups, and spoons. Mix them well, and rub it carefully on the meat to enjoy Texas Style BBQ.
Kansas City Style Dry Rub Recipe
Kansas City boasts of its barbecue and jazz heritage. Although, barbecue sauce is the signature ingredient of Kansas style rub, yet many people use dry rub in their Kansas-City inspired barbecue dish. 
This classic dry rub can be used with any meat of choice. The list includes beef, pork, various ribs lamb, etc. You can also use this rub to spice chicken on the grill. 
Ingredients
Ingredients used to make this classic rub are - 
Mix the ingredients in a bowl, and coat the meat with the rub. Sprinkle some seasonings on vegetables such potatoes, tomatoes before grilling. 
You won't have to be a pitmaster to perfecting a BBQ rub, all you have to do- find the right spices, and combine them well before barbecuing. You can add ingredients as many as you want, depending on what you are cooking. 
You won't have to stick to recipes either, experiment with ingredients to find your signature style or break it time to time, as the options of spices are endless.