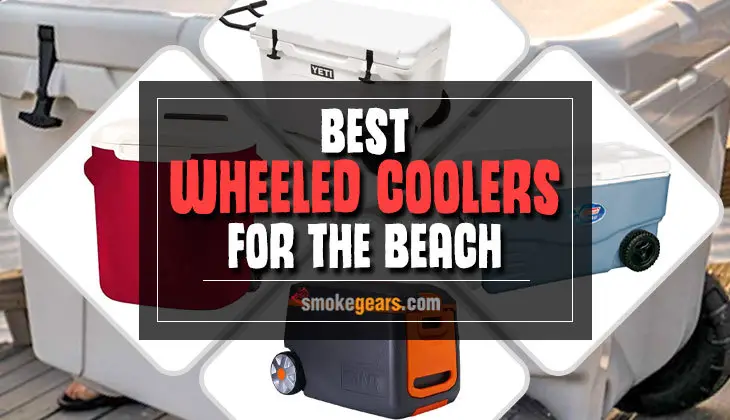 7 Best Wheeled Coolers for the Beach, Camping or Tailgating in 2021
Picture this. It's the middle of summer, you're at a great grilling party at the park. You ask your friend for a beer and what do you get? Well, a beer. But instead of ice-cold and refreshing it's just slightly cool and really damped. What happened? Your friend didn't have a good wheeled cooler, that's what happened!
Wheeled coolers aren't an item you're going to think about when you consider barbecue essentially. It should, because when you're cooking out with friends and family you don't want to stop the conversation to go inside for a drink. Not to mention, wheeled coolers can help you bring cold cuts to the grill without them thawing out on the way. A lifesaver indeed!
More...
This is why today we'll talk about the seven best wheeled coolers along with providing a comprehensive guide on wheeled coolers including FAQ, buyers guide, and more!
At a Glance of 7 Best Rolling Cooler for Beach
Note: The above links will take you to additional information, current prices, and reviews on Amazon.
Best Wheeled Coolers for the Money: Top 7 Coolers Review
The first on our list is a wheeled cooler from none other than YETI. YETI has made quite the name for themselves in the past decade due to their isolated cups that kept liquids cold or hot. The YETI Haul portable wheeled cooler will keep your beer cool, or your meats frozen. That's their guarantee, and if yours doesn't seem like it's a cut above an average cooler, YETI will offer you a refund or new cooler.
How does their wheeled cooler work? Well, it's due to pressure-injected polyurethane foam. This foam, which you might have in your house, is wonderful for both padding and insulation. In the case of the Haul wheeled cooler, the foam is being used as insulation. You may also notice that the walls of the Haul are thick; over four inches thick as the foam takes up a whopping two inches of that thickness.
The so-called "fatwall" design, along with the foam, keeps cold from escaping and protects against heat entering. But there is a trade-off here as the interior isn't that spacious. It's a 19 x 13 x 11. This allows for around fifty-five pounds of ice, and can hold and keep around forty-five cans of beer cold. You can also carry several pounds of ribs, burgers, steaks, beef chops, or whatever else meat wise you have in mind.
The construction is to be expected by YETI. Rugged. Claimed to be indestructible, we didn't want to test this ourselves but given the reliability of the YETI cup, we knew this wasn't a claim they'd use lightly. It certainly felt up to the task, and weighing in at over thirty-seven pounds, it sure wasn't a lightweight. That said, actually towing it wasn't a challenge, and it rolled fine on both the sidewalk and over rocks.
The YETI Tundra Haul is the perfect wheeled cooler if you need something that'll last you and keep from breaking. While the cost is steep, and there aren't tons of room inside, this is the wheeled cooler you want when you're going outdoors or are at grilling parties.
GiNT, standing for Great Insulation And Thermo, seemed to have wanted to make a cooler that also looked like a toolbox. Honestly, it would have fooled us. Which isn't to say that it looks bad, it's just orange and black aren't the colors we think of when we think of a cooler. But enough about smaller grips, does the GiNT cooler hold up?
Let's look at construction first. The exterior is made of TPE, and the interior is PP. Essentially those are different types of plastics, but just saying it's made of plastic doesn't sound that appealing. It's still nice and thick, providing a solid and rugged exterior and interior. We couldn't find any indication if foam insulation was used, but we think it's a safe bet that there was some sandwiched between the two different types of plastic.
The walls measured about a good three inches thick, and the interior is a 17 x 12 x 13. Around 53 quarts of drinks or food can be added inside. Plenty of space for frozen meats as well! And it's not that heavy of a cooler, only coming in around 24 pounds. This said, we did find that the pulling handle was a bit on the small side We'd have preferred something longer.
Something interesting to note about the handle is that it's multi-functional. It can be propped up to form a little table for your drinks or food. We do not recommend using it like a chair, as you risk breaking the handle. On the top of the cooler are two elastic cords that can be used to store table cloth or blankets. We personally didn't see much use there, but appreciated the thought.
Along with the elastic cords, you have four up holders molded into the lid. A staple of coolers everywhere! Lastly, let's talk about the life of the ice. In optimal conditions, the ice would fully melt at around eight days. In our testing, the ice fully melted by the sixth day. Which is still quite impressive for a wheeled cooler.
If you need a big cooler that is built to last and keep your ice lasting too, but isn't going to break the bank either, consider the GiNT. It has some neat features while the orange and black color scheme will make it stand out to other coolers; helping you to find it faster. It rolls smooth and can carry quite a lot, but just has some tiny flaws that keep it from scoring higher.
Do you need a cooler that's nearly indestructible? How about one rated to protect against bear attacks? If you said yes, then you might ant the Pelican Elite Cooler. And no, we aren't joking about the bear attacks. This cooler is built specifically to survive a bear attack. Well, we mean a bear wandering into your camp and trying to pry the cooler open; not a bear actually attacking the cooler.
We (un)fortunately didn't have any bears on hand to test out how resistant this cooler is, but we can say that it's a cooler built to last. Some might argue this is overkill, but we would like to add that the specifications are quite good which makes it worth your time even if you happen to not have any bears around.
The interior is 19 x 12 x 12, making it a "true" 45-quart cooler. Two latches are used to keep the cooler tightly sealed and secured, while being big enough to be handled with gloves. The walls are just around five inches thick, and feature two inches of polyurethane foam insulation. Ice can last in here for nearly ten days, and for our test, it did indeed remain cold for ten days straight.
A freezer-grade gasket is included to help with regulation of temperature, and like many other coolers, there is a leak-resistant and non-corrosive drainage valve to drain out excess water. You also have a wonderful measuring board on the lid, making it perfect for measuring out your cuts! No cup holders, but still easy to sit on it!
The Pelican Elite is essentially like a Cadillac of wheeled coolers. If you want your drinks and meat arriving in a rugged style, then you're looking at the right cooler. Alternatively, if you want a cooler that can resist a bear attack, you're also looking at the right cooler. The only thing keeping this cooler from scoring higher is the price.
Igloo is a brand of coolers well known and well regarded by the camping and outdoor community for being affordable and reliable. Other brands do outperform them, but Igloo makes up for this in offering quality products that get the job done without bells or whistles. And the Pro Roller is just that. A reliable wheeled cooler that can get the job done.
With an interior dimension of 30 x 13 x 13, you can fit in close to 110 quarts. So plenty of room for drinks, ice, and of course food. The walls are around three inches thick, and feature Ultrathem foam. We looked this up, and it seems to be Igloo's own brand of foam much like Coleman and their Thermozone insulation. Now, how does their foam compare to other brands?
In our tests, we found that the ice inside the cooler began to melt around four days in and not five like advertised. This said, the drainage feature worked well enough and we got all the water out making this cooler ready to go again in no-time. The handle is a telescoping kind, and we really liked it. Given the size of the cooler, and with the cooler weighing in at twenty-five pounds, this handle was a lifesaver.
Able to hold over one hundred cans of beer or another of your favorite drink, not to mentions pounds and pounds of food, the Glide Pro is perfect when you want a mixture of quality, affordability, and space.
Best Wheeled Cooler Under $100
Coleman is another respectable company, producing products for campers and grillers alike. One of their biggest wheeled coolers, it's surprisingly affordable and versatile. Although the name could use a little work. It feels a bit too "1990s" for us, as we can't recall the last time someone spelled "extreme" with just an X.
The walls of this wheeled cooler are thinner than the YETI Tundra Haul, about two inches thick. This does allow for much more space on the inside, but at the supposed cost of not enough insulation. We say supposed, because Coleman claims that their cooler can keep ice frozen for around five days in around ninety-degree weather. We tried it, it was safer then testing if the YETI was indestructible, and they're not wrong.
However, plenty of ice did melt. But it wasn't just warm water either, the ice and water were still chilly. The Xtreme 5-Day cooler uses Coleman's own "Thermozone insulation", which according to their website is their own foam product they use for their insulation products. Taking a guess, it's likely related to polyurethane foam.
The cooler weighs in at only eighteen pounds without anything present, and features two small handles on the sides for ease of lifting. The larger handle, as you can see the image, is designed for you to take the cooler with you. On that note, the wheels are quite rugged while still being smooth; no issues with it catching or breaking, and this was after we loaded it with ice.
The interior is a 23 x 11 x 13, and can hold up to one hundred and sixty cans of beer. Or not as many cans of beer, with the addition of some frozen ribs. Essentially what we're saying is there is plenty of open space for you to store whatever you need. In addition to that, the lid not only supports up to two hundred and fifty pounds, but features four cup-holders! A classic design choice for any cooler.
When you're finished, a small rust-resistant tub allows easy drainage. Coupled with everything else we mentioned, the Xtreme 5-Day cooler is a perfect choice when you want brand name reliability and low price points.
The third entry on our list is once again by Coleman, although this time it's smaller. Much, much smaller. If you're looking to just move a couple of drinks at a small gathering with friends or family, then the Personal Wheeled Cooler is going to be right for you. Construction-wise, it's similar to the Xtreme 5-Day including the Thermozone insulation.
There are some key differences, besides the size. The first is recessed wheels, that is wheels that go "inside" the cooler. This provides for smoother rolling, especially with the wheels being much smaller. Do smaller wheels mean that it's not going to be useful in the outdoors? Surprisingly not. While it was a bit bumpy when we rolled it outdoors, it still didn't snag on anything.
The inside is a 15 x 10 x 14, handling up to 16 quarts. This can be about twenty-two cans of beer, or your favorite drink, or even two 2-liter bottles. As for meats, well, maybe something smaller. Some short ribs, burgers, smaller cuts of steak or beef. We really wouldn't recommend this cooler for anything other then drinks but hey, if you have the room why not use it?
Construction-wise, the Personal cooler features two handles built into the plastic, and has a very long, telescopic handle. This can be a good or bad thing, as the height might be too tall for some. As for the thickness of the walls, it's about a good two inches thick. This means ice and your drinks will stay cold for up to two days. Testing this out, we can confirm that it takes at least two days before most of the ice melts.
The Personal wheeled cooler makes out the list by not only being good, but being a great alternative to larger wheeled coolers. Just about anyone can pull it, and you'll have enough drinks for everyone!
And last on our list is another cooler by Igloo. Think of it like the Coleman Personal Cooler, but bigger. All the major points we pointed out with the other Igloo are still there. The handle is telescopic, the foam used is their own brand called Ultrathem, etc. The Ice Cube is designed to be a "small" personal cooler for some drinks you bring to a party; small in this case being a 60-quart capacity.
The interior is around 13 x 15 x 16, and you can store a lot of drinks, ice, and even some cuts of meat in here. Much like the Glide Pro, the Ice Cube can keep the insides cold for a few days. We got it to around three days. All said and done, the Ice Cube is a great small, personal cooler that still offers a larger capacity but without a large price tag!
A Guide on Wheeled
Coolers
What Is A Wheeled Cooler And How Do They Work?
Now that we covered the best rolling coolers you can buy, let's look into what a wheeled cooler is. It's a cooler on wheels. That was easy! Well, OK, there is more to it. Wheeled coolers are coolers that are designed specifically for being wheeled around. They're typically made of special plastics, which is how they work.
The inner and outer plastics are two different types, and sandwiched between these two layers is an insulating foam. Typically polyurethane foam, which is well regarded for being flexible; used in padding to insulation, and always easy to work with. The plastic and foam keep the temperature-controlled, but not for long.
Because of the plastic casing, heat will eventually seep into the interior of the cooler, slowly raising temperatures. Because there is rarely any form of temperature regulation unlike your refrigerator, regardless of how well made the cooler is it will get hot and the ice will melt. This is also true on non-wheeled coolers and is simply a rule of nature and not the result of bad design choices.
When To Use A Wheeled Cooler?
When do you want to use a wheeled cooler? Well, obviously outdoors either while camping or when grilling in the park. Wheeled coolers are commonly used for keeping food and drink cold, and for you, this means transporting your frozen or thawing meat to the grill site. This keeps it safe from the outside bacteria, but still allowing the meat time to thaw.
So whenever you're going out, consider taking a wheeled cooler with you. At the very least it provides an extra seat and extra drinks!
Wheeled Coolers Compared To Non-Wheeled Coolers
The major difference is the wheels, as you might imagine. But there are some other design choices to keep in mind. Non-Wheeled coolers tend to by more unison in shape, especially within the interior. Because a wheeled cooler needs to compensate for having wheels, their interior size is rarely unison and if so, the cooler is going to be massive.
That said, wheeled coolers are easier to transport, but tend to be a tad more expensive. Mostly everyone agrees that bringing a wheeled cooler is a better choice then non-wheeled, but non-wheeled works great for backyard barbecue and parties.
How To Clean A Wheeled Cooler
Let's look at cleaning, especially since you're going to have food and drink in that thing. It's very easy for wheeled coolers to become grungy after a few uses. When cleaning, the first thing you'll want to do is drain the water inside; mot coolers come with nozzles that will drain for you, but sometimes you need to flip the cooler to get rid of the water.
Once the water is out, apply a little bit of liquid soap to the insides of the cooler and using a clean sponge scrub away at the insides. Once done, rinse the insides out with warm water or your hose. If you still see dirt or grime, add more soap and repeat the process until the interior is spotless. When it is, let it dry and then store it away.
Keeping your cooler clean not only lets it last longer, but also keeps everything inside safe and secure. Because no one really wants to reach into a gross looking cooler.
Buying Guide: How to Choose a Wheeled cooler
Now that we have an understanding of wheeled coolers, let's look into buying them! We listed our seven best wheeled coolers for the beach, camping or tailgating, but these may not be right for you. So let's help you find the right one!
How Large Do You Want Your Cooler?
The first question to ask yourself is how big do you want your cooler? Coolers are typically measured in the number of quarts they can carry, so a good rule of thumb is that the more quarts, the more ice can be stored. Which also means more drinks, food, etc. There is no right or wrong answer here, and it's good to go for the model you think will provide the most for your current situation.
For example, if you go to a lot of tailgate parties or outdoor picnics with friends, it's a good idea to invest in a model that provides fifty quarts or more of space. But if you are just relaxing with friends in the part, a smaller cooler is preferred. Some people like to have one larger cooler and one smaller cooler for different situations, but this can be pricey depending on the model.
Easy To Carry?
Now, big-wheeled coolers are nice, but you know what isn't nice? Carrying them. You will have to lift them to get them into their storage space or lifting them out of your car. Whatever the case, be sure to pick a model you're sure you can lift when it's filled. A fully loaded wheeled cooler is much heavier then it looks like, and the larger the cooler, the heavier it'll be.
Long Or Tall?
As seen in our reviews, wheeled coolers can be both long or tall. Which one is better? Well, that's a tough one to answer, because neither is better than the other. A taller wheeled cooler is easier to store and less likely to get in your way, but carries much less. Meanwhile, a long wheeled cooler can carry more, but is harder to stow away.
There are payoffs, but some coolers like the Ice Cube from Igloo attempt to meld the benefits of both types.
Prices
A good quality wheeled cooler is going to be pricey. If you want one that can retain its temperature and be functional, expect to pay over fifty dollars. If you want the best-of-the-best, you can be spending hundreds of dollars. Only buy what you need and expect your wheeled cooler will be in the fifty to one hundred dollar range.
Warranties
More expensive wheeled coolers come with limited or lifetime warranties or guarantees, whereas cheaper ones typically have a limited warranty if that. Warranties will be more useful for expensive coolers, as you need to keep your investment properly working after all!
Know Your Foams
Finally, let's look at the foam insulation itself. While some companies might claim they use a special foam, in reality, it's a foam that's related to, or just is polyurethane. This foam, as mentioned many times throughout our guide, is well regarded for flexibility and insulation. Unless you see otherwise, assume the foam in your cooler is polyurethane.
FAQs:
Q: How Should I Store My Cooler When Not In Use?
Store it where you won't trip on it, and where it's not in direct sunlight. Most people store their coolers in their garages.
Q: Are The Wheels Strong Enough To Hold The Weight Of The Cooler?
Yes. The wheels are designed to accept even the heaviest of loads inside the cooler. Unless it's a very cheap cooler, you shouldn't worry about the wheels breaking off.
Q: What's An All-Terrain Cooler Tire?
Simply put, this is a wheel that's designed for being used in the outdoors. So it's reinforced to handle the likes of rocks, branches, and small pits. You should assume that most coolers can handle light obstacles by default.
Q: What's A Rotomolded Cooler?
A Rotomolded Cooler is one that has been crafted with a hollow core that has been filled. Many coolers are made like this, as this is how the insulation is placed inside. The coolers are cast from a hollow mold and slowly rotated as the insulation is added. The rotation makes sure that the insulation covers the interior wall in an even fashion.
Q: Can I Turn My Existing Cooler Into A Wheeled Cooler?
Yes, but we don't recommend to do so. Your pre-existing cooler isn't designed to be pulled around, instead, it's designed is to be carried. You'd have to do significant work to modify your existing cooler, and it's not worth it unless you have a very expensive non-wheeled cooler you wish to save.
Q: How Long Will A Cooler Retain Ice?
Depends on the model. Cheaper coolers will last for only a day, others can reach over ten days. Expect around two to five days maximum for most coolers.
Q: What Size Cooler Will I Need?
As explained before, this depends on what you need and there isn't a right or wrong answer. Buy the cooler that fits your needs now, and if you need to upgrade or downsize, do it then.
Q: What's The 2:1 Ratio?
This simply means you need twice as much ice compared to one object. Say for example to cool one bottle of beer you'd need at least two ice cubes. Under the 2:1 ratio, four ice cubes would be needed for each bottle. This is normally the recommend stocking procedure to ensure your food and drink stay as cold as possible for as long as possible.
That is all there is to say on wheeled coolers. They're a great investment to keep your drinks and meats nice and cold, and are easy to transport!