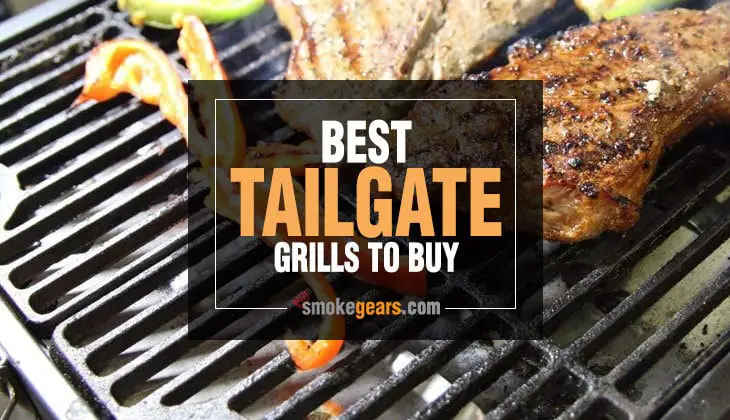 Best Tailgate Grills in 2021 (Top 5 Reviews)
When grilling of delicious meat is done at a party, it might be a sweet job for the ones eating it.
However, for the one doing all the grilling, having a good grill machine is a must for this job as it requires patience and a lot of skills.
Now, if you are someone who likes to have a portable grill that you can carry yourself to picnics, outings, and even at the stadium while watching a match, then a tailgate grill is the best option for you.
And if you are looking for the best tailgate grill out there, you have come to the right place.
More...
Benefits of Tailgate Grill
Traditional grilling machines are usually huge and challenging to move around. You need an entire village to set it up and start your cooking. Typically, these machines are very suitable for a porch or backyard house party.
But what if you want to have some nice BBQ while watching your favorite football team's match at the stadium? Or what if you are on the beach and you feel like having some hot and crispy grilled meat?
To satisfy you, there is no alternative to a tailgate grill. Its most significant benefit is its portability and lightweight. Moreover, these machines are straightforward to clean and convenient to use outdoors.
5 Best Tailgating Grills Review
Enough about the benefits of a tailgate grill. Now let's have a look at some of the best tailgate grills at the market:
If you are looking for the best portable gas grill for tailgating, then look no further. The Blackstone grill is made explicitly for this purpose and is highly suitable for tailgating purposes. Its portability makes it the perfect choice for every outdoor grilling session.
On top of this, the setup of this machine is a piece of cake, and anyone can do it. Its legs are very stable, and it can stand tall even on uneven surfaces.
Another amazing feature that this grill has is the ability to adjust itself to different settings based on your preferences. You can either set up the grill box and the griddle together or go for an open burner option. Not just this, you can even choose to keep either of the grill or the griddle on top of the burner and thus cook and BBQ at the same time. 
You would be pleased to know that this machine is very durable and will last a long time due to its powder-coated finish. The grills are made of cast iron while the griddle is constructed with steel. Thus, you don't have to worry about these parts decaying anytime soon.
To add to the long list of benefits that this machine provides, it also comes with two burners whose controls are separate and independent from each other.
Depending on your preference and the cooking temperature you require, you can either choose the H tube burner, which will provide heat of 15,000 BTUs or the cast iron one to get 20,000 BTUs.
This is one of the best portable grills for tailgating in the market. What makes this machine unique is its lightweight and durable setup. This machine also can grill as many as seven to eight burgers. It mainly comes with a press for handling burgers that will give you smoking hot, crunchy burgers on the go.
On top of this, the portability of the machine gives you the freedom to grill wherever you like. Another perk of using this machine is its porcelain-coated lid. This lid is very effective when it comes to preventing the heat from getting into your eyes. Not only this, the cover helps to keep the food warm and thus retains its fresh taste.
Moreover, dust or insects can't contaminate your food. The lid is made in such a small way that it is sure to last a long time without getting any rust on it. If you are uncomfortable about making the lid dirty by placing it on the ground, then worry not. 
The top comes with a lid holder, which allows you to avoid placing the lid on a dusty surface. Moreover, this grill also comes with a damper that helps you to regulate the heat and temperature inside.
In case you are looking for the best travel grills, look no further. The Coleman Propane grill is one of the best tailgating grills out there to serve as your road trip companion. Due to its small demeanor, and lightweight, it provides the best portability to be carried out on camping trips.
Not only this, another fantastic feature of this particular grill is its stands. These are equipped with wheels that enhance the machine's maneuverability. You can use the Coleman Grill both at home and outside due to its large-sized grill. The grill can feed as many as six to seven people at once.
So despite being light, its grill is large enough. This makes the machine the best candidate for large gatherings outside your home. Moreover, the grids of the grill are coated with porcelain, and the interior is made up of cast iron. This makes the grids get heated up quickly.
To add to its great features, the grill not only comes with grills but also griddles and stove grates. This adds to its versatility and gives you the freedom to cook various styles of food according to your preference.
On top of this, the grill is accompanied by shelves on the side, which can be used to keep the necessary materials needed for the grilling. Also, the temperature of the open burners can be controlled separately.
Since we are looking at the list of the best tailgating grills, we cannot skip the Char-Broil Grill2Go machine that is a useful grill run by liquid propane. Char-Broil has made a name for itself in the field for making amazing cooking grills, and this one too has lived up to it.
If you ask me if this is one of the best portable gas grills for tailgating, then my answer will be on the affirmative. Due to its outlook and design, it is the perfect fit for outdoor excursions.
Having a lid on your grill machine is a great convenience as it helps to retain the heat of the meat and keeps it immune from dust and pollution. The lid for this one has been made, keeping these benefits in mind. It is constructed with cast aluminum that retains the maximum amount of heat and gives the meat a delicious taste. 
Moreover, its handles are made of heat-insulated materials that let you touch it without getting injured. One more advantage of using this grill is its unique design. It is specifically made in such a way that it can be kept anywhere, even at the top of a table.
Not only this, the grill uses radiant heat, which is a unique technology to cook food faster than conventional techniques. Thus, the meat remains juicy and fresh and retains all its moisture.
For those of you who like antiquity in everything and find such designs classy, the Lodge Cast Iron Grill is a perfect choice. It has a rugged but classic design that gives you the feel of using something from the 60s while retaining all its modern features.
On this list of the best travel grills, this one features a backdoor that allows you to control the flow of heat. Notably, this grill runs with the help of coal and offers you an authentic taste.
Whether you want to keep the grill on top of a table or the ground, you can do it both. The adjustable height of this machine gives you the freedom to keep it as you wish. Another unique feature of this machine is its organic coating. The grids are coated with vegetable oil instead of artificial coatings. 
Thus every time the grids burn, you get fantastic seasoning. The machine, due to being made of cast iron, is highly durable and lasts a lifetime. It has made grilling meat classy by designing the machine in a unique way like no other on this list.
So, using it will help you earn praise from the onlookers. Moreover, as it uses all-natural ingredients, you get the genuine taste of charcoal cooked meat.
Buying Guide:
What Makes a Good Tailgate Grill
Now that you know what some of the best grills for tailgating is, you must be wondering what factors to consider while making your pick. Several things come into play that contributes to making the perfect grill.
It varies from person to person. So let's look at the most basic features that every good tailgate grill has to have:
• Level of Usage
Whether your grill will last for a long time or not depends on how many times you use it. Usually, using a grill outdoor adds more tear to its longevity than using it indoors. You usually carry it in a car and place it in on an open space under the sun.
Therefore, the materials it is made of need to be strong and stout. It should be able to endure heat or dust. So while choosing the grill you want, always pick the one that is made of durable materials capable of tolerating all kinds of situations.
• Longevity
No matter how lucrative the features of a grill might be, or how great it looks, it always comes down to how long it is going to serve you. If you buy a product that frequently breaks down and requires maintenance, you will not be satisfied with its service. Therefore, make sure to look for the one that is durable and long-lasting.
• Ability to Regulate Temperature
For first-timers or beginners, it is quite difficult to know the level of heat required to cook the meat perfectly based on intuition. If the grill has temperature regulators, then the job becomes easier for you. So make sure only to buy the ones that offer this feature to save yourself from overcooking or burning the meat.
• Types of Stove
Some grills come with no stove at all while some have two. Which one you want to buy depends on the number of people you will be cooking for. If you want to serve a good number of people, it is always in your best interest to purchase the two-burner ones as these offer effective heating.
• The Fuel of the Grill
What the grill uses as its fuel also impacts the quality of grilling it does and the speed. If you use the charcoal ones, you are sure to get juicy meat cooked in a smoky style.
On the other hand, propane grills cook the meat faster and provide high efficiency and productivity. So depending on your preference, choose the one you think is the best for you.
• Price
Price is also a great factor before buying something. Everyone has a budget of their own. So when you go out to buy a grill, choose the one that has all the features you need within your budget. Don't overspend.
• Brand Reputation
No matter how amazing the features on a no-name product seems, it is always a mistake to buy it without looking for its reviews. Before making the final pick, ask around and see which brand has a good reputation. Look for product reviews on the internet.
• Lid
Since tailgate grills are mostly used outdoors, it must have a lid to retain the heat and protect the food from bugs and dust.
• Lightweight
Portability is a must for outdoor use of grills. And if you pick an extremely heavy one, it becomes quite difficult on your part to carry it around in your car. Therefore, only choose the ones that you think you will be able to carry comfortably.
Frequently Asked Questions: 
Below are some of the most commonly asked queries regarding the best grill for tailgating:
Q1. What are some of the best foods to grill outdoor?
Since you will be grilling outdoors, you can't arrange a feast. The best meat to work within this situation is chicken breasts, sausages, burgers, patties, beef steak, etc.
Q2. How long will a cylinder serve me when I am using a gas grill?
Usually, this depends on the BTU of the grill machine. If the BTU is higher, then the cylinder will run out faster. However, on average, each filled cylinder lasts for about 2 to 2 and a half hours.
Q3. Should I use a charcoal grill or a propane one?
Both types have their advantages and disadvantages. While the propane ones cook faster, the charcoal ones give you a tastier experience.
Q4. Should weight be a factor while choosing the best grills for camping?
Yes, most definitely. Buying a heavy grill won't do you any good as carrying it around will be quite difficult and take up all your energy.
Q5. Is it better to buy a tailgate BBQ grill with temperature controls?
Yes. Because this prevents overheating and burning of the meat. Unless you are an expert on grilling, you shouldn't go for the ones that do not have temperature controlling features in it.
Conclusion: We have complied and come up with the top five best tailgate grill review for you after testing and checking out the features of different options available in the market. So in case you are confused, follow this list. And suggest your friends and family too to buy one of these tailgate grills.