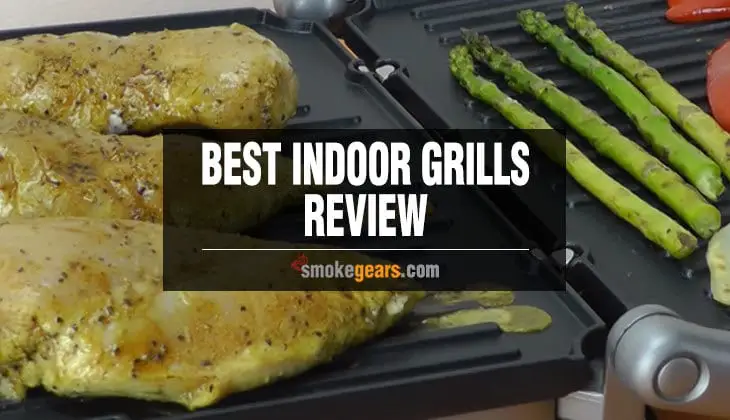 5 Best Indoor Grills Review of 2021 [With Buying Guide]
What's grilling?
Is it steak or hotdogs? Or, it could even be a grilled cheese sandwich!
We all love grilling, and we all know that it's not always possible for us to be grilling outdoor.
Off the top of my head, it could be due to bad weather, small garden, or maybe you live in a building with "no-bbq" kind of regulations. A solution to that, as we all know, are indoor grills!
Now, there are a lot of options to pick from, but we have reviewed the top 5 Best Indoor Grills of 2019. Scroll down and choose your pick!
More...
Surface (sq in): 100 closed / 200 open
Dimensions: 13.50 L x 11.50 W x 7.12 H inches
Weight: 8 lbs

Surface (sq in): 118
Dimensions: 12.4x16.73 x 6.81 in
Weight: 8.14 lbs

Surface (sq in): 93
Dimensions: 14 x 13 x 6 inches
Weight: 10.4 lbs

Surface (sq in): 72
Dimensions: 19.7 x 13.2 x 6.7 in
Weight: 10.8 lbs

Surface (sq in): 100
Dimensions: 8 x 14.3 x 13.8 in
Weight: 8.5 lbs
5 Best Indoor Grills Review
We all love to grill at a family gathering, on a Saturday night, or on game night with friends. We have picked out the five best grills that will bring the outdoor grilling vibe inside your homes.
Are you afraid your kitchen counter might be too small of a griller? Fear not, we've got you covered. This is the best small indoor griller. It is small, and so it won't take up too much space. And just because it is a 5-in-1, doesn't mean it's complicated to operate.
It comes with three knobs, the middle knob turns on the device, and you adjust the temperature with the other two knobs based on your grilling preference. 
If you are living in the city, then you must want to pick a durable and neat looking indoor grill. The body of the griller is made of stainless steel, and the sturdy panini-style handle makes the design of the griller good looking. It also comes with its own scraping tool.
Grilling indoors couldn't be any more comfortable than it is with this model! The top part of the griller floats back and forth to adjust with the thickness of the meat that you'd be grilling. Could it get any better? Yes, it can. It also comes with free gourmet recipes for you to try on your very new griller.
I almost forgot to mention that the cooking plates on this grill are just amazing. It can drain grease and its non-stick, making it easy to clean up. The fact they are reversible means that you can wash it after two uses. Also, the whole machine is BPA-free.
The list of the best indoor barbecue grills will be incomplete if we don't mention the Hamilton Beach 25361. What makes it so famous? It is so easy to maintain and clean. Most of the parts of this grill are removable; the electric grill plate, the indoor grill hood, and the drip tray are all dishwasher-safe.
You'll be glad to know that the drip tray is extra-large in size, and the grill plates are non-stick, so you need to do less poking with your scrapper and get them cleaned nicely and efficiently in your sink.
Here is its best feature; it comes with a glass window on top. So, you can keep it indoors all year long. That way, you'll only have to open the grill to flip your food on the other side, and the heat remains inside the machine. The hood and window also preserve the juices and the flavors of the food that's grilling with its high searing heat lock system.
This model runs on 1200 watts and can sear up to 450 degrees. You can adjust the temperature as per your grilling style using the adjustable temperature dial. Also, you can grill a whole family-sized meal at one go.
Moreover, it has light indicators to tell you what is grilling inside, so you can check on the food without even lifting the hood or opening the lid. Although this model may not be perfect for a small kitchen counter, it promises to serve you the best indoor bbq grill that you will ever have.
You can make burgers, poultry, sausages, sandwiches, red meat, and even fish in this 6-in-1 electric grill. And if you have forgotten to defrost your meat beforehand, that's alright. This grill has got you covered. The opt grill comes with 2 cooking modes, meaning it can cook frozen food as well as foods at room temperature.
And even if you have forgotten to defrost your food and want to use the manual mode, here is what you can do. Just wait for the preheat light indicator to blink and go "ding" before you put your food in. It also has an indicator to tell you when your meat is cooked rare, medium, or well done. Isn't that amazing?
The 6-in-1 OptiGrill has a surface area of 600 square centimeters for grilling, which is sufficient for a family-size meal. It grills very fast, as it can adapt its grilling cycles to the thickness of the utensil inside the grill. Cooking or grilling at 1800 watts also means that dinner can be served in minutes, unlike traditional grilling.
Moreover, the beautiful optical grill is silver in color and is made of aluminum, which increases its durability. It also comes with both a safe drip tray and plates, so there is very little chance of a mess. The plates are non-stick and removable, which makes this grill more comfortable to clean. Both the trays and plate are dishwasher-safe too.
It is the "perfect" indoor grill, as suggested by its title. What makes it perfect, you ask? The convenient and tempered glass lid is what makes it perfect. It keeps the meat juicy and tender as it grills, and you can keep an eye on your food too. The top comes in handy to keep the food warm, once the grilling is done.
Grilling meat and steaming vegetables side by side is possible with this model. This model comes with an extra-large rectangular grill plate, 12-by-6 inch, so you can make a meal for your whole family. You can also grill two different things side by side. The grill plate is large, so it comes with an equally large drip tray.
Despite that, the grill only weighs less than 11 pounds, which makes it very portable. So you can, for example, carry it to a park and make a family picnic, instead of having to carry a big gas grill in your trunk.
Moreover, this grill's plate is designed for safe use, and the handle is made from plastic for easy mobility of the lid. The plate is also made from die-cast aluminum, which ensures not only quality grilling but also makes the plates very long-lasting. The grill is also dishwasher-safe and non-stick, so it is easy to clean.
This model is one of the easiest and compact models that you will come across in the market. With just a push of one button, you can turn it on and set it to your desired temperature using the up and down buttons. This grill heats up to 500 degrees Fahrenheit, and it displays the cooking temperature on a digital display.
It comes with a built-in sear function that locks all the flavors and juices while grilling. Also, it grills to perfection. All you have to do is press the yellow sear button for a moist and tender steak. After 90 seconds, it automatically switches to grilling at the preset temperature.
Moreover, this is the best electric grill that you can have indoors because it's just 100 square-inch large, which is perfect for a family meal. It can grill four burgers in one go, and so it is perfect for a family of four.
You can also grill hotdogs, sandwiches, vegetables, pizzas, paninis with its adjustable floating hinge on the top grill. The plate swings back and forth to adjust with the thickness of the burgers. This grill prepares your food fast. It can grill meals in less than 10 minutes.
So let's say you have to grab a quick and healthy bite before or after the gym; this is your solution. All the fats drain into a removable drip tray that is dishwasher-safe. The grids are removable and dishwasher-safe, as well. This product will enable you to eat healthy and clean quickly!
What to Look for Before Buying an Indoor Grill
Electric grills are growing popular among other household kitchen gadgets. Now there are a lot of brands coming up with new and unique models in the market, which makes it hard for you to have your pick. So, we have made a list of things that should help you choose the best indoor electric grill for your lovely home.
• Grill Type
There are two types of indoor electric grills: contact grills and open grills. They both run on electricity. Grilling on the open grill is like using traditional grills. It comes with one electric plate. This type of grills come with lids, so you keep an eye on the food. With larger plates than contact grills, open grills can be used to cook family meals.
However, they tend to be less compact and take up more space on the counter than contact grills, since they are usually rectangular. On the other hand, contact grills can be used to make food like paninis. They can do that, as they have two grilling surfaces, which speeds up the grilling process.
• Temperature
Grilling is a tedious, time-consuming process with the traditional grilling method. That's because grilling steak, meat, and a few other kinds of food take a long time. This is why choosing the right temperature for your grill is essential. Different food cooks at different temperatures and different rates, so the voltage is an integral part of your grill. 
It is worth mentioning that, the higher the voltage of your grill plates, the better it will serve your purposes. The plates heat up faster and can cook dense meats like chicken, steak, and other kinds of meat. Grills with low voltages are recommended for sandwiches and burritos.
While we are on the subject of temperature, we know different meats and vegetables have different grilling temperatures and grilling time. Eclectic indoor grills come with digitally adjustable temperature knobs.
You will know exactly what temperature you are cooking at. The more temperature options your grill comes with, the more different varieties of meat, fish, and vegetable you will be able to grill.
• Size and Space
Since you are looking into electric grills that are operable indoors, I am guessing space must be a significant constraint at your place. It may be because you live in a small condo-like apartment with no outside area or a very small balcony.
As mentioned earlier, there are two types of indoor electric grills: open and contact. Open grills are usually bigger due to their larger grilling plates and take up a lot of room in storage and on your kitchen top.
They ensure even grilling throughout. Contact grills, however, are smaller in size and faster at grilling. So you will have quick sandwiches in small batches.
• Price
Price is always an essential factor in investments and spending. There are many bills and gadgets that you have to allocate your money for, and the price of indoor electric grills are reasonable. However, what's fair to one maybe too cheap or too expensive for another.
Hence, first, you will have to decide how much you are willing to spend on this product. For doing that, here you'll have some rough numbers on how much different variations of electric grills cost like.
You can get an indoor grill at around $100 with basic grill features, which may or may not include panini press, depending on the brand quality offerings.
The more options and features the grill has, the more expensive it is going to be. Their prices can go as far as $2000.The size of the grill and grill plates also play a role in determining their prices. Good indoor grills are available at reasonable prices in the market.
• Cleaning
Now we all know how messy grilling can get, with all the greases and fats from that thick steak you will be serving. The more you grill, the more grease and fats you will have to deal with. This shouldn't be a tough job if your grill has the right drip tray. Now, whats the right kind of drip tray?
Two features make a perfect drip tray. The first one is the size of the drip tray; the larger your grill, the bigger should be your drip tray. But I would suggest you go for a grill that has a drip tray bigger than the grill. That way, you can easily carry it to your sink without dropping any oil.
The second thing to look for in a drip tray is whether it's removable or not. In most cases, the trays should be removable, but it's good to be sure of it, especially if you are getting a cheap one. Also, be sure that it is dishwasher-safe.
Moreover, the grill plates need cleaning as well. Be sure to get a non-stick, dishwasher-safe plate that is removable.
Types of Indoor Grills
We want you to know everything there is to know about indoor grills before making a purchase. In this section, we will talk about the types of indoor grills available in the market, so you can pick which kind of indoor grill you want for your indoor steak grilling. So, let's get started. They are categorized into three types.
• Stovetop Grill
As you can easily tell from the name that these grills are to be set up on the top of your kitchen stoves. These are easily shaped to be fitted on your stove and use your stove's gas or electric power to run. The grill plates on these grills look just like the outdoor grills and work like them as well.
Stovetop grills are racks. You can place these racks on top of your cooking stoves. Moreover, you will have complete control of the cooking temperatures of your food just by using your cooking stove knobs.
It will cook using the heat supplied from your stove. The grease, however, will be falling on your stove, so you better place a foil on the stove.
• Open Countertop Grill
Open countertop grills are designed for grilling at your countertop and running on electricity. Almost all the models of open countertop grills have large cooking surfaces. On the contrary, most of them don't come with lids, so it will leave behind a stronger grease smell then it would if there was a lid.
This also means there are more chances of grease and oil splatter on the counter. Even grilling is one thing that open grills promise. As we all know, a thick juicy steak will get better over time, but with open grills, it takes a bit longer than closed grills since it will be cooking on one evenly heated plate.
• Closed Countertop Grill
Just like open grills, they heat up their plates through electricity. They grill quicker than any other grills as the meat gets pressed between two hot plates. However, there remains one flaw.
The griller can get up to certain inches of the thickness of the meat, despite the adjustable top lid feature on some models of closed grills, since the grill needs to close for it to work.
FAQs: Frequently Asked Questions
Below are some of the most commonly asked queries regarding indoor grills:
Q1. How long does it take to grill with indoor grills?
Cooking on fire and cooking on electrically heated plates are not the same thing. Electric grills require a little more time. Closed indoor electric grills faster than open ones.
Q2. How do I clean an indoor electric grill?
Cleaning indoor grills are much easier. Almost all the new models of indoor electric grills come with removable, non-stick grill plates. The drip trays are removable and dishwasher-safe, as well. We suggest you to start cleaning after an hour of the gadget's usage. If needed, use a plastic scraper.
Q3. What is the maximum temperature that an indoor grill can grill at? 
All models come with adjustable temperature knobs. The high-end models can grill at up to 500 degrees Fahrenheit.
Q4. Are they smokeless grills?
Yes, there are, but you'd have to put water at the bottom of the pan.
Q5. Would leaving the food on low-temperature settings overcook the meat?
If that's your trick to keeping the food warm, make sure you set it at the lowest temperature.
Final Verdict: Grilled food is rated as the world's most loved food. Serving grilled food straight out of your kitchen should be a different kind of feeling. And settling for the best indoor grill must be your goal.