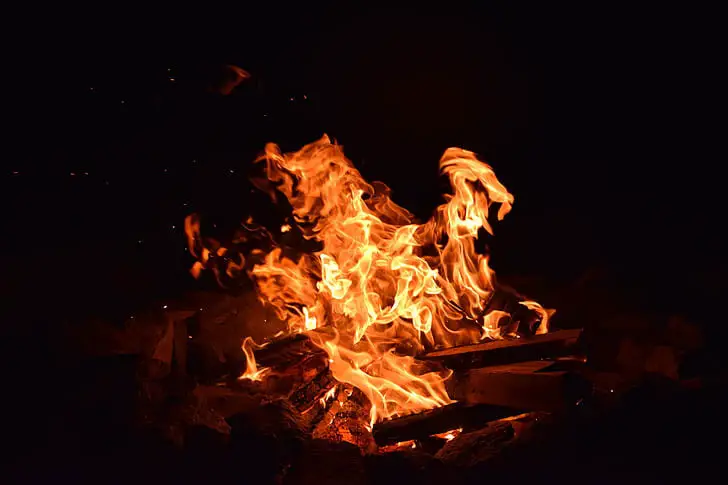 Best Gas Fire Pit for Heat in 2021 [Top 3 Reviews]
When it's cold outside and your patio heater isn't cutting it for your guests, you should look into investing in a gas fire pit! A gas fire pit is simply an artificial, and at times portable, a pit that uses propane as a fuel source.
This means no messy cleanup, no having to find fuel sources, and overall these gas fire pits are much safer than real fire pits. Gas fire pits are even allowed in areas where fire pits are normally banned.
Here we've composed a list of the top three best gas fire pits on the market, and we're sure you'll like them as much as we do!
More...
Top 3 Best Outdoor Gas Fire Pit Reviews
The first gas fire pit on our list, the Outland Firebowl has a nineteen-inch diameter with a BTU of 58,000. It is somewhat heavy for a portable gas fire pit, weighing in at 24 pounds, which might hamper the mobility for some. Ceramic paint is used as a finishing touch while the base acting can be used as a carrying handle. The base won't heat up either meaning not unsightly scorch marks!
One of the features we love with this Outland Firebowl is the built-in auto-ignition switch. This clears up the hassle of lighting the fire manually, and it means the gas pit won't produce any sparks or stray flames that could cause fires. The Outland Firebowl is CSA approved in most areas during campfire bans, although it's smart to check in advance as it doesn't have universal approval.
For accessories, the Outland Firebowl comes with a cover for the pit, a carrying set, and a ten-foot hose that attaches to standard twenty or five-pound propane tanks. Other accessories that can be bought for the Outland Firebowl include a carrying bag, a natural gas conversion kit, and a propane cover that transformers the tank into a small tabletop.
The Outland Firebowl is a fantastic gas fire pit. It's portable, solidly constructed, and has plenty of built-in features. The chromed knob on the front of the pit allows you to control the height of the flame, while the stainless steel construction is built to last. On average, and if connected to a twenty-pound tank, expect this fire pit to run for a solid twelve hours.
The next gas fire pit is the Portable Propane Outdoor Fire Pit from Heininger. Cast in a bronze finish, this fire pit has a nineteen-inch diameter and a BTU of 58,000. Weighing in at twenty-two pounds, the Heininger offers a gas control vale but it doesn't come with an auto-ignition switch and must be manually lit. Despite this, the Heininger is still CSA approved, although you'll always want to check the local bans and restrictions as a precaution.
The included accessories are a ten-foot hose, a stability ring, and decorative lava rocks. A cover is not included but is sold separately. The base isn't going to heat up while the fire pit is in use, so no unsightly scorch marks or risks of fire, and the base doubles as a carrying handle. As for gas usage, the Heininger can connect to common five or twenty-pound propane tanks and will run up to twelve hours depending on the flame intensity.
The Heininger goes more for style over substance, being a very attractive fire pit that while portable is more at home on balconies and patios than it is on camping. This isn't a bad thing either, and the copper finish really makes it stand out compared to the duller colors of the competition. The Heininger is also solidly constructed so you know that it's a fire pit built to last.
A perfect fire pit if you feel need a splash of rustic charm for your patio!
The last fire pit on our list isn't so much a fire pit as it is a table. Weighing in at seventy pounds while standing two feet tall and having a diameter of two feet, the Bali Outdoor is going to have more in common with a table than it is a fire pit. You can even purchase a cover to turn it into a table. What it lacks in mobility the Bali Outdoor makes up for it in performance and construction.
The Bali Outdoor fire pit is built-in stainless steel and has a wonderful black finish. Out of the box, the only accessories are the lava rocks for the fire pit. The hose is built into the fire pit and can be found by opening the pit by a side panel. Here you'll find a large space to store your propane tank or tanks, which has the added benefit of not having to worry about the tanks being left in the open.
All control of the Bali Outdoor fire pit is through a switch that is seamlessly built into the structure. It's auto-ignition so no need to worry about lighting it yourself. Like other fire pits, you can control the intensity of the flame and you can expect a running time of up to twelve hours depending on the setting. The Bali Outdoor fire pit produces 50,000 BTU of heat and will connect to a standard twenty-pound propane tank.
Truthfully, what makes the Bali Outdoor fire pit great is that it functions as a table as much as it does a fire pit. And converting it between a fire pit and table is as simple as taking the cover off, if you purchased it, and turning the switch on. While it's not CSA approved and not something you'd take camping, this fire pit will find a place on your patio. With solid construction and duel functionality, you can't go wrong.
Buying Guide: What to Look for When Choosing the Best Outdoor Natural Gas Fire Pit
Having an outdoor gas fire pit is not only a great way to stay warm during the colder months or chilly evenings, but it can really bring your patio together. Now, how do you decide which fire pit is the best? Do you go by size? Style? The heat output? We've put together this list of features that you should consider when purchasing your gas fire pit.
1. Size and Design 
The first thing you'll want to consider is the size of your fire pit. Fire pits come in a variety of sizes from portable models to ones that require installation to work. As a rule of thumb, the larger the pit, the more expensive it will be but the more people it'll warm. The next thing you'll want to consider is the design. Fire pits come in a variety of styles from wrought iron, rustic, wooden, stone, etc.
If you're not an interior designer, don't worry. Take a picture of the fire pit you want and compare it to your patio. If the fire pit stands out too much or you find that it's going to clash with your decor, you'll know that it's not the fire pit for you. If you're designing your patio and would like to add a fire pit, start with the fire pit first and add the rest of the furniture ensuring that everything will be tied together.
2. Pit or Table?
Along with a variety of looks, fire pits come in a variety of styles. This includes table design, tabletop design, pillar design, portable design, and finally a good old fashion pit design. The most common style you'll see on the market are fire pits that are designed to look like tables and these fire pits can look like a round table, a square table, or a long table.
Table fire pits have the added benefit of acting as a table when you no longer need the fire pit aspect, and the insides are usually hollow so you can store the fuel tank inside. Some models are even large enough to fit in a spare tank! Now, there is no right or wrong answer when deciding which style you want, but you should aim for one to match your patio decor.
Fire pits in the shape of a pit are normally an expensive option, but can support a larger crowd. These will also tend to use natural gas but come with options for propane adapters. Smaller pit-like fire pits are on the market if you have your heart set on one. Tabletop and portable fire pits have some overlap although those designed for tabletops are usually not going to be portable.
The last design, the pillar design, is relatively uncommon but it functions like a table fire pit but smaller. Think of it as a perfect place for your drinks!
3. Heat Output
All fire pits are rated by their BTU. BTU stands for "British Thermal Unit" and is defined by the amount of heat that is required to raise one pound of water by one degree Fahrenheit. The output of fire pits can be from 10,000 all the way up to 90,000 BTU for larger models. This said, you should look into a model that has between 40,000 to 50,000 BTU. The same goes for portable fire pits.
4. Flame Intensity
Gas fire pits normally have controls so you can set the intensity of the flame. The higher the intensity, the warmer the surrounding area but the faster you'll eat through your fuel. As these features are normally standard, there isn't a point in buying a fire pit that lacks the ability to control the intensity. Even portable fire pits have this option as a default.
5. Safety
The two biggest concerns any fire pit owner will have are the open flames and the hoses. The point of a fire pit is the open flame, so there isn't much you can do there besides keeping flammable objects and children away. Most models have optional covers that you can purchase or come packaged with the fire pit and you should always keep those covers on when the fire pit isn't in use.
As for the propane hose, as previously mentioned models like the table fire pits will have storage for the tanks. You should always try to pick a model that has storage, as not only will switching tanks be easy but you can rest assure your tank is safe when the fire pit isn't in use. And no need to worry about anyone tripping over a hose!
As for other safety devices, some models come with either an automatic shut-off switch or a built-in shut-off device that works automatically. Due to the inherent risk of using a fire pit, it's a wise investment to select a model that has one of these features built-in. Accidents can happen, after all, so no point in taking risks.
6. Compliance
Due to fire pits having open flames, some states, counties, and cities might have a ban on them. Read up on your local law before purchasing a fire pit to ensure that you'll be allowed to operate it.
7. Ignition
Fire pits will normally have two options for ignition. Manual, where you'll have to light the fire yourself, or automatic which lights the fire for you once you turn the fire pit on. Which one you pick is up to you, as while the automatic models are easier to operate some owners swear by manual models and say they're safer.
Portable fire pits are much the same way, so which one is for you depends purely on preference.
8. Size of the Tank
Fire pits will use standard twenty-pound propane tanks and can also be hooked up to a five-pound tank if space is tight. On average a twenty-pound tank will provide enough fuel for eight to twelve hours of constant use depending on the model. Portable fire pits will also use the standard twenty-pound tanks.
Some fire pit models have the option to use natural gas and will connect right to your gas line. It's recommended to purchase natural gas fire pits if they're very large models and you don't plan on relocating them anytime soon.
9. Quality, Durability, and Warranty 
Like all outdoor devices, you want to find yourself a good brand. Napoleon, Hampton Bay, Endless Summer, and The Outdoor GreatRoom Company are some of the best companies in the market today. 
This said, most fire pits are built sturdy and with the intention to last. Where you might have problems are any exposed parts or the hoses that connect to the propane tanks.
Always check to see what warranty is offered with your fire pit. Normally you'll have a one-year warranty with your purchase, and this should cover part replacement if something breaks. While fire pits are built to last, some parts as mentioned are more prone to problems.
Usually exposed parts like hoses, the burner, or the base. Keep this in mind when considering purchasing covers, as that will ensure your fire pit remains safe.
Portable fire pits are no different, but due to having more exposed parts are more prone to issues in the long run if not properly cared for. They're built to be taken with you for outdoor trips, and can handle some bumps along the way or falls, but when you're not using them make sure they're covered or stored away inside. Like their larger counterparts, portable fire pits come with one year warranties.
10. Portability
We've talked a lot on portable fire pits, so are they a better investment than larger ones? This depends entirely on how much you'll be using them. Portable fire pits are designed for traveling and while they can be used on your patio their small size and range aren't going to provide for all your guests when you have a barbecue.
They are certainly not a bad investment, but if you don't expect to travel much and are looking for a fire pit for your patio than a table fire pit is a better option.
11. Price and Value
Finally, there is the price. Fire pits can range from fifty dollars for cheaper portable models to well over one thousand to two thousand dollars for a larger fire pit. You, of course, want to get the best value from your fire pit so expect to spend a minimum of two hundred dollars for a fire pit. As mentioned before, you'll want a model that has between 40,000 to 50,000 BTU.
This said, don't hesitate to get a higher output fire pit if it matches your budget. Most fire pit owners will normally be happy with a table fire pit over a more traditional fire pit, but it's up to you and your budget.
Fire pits are always a must-have for your patios. They create a nice ambiance, provide warmth during cold months or nights, and if you get the table model you can have a combination of a fire pit and table! With so many models on the market, you're sure to find the fire pit that matches your patio and more importantly your budget
Conclusion:
That concludes our list of the three best gas fire pits on the market. While there is quite frankly an absurd amount of fire pits to choose from, these three are what we found to be the absolute best in terms of performance and price-point.
It should be obvious, but we'll point out that these fire parts aren't exactly suitable for cooking. You're more than welcome to try, but outside of marshmallows, cooking meats may prove a challenge.
Fire pits are great alternatives to patio heaters, especially if you're trying to go for a more rustic feel. They're also great for when your outdoors or tailgating. They're lightweight enough to carry and not weigh you down, provide more than enough warmth, and are designed to be as safe as possible.