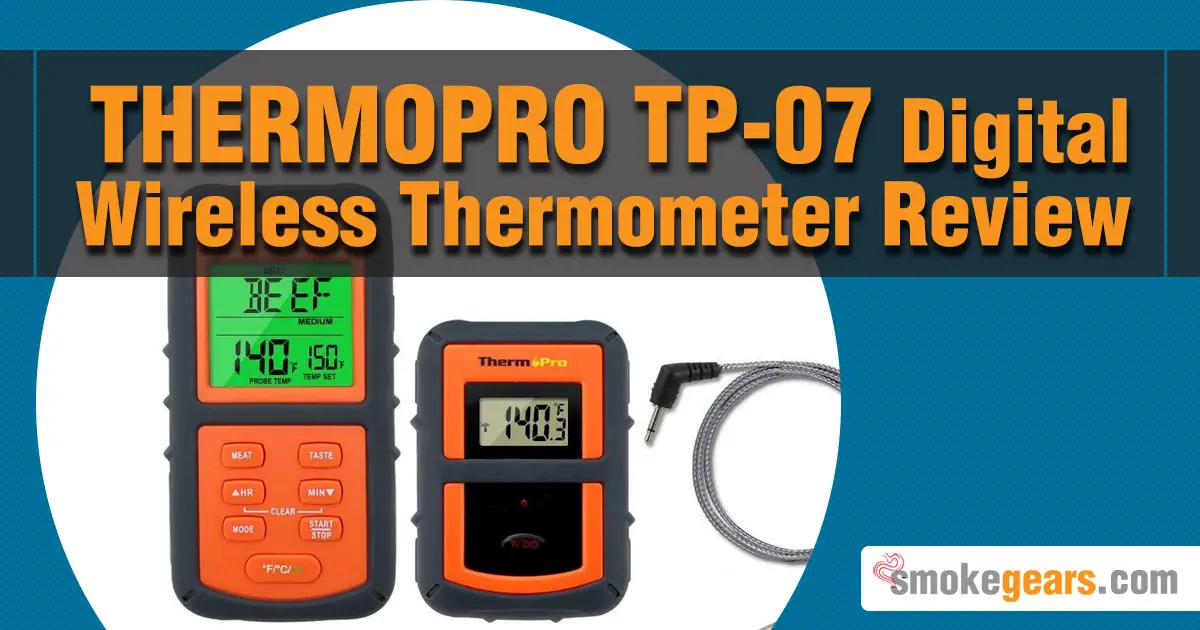 ThermoPro TP07 Meat Thermometer Review – Must Read Before Buy
Cooking on a smoker, grill, oven, or barbecue perfectly requires expertise in handling the temperature of the cooking chamber so that it can cook your food at the right temperature, regardless of the type of device you are using. This ThermoPro TP07 review will help you to take the correct decision.
In today's technologically advanced world a digital thermometer can make it easy to control the temperature of your cooking device even if you do not have any experience in this regard. 
ThermoPro TP-07 is a digital wireless thermometer with a sensor that can prove to be a good companion for you while cooking your food on a barbecue smoker, grill, or oven. A brief review of the TP07 thermometer provided in this write-up will help you to know it more closely.
Overview of ThermoPro TP-07:
ThermoPro TP07 is a wireless digital thermometer ​​that can be used to monitor the temperature of your meat accurately without coming in contact with it. TP07 can allow you to know the temperature of your meat even from a distance of 300 feet as you can use it remotely. 
So you need not go to your kitchen or outdoor cooking area repeatedly to check the temperature of your meat if you have attached a ThermoPro to your cooking device.
TP07 is specially required in case your meat requires a particular range of temperature to cook perfectly. You can easily set the range of temperature required by your recipe on TP07 so that you can get the dish as desired by you. 
TP-07 thermometer can also be helpful to you if you are not sure about the temperature required by your meat recipe or trying your hand at cooking for the first time. It is a programmable thermometer that can cook all types of your meat dishes at different temperatures as per their requirement.
While programming TP-07 you need not do any pairing or synchronizing as its transmitter and receiver are already synchronized by the company. You only have to insert batteries in your TP-07 and include the contents of your recipe and your thermometer will take care of the rest of the things.
We published a large article about cooking times and temperature chart, read it here.
Specifications of TP07:
Range of temperature from 32-572 degree F or 0-300 degree C
Ready to use without requiring any sync
Simple user-friendly interface and setup
Range of accuracy +/- 1 degree C or +/- 1.8 degree F
Length of the probe made of food-grade stainless steel: 6.5"
Length of cable made of stainless steel mesh: 40"
Rang of remote up to 300 feet
Size of receiver display: 1.3" x 1.5"
Size of transmitter display: 0.55" x 1"
Wire and probe can survive up to 380 degrees C or 716 degrees F temperature
Certified by FCC, ROHS, and CE and probe is approved by FDA
Features of ThermoPro TP07:
A color-changing smart and large LCD backlit display while cooking the food. While the process is on its color will be Blue but when the temperature reaches the desired level its color will be green. But if the temperature reaches higher than the desired level its color will change to red.
A probe tip with a STEP-DOWN design so that the wire and the probe of TP-07 can survive at temperatures up to 380 degrees C or 716 degrees F.
Pre-programmed with the temperatures approved by USDA to cook different types of meat including ground poultry, ground beef, veal, beef, pork, chicken, lamb, fish, and poultry at different temperatures.
Temperature settings can be programmed manually as required.
Contains count up and countdown timer along with alarm.
Feature of automatic shut down.
Sleeve case made of splash-proof rubber.
Transmitter wire can be hooked to a stand or on the door of the oven.
The receiver is splash-proof.
The pullout countertop stand of the receiver has a belt clip.
Who is this product for?
ThermoPro is especially designed for the users of barbecue grills and smoker regardless of their experience level. Even novice to cooking can use it to cook their meat at the right temperature just with few simple settings.
Pros:
---
TP-07 can cook different types of meat at different temperatures with the help of predetermined levels of doneness recommended by the USDA.
ThermoPro 07 ensures not to overcook or undercook your food ever to avoid any health problem due to eating improperly cooked food.
You are informed by the alarm of this thermometer along with the color of the display when the cooking process achieves the preset level of temperature.
TP-07 also allows you to ensure that your food is cooked as desired by you instead of depending on guesswork only.
TP-07 helps in making each of your meat recipes perfectly cooked every time.
Cons:
---
You may have to restart ThermoPro TP-07 while cooking your meat by pulling out its batteries and replacing them again as its screen can shut down anytime on its own.
Your thermometer may read the temperature of the grills instead of the meat if the probe is not inserted perfectly into the meat. In such a case, you may have to insert the thermometer repeatedly to get it into the meat properly.
Where to buy ThermoPro TP-07:
Though you can buy TP-07 from any online store or nearby offline store but to buy it at online you should visit Amazon
Final verdict:
TP07 thermometer is a perfectly made device to measure the temperature of your meat while cooking it at various types of cooking devices like barbecue grill or smoker oven. This thermometer is loaded with many features to make it easy to measure temperature accurately. But to get the accurate temperature of your meat you will have to insert its probe into the meat perfectly.
The thermometer will work wonderfully once you have placed its probe correctly into the meat. So it can give you perfectly cooked meat at the right temperature every time. It can give you the value of your money as it is made of durable materials so that you can use it for a long time.
Hope this ThermoPro TP07 review will help you to purchase. Your decision to buy ThermoPro TP-07 can be affected by few negative reviews but when you start using it, you will soon start cooking like a professional cook without any problem.