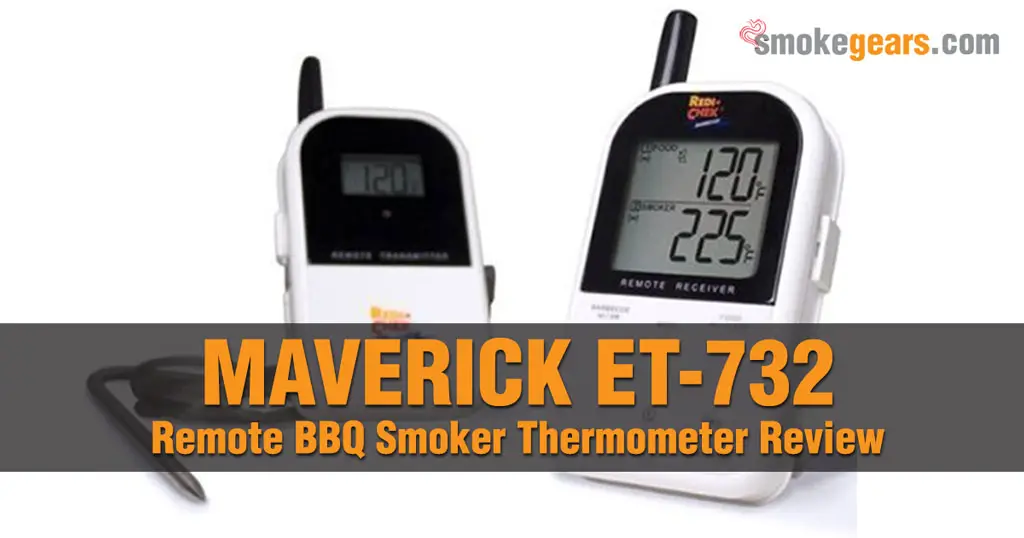 Maverick ET-732 Remote BBQ Smoker Thermometer Review
Upon purchasing your brand new smoker, you are obviously looking for success in cooking and grilling. Much as your offset smoker or any other cooking appliance may be perfectly design, you need something else to enhance your cooking experience.
Maverick ET-732 remote BBQ smoker thermometer comes as a perfect solution to your BBQ and smoking needs. This great brand has been reputable for quite some time, which is why you need to trust their product.
More...
Our reviews are also evidence-based. We purpose to help you find the best on the market. Our reviews of Maverick show both the strengths and weaknesses of this probe thermometer. Let us begin by stating why you should consider Maverick ET-732 as you plan to buy a wireless thermometer.
Proof of Purchase Maverick ET-732 BBQ Smoker Thermometer
One reason we recommend this Maverick food thermometer is because of its reputable brand. Maverick is a leader as far as the quality of food meat thermometers is concerned. Therefore, purchasing is never a loss on your side.
Additionally, we live in a rapid changing world that requires conformity with modern technology. Maverick is committed to availing kitchen equipment that is compatible with the modern technological needs.
By simply purchasing this great product, you gain access to unopposed success in your kitchen wok. For this reason, investing your resources in Maverick meat thermometer is a well-thought idea that is potentially productive in the long run.
Features & Benefits of Maverick ET-732 Remote Smoker Thermometer
Now you have finally actualized your dream of purchasing an excellent food meat thermometer from Maverick. It is time to get much out of your investment. Here is a range of benefits you are entitled to from the first day of your engagement with this gadget.
Everything from the design to the functionality is meant for your good. For instance, the convenient range of up to 300 feet is allows you to walk around in a stress-free manner. The wireless receiver is also enhanced with beeps and flashes that never let you alienate cooking completely.
The back-light is another feature integrated to help you manage your cooking at all times, including at night. Additionally, both count-up and count-down timer works so effectively to show the progress of your cooking or smoking.
When you set up your barbeque, your temperature can withstand as much as 712 degrees. Receiver displays barbecue temperature up to 572 Fahrenheit. Regardless of how hot your cooking is, be sure to safely and efficiently manage it.
Lastly, he food probe wire can be inserted inches into meat. This ensures that your final results are as fine as your expectations. You will monitor the doneness of the deepest part of your meat without falling short of accuracy.
Who is the Maverick ET-732 for?
This product is available for different categories of users. We recommend that if you looking forward to quality smoking, cooking or smoking include it in your budget. The end results are great and non-regrettable.
Restaurant operators, home-based users and professional chefs comprise major categories of potential consumer. Regardless of your specific need, as long as it is all about monitoring your cooking, this is a beneficial gadget.
It is easy to use and thus beginners can as well gain a lot from it. Even if your internal smoker's probe is worn out or damaged, this is a perfect substitute to restore your previous experience.
Proof that the Maverick ET-732 Remote BBQ Smoker Thermometer works
This being a highly rated and awesomely reviewed product, we trust in the results it gives forth. We believe that the truth is practically manifested rather than theoretically expressed. Consumers who have rated and reviewed this product are the same consumers who have had first-hand experience using it.
Nevertheless, we have also committed our time and resources to discover the underlying truth about Maverick Et-732 probe thermometer. Our findings are simply a confirmation of the reputation that this great utensil has generated overtime.
After purchasing and using Maverick Et-732, we discovered that every detail about it was actually true. So we had every reason to recommend that this product is indeed functional and efficient.
Pros and Cons of Maverick ET-732 Thermometer
As usual, any invention is subject to human error. Maverick ET-732 probe thermometer is not an exception. We have analyzed both pros and cons of this device to help you in your decision.
In summary, Maverick ET-732 is a reputable model since it has been on the market for quite a long period of time. It has won the trust of users and currently, it is sold at a much cost-effective price. Additionally, quality is guaranteed.
The design and functionality are both geared consumer convenience and satisfaction. Regardless of the diversity of users, be sure to achieve your ultimate goal of cooking or smoking like a pro.
All you have to do is place an order at Amazon and watch out for the results in the short run. It is advantageous in Amazon since the price is quite friendly thus, a great bargain on your side.