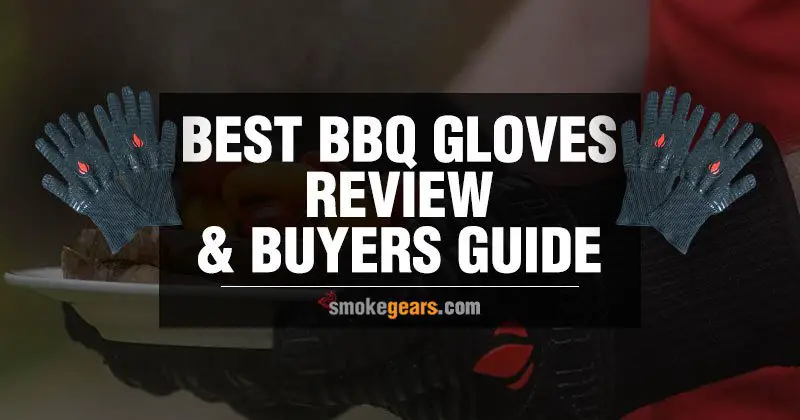 The Best BBQ Gloves Review & Buyers Guide [Updated Picks]
While many of us might think that bbq gloves are not exactly necessary, they can help a lot. Not only will they protect you from high temperature, but you will also get some help when it comes to having a good grip with greasy surfaces. Some are even made to be water-resistant.
Whether it is to beat the heat or to get a good grip on your utensils, a bbq glove can go a long way in making your cooking/grilling experience safe and comfortable. And that is why we have made today's article all about the best bbq gloves in the market.
We will not only explain to you what a bbq glove is, but we will also discuss why and how to use them. There is also a detailed review section for 10 of the best products in the market. So keep on reading!
More...
Our Top 10 Picks for The Best BBQ Gloves
Weight: 15.4 ounces

Dimension:

17.7 x 8.9 x 1 inches

Size: 18-Inch

Weight: 8.8 ounces

Dimension: 7.5 x 0.8 x 13.5 inches

Size: 3 different sizes

Weight: 4.8 ounces

Dimension: 10.6 x 5.1 x 6.9 inches

Size: 10.6-inch

Weight: 6.7 ounces

Dimension: 5.1 x 8 x 2.1 inches

Size: Large/X-Large

Weight: 4.8 ounces

Dimension: 14 x 3.8 x 2 inches

Size: 13.5-inch

Weight: 6.4 ounces

Dimension: 14 x 5 x 1 in

Size: 14-inch

Weight: 11.5 ounces

Dimension: 16 x 7 x 1.3 inches

Size: 16-inch
What Is BBQ Gloves and How Do They Work?
A bbq glove is precisely what the name implies. You use this glove for when you are out to bbq something or generally to work with a lot of heat.
Not only is it used for this reason, but also you can use such gloves for when you are cooking or grilling things. A bbq glove is mainly worn to keep your hands safe from the heat that you are working with. While some gloves can cover till the forearm, others go as far as the elbow.
But why do you wear these gloves?
Well, other than being heat-resistant, there can be more reasons to why you need a bbq glove. For starters, these bbq gloves can come in handy for any work that requires you to work with direct flames.
Not only that, you can get yourself a bbq glove which has a specific type of texture or pattern on it too.
This feature makes it the kind that helps you grip on things more comfortably. In simpler words, you need a bbq glove for safety when you are working around a lot of heat that might potentially burn your hand.
Now let us come to how these things work!
Well, as we have mentioned before, a bbq glove is mainly used to resist heat when one is explicitly working around heat. That is why most people think this is the only thing these gloves do. But actually, there is more to it than that.
The material used to make this glove mainly works in keeping the glove resistant to a certain degree of heat. But sometimes some gestures help in making it easier to grip wet surfaces. Most gloves also are prepared to give you a good grip when grabbing tongs or knives as well.
As they have separated fingers, unlike mittens, you can function with them pretty well. Another thing is how these gloves can save the rest of your arms from the heat. Well, the answer is simple. Some of these gloves are made to be as long as 14 inches or so, and they can cover up to your elbows.
So, this is good enough to not only save you from direct flames but also from the general heat and smoke that might make it uncomfortable for you to work in.
Overall, this is the basic idea of what a bbq glove is and why you need it. In this section, we also explain how the basic design of a bbq glove helps in making it function properly.
Why You Should Use a BBQ Glove?
There are some excellent reasons why you should use bbq gloves when working in a high temp and also grilling or frying outdoors. You should also get one of these for when you work under a direct frame or simply grilling the fireplace. So, without any further delay, let us check out some primary reason why you should get yourself these bbq gloves.
In this way, you can not only do a fantastic job with your grilling but also stay safe while doing so. Most of us want to grill or fry for fun, and it is essential to keep safe during fun times too.
The comfort level of the cook matters more than anything, and it is no different in this case as well. So if you want to ensure a high comfort level, then you need to get yourself a bbq glove.
Remember the bbq gloves we mentioned that could cover up to the elbow? Well, those are indeed important and frankly crucial if you want to save your arm from being burnt.
Even if you are not working with that much heat, there is a chance the heat can be causing discomfort while you cook. With a bbq glove, however, you will barely feel a thing.
So if you want the kind of glove that is more the potholder type and does not go down to the elbow, you can find those too. And they also have separate fingers which your beloved mittens do not.
Best BBQ Gloves Review
In this section, you will get reviews of 10 barbecue gloves that made it to our favorites' list. Take a look!
1. GRILL HEAT AID Extreme Heat Resistant Grill BBQ Gloves
For the first position on our list, we have brought to you the Grill Heat BBQ gloves that are probably one of the most heat-resistant gloves on our list. Along with being super stylish, it has a lot of great features that will leave you awestruck.
The main thing which matters for these gloves is the fact that it should be resistant to heat. Well, there are a lot of things that can make a glove super resistant to fire and heat.
This little guy is made of aramid fiber, which is known to be used by firefighters as well. So if they can trust it to save them for high temperatures, why can't you? Other than this, it is also super comfortable to wear. You can use this little guy for several different things, not just grilling.
So, whether it is merely for getting stuff out of the microwave or even some casual baking, this one can be used for it all. And we also personally think that this product is the perfect glove for multi-functioning. So, if you are planning to buy a glove that can be used for multiple purposes, buy yourself this one and save a few bucks.
With excellent features come some drawbacks. While this one has some great things to look forward to, it is a little small in size compared to the other gloves in the market. Therefore, it might be too fitted for you or a little too small.
Besides being a little small in size, it is the best option for both indoor and outdoor use. So if you get yourself one of these gloves, you can use it both for indoor baking and outdoor bbq nights.
2. Jolly Green Products Ekogrips BBQ Oven Gloves
For the second position on our list, we have one of the best waterproof bbq gloves out there to feature. It is from the company best known for its high-quality products: Jolly Green. But for that specific glove, there is much more to it than the high quality itself.
We have already mentioned that this thing is water-resistant. Well, you might think that there is no reason to get yourself a water-resistant glove. And the salesperson serving you might say the same. But this is done because there are not as many water-resistant gloves good for bbq in the current market.
Contrary to what most people think, a water-resistant glove can do magic when it comes to helping out in both indoor and outdoor situations. Because it is resistant to water, you will be able to handle greasy or slippery pots pans and tools with ease.
Not just that, you also do not have to worry about cleaning up after each use. Although it might sound like a hassle to clean this glove routinely because it is so easy to clean this one, you will barely feel bothered, and because it is durable, you can put it in the dishwasher as well.
If you do not have a dishwasher, you can also clean this one in your laundry machine. You will also get to choose from two beautiful and vibrant colors that will not fade too easily. The one thing which seemed to have to bothered quite a lot of users is that the inside of the glove seems a little slippery.
While most people found it odd, a lot of them also mentioned that it is not something which bothered them or hindered their comfort while using this bbq glove. There is much more that this product offers which nullifies the small flaw.
You will get full coverage up to the wrist, which is an indication of the fact that the brand is concerned about user safety as well.
3. ARTISAN GRILLER REDEFINING OUTDOOR COOKING Best Insulated BBQ Pit Gloves
If you are looking at one of the best barbecue gloves that can also be called a pit glove, this is surely your winner. For the third position, we are featuring a bbq glove from a famous company called Artisan, that is known for its top-notch product.
While there is so much to tell about the company itself, let us go into the product for first.
The best thing about this specific bbq glove is that it is the king of outdoor frying sessions. If you are someone who loves to spend time outdoors and specifically love to try out frying outside your home or even when you go camping, the Artisan gloves will be your best friend.
Yes, it is great when it comes to resisting heat, but it has been made to be portable as well. Speaking of its resistance ability, let us not forget to mention the fact that it is resistant to not only stain but also water!
Waterproof gloves are a blessing even in today's day and age, and you will not truly understand what we mean till you try it out. There is also a cotton lining in the glove that is added for an extra amount of comfort.
So, you will not only get some dope features compared to similar products, but you will also be super comfortable in this glove.
But there is one thing which might be an issue is that it is not the best for beginners. If you are someone who has not tried out these gloves or is not used to it, you might need some practice before using these to do some frying or grilling.
To get some practice, try getting your food out of the microwave so you can get used to the overall fitting and feel of the glove. Other than that, there is not any major flaw in this little one.
I mean, you will not only get some interesting features at a low price, but it is also actually made to be around 14 inches long just for the safety of the customers.
4. Steven Raichlen Best of Barbecue Extra Long Suede Grill Gloves
For the fourth position in our list, we are featuring Steven Raichlen gloves that are made to be longer than others. If you know what you are looking for, we guarantee that this will be the best-insulated bbq gloves in the current market.
Firstly this little guy is made of leather, and so you know that it is going to have the ability to give you more protection compared to other gloves. Not only that, being leather means you will get much more resistance to heat, just because of the material used to make this.
There is nothing super fancy about it or exceptional, yet it can offer much more with very less effort. I do not know about you, but we are already convinced that you should buy it.
Well lucky for us, there is much more there is to know about this product to convince you. This glove is also really easy to clean. Not only that, but you also get much more coverage than other gloves can offer you.
Yes, you saw it right. You can get coverage up to the elbow. This item is great if you are going to use this glove for cooking when you are working close to a direct flame or around high heat.
But although it is super easy to clean, it can not be cleaned in a dishwasher or a washing machine. This is mainly the reason why many would prefer not to buy this specific glove.
However, because it is leather, it is easy to wipe off the dirt from it.
Lastly, we think that you should definitely buy this leather glove as it is highly comfortable and can save you from the most instead flames. Because it is light in weight, you can also take it with you if you ever go out camping.
5. Love This Kitchen Premium Silicone BBQ Gloves & Grill Gloves in Attractive Gift Box
If you want to buy a bbq glove that can make the perfect gift for a friend or a loved one, then you are in luck because we have something great for you. For the fifth glove we are about to feature, we have the silicone bbq glove from the new and popular brand Love This Kitchen.
As we have mentioned before this one is the perfect pick if you are looking to get a glove that is a good gift to someone. Not only are these gloves made to be super resistant to heat, but it is also made in a fabulous design that will never go out of style.
Other than the fact that it is great when it comes to the design and the heat resistance, it is also really flexible. The flexibility makes it highly comfortable to wear and also work in. If the glove is not flexible, it gets hard to work in high heat with it.
And because it covers up to the forearms, you can be sure that the heat will not bother you in any way. However, this glove has a drawback. It is not the kind of glove that comes in a size which can fit everyone.
Other than that, it is a great item and one of the best around. We would recommend you to buy it if you get the right size for you. Because, why not? Other than the stylish design and full coverage feature, it is also really easy to clean up as well as maintain.
6. TOPULORS BBQ Grilling Gloves Oven Mitts Gloves For Cooking Baking Barbecue Potholder
If you know anything about the popular brand, you know how amazing and long-lasting most of their products are. Well then, brace yourself because for the next product we are featuring the popular bbq glove that works just as well as the others despite being similar to oven mitts.
Just like most products from this brand, these bbq gloves are made to be extremely long-lasting. And for it to be long-lasting, the material used makes the overall glove super thick. The thickness, along with the top-notch materials used, makes this one a must-have for your barbeque nights.
Now the one thing a lot of people wonder when a glove is thick or tough is the amount of comfort it can provide. Well, do not worry at all if you buy yourself this oven mitts bbq glove.
Not only is this thing made of good quality materials, but it is also actually super comfortable to wear as well.
The result of this is efficiency and durability. You will honestly be awestruck by how great this glove is! But there is one downside to this one as well. While it is long-lasting, comfortable, and durable, the glove is not as resistant to heat when it comes to direct flame.
So, if you are planning to go out camping or have a fireplace grill where you want to use this glove, we recommend you check out something else. But if you are not doing any of that, then this specific bbq glove will be a great addition to your collection of equipment needed to bbq.
In case you still need to think a little before making a decision, check out the pros and cons to help you decide.
7. Weber 6670 Large/X-Large Premium Barbeque Glove Set
Whether you need a large glove or an extra-large one, the Weber brand will ensure the right size for you. Along with providing us with the best grilling gloves in the current market, the Weber brand is known for having the best silicone bbq gloves as well.
The first factor that amazed us is how light in weight this glove is. You might think that this thing weighs a lot because of the use of silicone in this glove. But actually, this makes it super light in weight which eventually makes it highly comfortable to use.
As one of the best grill gloves in the market, it also has to offer the right amount of flexibility to go with comfort. And it will not disappoint you in that case either. Now, as we are already on the topic of silicone, let us inform you of another important use of this material.
If you have not yet seen gloves with patterns on it, you are in luck because this silicone-made glove has an interesting pattern on it. Why might you ask? Well, this pattern specifically makes it easier to grip anything big or small for anyone who uses this glove. It is also great for both outdoor use and even indoor dutch ovens.
However, the one thing that became a flaw for this glove was meant to provide comfort. There is an inner lining on this glove, just like many others in the current market. But sadly this lining makes the use of this glove a little uncomfortable. This is something unexpected that we noticed in this bbq glove.
But the thing is, if you are someone with comparatively big hands then this glove might be more comfortable to use for you. As there are not as many companies that bring out gloves in a large or extra-large size, we think this will be a good investment for you.
8. Hot Gorilla BBQ Grill Cooking Gloves - Extreme Heat Resistant 932°F EN407 Certified with Forearm Protection
Although the name of this branch might make you wonder if it attracts heat or repels it, we assure you that their gloves can resist the most extreme heat there can be. From the hot grill brand, we have brought you their bbq grill cooking gloves that are EN407 certified.
The first thing we need to talk about on this one is the amount of heat it can resist. Although most of the bbq gloves in the market are said to have the ability to resist heat, they actually can not do so as much as they claim. However, in the case of this bbq gloves, you should not have any doubt.
It can resist as far as 932 degrees Fahrenheit of heat with ease. Trust us when we say that you will rarely feel anything even at extremely high temperatures. Just like it can resist extremely high heat, it can also resist stains as well. This means that you will not have to scrub this glove for hours to clean it.
Because it is super easy to clean, you might think it will have a rather slippery surface. Well, that is not the case. This little one has the kind of surface that makes gripping easy, even with the most greasy surface.
But the one thing which might make you hesitate a little bit is the fact that it is a little hard to put on. While this might not seem like a flaw in general, it is a setback when you are in a hurry. Besides this one thing, we assure you that this glove will be worth your money.
9. Prepmen BBQ high Heat Resistant Grilling Gloves: Insulated Waterproof Grill Mitts
For the ninth position, we have the Prepman bbq glove, and if you want a glove that gives good grip and heat resistance, then this is your winner.
Let us start with the fact that this is a grilling glove, which means it will be able to resist a good amount of heat. But that is not the only major feature it has. This one, much like some rare products out there have a textured surface.
And this texture is similar to a tire, meaning it can give you a much better grip than most gloves with patterns. But there is more. There is a neoprene coating on its surface that is BPA-free and safe for food. Other than being resistant to heat, it can also resist water making the surface less slippery.
The inner lining on this one is also not uncomfortable in any way. So, all in all, there is nothing about the features that might specifically cause an issue. If there is one thing to complain about, it is the fact that the glove is a little heavy compared to other gloves with similar features.
This can be a reason for discomfort for a lot of people. So before buying, check out if you are comfortable with the weight. If you are alright with the weight, we see no reason for you not to buy this. Considering it works extremely well with wet or greasy surfaces, we think this is certainly worth the money.
10. KIM YUAN Extreme Heat & Fire Resistant Gloves Leather with Kevlar Stitching
For the tenth and final position on our list, we have a glove from a company we all know too well. It is none other than Kim Yuan, a company known very well for its durable leather products.
If you are looking for a glove that can resist heat well, this brand makes the best heat-resistant bbq gloves in the market, among others. Not only will you get gloves that can resist heat extremely well, but you will also have high comfort when working with this glove.
Most people think that having a leather glove means it will not be as comfortable to work with, but in reality, it is far from the truth. This specific glove is highly soft and has a durable interior despite being made of leather.
Moreover, this little one also has a super convenient system for hanging that a lot of these gloves do not have. While some do have a hole in the glove itself, this one has an added loop specifically made to make storage easier.
Not only that, this glove is great to work with all kinds of tools and cookware, but you can also do amazing work, whether it is for grilling, cooking, or frying.
But the one thing you should look out for is the amount of stiffness you feel when you wear it. Although there have been some complaints about the stiff feeling during initial usage, it might not be the case for you.
Whether you feel like it is comfortable to work with or not depends on you completely. But considering it gives you a high resistance from heat and is also good enough for multitasking, we think this is a must-have for your kitchen.
How to Choose the Best Pair of BBQ Gloves
There are some things that you must keep in mind when you go to buy yourself some bbq gloves. Other than outlook, there are some things that you should consider before making any final decision.
In this section, we have added a small buying guide to help you pick the bbq glove that is right for you.
1. Heat-Resistant
This is a pretty obvious one. You need to buy yourself a pair of bbq gloves that are heat-resistant. But even at that, you should check the level of heat your glove can resist.
If you are working with heat up to 300 degrees Fahrenheit, then you will need a certain type of gloves. On the other hand, some gloves have a heat-resisting capacity of over 900 degrees Fahrenheit.
2. Water-Resistant
Some gloves these days are made to be water-resistant too. While many think this means added cost, it is untrue. You can find water-resistant gloves at a fair price.
A water-resistant pair of gloves can help in making the grip of your glove much stronger than before. Not only that, the ability to resist moisture makes the gloves easier to maintain.
3. Comfort
Comfort is key when it comes to anything related to cooking. Similarly, you need to get yourself bbq gloves that you would be most comfortable wearing. So, you must consider your comfort before other things. Some gloves seem stiff at first or do not feel as flexible.
Take note of these things before you make a final decision.
4. Coverage up to the Wrist
The coverage that your gloves give you can go a long way when it comes to ensuring safety.
Mostly, the gloves that are not beneath the wrist are much like potholders and are no different than the oven mitts. So, you should get yourself the gloves that go beneath the wrist and up to the forearm or even the elbow.
5. Easy to Clean Up
Getting yourself a glove that is easy to clean up will go a long way. It will save you time when it comes to cleaning up after cooking. And since you need to clean your gloves anyway routinely, you must find gloves that will not cause a hassle when it is time to clean it up.
6. Overall Appearance
As much as it is never a good idea to go for the outlooks of the gloves, sometimes, it does play a role in picking the right one for you. If you want to get yourself a glove that you like, the appearance of the glove along with comfort is crucial as well.
Although this should not be your top priority, this is something you need to keep in mind as well.
7. Budget
To find the best budget bbq gloves one might think they would have to cut back on special features. But if you search properly, there are a lot of bbq gloves that you can find within a fair price.
So although you might think you need to have a high budget to be able to afford a decent bbq glove, it is quite the contrary. Some of the best gloves come at a low price.
8. Grip
You need to check if there is a grip pattern on the surface of your gloves. If there is, then you can get a good grip on all cookware that you will use. This feature is a necessity for anyone who hates taking off their gloves to carry a pot or pan.
9. Durability
Durability is probably the most important thing when buying anything in today's market. Just like that, you must look out for gloves made to be durable. Also, look into reviews and trust your gut as durability is not something you can measure by the first look.
10. Size
The size of your glove is also something you need to keep in mind. Not all gloves come in free size, and some are also smaller than average. So if you are going to buy yourself a glove, it is best to wear it and see if you are comfortable.
Always remember to buy gloves with a looser cuff. Another thing to remember is to always go for the looser glove if you are in a dilemma between two sizes.
Types of BBQ Gloves
Based on the type of fabric used, there are certain types that you can divide a bbq glove under. There are certain things to remember when you buy a bbq glove. So, read this section carefully.
While many people think the leather will not make a comfortable bbq glove, they are very wrong. Although these bbq gloves are made of leather, the interior of the glove is in fact cotton.
However, leather is usually not entirely resistant to heat. Not only that, it is not dishwasher-friendly as well. So you will need to think twice before putting it in the machine.
The ones made of silicone are probably considered to be the best in terms of comfort. Because the silicone material is quite bulky. To begin with, most of the bbq gloves made from it is a little loose towards the wrist.
This gives you a level of comfort that other materials cannot give you. And because it is silicone, the glove will inevitably be waterproof. All in all, the bbq gloves that are made of silicone perform very well and are also comfortable to use.
Some bbq gloves have silicone partially. These are the ones that include mostly fabric, along with bits of silicone to bring you a durable combination. You can hold the most heated pots of grates with these combinations, and that is why these are often considered to be the best type of material to choose from.
And the best part about this is the fabric that has silicon in it can do a fantastic job at being flexible too.
You can also find yourself a bbq glove that is made out of fabric. Because there are so many types of fabric to work with and also many combinations, there is a lot to choose from as well.
However, out of all the fabric in the market, the most popular is the aramid fabric. This one is popular mainly because of the amount of strength it has and the high amount of resistance there is.
How to Maintain These Gloves
Now that you know what a bbq glove can do for you, should you not know what you need to do for it? Well, one other thing that you need to keep in mind is how you should be maintaining your bbq glove. And that is what we will be discussing in this section.
These are some of the things you must keep in mind if you want to maintain your bbq gloves properly.
FAQs: Frequently Asked Questions
Q1. What are these things usually made of?
There is a lot of material that is usually used for making these gloves. In the market, you will mostly find gloves that are made of silicone, fabric, leather, etc.
Q2. Why would I need gloves if there are tongs?
Well, because tongs are usually not long enough to be used for handling utensils around so much heat. It also does not have the flexibility and comfort as a glove does.
Q3. Can I clean these gloves in the laundry machine?
Yes. Some of them can be used in the dishwasher, and you can also put it in the washing machine if you want.
Q4. Does the cuff of the gloves matter a lot?
Yes, it most certainly does. Usually, if you get a glove with relatively loose cuffs or bug, you will be more comfortable. There is also more air circulation that will save your palms from heating up.
Q5. What kind of gloves should someone with small hands buy?
The gloves that are made of fabric are usually a little more comfortable to wear for people with small hands. And you should also look for the ones that have a more profound inner lining. This will keep you super comfortable as well.
Q6. The one I bought does not seem to cover my wrist. Is that something important?
It is essential if you are thinking about safety. Usually, it is best to get the gloves that go beyond your wrist because that will ensure comfort.
Q7. What are some brands that make durable gloves?
If you are looking to invest in a bbq glove that will last for generations to come, buy from places like ARTISAN, Grill Armor, or Weber.
Q8. What kind of gloves is dishwasher friendly?
Silicone gloves are alright to put in dishwashers, but leather ones are not.
Q9. Which kind of material is right as a heat-resistant surface?
The best type of fabric that you can get for being resistant to heat is aramid fabric. This is a must if being resistant to heat is your primary concern. Even firefighters use gloves made from this material.
Final Words: So now that you have gone through all the sections, you know all about the best bbq gloves that exist in today's market. It will be super easy for you to find a pair of gloves that fit your needs perfectly. And not only that, you know why you should buy yourself bbq gloves, to begin with.
We hope you make good use of this knowledge and get yourself the bbq glove that you desire the most.