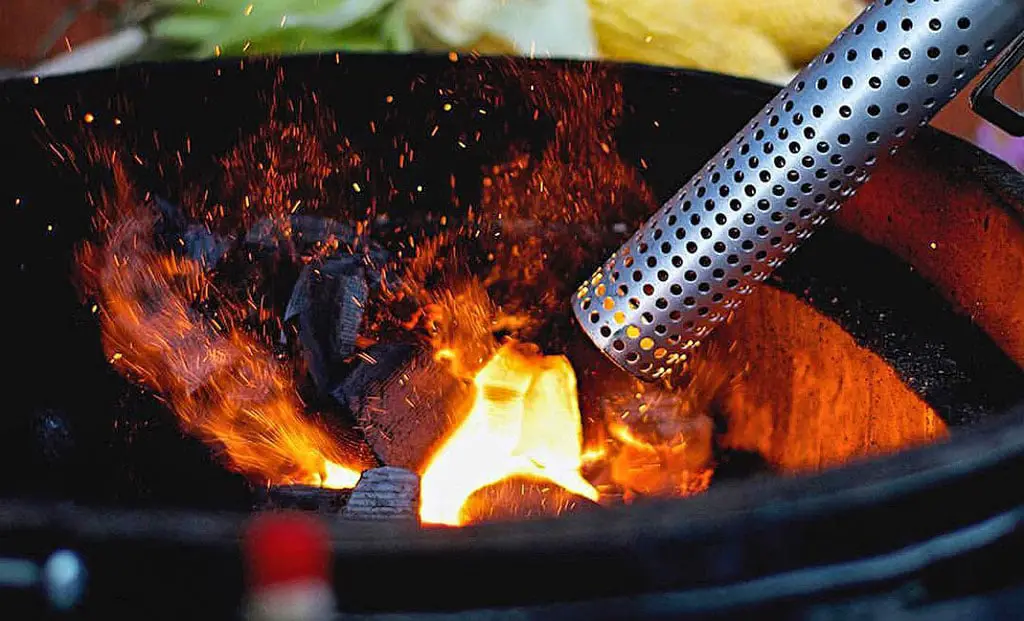 Looftlighter Review – Electric BBQ Fire Starter
Charcoal grills are great, but the one thing they lack compared to electric or gas grills is the ability to be lit instantly. If you ever owned, or do own, a charcoal grill, you already understand this pain. Your charcoal isn't going to light itself and for the most part, will look like a lumpy rock staring up at you from your grill. No fancy instant heaters with a charcoal grill!
Now, I'm sure we've all made the mistake of concluding that the only way to start a charcoal grill is with lighter fluid. Lots and lots of lighter fluid. Disregard whatever the bottle tells you! Drown your charcoal in lighter fluid, light a match, and then duck for cover. You have a fifty-percent chance that it'll explode and a fifty-percent chance that nothing will happen.
More...
If you own a charcoal grill and wish there were some easier way to light it, look no further than the Looftlighter. In our Looftlighter review, we're going to just focus on the Looftlighter and not any other products. We'll still have the best lists, don't you worry, but we just want to focus exclusively on the Looftlighter because of how well it performed. That spoils the review somewhat, doesn't it?
Manufacturer's Specifications:
First Impressions Out of The Box
When the Looftlighter arrived in its bright orange box, we were surprised by how light it was. You only get the Looftlighter and the instruction manual, nothing else. We appreciate the minimalist approach, as there isn't anything fancy to stick onto the Looftlighter and you don't have to assemble it. Because it uses electricity as it's a power source, a generous nearly ten-foot-long power cord is provided and already built-in.
Appearance-wise, we'll be quite honest when we say this looks more like a blunt instrument you would use to smack someone over the head and not something, you'd start a charcoal grill with. The bottom half is molded black plastic with the power button and a stand, while the front is an aluminum nozzle. When it comes to winning awards with appearance, we're not going to rate it high.
But of course, this isn't a beauty show. This is a barbecue!
How It Works
Essentially, it's similar to a hairdryer. The metal nozzle fires super-heated air into your charcoal which ignites those lumpy rocks. The temperature of the air reaches 1100F, more than enough to light your charcoal and possibly your clothes if you're not careful. The built-in stand is so you can place your Looftlighter aside after using it, doubling as a hanging clip and bottle opener as well!
How To Use It
We recommend reading the instructions first before using it, because this thing isn't going to ignite your entire grill in sixty seconds. The operation is extremely simple. You press the button, which has a little fire symbol on it, and hot air is fired from the nozzle. When you release your finger from the button, the hot air is stopped. The operation couldn't be more simple.
Getting it to work, however, is going to take a bit of practice. To start, pick a place on your grill and move the Looftlighter so that the nozzle is touching the coals. Press the button and after thirty or so seconds you'll start to see the coals glow. When they start to glow, pull the Looftlighter back a few inches but don't turn it off, all the while keeping it aimed at the same spot.
Within sixty-seconds, those coals are now lit, and the flame is spreading to the neighboring coals! Of course, you still have the rest of the grill to cover. So, use your Looftlighter to ignite the rest of the charcoal. Depending on the size of your grill, it maybe five or so minutes before you can start actually cooking.
Now, the number one problem people have with using the Looftlighter is that they keep the nozzle too close to the coals as they burn. Don't do that, as this will inadvertently melt your heat shield and a melted heat shield isn't covered under warranty. We can't stress it enough, once you see the coals glow, pull it away but keep the nozzle focused on that spot. Like said, it'll take some practice before you master it.
Cleaning and Safety
Cleaning is really easy. Once the nozzle has fully cooled, wipe away any soot with a damp cloth. The biggest potential issue as pointed out in the instruction manual are the vents in the nozzle clogging. We feel that you'd have to stick the Looftlighter in mud to get those vents clogged, but better safe than sorry.
Overall, the Looftlighter was simple to clean and really safe to use. As long as you're not pointing the end of it at yourself or people, and just the charcoal, it's very hard to have an actual issue. In fact, we didn't have any issues with our Looftlighter. It takes a bit of practice, as mentioned, to master it but that said we feel that you'll get used to using it within your first grilling session with the Looftlighter!
Warranty
If you register your Looftlighter on Looft's website, you'll get a three-year warranty that'll cover any potential defects and provide you with a brand new Looftlighter after you fill out the claim. This said, accidents like melting the aluminum heat shield or a fall won't be covered by the warranty.
Our Thoughts
So, what can we say about the Looftlighter besides that you should buy one? It's about as simple to use as a pair of tongs, but after you use it just once on your charcoal, you'll be asking yourself where has this been all your life. You don't have to worry about any potentially dangerous lighter fluid, no fiddling with matches or lighters. Plug the Looftlighter in, stick it to your charcoal, and light 'em up!
If you own a charcoal grill, any sort of charcoal grill, or even just have a fireplace you want to light you want to get yourself a Looftlighter. Don't even bother with anything that does the same thing but isn't named Looftlighter. Not only are they not going to get your charcoal nice and hot, but the Looftilighter is also already affordable!
Matched with great customer service, the Looftlighter feels good in the hand and works wonders. We don't feel like this is something that's going to break, as the construction is solid. Not to mention that this is safer, and cleaner, than lighter fluid. No chemical smell and no emissions, as it's only hot air being used. That in of itself should be a remarkable fact that'll make you buy a Looftlighter.
Overall, we wholeheartedly recommend the Looftlighter. It's got a silly name, it looks like a blunt instrument, acts like a hairdryer, but it will get your charcoal grill fired up in less than ten minutes with no emissions! This is one of those accessories that's an absolute must-have, hands down.