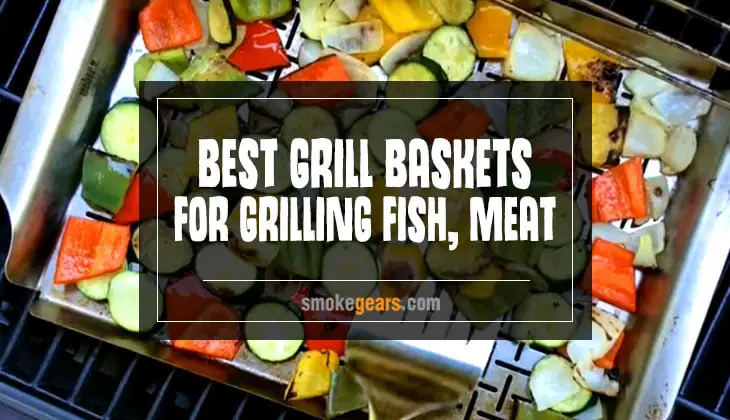 Best Grill Baskets for Grilling Vegetables, Fish and Meat in 2021
Grill mats are a wonderful and food-saving utensil that can protect your vegetables and meats from an untimely fate. You know what we're talking about. You go to grill some vegetables and one happens to slip right through the grate and is instantly incinerated. Or you're cooking some nice, juicy burgers and just the littlest bit of juice falls to the flame and next thing you know your burgers are on fire.
Grill mats are wonderful, but they lack that one special ingredient that you only get from cooking on a grill; smoke. Food just tastes better with a subtle, smokey flavor and this is a fact you can't deny. A grill mat stops the flames from reaching the food, but also the smoke. If you wished you had something that worked like a grill mat but still provided that smokey flavor, look no further than a grill basket!

More...
At a Glance of Our Top 5 Picks:
Top 5 Best Grill Baskets on The Market for Grilling (Reviews)
We're reviewing the top five best baskets for grilling vegetables, meat on the market so you can find the one that's just right for you!
If the Grillaholics name looks familiar, that's because we've reviewed several of their products before.
When it comes to name brand recognition, Grillaholics is widely known and widely respect for their grilling accessories that are the bees knees if you pardon us using some very outdated slang. 
So, is the Grillaholics basket worth your time? Short answer, yes.
Grillaholics grill basket is made of stainless steel and is quite sturdy with unique triple-reinforced corners and useful curved handles. The dimensions are 2.25-inches tall, an overall diameter of 11.5-inches, and a width of 8.5-inches. It's a shallow grill basket, designed to keep the food as close to the grates as possible without the food touching the grates either. 
The design is ergonomic, and the size makes this grill basket practical to use with most grills. The only downside is you might not be able to get all your planned projects done just with the Grillaholic, but if you need some vegetables or seafood grilled? The Grillaholic will be your best friend. Just make sure to wear gloves when handling it!
Weber is another name that frequents "Top X" grilling products lists. This is because Weber has been in the market for so long they seem to make everything a grill master might need, including the grills!
So it should come to no surprise that a Weber grill basket makes our list. But what sets it apart from the Grillaholic, or any of the other baskets on our lists?
Like the Grillaholic, the Weber takes a similar approach to the food being as close to the flame as possible without being on the grates. This grill basket stands in at 2.5-inches tall, a width of 11.8-inches, and an overall dimension of 13.8-inches. So the base is larger than Grillaholic's, while still being sturdy having been constructed out of stainless steel.
For the price point, the Weber excels with vegetables but not so much hardier foods. The handles are nice and big, although you still need to wear gloves when handling, and there shouldn't be much problem using it with most grills. If you own anything else from Weber and want to remain loyal to them, then their grill basket has you covered.
Cave Tools is a relatively new name on the market, having gotten their start back in 2013. Their goal is to bring quality products to the grilling masses by those who are grill masters themselves. With this ethos in mind, let's take a look at their grill basket!
The first thing you'll notice is that it's somewhat taller than other grill baskets. Three inches in height. It's nearly twelve inches at the base and fourteen inches overall.
So it's bigger than some competitors, but is it any better? Constructed of stainless steel, the Cave Tools grill basket comes with a lifetime satisfaction guarantee. If you're not happy, return it and get fully refunded. This is something other competitors lack, and which we appreciate as a company that goes out of the way for the customer is one we'll always root for.
Like other grill baskets, the shallow design allows the food to be close to the flame and smoke without the risk of falling in. The corners do have some reinforcement to ensure that the basket will last you plenty of years to come, and the entire basket is dishwasher safe! The handles are also nice and curved, and overall this grill basket felt sturdy.
What's half-wok half-grill basket? The Smaid grill basket, that's what! A rather unknown name when it comes to grilling accessories, but you know us. We always like to review brands that may be unknown but are still quality products.
And to that end, the Smaid grill basket is a quality product. We were surprised with just how many vegetables can be piled inside, hence why we called it a half-wok only a few sentences ago.
At 11.6-inches wide, a diameter of 13.1-inches, and height of 3.2-inches, the Smaid is all about the quantity. With rather large dripping holes at the bottom, measuring 0.35-inches each, you'll have plenty of circulation that leaves your vegetables nice and cooked with that wonderful smokey aftertaste. Cast in stainless steel, the Smaid features nice sized carrying handles and comes with a lifetime guarantee.
So if you need a lot of vegetables or chicken wings cooked at one, consider getting the Smaid. It's not a brand you'll hear being talked about, but that doesn't mean you should underestimate this grill basket. It's durable and with a generous capacity, you'll have a grill basket that'll last you years to come.
Another relatively unknown company, Clear Choice Cookware offers a rather limited range of cooking accessories, but we just had to try out their grill basket due to the affordability.
We found it also remarkably symmetrical, 11.4-inches in width and diameter, with a height of 2.5-inches. A perfect squared basket for your grill!
What sets this grill basket apart from others is that it uses non-stick coating. Easier to clean than stainless steel and you don't have to worry about your foods sticking to the basket. After all, if they did keep sticking it wouldn't be a non-stick grill basket now, would it? With a respectable depth and space, the Clear Choice Cookware is a great grill basket to pick up on the cheap.
The only problem we would see is damaging the non-stick surfaces by accident. So this is one basket that needs to be handled with care to ensure it has a long life ahead of itself.
Grill mats are great, there is no doubt about that, but they're not perfect either. See, with a grill mat, while the fire might not reach the food neither will the smoke, and this can take away from the flavor immensely. You're out there grilling, after all, don't you want your food to taste like it was grilled? If you want your food protected while still having that smokey taste, you'll want to invest in a grill basket.
And this concludes our reviews of the five best grill baskets for fish, vegetable. Our favorite was the Grillaholic, but that might just be us being biased as we do love Grillaholic's products quite a bit. Overall, as you saw, many grill baskets are going to be around the same size and achieve the same goal. So you'd only ever need two, if that. One good grill basket should last you for years.
Now we're going to talk a little about grill baskets to give you an understanding of what they are and what they do. 
What is a Grill Basket?
You know how a grill mat is a mat you place on your grill? Well, a grill basket is a basket you put on your grill. It's not exactly rocket science, just grilling science. Although there are three types of grilling baskets and each goes about their assigned jobs in different ways. You have the traditional grill basket, the open-top grill basket, and the closed-top grill basket.
The traditional grill basket acts a bit like a waffle iron. You have two pieces of wired mesh, each connected to a handle, which when folded down locks the food in place. In practice, it looks like an oversized fly swatter that holds your food. This means you can easily drag your foods away from the flames in record time, and you don't have to worry about the foods sticking to the grill either!
The other two types work similar to one another, but there is a major difference. Closed-top grill baskets are like a sauce pan or pot, but made of mesh. Despite the name, they have removable lids. Open-top grill baskets, meanwhile, are functionally identical but lack lids. Some argue that the open-top is superior to the closed-top, while others argue the opposite. We'll let you decide which is better.
We'll go over the benefits of these later, but for now you should have a basic understanding of what a grill basket does. It keeps your food away from the grate but still allows circulation and heat to properly cook and smoke your food.
Type of Food You Can Cook in a Grilling Basket
The short answer, everything. The longer answer is that it depends on what you're preparing to cook. Suppose you have some small steaks and are worried about them dropping through your grates. Do you use the open-or-closed-top baskets, or the traditional? How about vegetables? Or seafood? In theory, all three different types of grill baskets can handle any sort of food, but that's not so much the case in practice.
Here's a handy guide to tell you which grill basket can work with which food!
The Advantages of Using a Grill Basket
So, the main advantage of using a grill basket is that your food is protected from flare-ups while still receiving smokey flavors. As we mentioned, grill mats block both the flame and the smoke. Grill baskets will normally protect against the flame, and can allow some flame to reach the food, but because of their design the smoke is allowed to circulated in-and-out, along with the juices.
Another advantage, especially with the traditional grill basket, is faster reaction time. You can handle more meats with just one grill basket, so they can quickly be moved and reposition if there is a flare-up or you need to switch sides. And no worry about them sticking to the grate or falling between the grates either! As long as it's sturdy, your food will survive in a grill basket.
Things to Consider Before Buying Grill Basket
So, now that we covered the basics, let's look at the things you need to know and look for when buying your grill basket.
Construction:
The first thing you want to consider is the construction of the grill basket. You want it to be sturdy and using the best materials on the market. So stainless steel is always a must. Some grill baskets have non-stick surfaces, and while this is good, you'll need to be extra careful with these grill baskets as the non-stick surface can be accidentally damaged.
When looking at an open-top grill basket, the biggest thing you should concern yourself with are the edges. The Grillaholics Grill Basket is a good example of what you want to look for. The edges are reinforced. This means that the basket is less likely to warp at the edges compared to a non-reinforced basket.
This said, it's not hard to find a good quality basket but when it comes to open-top ones you need to check the sides. If they're not, the basket will cause you a load of misery later down the road. Also check to see if the mesh for traditional grill baskets can handle the heat, because if they can't there is a high chance they may warp.
Grips:
Next to construction, the second most important element to look out for are the grips. Proper grips can make, or break, a basket and be the difference between your food ending up on the plate or on the floor. When it comes to open-top baskets, usually they'll have handles on the side. Since the handles are attached to the basket, you'll need gloves to properly pick up the basket.
The best type of grips you can get for an open-top basket are ones that curve down. This will provide you with plenty of stability. Closed-top baskets, again, function similar but some feature much longer handles. When it comes to these long-handled closed-top basket and traditional grill baskets, always try to get a basket that has a rubber or silicon handle and not stainless steel.
A stainless steel handle is bound to get hot and can easily burn you. Wearing a glove is important regardless if the handle has proper protection or not, but it's much safer to have a grip that is protected than one that's not.
Amount Of Food:
Next is the carrying capacity of the grill basket. How much food can it safely cook at once? Here is where we'll admit that sometimes a bigger product is going to be what you need. Because of how they assist in cooking your food, you don't want all your food jammed into your grill basket. This could create uneven heating and thus uneven cooking.
Instead, you want to pile on the food in a way that ensures even cooking. This is more important with open-and-closed-top baskets, not so much traditional. Traditional baskets are designed for strips of meat, larger vegetables, and seafood whereas the open-and-closed-top baskets are designed more for vegetables, scallops, chicken wings, and smaller items.
So as a rule of thumb, pick a grilling basket that is large enough to give you plenty of space but still fit on the grill. Truthfully it's not a terrible idea to own several grilling baskets so you can ready seafood and vegetables of different quantities depending on the party.
Warranty:
Lastly, there is the warranty. Most grill baskets provide limited warranties, while others provide lifetime satisfaction guarantees. It never hurt to go with a warranty, but it's not that important either. This is more up to your own judgement if you think a warranty is needed or not.
And there you have it! Grilling baskets are essential tools for more delicate foods, and if those foods need smokey flavor than the grill basket is a must-have over a grill mat. Be it tender strips of meat, vegetables, or seafood you know that a best grill basket for grilling has your back!