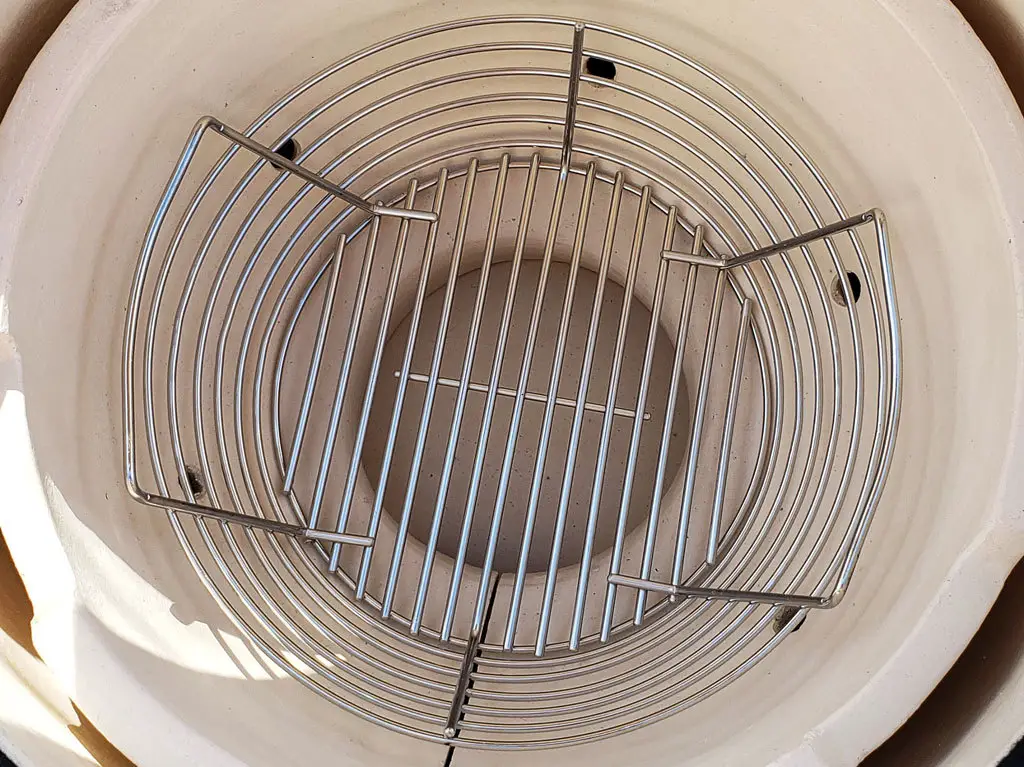 Kick Ash Basket Review Of 2021 – What and Why Is It?
Sometimes, the best grills are round. Recently, kamado grills have become popular with many grilling enthusiasts who are switching from gas grills to these round, charcoal-powered grills. Many benefits of kamado grills are they heat faster, lock in flavor better, or are just more convenient to use compared to the gas grill.
Regardless of the reason why you would want a kamado grill, if you do decide to purchase one you need an ash basket. Quite simply, an ash basket is a small basket you put at the bottom of your kamado grill before placing your charcoal. It collects the ash and debris, and all you need to do is pull it out, shake it out, and resume cooking!
More...
Below we've composed a list of the top three best ash baskets. By fair, the absolute best brand for ash baskets are the Kick Ash Basket company. We did review another company, though, so it's not just a list of ash baskets from Kick Ash Basket.
Top 3 Best Ash Basket Reviews
The first basket we have on our list is the large Kick Ash Basket. For size, this basket is 9-inches in diameter at the bottom, 14-inches in diameter at the top, stands 5.75-inches tall, and 4.25-inches deep.
This ash basket can be used with The Large Green Egg, Primo, Kamado Joe, and other large grill domes. But, the grill it was made for is The Large Green Egg.
Kick ash basket is made in electropolished stainless steel, and as with all other Kick Ash Basket items, the overall design and stability are excellent. It's an ash basket you'll use over and over again and never have any sort of trouble with. 
If you do happen to find this ash basket causing your problems, or it's faulty, you have a three-year warranty attached to your purchase. So you know these are made to last.
Setting up the ash basket is extremely simple. The large basket can be used with or without the grill's lower grate, and keeping or removing the grate won't affect the basket in the slightest. Once you've decided on removing or keeping the grate, pour in your preferred charcoal into the basket, and light it up! Once you're done cooking, take the basket out, shake the ash out, and you're back to grilling in no time!
If you own The Large Green Egg, the Primo, Kamado Joe, or any other similar kamado grills, you'll want the large Kick Ash Basket. Even if it's the only accessory you'll own for that grill, it's a time saver that actually works. You won't regret it!
The next ash basket on our list, and once again by Kick Ash Basket, is the smaller Joe Junior. Designed to fit the Kamado Joe Junior or Akorn Junior, this small ash basket works exactly how you'd imagine it to. Size-wise, it features an 8-inch bottom diameter, 10.8-inch diameter on the top, stands 4.75-inches tall, and is 3.75-inches deep.
Made from the same electropolished stainless steel as other Kick Ash Baskets items, you know that its quality is unmatched. This ash basket is going to last you for quite some time before you need a new one, especially since the Joe Junior fits the newest fireboxes from Kamado Joe. Of course, if something were to happen to your Joe Junior, you're covered by a three-year manufactures warranty.
Setting up the Joe Junior is as simple as any other Kick Ash Basket product. You can choose to leave the included lower grate your grill came with or remove it, as the Joe Junior will still work with both. Pour in your favorite charcoal, put the basket at the bottom, and when you're done cooking shake out the ash and you're good to grill again!
If you have a Kamado Joe Junior or Akorn Junior, you absolutely have to get the Joe Junior. It makes cleaning a breeze and above all else, it actually works. So if you need one accessory for your small grills, let it be the Joe Junior.
The final basket on our list, and the only one that's not a Kick Ash Basket, is the ZBXFCSH 13.5' ash basket. We'll be honest here when we say we never heard of this company before, and we have a sneaking suspicion that it's just a front company that produces a variety of lower-quality barbecue equipment. Whatever the actual case, this ash basket surprised us by actually working.

With a 9-inch bottom diameter, a 13.5-inch top diameter, this ash basket stands 5.7-inches tall and has a depth of 4.25-inches. The design is one that's more universal unlike Kick Ash Baskets' specific designs and can fit in grills like The Big Green Egg, Kamado Joe, Louisiana Grills, Pit Boss, and other larger dome kamado grills.
Setting up this basket was as easy as any other ash basket. It can work with or without the lower grate, although we tested it with the grate and without the grate. We can confirm that it works with either configuration. Like all other ash baskets, you pour in your preferred charcoal brand, light it up, and once you're done cooking you shake the ash out and can cook once again!
Featuring stainless steel construction, this ash basket isn't bad at all and can work as an alternative to brand name baskets like Kick Ash Basket. We were impressed to say the least with how well it worked, and if you're looking for a budget ash basket then you can't go wrong with this one.
These were our three best ash baskets. All said and done, if you have a kamado grill or are thinking about a kamado grill then you need an ash basket. They make cleaning simple, and they really help improve your cooking as you don't need to worry about the ash build up.
Kick Ash Basket is the best brand on the market, and with how affordable they are and the grills their products cover, you have no excuse to not buy one for your grill!