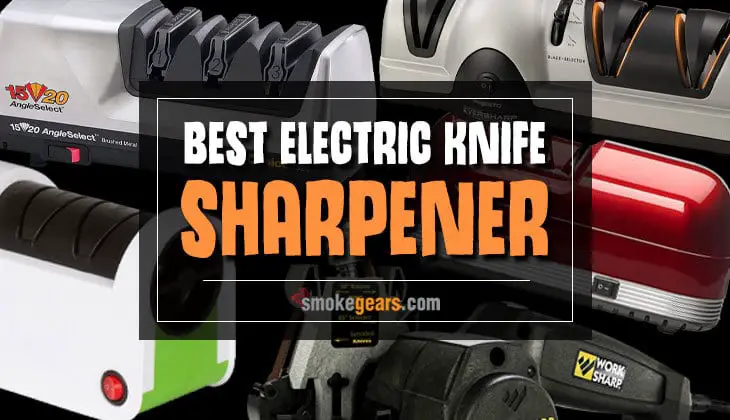 Best Electric Knife Sharpeners in 2021 That Will Make Your Knives Sharp
Knife sharpening is as much of a hobby as actually collecting knives. As someone dedicated to barbecuing, you know the importance of having a good, and sharp, knife on hand. Be it cutting through tough steaks, or making sure you have that perfect serving size, you need a knife that can do the work. Knives, however, dull after use and a dull knife isn't going to help you or your meats.
So, along with a good set of knives, you also need a good knife sharpener. There are many great types on the market, but if you want fast and convenient, look no further than an electric knife sharpener. With hundreds, if not thousands, of knife sharpeners on the market, how do you know which is the best electric knife sharpener?
More...
To help you, and your knives, we've put together our list of the top five best electric knife sharpeners along with a handy buying guide and F.A.Q so you can seek your own best sharpener!
Here is our quick list of The Top 5 Electric Knife Sharpeners:
Note: The above links will take you to additional information, current prices, and reviews on Amazon.
Top 5 Best Electric Knife Sharpeners Review
The first pick on our list is by the Chef's Choice company, who have made a name for themselves not just with knife sharpeners but a variety of kitchen gadgets! Of course, we're here to talk about the sharpener and not the company behind it! To start off, this sharpener is a three-stage model, although it's actually more of a two-stage model which we'll discuss below.
The main selling point of this model is the ability to sharpen knives at either 20 degrees or 15 degrees, meaning this model is flexible enough to work with just about any knives you may have lying around in your kitchen. In fact, you'll find that Chef's Choice has left a helpful label on the slots, so you'll know where to place your blade. Asian blades in slot one, American/EU blades in slot two, while slot three is for finishing up and honing.
This leads to the part about the sharpener being only a two-stage model and not three. You're only going to use two of the three stages regardless of which knife you're sharpening. So calling it a three-stage model is a bit of false advertisement if you ask us. Not a deal breaker by any means, of course, but it's more appropriate to call this a two-stage model.
Regardless of this being either a two or three-stage model, the fact of the matter is this sharpener works. That's because the abrasives, or as we like to call them grindstones, are infused with diamonds. No, not the one you'll find on your wife's ring but actual industrial diamonds. This provided a sharpening experience like no other.
The final slot, as we alluded to, is for honing, and this is done with a much finer grindstone. If you just need a hone-and-go, which you will if you've read our other articles on knife sharpening, then a pass or two through the last slot and your knife is as good as new! So, with a plethora of features and with a strong name brand behind it's no wonder why the Chef'sChoice made it on our list at number one.
There goes an old saying that there is no kill like overkill. Seems the people at Work Sharp had this in mind when they created their knife and tool sharpener. Ever wanted a best electric belt knife sharpener that can sharpen a pair of scissors, your best kitchen knives, and then an ax head you found in the mud? You can do that, and more, with the Work Sharp.
What makes this sharpener so unique? The Work Sharp is handheld along with being workable on flat services. This duel functionality does come with the minor cost of the entire model looking rather ungainly and rather confusingly designed if you go by the promotional pictures. The idea behind Work Sharp, along with the "no-kill like overkill" is to provide functionality over form, which it does splendidly.
The Work Sharp uses abrasive belts as opposed to grindstones and you'll find these belts are interchangeable. Three belts come packed with the model; a coarse, medium, and fine belt. A built-in angle guide for your knife, which is adjusted by one-degree increments and goes from 15 to 30 degrees, while ensuring any and all knives can be sharpened. This includes Asian, serrated, and even hunting knives!
The motor speed is also adjustable with the output being 1,200 to 2,800 surface feet per minute (SFM). On the lowest setting, this sharpener can even act as a make-shift hone! Although we do argue to use a regular hone instead, as the honing ability isn't a feature and depending on your knife's quality the low speed can still sharpen or perhaps damage the blade
So, despite its appearance and the rather ungainly way you hold it, the knife & tool sharpener should be the perfect sharpener for you when you're on a budget or need your sharpener to be able to multitask.
Presto chango, your knives are now sharpo! Well, that little rhythm sounded better when we said it aloud as opposed to writing it. The third sharpener on our list is one that's rather old. Doesn't make it any less effective, but Presto has gone on to create other sharpeners since the 08810 was first introduced. This also explains the rather low price-point despite the plethora of features.
Despite its age, and low price compared to other models, the 08810 shouldn't be underestimated. This is the first system on our list that's a true three-stage sharpener, not like the Chef'sChoice which was just two and pretending to have a third-step to account for the third slot. Presto went for a unison of style and functionality, so if you're worried that your wife will worry about an "ugly" knife sharpener show her the Presto first!
Unlike the previous sharpeners, the 08810 provides non-adjustable angles. Perfect if angles aren't your strong suit, but not so perfect if you're attempting to sharpen Asian knives. Speaking of the sharpeners, we found that the first two stages use Sapphirite grindstones while the third stage uses a ceramic grindstone. Given that the third stage is for honing, this isn't too surprising.
Sapphire, as you might imagine, is a material made out of industrial-grade sapphires which just so happen to be the second hardest stone on the planet. So while the grindstone may not be using diamonds, it's still using a quality material that'll get your knives sharp in no-time flat. The final feature to note is you can adjust the grindstones for the thickness of the blade. The three choices are thick, medium, and light.
If you're worried that you won't be able to tell if your knife is a light or medium, the instruction manual goes into detail about what the thickness choices are and which will be best for your blade. A great addition to an already solid sharpener. Overall, the 08810 gains the number 3 spot as while it's old, it still works fine and has enough features for anyone who wants to sharpen their knives, but doesn't want to overpay on a model that is loaded with unneeded distractions.
The forth sharpener on our list is by Shenzhen knives, more famous for their knives than their sharpeners. So why throw their hat into the electric knife sharpener ring? Because along with sharpening regular knives, the Shenzhen knife sharpener can also work for ceramic knives. Ceramic knives, as you can imagine, are rather brittle and most sharpeners can cause permanent damage to the blade.
Not this sharpener, of course. The grindstones, which are diamond-infused, are specially modified so that they can work with both regular stainless steel knives and ceramic knives. There is a catch, however, as the sharpener isn't going to be useful for serrated knives or anything that isn't stainless steel or ceramic. If you need a sharpener for scissors, look elsewhere as this sharpener won't be of much use.
The Shenzhen is a compact design and features a two-stage setup. The first slot has a coarse grindstone, while the second slot features a fine grindstone. While there isn't a hone feature, the fine grindstone can be used for honing which we greatly appreciate. An interesting feature is that the slots are non-adjustable, but come with pre-established angles at different degrees.
The first slot, with the coarse, is at a fixed 18-degree angle while the second slot, the fine, is at a fixed at 20 degrees. While this makes this sharpener universal, it's not recommended that you use Asian knives which require a 15-degree angle unlike American/EU knives. This might be a deal-breaker to some, but for those that just need their knives sharpened the Shenzhen is an affordable and easy-to-use knife sharpener.
The last sharpener on our list is also the one most likely to win a beauty pageant, The EdgeKeeper comes in four different colors, which include red, blue, matte black, and glossy black. Whatever your kitchen decor, you'll find one that's a match! Design-wise, the EdgeKeeper is a compact, two-stage model that's great for kitchen knives, but not much else. Rather similar to the Shenzhen model above.
This is why the EdgeKeeper is last on our list. Not because it's bad, quite the contrary it's a very good sharpener, but due in part to being rather restrictive for which knives you can and can't sharpen. Like the Shenzhen, all the slots are angled for you in universal degrees which makes using this model easy for those not too concerned with angling their knives.
The two slots are divided between a coarse and fine grindstone. The grindstones are diamond coated so no need to worry about your knives not being sharpened with the EdgeKeeper. While there is no hone-specific slot, the fine grindstone can be used to hone your knife as long as you're careful to not sharpen.
The last thing of note is that there is a built-in magnet to catch all the metal shaving that typically goes flying after your sharpen your knives. This makes cleanup much more easy, as knife sharpening tends to send small metal shaving flying all over the place. Once again, this sharpener isn't a bad choice in the slightest, but due to its restrictive nature, we recommend it if you are only working with regular kitchen knives and nothing fancy.
And there you have it. Our top five best electric sharpeners! Now stick around for our handy buyers guide, comparisons, and FAQ!
Buyers Guide: What to Look for in The Best Electric Knife Sharpener
What Should You Pick? And Where Will You Use Them?
When you've decided that an electric sharpener is right for you, the first question that'll pop-up is which sharpener is right for you? We provided five great examples, but maybe they just don't stand out to you? Maybe you don't like the color or maybe they have too many features or just not enough features. Regardless, keep that question in mind while we look at the next one; where will you use the sharpener?
See, some sharpeners are great for the home like the EdgeKeeper, while others are best suited for fancy restaurants. There really isn't a right or wrong answer here, as you need the sharpener that best suits what you're aiming for. As a barbecue master, you're likely interested in a model that can keep your knives sharp; fancy features are completely optional. In this case, a simple sharpener will do the trick
If you have a really fancy knife set, you may wish to invest in a more expensive model. And if you're running a restaurant, then you really want to invest in a more expensive model.
Two-stage, or Three-stage?
On our list, you saw we had a rather uneven divide between two-stage and three-stage sharpeners. Now the stages should be rather self-explanatory especially if you read our articles about knife sharpeners, but here's a quick recap for you.
As seen with the EdgeKeeper and Shenzhen some sharpeners skip the third step. Either due to price or the size of the sharpener in question. So you might be asking yourself, is one better than the other?
We would argue that a three-stage model is superior to a two-stage, but the truth of the matter is that neither one is "better" or "worse" than the other. It comes down to, like the first part of the guide, a matter of preference and use.
If you have some mid-range knives and don't plan on becoming a gourmet chef than by all means a two-stage sharpener will work with what you need. Likewise, you may not be a gourmet chef and still invest in a three-stage because you need the features to protect your precious knives. Since there is no right or wrong answer, you'll need to decide how important having all the features are in a sharpener compared to just the basic.
Safety Features?
Let's talk about safety for a moment. Don't worry, it's not going to be a long talk. Most sharpeners come with safety built-in, namely the slots themselves. They're too thin for your fingers to reach through, so you're more liable to get cut on your knife than you are the actual grindstone of the sharpener. But there are exceptions to the rule like the Work Sharp sharpener, which made number 2 on our list.
As a good rule of thumb, wear a glove when sharpening your knives. Not because the sharpener is a risk, but because you slipping and cutting yourself on the blade is. Of course, on top of the prevention of letting people touch their grindstones, most electric sharpeners will have built-in features that shut the unit off in case of a power surge or other power abnormality.
Brand Name Sharpeners?
There are a few. EdgeKeeper, Presto, and Chef'sChoice are three of the big names out there in the knife sharpening industry. Does the brand name really matter with sharpeners? Not really. Unless you're buying a very cheap sharpener, most will be as sturdy as their more costly peers. The main difference is the features a cheap sharpener has compared to an expensive model, and why type of abrasives are used.
So brand names aren't bad, but there isn't much of a presence in the industry to warrant people being brand name loyal with sharpeners.
Finding That Angle:
As you've read in our other articles about knife sharpening, following the contour of your knife is important when you go to sharpen it. You'll likely be sharpening at an angle and many modern sharpeners now have features to help you adjust your angle to match what you need. Some can be adjusted, while others are non-adjustable and provide you with just one angle.
We recommend always picking the model that has angle adjustments, as this will save you a lot of trouble later down the road. If this isn't a concern for you, make sure the pre-adjusted angles are universal. 20 degrees is always a good angle for most knives to save Asian knives.
Ease Of Cleaning:
When you sharpen your knife, you're peeling back the layers of metal on your knife which tend to go all over the place. This can make cleaning a real pain in the rear and not helping matters is many sharpeners don't come with built-in cleaning devices. Those that do typically employ a magnet to attract all the metal flakes together. Some might even have a little net on the inside which is located right by or on the magnet.
So we recommend that if you can find a sharpener with a built-in cleaning unit, and has everything else you want, don't hesitate and buy it! Better to pay a little extra than having to spend hours finding all the little metal flakes in your kitchen.
Price:
Price plays a big role in deciding which sharpener is right for you; for some, the price matters more than everything else on this guide! Most sharpeners will run between thirty dollars to well over two hundred dollars for more expensive models. For a good sharpener, expect to pay around one hundred dollars or more!
Of course, cheaper options are available and some like the EdgeKeeper and Presto sold for below fifty dollars and performed a variety of functions. Do some shopping around when selecting your sharpener. Remember, your sharpener should be as complicated and expensive as you need it to be. If you're not using the finest knives all the time, don't bother with buying an expensive sharpener.
Warranty:
Finally, we have a warranty. Most sharpeners come with a limited one year warranty while more expensive models can come with two-to-three year warranties. Always check the company's website beforehand to see if they offer a warranty. For knife sharpeners, a warranty is rarely called upon, but it's better to be safe than sorry.
Why Do You Buy An Electric Knife Sharpener?
Why pick an electric knife sharpener over a manual or whetstone? Well, because they're powered! The beauty of electric knife sharpeners is their ease-of-use. With adjustable angles or possibly non-adjustable angles, you'll find that an electric sharpener provides plenty of control and precision than a whetstone or even a manual sharpener.
Rarely do electric knife sharpeners need experience or practice to get the full feel of the model and how to use it properly. This means anyone can sharpen knives so long as they follow the instruction booklet! Another thing that electric knife sharpeners have is variety. 
There are tons and tons of electric sharpeners on the market, as we discussed above, so the odds of finding one right for you is pretty good!
They're quick and easy to learn and operate, so if you need your knives sharpened now don't hesitate to get an electric sharpener.
FAQs of Electric Knife Sharpener:
Q: Does it matter what the material of my abrasive is made out of?
Yes it does! Some harder material, like a diamond, can easily destroy cheap knives or ceramic knives. Likewise, diamond grit is likely the best sharpener, right after sapphire and stones composed of sapphire elements. Cheaper materials, meanwhile, can damage your blade. 
Q: Can an electric sharpener work on very old and dull knives?
Yes! But if that knife will be good ever again it's hard to tell due to the age and material compensation. Only try to sharpen it if you feel it won't break.
Q: Is a hone necessary in a sharpener?
Yes and no. Hone is a very important gadget to have to improve your knives longevity, however, you can easily buy sharpening steel in most hardware stores. So if you already have sharpening steel and know how to use it, no use buying a sharpener that comes with the same thing.
Q: How many knives can be sharpened at once?
We recommend no more than two at a time so you won't forget at which stage each knife is on and accidentally damage your knife.
Q: Can I use my outdoor knives on a sharpener? 
Depends entirely on the model. Some sharpeners can fix up an outdoor knife with ease. Others, meanwhile, may damage the knife or even the sharpener itself! Always confront the manual to know if your sharpener can work on outdoor knives?
And there you have it, our little guide on everything related to electric knife sharpeners. We hope that, at the very least, you have a much better understanding of how an electric knife sharpener works, which ones we consider the best, and how to find the right model to meet all your needs!