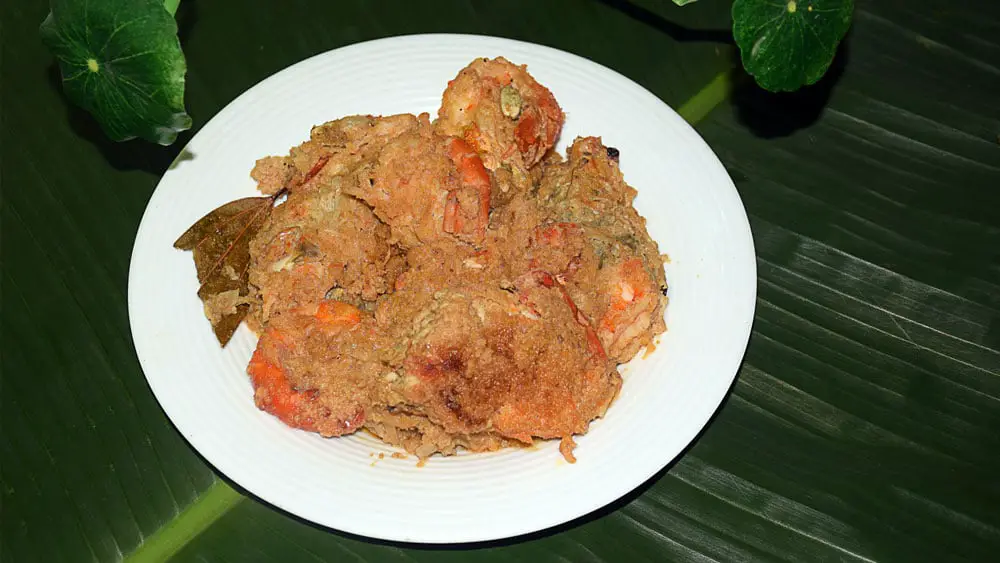 Shrimp Coconut Korma Recipe with Ground Almonds and Milk
Sometimes cooking can be annoying. There are so many things we do besides cooking. Maybe there is not enough time to make your favorite dish today, right?
No worries! no need to make a plan to cook this Shrimp Coconut korma recipe. Just open your refrigerator and pick up your shrimp. The entire process can take around 25 minutes. If you have some processed shrimp in your refrigerator.
Otherwise, cleaning shrimp will kill your little extra time. We are going to share the process of cleaning shrimp too along with cooking. And yes, Shrimp Coconut korma is really delicious, like mouthwatering.
So, let's get started.
More...
There are some facts, you should know before cooking shrimp coconut korma:
What type of shrimp should you buy?
I recommend starting with large shrimp for this recipe. If you can, buy the shrimp peeled and deveined. It will save you time and helps the cooking process easy, and quick as possible.
In this article, I shared how to cut and clean shrimp. Hope it will help you to remove the shrimp peel. But you must add extra time for this cutting process.
How long do you cook the shrimp?
You can cook Shrimp super-fast! It only needs several minutes to serve. When shrimp color changes to pink, it is perfect to serve and ready to eat with your beloved husband.
How hot and large should the pan be?
For this shrimp recipe, a medium pan over medium heat is ok to go.
Is it spicy?
Though we used some spice it is not super-hot spicy! We added enough coconut paste and liquid milk. It tastes like milky, creamy. But you can control the spice level. You can add a little more pepper.
Now let us go to the main cooking process.
Serve: 2 persons | Total Time: 25 minutes
Ingredients:
Peel and Devein Shrimp Step by Step
Cut and clean 6 whole shrimp first. If you have shrimp ready to cook in your kitchen, skip these cutting and cleaning process:
Step 1: Cut tail a little.
Step 2: Cut and Remove shrimp's legs.
Step 3: Remove Shrimp's head peel.
Step 4: Clean Shrimp head, Remove Brain and Stomach.
Step 5: Remove Shrimp's body peel.
Step 6: Devein - Remove the main central vein from all shrimp.
Step 7: Finally, wash all shrimp perfectly.
For a clear understanding watch the video above.
Step by step cooking process:
Step 1: Pour 2 tablespoons Ghee in a medium pan over medium heat. Wait until melt.
Step 2: After a minute, place 1 cup sliced Onions. Fry Onions with the Ghee.
Step 3: Add 3 teaspoons Ginger and Garlic paste, 3 teaspoons Onions paste. And Fry and Stir 2 minutes.
Step 4: Now add 1 teaspoon Cumin and Coriander powder together, half teaspoon Black pepper powder. Add some salt to taste.
Step 5: Pour 1 cup Coconut paste. Stir and Fry for 2 minutes.
Step 6: Add Bay leaves, Cinnamon & Cardamom. Stir them for a little time.
Step 7: Now place all Shrimp.
Step 8: Pour 1 cup Boiled Liquid Milk. Mix shrimp with the milk, keep stirring for 5 minutes.
Step 9: Pour half tablespoon Ghee over Shrimp.
Step 10: Cover up the pan for 10 minutes.
Step 11: After 10 minutes Flip all the Shrimps, Cover-up and cook 5 minutes more.
Step 12: Now looks good. It's ready to serve.
Step 13: Garnish with chopped cucumber and serve. You can also serve over pasta or rice.