9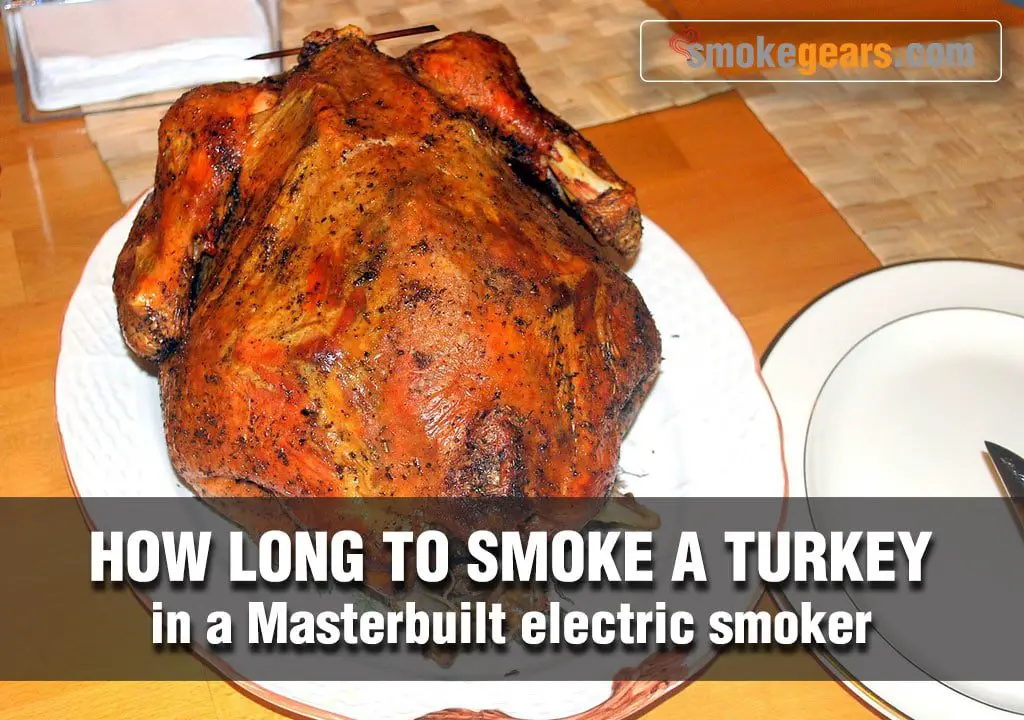 How to Smoke a Turkey in Electric Smoker
Welcome to the world of turkey smoking. Smoking a whole turkey is no longer a hassle if you have a great Masterbuilt digital smoker. How to smoke a turkey in an electric smoker is quite friendly and enjoyable if you have the right tools of work.
The time you will spend smoking your turkey delicacy depends on a number of factors such as the turkey size. Different parts of a turkey smoke at different rates. For instance, the time you spend smoking a whole turkey differs from the time you spend smoking turkey wings alone.
More...
If you have to smoke 12-pound turkey for instance, you have to spare at least 8 hours for the exercise. However, this might not be the case for a smaller-sized turkey. Wondering how this variation comes about? You are at the right place.
This complete guide on how long to smoke a turkey in a Masterbuilt electric smoker will solve your suspense. First, you have to master how to smoke a turkey in electric smoker. This way, you will automatically understand the length of time to spend smoking turkey in your Masterbuilt equipment.
How to Smoke a Turkey in an Electric Smoker
Turkey smoking is entirely dependent on your personal preferences. You can choose to cut off and smoke wings, breast, and legs and so on. Upon purchasing your new Masterbuilt electric smoker, you will have access to a complete manufacturer's guide on how to use it. Following this guide, prepare your turkey and smoke it using the following procedure:
Preparing Your Turkey:
Depending on your needs, you will prepare any size of turkey, ranging between 8 and 20 pounds. If you are preparing it for a small family, 8 pounds can fit you. If it is f or commercial purposes like in the restaurant, you can go upto 20 pounds.
Whether it is thawed or fresh, be sure to remove the giblets and neck. Then you can allow some time for draining to take place. You can now dry with recommended paper towels. 
Note that thawed turkey is only safe for smoking and consumption upon staying in the refrigerator for at most 2 days. For even smoking, we recommend complete thawing.
You will need to have a meat thermometer to monitor the internal temperature of your turkey. Get it ready and brush some vegetable oil on the thigh, then insert the thermometer into the lower thigh. In so doing, avoid stuffing your turkey.
Procedure:
How Long to Smoke Turkey in a Masterbuilt Electric Smoker
You now have a full picture of how turkey smokes. At this point, it is easier to tell how long to smoke turkey in a Masterbuilt electric smoker.
The basic hint here is that a whole turkey smoking at 240 degrees Fahrenheit takes 30 to 40 minutes per pound. If you are smoking a smaller-sized turkey say 8 pounds, you have to spare at least 4 hours for smoking.
Turkey breast smokes at the same rate as a whole turkey with the same temperature setting of 240 degrees Fahrenheit. The breast of an average-sized turkey is approximately 6 pounds in weight. This implies that you will have to smoke it for 3 hours.
Turkey legs require smoking temperature to be set at 225 degrees Fahrenheit. It is generally recommended that turkey legs should smoke for 4 hours.
Turkey wings also require smoking temperature of 225 degrees Fahrenheit. They smoke for at most 2 hours.
Important tips to consider:
The above guide offers sufficient tips on the ideal procedure of smoking a turkey in an electric smoker. There are high chances of over-brining your meat. Leaving it for too long also makes it salty. The best option here is to be timely with your smoking.
Follow the above tips to heighten your turkey smoking experience. Possibilities of your successful smoking depend on your choice of electric smoker. For convenient turkey smoking, we recommend choosing Masterbuilt models. If you want to smoke like a pro, this guide is your ultimate gateway to success.
Don't forget to read bbq cookbooks for better and perfect grilling.