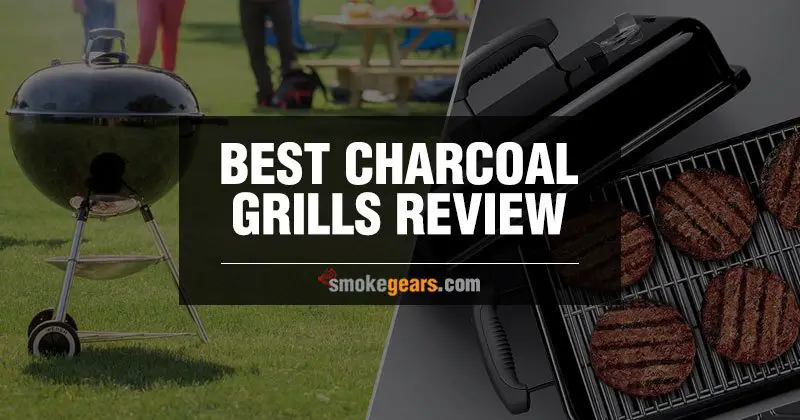 10 Best Charcoal Grills You Can Buy in 2019
If you think you have the capability of resisting the essence of the best charcoal grills, then I am afraid to deliver this bad news, but you need to visit a doctor.
Charcoal grills are quite sophisticated and straightforward, but there is a range of features, prices, and options available for you.
Hence, this article will provide you with all the necessary information needed to make the best value purchase.
More...
Size: 22-inch

Dimensions:25 x 22.5 x 39.5 in

Weight: 33.1 pounds

Cooking area: 160 sq inches

Dimensions:12.2 x 21 x 14.5 in

Weight: 14 pounds

Cooking area: 816 sq inches

Dimensions: 60.2 x 50.5 x 28.2 inches

Weight: 112 pounds

Cooking area: 300 sq inches

Dimensions: 16 x 35 x 35.5 in

Weight: 45 pounds

Cooking area: 250 sq inches

Dimensions: 31 x 21 x 44 in

Weight: 50 pounds

Cooking area: 363 sq inches

Dimensions: 30 x 48 x 43.5 in

Weight: 91 pounds

Cooking area: 360 sq inches

Dimensions: 29.9 x 27.4 x 14.8 inches

Weight: 36 pounds

Cooking area: 406 sq inches

Dimensions: 26.4 x 26.4 x 36 inches

Weight: 250 pounds

Cooking area: 816 sq inches

Dimensions: 60.2 x 50.5 x 28.2 inches

Weight: 96 pounds

Cooking area: 800 sq inches

Dimensions: 55.1 x 27.2 x 48.4 inches

Weight: 54.2 pounds
What's So Good about Charcoal Grills?
In this generation, technology is more preferred over machinery. However, in this case, no matter how good of a technique you know, you won't be able to bring out the mouth-watering taste and caramelized aroma that charcoal grill can provide.
Are There Any Drawbacks to Charcoal Grills?
Now everything has a "but" in between which gives us second thoughts while purchasing something. Hence, there are a lot of drawbacks of charcoal which you should know before getting yourself one.
Let's start with a difficult one. Charcoal grilling requires a tremendous amount of patience because there are a lot of factors involved from fire adjustment to spitting oil to maintaining an average temperature. So before getting a charcoal grill, you need to sit down and have a Q/A session with yourself.
If you are one of those people, who love to chill, have a beer at hand, and enjoy every minute of a stack of ribs flaming, then charcoal grill would be a life-changing option for you.
However, if you are one of that person who's always on the run, have time management issues and have a habit of taking the easy way out then getting yourself a gas grill would be a good option.
As you can see good things comes to those who can wait. So, you'll have to decide very wisely because switching towards something electrical does save us a lot of time but grilling is for family gatherings and enjoyable times. Getting a gas grill does save us a lot of time.
In this section, the phrase "getting your hands dirty" comes to play. Because whether you like it or not, there is no other way around. Even after you've battled your way through extreme heat to bring out those dazzling ribs, there's a matter of cleaning charcoal and ash which requires a substantial amount of time.
Your hands will undoubtedly get messy, and at some point, it will start to frustrate you, but that's just how life works. At the end of the day, if you are looking for a beautiful day and some fantastic quality meat to eat, you need to learn to love the filth.
This is something you can't learn in just a day. There is a particular art to it; you need to fall in love with the flames and learn how to groove with the charcoal.
They are all baby steps; there is a matter of lighting, venting, and cooking. All of this will come through after an excruciating amount of studying of charcoal grilling. So if you are up for the thrill, you better sublimely learn to craft and grill.
Even when you add additional coal, move them around, and adjust the spread, you need to get everything under a perfect temperature to cook. It is a difficult job for sure, but the first factor, "patience" will come in handy in this sector.
This is where you would cry for a gas grill as you can easily adjust the temperature with that machinery. But, hang in their buddy, there is a smoky dazzling grilled steak waiting for you on the other side.
Top 10 Best Charcoal Grills Review
You can quickly go to the shop and get yourself a charcoal grill. However, if you want to have the best one, then I am afraid you're going to have to through a lot of features and factors.
But, this article has made your task easier. After going through weeks and months of researching, we've brought it down to 10 of the best charcoal grills in the market available at this moment. Without any further ado, let's have a look at those.
1. Weber 741001 Original Kettle 22-Inch Charcoal Grill
The very first to make it to the list falls in the best charcoal grills under 300 menu. This is made with elements that are precise and perfect for making sure that you get to make your desired delicacy with absolute quality machinery.
It is portable, and with having two durable all-weather wheels and classic sleek design, you can move the charcoal grill anywhere you want to. So, if it's a windy evening or a sunny morning, you can move your charcoal grill whenever and wherever you want.
Premium dampers have been inserted for quality temperature control. Hence, it will be straightforward for you to take charge of what you are cooking, get the most excellent results from it since having the right temperature is the key to sound quality.
It is referred to as the best charcoal grill smoker because you also have that option. There is an aluminized one-touch cleaning system enabled to provide you with absolute leniency as it saves you up with a lot of hassle.
Charcoal and ash clean up comes with extreme difficulty, which makes us want to hang ourselves at times regardless of how much a grilled fanatic we are. Hence, this system does save us with hygiene.
For heat retention, the bowl and lid are porcelain-enameled. The heat resistant vents capture the excitement significantly as it is reinforced with glass. This comes as a significant benefit as it is infrequent to find in a charcoal grill. Hence, the steaks will be scintillating, and your tummies will be full.
Furthermore, two rust-resistant vents have been enabled to ensure the longevity of your charcoal grill. Corrosion can be a huge issue when it comes to long term usage of your machinery. In preventing this problem, these vents come in real handy.
Do you think that's all? Nope. One of the most crucial parts of a charcoal grill is a cooking grate, and this machine, a durable-plated heavy-gauge steel cooking grate is inserted to bring something special in your gatherings. It retains heat very well and is quite easy to clean, unlike other products in the market.
To put things to rest, the overall cooking size of this charcoal grill is over 360 square inches, a very massive space. This can hold up to approximately 13 burgers, which means you are getting to make quality in a large quantity.
2. Weber 121020 Go-Anywhere Charcoal Grill
This charcoal grill is perhaps the most compact and best charcoal grill under $100. Its portability is off the charts; there is no other competition against this machinery. Whether you're thinking beach, tailgate or even camping, you have to carry it and can go anywhere with it.
Weighing approximately 14 pounds, this model is perhaps the lightest among the Weber series. Having lightweight machinery such as this one gives you more freedom at work, you won't face much of a headache if you feel like moving the charcoal grill to a sunny corner.
Now, moving on to the porcelain-enameled coated lid and base. This will assist in retaining the heat for some time. Because heat retention is essential when it comes to grilling and the porcelain coating makes sure that happens efficiently.
Furthermore, this model has about four rust-resistant aluminum dampers. No matter how premium of a product you buy, the feeling of helplessness arrives when you see the machinery start to rust and peel off. Hence, these aluminized dampers will make sure corrosion doesn't take place.
For easy portability, the lid locks have been inserted. This will not only make sure that you have everything under control, but it will also keep your product safe and secure. These lid locks are entirely made of metal to ensure superior sturdiness.
There are three nylon handles inserted precisely, and they are reinforced with glass. Whether you use both of your arms or just one arm, the handles have been placed in perfect positions, so that you can hold it properly.
The heavy-gauge steel-plated cooking grate does work very efficiently and doesn't let anything go to waste. This will make sure the food is kept in a fiery place, and also it is very durable. Hence, it won't get damaged in the long run, no matter how high the temperature is.
Lastly, this model's light weight makes the machinery very unique in its category, and it also comes with all the cool features that the big guns have in the market. And to conclude, the 160 square inches' area is a respectable amount of space, which is quite enough to take almost six burgers and a couple of steaks.
3. Dyna-Glo DGN576SNC-D Dual Zone Premium Charcoal Grill
Next to show up in the list is a behemoth of a charcoal grill. This is just an absolute beast; if you are thinking primary cooking space, it is about 576 square inches.
And if you are thinking of secondary cooking space, then it is approximately 240 square inches. You are making this model a total space of around 816 square inches, which is almost 30 burgers.
This is a traditional charcoal grill in a very high profile market, which makes it this very exquisite. Moreover, this model makes the 2-zone chamber grilling a walk in the park. If you don't want that, then you remove the metal firebox divider which will create a larger space.
It is a charcoal grill that is best suited for a massive crowd. The smokestack inserted in this model is adjustable, which makes charcoal grilling superior to other models in the market.
If you want yourself a grill that is super easy to clean, it instantly falls into the list of ''must-have". It comes with a large-sized ash catcher inserted, and all you need to do is remove the debris and grease for easy and quick disposal. This is a plus point when it comes to grilling.
Adjustable high-storage basket trays have also been inserted in this model to make sure you can have quite a few options available during cooking, control the temperature thoroughly, and control the heat signature so that you can provide the best meals for your guest.
Moreover, when it comes to controlling the temperature precisely, there is a built-in stainless-steel thermometer inserted. Accuracy is achieved at its highest level through this feature. If you think that's not enough, an additional "bottle-opener" has also been added.
Let's move on to the materials that have been formulated in this charcoal grill to make this model one heck of a solid structure. Stainless-steel and porcelain-coated cast irons are the main components along with carbon.
All of this makes the model a heavy-duty surface to cook on. Hence, the longevity game remains strong with this one.
4. PK Grills PK Original Outdoor Charcoal Portable Grill & Smoker Combination
If you are looking for something that will remain sturdy and something which will run for years to come, then look no further. This charcoal grill comes with an incredibly sophisticated design that gives this machinery a retro vibe.
The product is made of complete aluminum cast grill, which makes this product purchase of the decade. This material itself not only guarantees that the machinery will be out of touch with corrosion, but it will also remain durable for many years.
Furthermore, aluminum casting also makes the whole product very durable and lightweight, which, in turn, makes your life a whole lot better. You will be able to quickly move it around or carry whenever and wherever you feel like. With this, you are getting leniency at its finest through the usage of this charcoal grill.
What makes this thing even better is the fact that it is not just a charcoal grill, but it is also a smoker. Because there is one PK's very own unique shaped capsule inserted, you can also use this thing as a charcoal smoker to enhance the food flavor and provide your family with the ecstasy that they deserve.
Additionally, there is also a 4-Point Air Venting system enabled, which makes grilling hot or swift, and slow or low extremely easy.
This system is also referred to as the 2-Zone cooking, which means is quite ideal for both indirect and direct cooking, ensuring proper airflow and consistency in heat, and finally making sure it's a complete value product.
Portability is very crucial, especially if you are an on-the-go person. The construction of this product isn't that big, which in turn lets you easily pack the grill so that you can put it in your car and go anywhere.
It has a detachable option, and whether it's a grill or smoker, you can easily remove it and carry the product wherever you like.
Moreover, this model was built for cooking. The overall cooking area of this product is over 300 square inches, which is way more than the average. It can take a couple of burgers, tons of sausages and even a turkey all together so that you can create quality in quantity.
Getting peace of mind is probably the best feeling in the world, especially if you are purchasing a high profiled product. Well, this model does give you that peace because you will be getting a full decade long warranty with the product. So, purchase with pride!
5. Char-Griller E1515 Patio Pro Charcoal Grill
This model is probably one of the most efficient and effective in the Char-Griller series, that is sure to make your purchase come with great value. This product comes with a cooking area of 250 square inches, which is roughly a bit below the average compared with the other giants in the market.
But it is sure to bring to a pleasant aroma to your food. Even though a bit of assembly is required but the two durable wheels which have been inserted makes the thing quite movable. Whether it's for camping or tailgating, all it takes is one person to set up and ready to be taken anywhere you want to.
The looks of this model won't provide you with much of the aesthetics. However, the portability of this product is simply amazing. Weighing about 47 pounds approximately, this makes it even better.
An extremely durable wooden handle is provided on top of the shelf to give you a firm grip while you are cooking. The structure of this model has been made so elegantly giving such a simplistic design that will surely provide absolute leniency while grilling.
Steel cooking grates are excellent for grilling; they do a great job in it. But, cast-iron cooking grates provide exceptional results. They only require a little more maintenance than steel, but it still wins due to the quality you are getting.
Aluminized side air vents have been inserted to get a hold of the temperature so that you cook the meat to absolute perfection. What's even better about these vents is that they can also control how much the smoke escapes as well. Hence, you can also make smoked ribs with this one
There is also a side shelf provided in this model so that you can quickly keep the grilled or cooked meat in it. This makes things completely cinch as you don't have to get yourself an extra shelf to keep your cooked or grilled food, even accessories.
On the other side, there is a pull drawer so that you can insert charcoal for your convenience.
Lastly, to make this product a perfect purchase, there is removable storage. This makes things so much easier when it comes to cleaning up after cooking, and it also reduces hassle. Moreover, the leftover charcoal can be used for later.
6. Weber 15501001 Performer Deluxe Charcoal Grill
If you are looking for the list of the best charcoal grills under 500, then it's quite clear that this is where your search comes to a beautiful end because this beast right here tops the list. It is a splendid durable four-wheeler product that is sure to give you the experience of a lifetime.
This model has so many features that the only thing that has been probably left for you to do is to marinate and flip — starting with the electronic Touch-N-Go option. With just a simple push of a button, you get to ignite the charcoal at your convenience.
Next off is the breakdown of the whole cooking space provided from this charcoal grill. With over 22 inches in diameter, it is offering about 363 square inches for the cooking surface. This is just the perfect size for everyday grilling.
It doesn't end there; the bowl & lid is made of porcelain coating, making the charcoal grill even more sturdy and robust.
To make sure that the heat remains inside of the grill, you need to keep track of the temperature. It is a very crucial factor to give your meat the perfect texture. Hence, there is a built-in lid thermometer in this machinery to ensure that the heat is under control.
There is a ton of space provided for you in this model. Whether you want to put the grilled meat or extra accessories, it's just simple and easy when you keep your essential stuff right beside you while you grill away.
For this model to run for a more extended period and not peel off, there is a rust-resistant damper included. Because, no matter how much you nurture and take care of the charcoal grill, corrosion will slowly start to infect the machinery.
That's not all buddy; there is a lot more. How would you feel, if along with all those features there is a one-touch cleaning system enabled? Well, this model is undoubtedly a great purchase. The charcoal gets swiped into a removable ash catcher which makes clean-up so much easier and hassle-free.
The cherry on top comes with the mounted LCD timer to keep track of your grilling sessions. Even when it comes to pre-heating, you can easily set timers. This is one scintillating model in the Weber series and will surely provide an excellent value for your money.
7. Char-Broil TRU-Infrared Kettleman Charcoal Grill
With over 360 square inches of cooking surface, this item will match all the essentials and needs of your choice so that you can cook with complete freedom. This charcoal grill is sure to give you the ultimate backyard grilling experience.
It has rust-resistant, porcelain-coated cooking grates. This will not only prevent large flare-ups during grilling but also protect the whole machinery from getting infected with corrosion. We all know how bad that can be, regardless of which brand you are buying a grill from. Moreover, there is no fall through while cooking in this grate.
This model also comes with a 10-year product warranty, comprehensive five-year-long warranty on the ash pan, and lastly a 2-year warranty on the rest of the parts.
Hence, you are getting the peace of mind that you deserve. You can grill away as long as you want; worry less and enjoy more.
A 360-square inch space isn't the only thing you are going to get; you are also getting a 360-degree air inlet which means you can conduct and facilitate the airflow of this machinery with complete precision and accuracy that will help you deliver better heating.
For handling the operation in a simplistic approach, there is a hinged lid inserted in this model. This allows you to work on the food and charcoal using both of your hands. Hence, hanging off the side of the grill or placing the lid on the ground will not necessary anymore.
If you are looking for more convenience in this product, then you've got yourself a removable ash pan. All you have to do is remove the ash pan, empty it, and replace.
Moreover, the ash pan fits perfectly underneath the charcoal grill to contain and capture the ash.
There is also a lid-mounted temperature gauge to monitor the temperature inside the grill and also keep track of the pre-heating status. Hence, you will be able to cook the best meat.
Finally, a significant adjustable aluminized damper that's situated on top of the lid lets you increase the cooking temperature when you close it, and when you open it, the vent let's all the heat out.
8. Kamado Joe KJ23RHC Classic II Charcoal Grill
If it is bragging rights you're looking for, then this model is sure to give your pals a very tough competition. This is craftsmanship and innovation combined into a single charcoal grill. It is a cherry-red structure along with two black wings.
Whether you are tailgating with your friends or having a small gathering with your family, the functionality of this charcoal grill is mesmerizing. This also comes with complete versatility.
Let's talk about the build quality of this design. This has just the perfect area to grill on whether you are looking to make ribs, steaks, or burgers.
Furthermore, there is a grill expander of around 407 square inches and two sets of grates for extra space, which is approximately 508 square inches. Since there are two grates on each side, you can quickly fill those up with cooked food and accessories for your convenience.
Speaking of extra accessories, this model includes a built-in thermometer that lets you keep a track and monitor of the temperature inside the charcoal grill. This, in turn, helps you out in achieving the best condition for you to cook on.
Something which bothers us the most is cleaning up afterward. That task is excruciating, but the patented slide-out ash drawer makes life so much better. You have to remove and empty, it's that easy. A grilling fanatic won't mind getting their hands messy, but they do love to keep things clean.
Four durable wheels have been inserted in this model, and you also get to have a locking option. Hence, this is where we get to talk about functionality. Even though the model weighs a lot comparing to others but this option does pack a few punches.
For unrivaled versatility in cooking with several grate configurations, the Airlift hinge feature has been enabled. This lets you open up and close the charcoal grill effortlessly. And if you want maximum precision and control while managing the temperature, the "Kontrol Tower Top Vent" has been inserted.
9. Dyna-Glo DGN576DNC-D Premium Charcoal Grill
This is the second Dyna-Glo model that has made a list and packs quite the same punch. It's a premium quality product that comes with pretty unique and exciting features that will assist you in your everyday grilling.
The construction of this beast of a charcoal grill is made up of a solid combination of stainless-steel and porcelain-coated cast iron. This will make sure the model stays intact and strong. To keep the rust away from this product the porcelain cast iron will play its part.
Porcelain coating does not only provide durability and glossiness; it also makes the cooking grates ideal for locking in and searing your meat's natural juices. Moreover, whether it is before or after grilling the material is very easy to clean up.
For the on-point temperature check, there has been a built-in lid thermometer inserted so that you can easily monitor the temperature unraveling inside. There is also a gauge inserted in the charcoal grill which can be easily read so that you can cook to perfection.
Easy disposal of ash and charcoal is what we all mostly hope for in a premium quality charcoal grill. This grill has that feature. The removable ash pan is of large capacity; all you have to do is remove it gently and empty the storage for clean-up.
Setting up the perfect temperature couldn't be easier. For temperature control and fine-tuning, the charcoal tray is completely adjustable so that you can achieve your desired temperature through just raising and lowering.
Whether it's for temperature control or burning efficiency, having a proper airflow plays a very crucial role while grilling. Hence, the aluminized sliding side dampers have been inserted for achieving maximized airflow. So you do not have to worry much about whether you are going to get that balance in your meat or not.
Additional flavor is achieved through the stainless-steel smokestack that is located on top of the charcoal grill, which also comes with an adjustable flue. And for adding briquettes or easy access in stocking coals, the steel door and cast iron provide accessibility.
10. Royal Gourmet BBQ Charcoal Grill and Offset Smoker for Outdoor Camping
Last to make it to the list is a complete traditional designed charcoal grill with an offset smoker combined to make a dual-styled barbecue. You can use this offset smoker as a small grill too. A little bit of extra fuel using charcoal can enhance the flavor of your meat.
The cooking area comes along with a total of around 800 square inches. Among these space around 183 inches is used up by the side box and an additional 438 square inches is used up by the main box. Hence, the whole cooking area can be used as efficiently as possible.
There are two durable and sturdy wheels which have been inserted in this model. Leniency is essential when it comes to moving around such a hefty object. This also gives more portability during grilling.
Sometimes during grilling hours, the nylon handles tend to heat up, causing severe damage to your hands. Chrome-plated handles have been inserted to keep things cool. Hence, you do not have to keep any extra things with you.
Locking in those natural juices and making your meat more tender isn't an easy task. It requires heat to be retained evenly. Hence, to achieve that goal, the spacious porcelain-coated cooking grates lend a major helping hand. Moreover, these grates are very easy to clean.
Speaking of cleaning things up, the removable ash, a charcoal pan that has been inserted in this model provides crucial assistance. You can easily remove and dump ash like taking candy from a baby. A ton of charcoal gets saved through this pan, which can be used for later use.
Two additional adjustable dampers have been inserted to achieve total control of the heat. This allows you to get a precise heating process which lets you have a better grilling environment. Hence, you can provide your friends and family with the perfect dishes.
Storage of this charcoal grill is off the charts. For complete operation and convenience, there is a storage facility inserted underneath, on the front, and on the side of the rack. Additional hanging hooks are also there so that you can keep some of the accessories.
Before You Buy, What To Look For a Charcoal Grill
Purchasing a charcoal grill is a good thing, but making that purchase is a whole different ball game. There is a ton of stuff you need to put into consideration before you make the buy-in.
This task can be excruciatingly painful; you often end up making the wrong purchase due to going through too much research. However, this article has gone through enough research to narrow down the keynotes.
Let's have a look at the most important factors you need to consider so that you can have the best value for money.
1. Cooking Surface
The answer ends up in a question. How many people do you want to grill for? If it's just for a small occasion, it is best if you go for something lightweight and compact so that you can easily walk around and carry it anywhere you want to.
But if it is for a big party or a large family gathering. Then it will be best if you go for something hefty and big so that you can burn in all the good quality steaks in numbers.
However, the catch is that if it's large when not needed, then you might end up wasting a lot of fuel. And, if it's too small, you are going to struggle to provide when there is a big crowd at your doorstep.
2. Maintenance and Clean Up
For a grill fanatic, this factor can be ignored as they don't mind getting their hands dirty and they do keep proper maintenance of their grill machines. However, if you are a newbie, you do have to give a thought on how easily can a charcoal grill be maintained, cleaned, and taken apart.
An important suggestion: if you hate getting your hands all messy then to minimize that get yourself a handy lever and a large capacity ash pan so that you can easily remove and dump those charcoals.
3. Personal Opinions
Rather than going through hours and hours of research in the social media, it is a thousand times better if you get opinions from someone who's close to you and who has experience in grilling, like a friend or family member.
Whether it's honest or unbiased, the reviews you'll get from your close ones will help you in making a great buy-in. This is because comments on social media tend to be fake or a bit too biased.
4. Price
What is it that you desire? Because from $100 to $5000+, there are a lot of grills available in the market. It's of the most utmost importance that you set a proper budget.
If you wish to be a regular user, then get yourself a premium charcoal grill, and if you don't, then a budget-friendly model will be great so that you won't have to put constant pressure on it.
5. Customer Service and Warranty
When you get yourself an easy-to-contact person through an email or a toll-free number, you instantly feel the relief and smoothness. Because let's be honest, we do need assistance and help when making a purchase.
Warranty defines a brand's image and lets us give a free pass on using the product heavily. If you get yourself a solid ten-year-long warranty on all the parts of the machinery, then you have a very nice deal.
6. Durability
Once again, the million-dollar question comes back to you and your usage.
When you constantly use a grill, and it's not of good quality, they'll wear out very quickly. So, if you are going to be a regular user, then get yourself a product made of steel and cast iron, which will ensure fort-Knox durability. Tough materials last for a longer period.
However, if you are going to be an irregular person, a model with an eco-friendly budget will be a perfect purchase for you. Because it won't be constantly used or tested and you'll easily be able to make some good quality food.
7. Quality of the Structure
If you don't want to spend too much on a charcoal grill, then chrome-plated or porcelain enameled product will get the job done just fine. However, you do have to keep in mind that if it goes through intensive use, then these thin materials won't be able to stand over time.
However, if you are looking forward to getting a high-end model, then get yourself something that's made up of thick materials such as heavy ceramic, cast iron, or cast aluminum. These are professional-level choices and will withstand the test of time.
8. Temperature Stability and Control
It's just not easy to tame the flame. Only professionals can play with all the inconsistencies and quirks of the temperature. Hence, for beginners, it is necessary to get the right things in a charcoal grill so that you can easily keep the heat stable.
The design of the model plays a huge factor in this scenario, and if you have a built-in thermometer along with the charcoal grill, then you've got yourself a huge bonus.
9. Extra Features
I mean, who doesn't love a bonus? Starting from drawers for grilling tools, temperature gauge, ash catchers, vents, dampers, and the list goes on. There are some things in here you can't live without, and somethings you won't even need.
FAQs: Frequently Asked Questions
Let's have a look at some of the most commonly asked queries about charcoal grills;
Q1. Is charcoal grilling bad?
It is indeed risky because according to numerous researches, they can cause cancer.
Q2. Is grilled food healthy?
Without any doubt. They are extremely tasty, with a low amount of calories. However, risks are involved.
Q3. How will you know when charcoal is hot enough?
You'll have to wait sincerely until, at the very least, two-thirds of the charcoal has turned white. White signifies that it's cool on the inside and hot on the outside.
Q4. Which is better, charcoal or gas grill?
With gas, the usage is pretty easy, and the fuel costs less. However, if you are looking for quality in your meat, then it is the charcoal grill.
Q5. When will you know that a charcoal grill is ready?
When you see the charcoals on top have started to take a turn grey with ash, it'll be time to pour in the grill.
There is a certain kind of joy in charcoal grilling. When the elements of fire and air get a hold of you, and you get control over them, the feeling right there is breathtaking. In this article, all the best charcoal grills listed above is a guarantee that it will give your meat an intense smoky and fiery flavor.
But, it's up to you to decide which model will match your needs so that you can end up having the right value for your money.