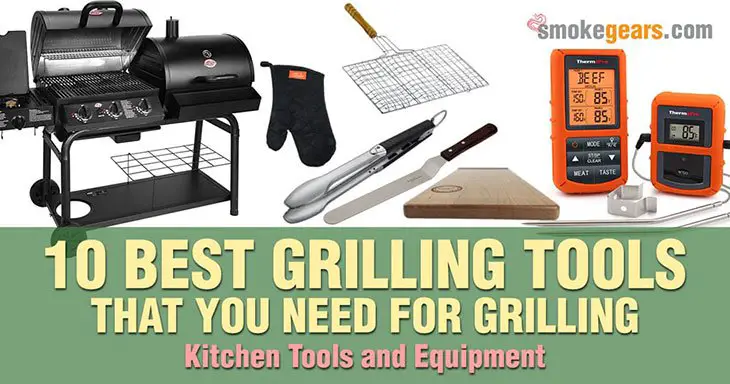 10 Best Grilling Tools for Your Kitchen to Speeding Up the Process of BBQ
If you love grilling and you would like to do it perfectly, you are on the right place. One factor that determines the success of your grilling is the choice of best grilling tools and equipment. This guide helps you to understand the right kitchen tools and equipment, and how each one of them is used. They are detailed below:
More...
1. Offset Smoker for Grilling
Your offset smoker is an important resource in your kitchen or grilling house. Once you have the smoker ready for use, your grilling task is a matter of adventure. All you need to master is how your smoker functions and how to make the best use of it.
An offset smoker consists of several parts. The firebox is particularly an important part of your offset charcoal smoker because this is where most cooking takes place.
For direct grilling, you simply need to build a charcoal directly below the cooking grates. Then you can enjoy direct grilling over the coals.
With your offset smoker, grilling is even easier because you have another option of indirect grilling. Indirect grilling is also a simple process in which you build a firebox and run the dampers towards its open position.
Whether you want to grill directly or indirectly, it all depends upon your choice. Either way, this versatile equipment assures great results.
2. Smoker Meat Thermometer
This tool serves an imperative role in your cooking especially when it comes to achieving accuracy. Meat thermometer measures the doneness of your cooking meat and alerts you when it reaches your desired doneness level. Meat thermometer is also referred to as probe thermometer.
To use your meat thermometer, simply insert it into the thickest part of the meat. Ensure it is away from the bone. Then set your preferable temperature of grilling. We recommend grilling your beef at least 145 degrees C.
To avoid overcooking your meat, closely monitor your meat and check it towards the end of the recommended grilling duration.
The best meat thermometers have a number of features that make its functionality quite awesome. Using wireless meat thermometer for instance, allows you to walk around and attend to other tasks as your food grills. When your food is ready, the alarm and LED display alerts you so that you get it off the grill.
Different meat thermometers have different features, pros and cons. To gain more information about various types of meat thermometers read more…
3. Chimney Starter for Charcoal
Chimney starter provides a lasting solution to all the hassles of lighting your charcoal for grilling. It is often frustrating when you try to use lighter fluid and petroleum based fluids. Besides being slow and cumbersome, it produces bad odor as well as undermining environmental regulations.
To light sufficient charcoal for an ideal starter, it is good to plan and have a high-capacity chimney starter. The best fuel starter is odorless and tasteless, yet quick and effective. This is what you probably require whether you are a professional or home-based cooking enthusiast.
The procedure involved in lighting charcoal using chimney starter is simple and straightforward. Start by stuffing newspaper sheets in the lower cavity of the chimney, followed by loading the canister top with charcoal. Now you can remove the grill grate and set the starter inside it.
Light multiple points of the newspaper. Through convention, all the coals will eventually light. Allow the charcoal to burn until the white-grey as starts appearing, which implies the right temperature for grilling.
4. Grill Basket
This is another versatile BBQ tool for grilling, it will certainly require in your grilling room. It's designed allows it to hold small-sliced food that would fall if placed on the grill rack. If you are cooking delicate fish or sliced vegetables, never forget a grill basket as you venture into actual grilling.
There are different designs of grill baskets for different specialized functions. And there are also others which are all-purpose. If you are certain of regular fish grilling, well and good, you might choose the one with fish-shaped contraptions.
However, because there are higher chances of interchanging your menu wherever you grill, we recommend a large multipurpose type.
Such a large grill basket gives you an opportunity to grill multiple types of food any time. Additionally, it is convenient and easy to use. Before you purchase one, it is good to read through the reviews and make an informed choice.
5. Long Handled Spatula
Choosing a grilling spatula without paying attention to the length of the handle is like working on a subtraction mode. You understand how hot the process of grilling is and the handle is for your safety.
The longer the handle, the better. That is why we recommend that you have a long-handled spatula as you move into your kitchen for the actual grilling.
The long offset handle of your spatula allows for easy slipping into your food. Some types of food such as fish fillets cannot be handled by any other means than using spatula.
There are several other delicate types of food that require swift flipping. For this reason we strongly recommend long-handled spatula that ensures great service.
As you will notice, spatulas are not only for lifting. Neither are they for spreading food alone. They can serve both purposes and many more like flipping. Therefore, metal and silicone are great materials to consider if you are looking for an efficient spatula.
6. Long Handled Tongs
If you want to grill like an expert or a pro, tongs are essential tools to have in your kitchen. They are good for holding and serving a wide variety of foods. In fact tongs are versatile in nature because they can be used to handle multiple types of food and in different ways.
Whether your regular food is hamburgers or beef ensure you are well equipped with efficient tongs. Nicely grilled food is worth of careful handling, so we don't advise the use of big forks.
Instead, visit a good supplier and make a selection from a wide variety of tongs bearing your needs in mind.
The forks might pierce your delicacy and let the delicious and nutritious juices escape. Unlike the forks, long-handed forks do not dissipate your food even if it is as delicate as fish.
The shape and contents of your food remains unaltered until it is served. Because they are long-handed, you are always protected from the intense heat of grilling.
7. Wood Plank
Prior to the session of actual grilling, your choice of grilling planks matters a lot. There is a wide variety of wood planks for grilling out there. What exactly determines the suitability of the specific type of wood planks to use for grilling? It is the kind of smell it is likely to impart on your food.
This is what you need to be adept with before choosing a particular type of wood planks to use. For instance, cedar is an aromatic type of wood plank and gives out sweet smell. It is thus compatible with chicken, turkey and pork. Hickory on the other hand is nice for beef and pork.
Here is a matter of taste. Your specific choice entirely depends on the kind of smell you prefer. Nevertheless, it is important to ensure compatibility even as you consider your own individual taste.
Certainly, you expect that your grilling will give forth mild, smoky flavor and keep your food moist. All this results from the best wood plank you choose. To benefit maximally from your wood planks, it is advisable to soak it in water one hour to grilling.
8. Grill Mitts
Grilling mitts should never miss in your list of tools to have in your kitchen for grilling. Even though you may have other safety tools like tongs and spatula, grill mitts are mandatory for your safety. They help protect you from the intense heat the results from the grilling process.
You might choose from silicone, heavy duty cotton, leather or any other type of material of grill mitts. The goal is to achieve safety throughout the process of grilling. Grilling is technical and hot thus, the little oven mitts might not work out your expectations.
The best grills are large enough to cover your hands all the way to the elbow. They have a higher protective capacity compared to the small ones. Besides ensuring safety, grill mitts make your grilling professional an presentable.
As you get to the market to choose the best grill mitts, we advise that you pay utmost keenness to quality. High quality grill mitts are long-lasting and efficient thus helpful to you.
9. Grill Brush
A healthy and high quality grilling is considerate of cleanliness and sanitation. You might need to grill a different type of food from the one you grilled last.
In this case, you have to thoroughly clean your grill rack to avoid mixing smells and flavors. Thorough and vigorous cleaning prior to grilling also leads to high quality food.
The function of the grill brush is therefore to brush and clean up the grill grates. This helps to remove the residues of the last cookout prior to a fresh grill.
To make this easier, it is recommended that you preheat the rack for 10 to 15 minutes with all burners on.
Make good use of your grill brush by thoroughly cleaning the grates and ensuring they're clean and free from food. For the purposes of efficiency, we recommend brass-bristle grill brushes over other types. These clean without damaging your grates' enamel finish.
10. Basting Brush
As you grill, your focus is more on the ends than the means. You expect that the final grilling results will be indisputably high quality. To accomplish this, we propose that you never miss a basting brush every time you get into your kitchen.
Basting brush enhances the quality of your meat by making it moist when used for pouring liquids, marinades and sauces. In the same way, it helps you to carry out spooning and brushing. These processes add significantly to the taste and flavor of your food.
Knowing its significance in your grilling process, it is also important to know how you can choose the best. Because the bristles of your basting brush do the job, it is where all your attention should be focused.
Plastic or boar bristles are the best and that is what we recommend to you. The latest types are dishwasher-safe, thus the most convenient for you.
In a nutshell, your grilling is a process rather than an act. As a process, it is subject to regular improvements. If you have been grilling minus any of the above tools, it is your time to perfect. Understanding the use of each and every tool is key to ensuring a smooth and uninterrupted grill.
This is what you certainly desire. Getting through the use of the above tools enables you to prepare early enough for a great grill. There are other tools you might require. However, the above described are vital for all types of grills.