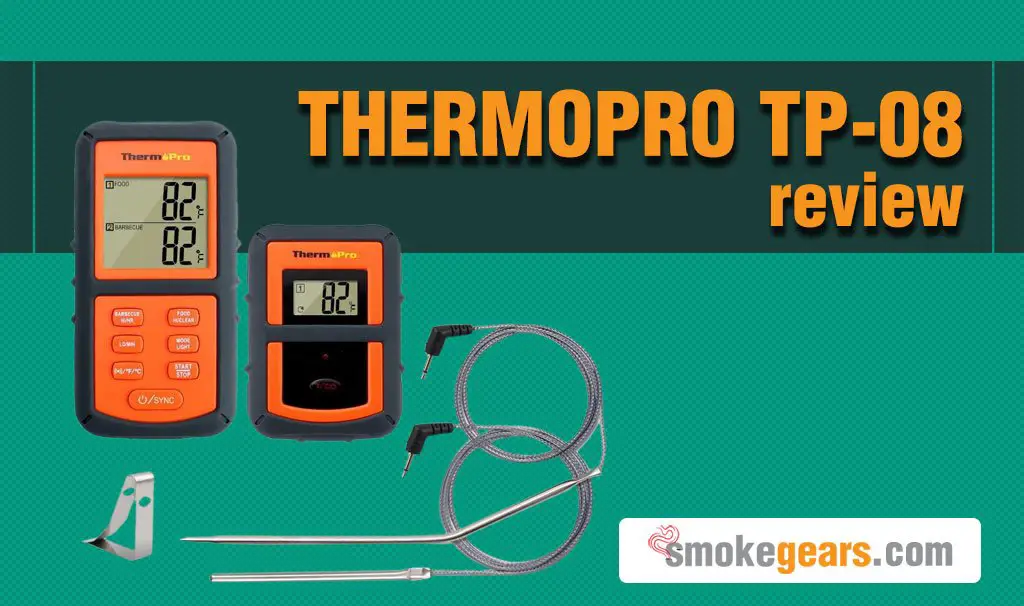 ThermoPro TP08 Review – What to Consider Before You Purchase
Although it is not the first thing many people think about when grilling, internal temperature is critical to proper taste, texture, and yes, your safety. Therefore, in this Thermopro tp-08 smoker thermometer review, we will consider the different specs which make this a great option for those who are looking to ensure proper internal temperature, but do not want to overcook a particular cut of meat when grilling. 
These are a few areas of consideration to take into consideration, if you are interested in this, or other products, and want to know what the best option is for you to invest in, when shopping for the smoker thermometer.
Thermopro TP-08 Thermometer Specifications:
Of course, consumers want to know what they are getting when purchasing a product. With this wireless meat thermometer, you can control the temperatures by a distance of up to 300 feet away. 
This means you don't have to stand in front of the grill the entire time while preparing meats. It has a dual probe design, so you can gauge the internal temperature of two types of meat simultaneously as well.
The transmitter and receiver are pre-synced, which means you don't have to do any tech work or sync it with your smart devices in order to work the device wirelessly. You must pop in the battery and you are ready to start grilling. 
It is equipped with an alarm and receiver, so you never have to worry about walking away from the grill, and having your food burn, or a cut of meat over cook in a matter of minutes.
Pros:
---
There are several design details owners are going to appreciate upon investing in this thermometer; among these are:
Dual probe set up. Allows you to gauge temperatures of two different cuts of meat/poultry, at the same time.
Large LCD screen with back-light, allows you to grill in the dark or hard to see conditions.
It doesn't require syncing or other set up. Simply put the batteries in and you are ready to go.
A large 6.5" stainless steel food probe as well as a 3.5" bbq thermometer, allows you to choose where you are going to do your grilling, to ensure accuracy in readouts on screen.
A large temperature range for you to choose from. You can set it from as low as 32 degrees F up to 572 degrees F.
The unlimited control features, and ability to choose the desired temperatures, are a nice feature which owners are going to appreciate with this little device. A very low starting point in terms of the pricing, for a well-known brand name manufacturer, is another nice added feature. 
The fact that you receive a lifetime warranty on the sensor probes also makes this one of the best smoke thermometers you can invest in, for such a low price.
Cons:
---
Of course one has to consider the drawbacks or negatives when reading a Thermopro tp-08 review as well. So, some of the things which you should be aware of, include the simple fact that it doesn't have different preset temperature gauges. You can choose from an extremely wide temperature range, but with this said, if you aren't sure of the right internal temperature, you can easily over or undercook meat in a matter of seconds.
Other product drawbacks include:
The fact that there are no setting for the type of meat you are grilling. So even when using the dual probe, you have to know proper temperatures for what you are grilling.
It is a little pedestrian in design (there are no features or design additions you will find). You are paying a low price for the thermometer, so you are getting just that – a thermometer.
There is no setting for different cook choices (med, med-rare, well done). You simply choose the temperature and the thermometer will let you know when the meat has attained the internal temperature you have selected.
As long as you understand proper grill times, you will be fine with this device. But, for the beginner, it might take a little time and require a bit of a learning curve, in order for you to get a hang of it when using this wireless meat thermometer.
Product users:
The simple fact that there are no detailed instructions, and you don't have many choices in terms of settings, makes this thermometer a little more in line with the novice to advanced griller. Those who understand proper cook temperatures, know the right amount of time, and simply want something that is going to give them an accurate read out. 
And is going to let them know when the meat they are grilling, has reached the internal temperature they have set it to. For those who like simplicity, don't need the bells and whistles, and want something affordable, this is a great little device to have around when you are grilling.
Intended uses:
Although it can be used with ovens, grills, and outdoor grilling, the thermometer is going to best serve outdoor grill users. Again, as it is intended for the novice to advanced user, this is a thermometer which is ideal for outdoor grilling and smoking. 
Whether it is smoke or electric, it will give you accurate read outs on both types of smokers. It can be used in an indoor setting, but if you truly want to get the most use out of your thermometer, and want something that is going to give you the perfect indoor reading when grilling meat, you will find it with this thermometer, used in an outdoor setting and grills.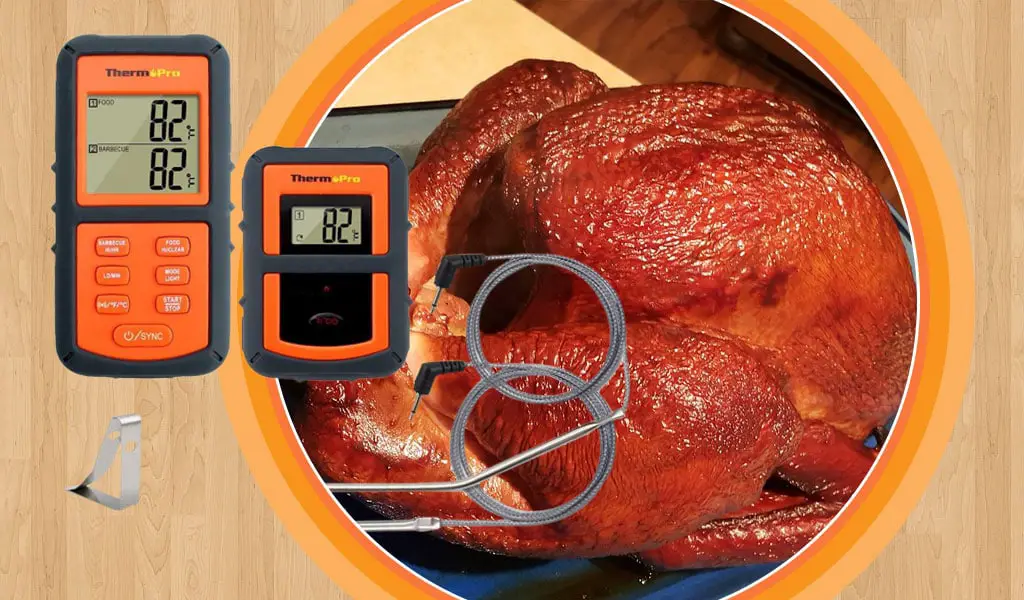 Conclusion:
There's nothing fancy about this device. If you are simply looking for a device that is accurate, easy to set up, and allows you to be in full control of prep times, grill times, and temperature settings, this is exactly what you are going to receive with this smoker thermometer. It is one of the best wireless meat thermometers for the price and works seamlessly with any device you pair it up with. 
Ultimately, those who are a little more advanced as grillers are going to benefit from this little thermometer. It is simplistic in design, very easy to set up for use, and it is going to give you accurate read-outs, and alarm signals to let you know, once the meats you are grilling, have reached the temperatures which you have set on the thermometer.