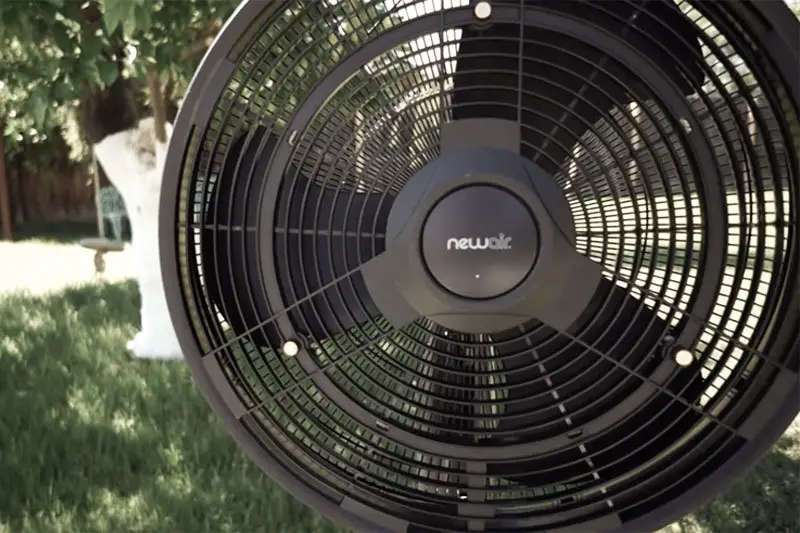 Best Outdoor Misting Fans in 2021 [Top 5 Reviews]
We've discussed outdoor heaters to keep you, your friends, and your family warm during those cold months or chilly nights but what about the opposite? 
What do you do when it's just too hot outside, but everyone is in the mood for a barbecue? When it's hot outside, and everyone craves that sweet barbecue, you need to invest in a misting fan!
More...
| | | | | | |
| --- | --- | --- | --- | --- | --- |
| | | | | | |
| | | | 28.3 x 28.3 x 10.8 inches | | |
| | | | 16.2 x 12.3 x 14.8 inches | | |
| | | | 12.9 x 12.2 x 14.9 inches | | |
| | | | | | |
| | | | | | |
Top 5 Best Outdoor Misting Fans Review For The Money
In this section, we are going to talk about different types of outdoor misting fans.
Best Pedestal, Floor Standing Misting Fans:
The NewAir AF-520B is the standard to which other misting fans should strive for, and given the amount of misting fans on the market that's saying something! NewAir is a well-known brand name for cooling appliances, and the AF-520B doesn't disappoint in that regard. To say that it's the pinnacle of what a pedestal misting fan should be is an understatement.
This said, what is it about the fan we like so much? To explain, let's look over the specifics. This fan is eighteen inches tall and is built with having a wide angle in mind. The fan can provide up to five hundred square feet of cooling, bring the temperature down by ten degrees.
There is a six hundred square feet model, but we only went with the five hundred square feet model as it was the only one on hand from our local store.
The fan has three speeds to pick from and is included with an adjustable stand, meaning you can adjust the fan to your liking. The fan only weighs sixteen pounds so moving and setting up is also a breeze.
The AF-520B will hook up with most outdoor hoses and power outlets so no need to worry about not having the right equipment on hand.
Finally, the fan has a safety system installed where if there is a leak the fan will shut down automatically. Overall, the AF-520B is an excellent fan for the price and might be our favorite misting fan. It looks good, it works great, and there isn't much to say negatively about this fan!
Best Wall Mounted Misting Fans:
When writing up our article on misting fans we didn't expect to review a wall mounted one, but we were able to get our hands on the OEM Tools misting fan and it's an excellent fan.
No wonder why it has gotten high marks! Now, in good conscience it's hard to recommend a wall mounted fan as we prefer the pedestal design but if you want a wall mounted fan, you can try this one.
Weighing in at 32 pounds, the OEM Tools misting fan was surprisingly easy to set up. You need to have it connected to a power outlet and an outdoor faucet. But once that's out of the way the fan works as advertised.
The three-speed motor provides a strong coverage, and we estimated that it'll cover at least eight hundred square feet minimum. You'll get the comfort cooling of 7200 CFM of airflow and a great mist.
The big selling point we find is the construction. The steel body houses and aluminum fans which are advertised as being able to survive just about anything mother nature can throw at it.
The OEM Tools fan worked perfectly fine once the storm passed despite being outside. This fan suitable for both outdoor and indoor. You can use as a worksite fan or indoors garage fan.
Overall, this is an incredibly sturdy wall mounted fan that gets the job done. So, if you want a wall mounted fan, you can't go wrong with the OEM Tools fan.
Best Portable Misting Fan:
We'll be blunt here; this misting fan looks more like a fog machine than a misting fan. Does this mean it's bad? No. But when you think of a misting fan, you likely don't think of something like the 7050 Misto. Don't let its design fool you, though, as this little portable fan was quite powerful, and we were really pleased with how well this fan worked.
First off, let's talk about what it can do. With a three-speed choice and three misters built under the vent, this fan is perfect for cooling down the surroundings for your needs. In fact, it was able to bring the temperature down by twenty-five degrees, just as advertised! This power comes with a payoff, however, as the range was small. We concluded that it'll only cover around 200 square feet.
Don't let that small range fool you, because this fan is made to be as portable as possible. Weighing in at sixteen pounds, this fan is perfect for all outdoor activities around the house like working in the garage, enjoying drinks with friends, etc. Can it be used for your barbecue on the patio? Yes it can, but it needs to be close to the table to provide cooling.
The 7050 Misto has a great feature that cuts off the power if there is a leak detected so you don't have to worry about your fan being ruined by a water leak. Overall, the 7050 Misto is an excellent portable misting fan, and we highly recommend it!
Best Battery Powered Misting Fan:
When we reviewed this battery powered misting fan, we were expecting something similar to the 7050 Misto, and we were honestly a bit baffled by the design. The Arctic Cove MBFQ181 is a fan that fits over a bucket and uses the water from there, not from a water line. An unorthodox design, but it surprisingly works!
Weighing in at seven pounds, this is one of the lightest misting fans on the market baring handheld models. What makes the MBFQ181 unique is that it doesn't connect to an outlet but instead uses a rechargeable battery.
The battery compartment is compatible with most rechargeable batteries you can find on the market, so if something goes wrong with your battery it's easy to replace. 
So, for being small and portable, what can it do? Well, the range is around two hundred square feet. And we found the air temperature is lowered by around ten degrees. All very impressive for a small fan you place on a bucket. The run time was around two hours before it has to be replaced. So, if you're taking it outdoors or to a sports event, bring a few extra batteries.
This fan can also connect to water faucets using an adapter which we thought was a nice touch. While it's not exactly impressive compared to other misting fans, if you need a cheaper and much more portable fan than this is what you'll want to get!
Best Handheld Misting Fan:
As we're covering all misting fans in this section, we also took a look at handheld misting fans. Our pick was the O2Cool brand, as not only was it cheap, but it also comes in six different colors. The color we chose was purple as it was the only one on-hand, but we would have preferred the gray if that was in-stock.
The fan is less than three inches tall and weighs only 5.6 ounces. Powered with two AA batteries, this fan can last for a few hours as it only has one speed. The fan blades are made of a softer plastic, so if you decide to touch them, they won't hurt you. Finally, the entire fan is made of translucent plastic.
While not exactly remarkable, the fan does work. Using a trigger, you spray the water manually and it's advertised as being able to provide one thousand squirts before the water reserve runs out. We didn't try to count out how many squirts it takes to empty the reserve, so we'll believe them on that account.
Overall, while cheap and small it's not a bad handheld fan at all!
Lastly, we have a fan kit, which even we didn't know was a thing until it was brought to our attention. The idea is simple, you convert your own outdoor fan into a misting fan! It sounds simple in practice, but does it really work? We can confirm that yes, it does indeed work. This said, set up was easy but you can't attach the ring to your hose, it has to be a water outlet.
AZCOOLMIST offers the ring in four different sizes: 8'' with 2 nozzles, 12'' with 2 nozzles, 12'' with 4 nozzles, and finally the model we went with the 16'' with 5 nozzles. Given we were using a 20'' fan, the AZCOOLMIST slipped on without any problems.
But how about the performance? Well, as an add-on and not an actual misting fan the performance wasn't too bad. 
We deduced that it provides a service of up to three hundred square feet, but it did bring the temperature down by fifteen degrees. As said, for an accessory we were very pleased with how well this add-on turned out. Which is why we recommend it if you want to make your own misting fan on a budget!
What Is A Misting Fan?
A misting fan looks and acts like a regular fan you might find, but with a special additional feature. The misting fan doesn't just blow hot air around, but instead releases water droplets into the air.
In short, by releasing water into the surrounding air, the water evaporates and lowers the surrounding temperature. While this means the fan requires both an electric supply and a water supply, it only uses a little of each.
The greatest benefit of misting fans is their portability. We'll discuss the different types of misting fans below, but misting fans are normally portable and will allow you to position them wherever you need.
Just don't stand too close, as misting fans do spray water and this can get you soaked if you're not careful. It's not recommended you place a misting fan right next to your grill or your table, unless you like soggy barbecue.
How Effective Are They At Cooling?
The short answer is that they're very effective at cooling. As previously mentioned, misting fans use water along with acting like a standard fan. Standard fans will circulate the surrounding air, but if the temperature is too hot the air being blown around will be quite literally hot air. Misting fans release water as they circulate the air, which evaporates into a fine mist.
As the water evaporates, the surrounding air starts to cool, and the fan circulates this cooler air and not the hot air. The cooling effect is as you'd expect different depending on which model, or even type, of fan you get.
So, the coverage can be between one hundred square feet to over seven hundred square feet, although four hundred square feet of cooling seems to be the standard.
When buying your misting fan, always read about the coverage to ensure the fan will provide what you need. You don't want to buy a fan that only covers a small section of your patio after all.
Types of Misting Fans
When you go to buy your misting fans, you'll find that there are a variety of different fans to choose from. Including pedestal, floor standing, wall-mounted, ceiling-mounted, portable, handheld, and even battery powered. So where do you start?
1. Handheld Misting Fans
You don't really want a handheld misting fan for starters. They're too small, not effective for more than one person. But this could provide you with extra cooling while at the grill. And they're still handy to have on very hot days. That is good for only one person.
This being said, it's not a bad idea to buy one or two for yourself given they're cheap, easy to use, and a great way to cool off while cooking. Keep one by the grill so to provide some extra cooling for yourself.
2. Wall-mounted and Ceiling-mounted Fans
Wall-mounted and ceiling-mounted fans, which you commonly see in businesses, are reliable but they can be expensive, and they lack portability.
The mounted fans, which don't provide portability. But still offer all the benefits as the portable counterpart. There is some debate regarding if the mounted fans are more or less powerful than the portable models.
But the consensus is that they both work and it just depends on personal taste and what coverage you need. For your outdoor cooking, you'll want to look at the pedestal, floor standing, portable, and battery powered models.
3. Pedestal Misting Fans
These models are generally portable, which should be the biggest draw as you can rearrange them to provide the best coverage. Now which type of model you'll get depends on what you need. Most barbecues only need one or two pedestal misting fans for full coverage.
4. Battery Powered Floor Standing Misting Fans
This said, you may find your fans are just out of reach of a power outlet or the water faucet, in which case you'll need the battery powered model with built-in tank. If you need a smaller fan that's not in the way, a floor standing model will do the job for you.
5. Portable Misting Fans
They will often look like normal fans, although some models resemble fog machines, and come in a variety of sizes, colors, and coverage.
Portable misting fans are going to be smaller, battery powered fans with internal tanks and while they work great for outdoor trips or sporting events, or outdoor barbecue competition. You'll want a larger model for your patio, so we recommend one of the three above.
Normally you'll want at least two of these fans for cooling off your friends and family during warmer months, and thanks to being mobile you can rearrange them as much as you like to get that perfect coverage!
What to Consider When Choosing the Best Misting Fan (Buying Guide)
Purchasing a misting fan is a great investment as not only are they relatively affordable. But come in a number of different shapes and sizes to fit your needs. Misting fans are also easy to maintain and reliable, so keeping you, your friends, and family cool during warm months is easy! This said, there are still a few things to consider when planning to purchase a misting fan.
1. Price 
The biggest factor when considering a misting fan is going to be the price. Much like outdoor heaters, grills, and furniture, the price and quality tend to vary and just because a misting fan is expensive doesn't mean it's the best on the market. Some misting fans can cost thousands of dollars, while others average under one hundred dollars.
When you're planning to purchase a misting fan expect to pay at least one hundred dollars minimum. The only fans that are cheaper will be the handheld fans, and you may need to pay twenty dollars or more for one that isn't going break easy.
2. Coverage
The second factor you want to think over is coverage. Misting fans work by spraying a mist into the air to cool the surrounding air which it will circulate. Because of this, sticking a misting fan right next to your table is a great way to get your guests soaked and their food ruined. The biggest problem with misting fans and coverage is finding accurate information before you buy the fan.
Manufacturers are either vague on how much area their misting fans will cover, or claim outlandish coverage sizes. When you find a fan you like, read the reviews first before buying it. Find out how much coverage the fan is actually going to provide, as this will provide you information on where to place your new fan. Proper placement is key to ensure you're getting the best usage from your new fan.
3. Tank or No Tank?
Some misting fans are advertised as having a storage tank for water. Misting fans will normally hook up into your outdoor faucets, others connecting to your hose, so models with internal tanks are designed to be taken on outdoor trips such as hiking and camping, sporting events, etc. You should consider a model with an internal tank only if there is no way for the fan to connect to your water line. 
4. Temperature
Just because a misting fan has an impressive reach doesn't mean it will have a powerful cooling potential. A good misting fan will lower the surrounding temperature by fifteen to twenty degrees, so search for a model that provides that or more.
Just like coverage, the manufacturers are normally vague so always read more about the fan you want to buy before buying it. Make sure the temperature change is fifteen degrees minimum. 
5. Wall Mount or Floor Standing?
Outside of handheld misting fans, the two types of fans you'll find will be the floor standing fans and wall mounted fans. The differences are floor mounted fans are mobile whereas most wall mounted fans aren't.
It's more common for businesses to utilize wall mounted misting fans as opposed to a floor mounted fan, but this doesn't mean you should base your purchases on what a local business is doing. 
This said, when purchasing your misting fan, the floor standing fans will cover your needs. Wall mounted models are recommended only if you have a good idea on what to do with them as their lack of portability can be a hindrance.
6. Warranty and Safety
Most, if not all, misting fans will come with some form of limited warranty. If they're damaged, come defected in the package, or a part is missing the manufacturer will send you a replacement piece or a new fan if the damage was severe enough.
While warranty coverage is a given, safety isn't. Some models come with sensors built in that shut the fan off in emergencies, but many fans lack these safety features. 
This said, misting fans are generally reliable and sturdy, the biggest hazard being someone accidentally tripping on the power cord or the fan falling over. By placing the fan in a secure area, you'll negate many of the potential hazards your fan might have.
Outdoor Misting Fan FAQs
What is the best misting fan?
While it depends on what you need, we highly recommend the NewAir Outdoor Misting Fan AF-520B. It has great performance, is mobile, and affordable. See our reviews for the other types of misting fans and what we recommend.
Are water misters safe?
Yes. The biggest risk of a misting fan is the fan falling over or someone tripping on a power cord or hose. Beyond that, they're safe and some models have features installed that will turn the fan off if a leak is detected.
How much do misters cost?
While the prices vary between brands and types of fans, you can expect on average to spend one hundred dollars on a misting fan. The cheapest option is the handheld misting fans which normally cost less than ten dollars for one.
Do misting fans get you wet?
Yes and no. Misting fans work by spraying water into a fine mist that is circulated. Standing too close to a misting fan will get you wet, but normally you'll just feel cool as the water particles are too small to actually feel.
Which is better air cooler or mist fan?
Air cooling works great in an indoor environment while misting fans are perfect for outdoors. This is why we recommend misting fans over air coolers when outdoors as they cost less and use much less electricity.
Do patio misters use a lot of water?
Surprisingly no. While the water usage can be high if a misting fan is left on for longer than a day, using them for a couple of hours will not see a spike in water usage. Misting fans use little water to create their mist, as too much water would create a damp atmosphere and not a cool one.
Conclusion:
Misting fans, much like outdoor heaters, can be expensive, but when you buy one thing of it as a long-term investment. Misting fans won't eat into your electricity bill or even your water bill. They're easy to assemble and hook up, just requiring a power outlet and outdoor faucet to work.
Most important of all, best outdoor misting fans work. They'll keep you, your friends, and family cool during the hot summer months.