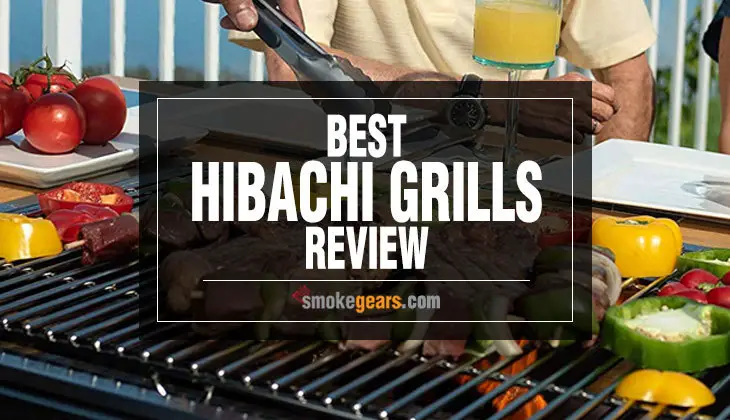 Best Hibachi Grills in 2021 | Top 5 Reviews & Buying Guide
Planning a road trip? Craving for some grilled chicken under the open sky?
In these days of modern living and tiny apartments, a proper grill with all the pieces of equipment might seem a luxury. In that case, hibachi grills are your solution. They are portable, easy to carry, and use actual fire.
Who doesn't love the smell of charcoal-grilled food and a good barbecue? But to save you the trouble of cramping a massive unit in a small room, we've listed the best hibachi grills of 2019 that you can use efficiently anywhere.
Considering their cast iron construction and small size, there's no wonder hibachi grills are now getting so much attention. But there are so many types and specialties even within the hibachi grill category that it's easy to get confused.
More...
The list below will help you choose the perfect grill without going through the trouble of looking through hundreds and hundreds of products or straining your neck, surfing the shopping aisles.
5 Best Hibachi Grill Reviews
Whether you're looking for a cheaper one made of aluminum or a cast-iron one of higher price, it's always good to look at reviews and compare features.
To help you out, here's a list of reviews of the best hibachi charcoal grills out in stores right now.
If your budget isn't too tight and you're willing to spend a bit for the sake of quality, this hibachi grill by Lodge is the one you want. It's small in size and portable. It also comes with two height adjustment features.
This US-made product not only looks great but is very much suitable for heavy-duty. It's easy to assemble and holds up well. There's no synthetic coating. Instead, this cookware is coated with vegetable oil that makes the food taste even better.
Secondly, it weighs around 30 pounds. So it is not flimsy. The material is cast iron, and there's a flip-down door that allows you easy access to the coal. You can use wood instead of charcoal too. Due to its iron material, the entire grill heats up evenly while cooking. 
There's a feature for adjusting the heights of the grates. This is very handy because due to its compactness, the heated coal is closer to the grates than other grills, and adjusting them is a must. You'll find a draft door at the bottom of this grill that's meant to let you control the temperature easily with airflow.
By maintaining the grill and cleaning it regularly, it can serve you a lifetime with ease. But, notably, rusting may occur when it is exposed to rain and water for a long time without maintenance. This is a perfect item to cook up a meal for 2-4 people at a time. It's a good competition for the portable gas grills out in the market. 
Although the price might seem too much, given the performance of this product, anyone will say it is worth every penny. It's suitable for cooking small items like sausages, chicken wings, or vegetables. For picnics and camping, this is the perfect grill to use.
This 3-in-1 grill is undoubtedly one of the most innovative and efficient grills in the market today. It's weatherproof and foldable. With fun and multi-purpose look, it's sure to be the center of attention at any BBQ party.
It is not just a grill on its own; it's a stovetop and an eating table too. Materials used to manufacture this include Birchwood, ceramic tile, and cast iron. Birchwood is a high-quality wood that doesn't retain any heat or humidity. Combine that with the ceramic; you get a good hot plate minus the risk of burning wood.
The griddle plate that it comes with is thick and heavy, weighing 50 pounds. There's a grease tray constructed with commercial-grade 304 stainless steel. Both the griddle and the tray are removable.
You can switch from the hibachi grill feature to a standard barbecue grill feature easily by just changing the stainless steel top to the grated ones. There's also a feature to change the bigger grates for a smaller one to act as a stove. This is especially good to grill seafood like lobsters and shrimps or just regular veggies.
Since there's nothing to attach, this is extremely easy to use. You can set it up within minutes and have a meal on the way. No tools or screws need to be used. Moreover, it comes with four foldable stools that can be carried along with the grill anywhere.
It includes a 40,000 BTU dual cast iron burner that is meant to last a lifetime. The framework isn't flimsy and is hefty duty. It uses propane gas instead of charcoal and comes with two gas knobs. From grilling burgers, steaks, and kebabs to making pancakes, hash browns, and eggs, this grill works like a charm.
For those of you on a tighter budget, this hibachi grill is a great option. Of course, with the lesser price of any product, some amount of quality does get sacrificed. Nonetheless, this is pretty decent for the price it comes in.
With 157 Sq. Inch cooking surface, this is suitable to cook for 1-4 people at a time. It uses charcoal and comes with wooden handles for adjustment of air. The entire grill is made of cast iron except for the wooden handles. That means it is sturdy enough to last for a few years.
The trick with this small grill is that you can't build a fire too big. If you do, things might get messy and dangerous. But otherwise, it works fine when you keep a small fire and cook the meat on the thinner side.
You can't use this grill indoors as it might cause a fire. As this uses charcoal, using it inside your room might as well be the same as poisoning yourself with carbon mono-oxide gas. So remember, outdoors only!
A positive thing about this product is that it requires lesser charcoal (around 14 small pieces for ½ grille area) compared to bigger ones. This makes it quite efficient. Unlike the high-end grills, this does require some putting together. Assembling it is no big deal if you've got some screws and tools ready.
While cooking with this, you need to put it on a heat resistant area. You can prop it up with bricks or cinder blocks to avoid any accidents. If you are using a table, put a layer of tin foil on the tabletop, and that should work well too. It's easy to take anywhere and needs minimum handling.
Of course, this does come with some disadvantages. But for the price point, you can't expect a high-quality professional grill either. It gets the job done well and last many years. So, it's a good investment anyway.
This product is very similar to a specific high-end old school grill but costs about half the price. Besides being similar-looking, it also performs almost the same. It's pretty decent for the price point and offers scope to work smoothly.
It is small in size weighing around 30 pounds. Construction material is cast iron, which makes it sturdy. You can quickly cook up anything for three people without using much charcoal. This does everything a hibachi grill is supposed to do in tradition.
Wondering what the catch is? Well, unlike the similar grill made in the USA, this is made with lesser quality materials in China. Hence, the price drops. Because of this, it might not last as long as a high-end one, but it will function.
A heat-regulating draft door is included with the design, and that makes it easier to control the airflow. You can quickly load coals without moving the grill with the help of this door. It's easy to carry as there is a wire handle that anchors on top. Assembling it is a bit tough as most of the time, it doesn't come with instructions.
If you are looking for something you can take on a picnic or patio and won't cost you a fortune, you should check this out. Meat, seafood, steaks, or veggies- you can grill anything on this. And as its name suggests, it is pre-seasoned. That makes the food taste great too.
As it is pre-seasoned, the food doesn't stick to the grates. It's sturdy and stable. You can clean it easily with a mild soap. So it's not a hassle to take care of.
Out of all the grills mentioned so far, this one is the latest to the market. However, it's not any less efficient than the others. This is a perfect hibachi grill for lawns and patios. It's a mini grill as the name suggests and comes with a very traditional Japanese cookware look.
This grill is made with aluminum and is sturdier than ceramic products. It's stable and robust. The manufacturing country is Japan, but it comes from China. It's got some excellent features that make it very convenient to use.
You might find one of these at a Japanese-style restaurant. This is very easy to use and set up, which makes it a favorite at home and diners. The price is fair given that it comes with a charcoal bucket, a furnace, and an oiled bowl. There's a wooden base plate that makes it easier to clean up later on.
The oil pan included in this set helps prevent the spilling of oil and increases the efficiency of the grill. Due to the property of fast heat conduction, you can cook up many dishes quickly using this grill set.
Its total height is almost 110 mm, and the wooden base is 60mm. It is thick and made with good quality wood, so heat retention isn't a worry.
With a high-quality casting, it's not too heavy. You can get a good set of instructions along with your product. So operating it won't be hard at all. Since it has an oiled bowl and it's a closed grill, there's no scope of liquids to fall on the charcoal while cooking. This is especially handy while grilling veggies.
It's not as heavy-duty as the bigger grills, but it does serve well for two or three people at a time. If you're new to the world of Hibachi, it's an excellent place to start since it requires minimal effort to assemble or operate this grill.
Buying Guide: 
What to Look For
Understanding which hibachi grill is best for you requires a good knowledge of certain key features. You need to look for hibachi grills based on;
1. Material
With the growing market, you can find many cast iron hibachi grills for sale or ones made from stainless steel. There are cheaper and more affordable aluminum ones that you can get too. But those aren't as durable as cast-iron ones. The stainless steel ones are heavier than aluminum grills, but the heat distribution is not as great.
2. Grate Adjustment
Grates that are closer to the charcoal provide higher temperature to the food. You should choose your hibachi grill based on the height adjustment features of the model. It's better to choose one with three or four height adjustment options. This will help you keep a proper distance of your food from the burning hot charcoals.
3. Airflow Vent
To cook with a hibachi grill, you need to be able to adjust the temperature i.e., control airflow. This can only be done if there's a draft door or air vent under the grill. This allows air to flow underneath the coals and increase the heat further.
When you don't want the fire to get hotter, you can just close the vent and allow it to cool down a bit. If you don't have a draft-door or airflow vent, the temperature can't be adequately regulated. That means you might end up with burnt food if you don't pay attention even a little bit.
4. Handles
For handling your grill and moving it around, you require a set of sturdy handles attached to it. Handles that get hot while cooking food are a big no-no. This means metal handles should be avoided as they tend to get hot easily. You should look for wooden handles on grills that have good quality.
After all, lousy quality wood will just catch fire and burn up. The last thing you need is an accident, right?
5. Surface Area for Cooking
As much as the material and price matters, the surface area is something you should think about while searching for a hibachi grill too. The number of people you will be able to serve at a time, the time it takes to heat up, and how much coal is needed all depend on the cooking surface.
You can easily cook for one to three people with a small cooking surface of 125 to 150 square inches. But for three to four people, the area required is 150 to 200 square inches.
Again, if you want to cook for four to five people, it's best to use a 200 to 250 square inch surface area. The benefit of a bigger grill is that you can easily grill your veggies along with the meats to save time. But if you're doing things solo, then a mini hibachi grill will suffice.
6. Shape
You need to remember that it is possible to cook the same dishes and get the same outcome regardless of the shape of the grill. Technicality is a big factor here. But if you're a beginner, certain shapes will be easier for you to use and handle.
Again, many professionals like to use certain shapes of hibachi grills to be able to work and arrange their meat and veggies easily. It's really up to you to decide which shape is better. Traditional hibachi grills tend to be round and pot-like. The modern ones have a more innovative structure.
7. Price
Price is a big factor in buying anything. In the case of hibachi grills, higher price generally ensures better quality materials and durability. But there are certain cheap ones you can use for as many as 10 or 15 years. But you need to know what you are paying for.
How to Take Care of Your Hibachi Grill
So how exactly do you maintain a hibachi grill so that it lasts longer? You'll get your answer soon.
• Disclaimer 
Starting, you have to remember that hibachi grills are meant for small meals and quick cook ups like hot dogs, sausages, and barbeques. If my friend, you are planning to prepare a feast using these machines then you are out of luck.
Keeping that in mind, you need to understand whether your product is suitable for heavy-duty or not.
• Always Put on Flat Tables but Never on Plastic Ones 
Always put the grill on a flat surface that has good heat resistant properties. The surface should be even. Some materials to build such a flat base are cinderblocks, heatproof tiles, and bricks. Don't use normal plastic tables to prop it up. It will melt the plastic.
• Avoid Water 
If your grill is made of cast iron, never pour water on it. Water might cause the grill to end up with cracks and thus damage it. And for rust prevention, it's best to coat your grill with vegetable oil after every time you use it. You should keep it in a dry place.
• Heat Control 
Unlike modern grills, hibachi grills don't come with thermostat or heat control knobs. Some innovative ones do, but ninety percent don't. In those cases, the biggest challenge is temperature regulation. This is where the air intakes and vents come into play.
Your grill should have a door underneath to help you close off the air intake in case it gets too hot. Fanning the grill can help you increase the temperature by aerating the coals.
The charcoals need to be used wisely, and the amount should be proportional to the size of the cooking surface. You should spread out the coals to get an even heat output.
Lastly, always let your Hibachi cool off completely before emptying the ashes and cleaning it. Try to keep a fire extinguisher nearby always for safety measures.
Frequently Asked Questions:
Q1. Are our hibachi grills good for smoking meats and veggies?
Most hibachi grills don't produce much smoke. You can try to do it using a lid. But hibachis are meant for grilling, not smoking.
Q2. What does Hibachi mean?
The word "hibachi" is Japanese, and it means "fire bowl." Since these grills are small and work like a barbecue to cook food and require coals, it's called a "hibachi grill". 
Q3. What's the maximum temperature for a hibachi grill?
The temperature of the grill depends largely on its size and the cooking surface. Again, it depends on how much charcoal is being used too.
If you are using a charcoal hibachi grill, then your maximum temperature can be almost 900 Fahrenheit. But this is not the case for electric ones. Electric hibachi grills can heat up till 400 or 600 Fahrenheit. It will depend on your product brand and usage time too. 
Q4. What makes a hibachi grill special? 
This is a common question as hibachi grills are often compared to bigger barbecues and standard grills. The specialty of a hibachi is in its compactness and the fact that it's easy to carry. This makes it a perfect item to take with you on patios and picnics.
Another thing that makes it special is that hibachis are affordable and come at a reasonable price if you are someone who doesn't grill regularly; investing in a hibachi grill will seem much more logical than getting a full set of a huge barbecue unit.
Q5. How do I use a hibachi grill safely?
To prevent accidents, you should always keep a fire extinguisher near the cooking site. You need to maintain a safe distance between your food and the charcoal by adjusting the height of the grates. And you should never prop it up on anything that is not heatproof.
Final Words: Hibachi grills are a great way to enjoy the experience of outdoor cooking and bring back the 70s vibe. You should check out the ones mentioned here as they are the best hibachi grills available in the market now.