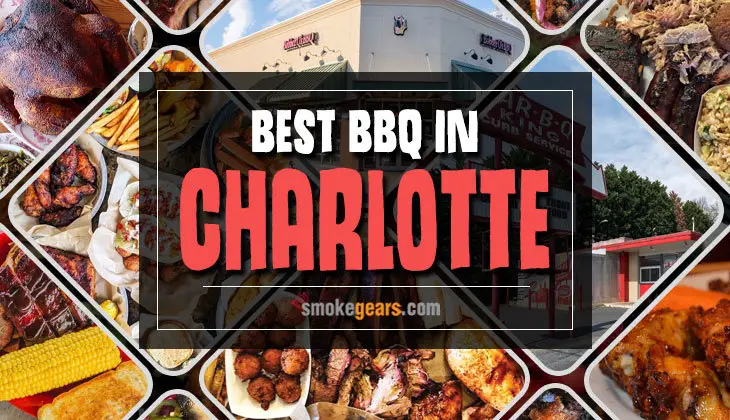 15 Best BBQ Restaurants in Charlotte NC
When it comes to the best BBQ places in North Carolina, most people argue that it's found in Lexington. But this doesn't mean you should rule out Charlotte yet. Especially if you've tasted BBQ from its top BBQ spots.
If you're a BBQ lover, you know that there are 2 different BBQ styles in North Carolina; Eastern style and Lexington style. What's the difference between these 2 styles? Lexington style only focuses on shoulder served with a ketchup, pepper dipping sauce, and vinegar. On the other hand, Eastern-style involves the whole hog served topped with vinegar, not ketchup!
More...
Whichever style you prefer, you'll love the BBQ served at Charlotte BBQ restaurants. Whether you want pulled shoulder, brisket, ribs, or chopped whole hog, you'll get it in the Queen City! Here are the best 15 BBQ establishments that serve up the most delicious options-both Eastern and Lexington (Western) style in the Charlotte!
15 Best Barbecue in Charlotte North Carolina
Midwood Smokehouse
Address: 1401 Central Avenue, Charlotte, NC 28205
Website: midwoodsmokehouse.com
Before opening the joint in 2011, restaurateur Frank Scibelli visited various BBQ restaurants in Texas. That's where he gathered the invaluable tips of his join's concept. Since then, Midwood Smokehouse has developed to become a favorite spot for most Charlotte residents. Today, the joint has 5 locations, three of them in Charlotte.
The original location is in the Plaza-Midwood neighborhood in charlotte. They are dedicated to serving quality BBQ and the best food in the city. This has seen it gather national attention from the likes of Travel Channel's BBQ Crawl and the New York Times.
Their cooks go to a professional brisket school to learn to slow smoke Texas-style brisket as well as burnt ends. The staff is dedicated to giving customers the best services and meals. For that, their BBQ sauce is made from scratch and the meats are smoked to perfection.
With an all-wood smoker, they burn hickory logs all day long to slow smoke incredible Texas-style BBQ. Another great thing about this restaurant is that they also serve Carolina-style chopped meat. Moreover, they serve caramelized meat burnt ends dipped in Cheerwine barbecue sauce.
The menu is full of BBQ classics like Carolina meat, burnt ends, fried chicken sandwiches, and cheese fries. This spot is fun-loving, thanks to its casual, laid-back vibe. Therefore, it's a great choice for a large group of friends and families.
Sauceman's
Address: 215 Southside Drive, Charlotte, NC 28217
Website: saucemans.com
If you're looking for a BBQ joint that specializes in serving authentic Lexington-style BBQ, this is the place to go to! Sauceman's was originally located at West Boulevard but later relocated to its current location at 215 Southside Drive. This was after the Sauceman's joined forces with Sugar Creek BBQ. Thus giving you the perfect combination of Barbecue and beer!
This joint won Destination America's Barbecue pitmaster award for the best barbecue in Charlotte, North Carolina in 2013. So, you can trust that this joint offers mouthwatering meals.
But, what makes their BBQ so genuinely North Carolinian? That would be the fact that they use a combination of oak and hickory to smoke their meats. This results in a flavor that you can only find in this region!
Since they serve Lexington-style BBQ, you can choose the meat plate. This comes with hickory-smoked meat, cut coarsely or chopped, plus white or red slaw, hushpuppies, and your favorite side. They also have a wide selection of savory flavors like Blue cheese, mild, hot, or Lemon Pepper Ranch. Other items offered by their menu include; chicken, sausage, ribs, and brisket.
For those who cannot make it to this location, they can make their order online! Don't let distance stop you from tasting some of the best Lexington-style BBQ in Charlotte!
Bobbee O's BBQ
Address: 9401 Statesville Road, Charlotte, NC 28269
Website: bobbeeosbbq.com
Bobbee O's is an award-wining BBQ joint that was established in 2008 by Bob and Linda Roberts. Since its opening, they have been welcoming BBQ lovers into this spot, promising them 'good food, good fun, and good friends'!
Bob is a native of Rowland, NC, where he learned how to cook from his mother at an early age. Through his cooking passion, he has perfected his homemade sauce and BBQ techniques. For that, you cannot go wrong with any choice at this joint. However, the most popular item here is their pulled meat! It's so good that it's considered to be the best in the entire state.
They also have other incredible options like ribs, chicken strips, tender smoked brisket, and even Brunswick stew. These are served alongside items like jalapenos, meat fries, and Nacho Cheese.
The restaurant has a large dining space and ample parking space. Their friendly, quick service and delicious homemade food have seen it garner national recognition from popular publications like Parade Magazine. As you enjoy your meal, you can listen to the background of Blues Music. This creates a friendly atmosphere, making it a great hanging spot with friends and family.
McKoy's Smokehouse & Saloon
Address: 4630 Old Pineville Road, Charlotte, NC 28217
Website: mckoys.net
This is another family-owned restaurant that was started by Namon, Ryan, and Jim Register in 2006. The joint is named after Ryan and Jim's grandfather, McKoy. So, don't be surprised when you find out that they used recipes and techniques passed down from McKoy.
McKoy's Smokehouse specializes in preparing Carolina-style BBQ, which is very popular in Charlotte. They serve all the staples of BBQ restaurants including smoked chicken, brisket, and even ribs. Furthermore, they have items you wouldn't expect to find in an average BBQ joint. This includes things like buffalo shrimp, blackened fish sandwich, and smoked BBQ meat quesadillas. Such items are lightly battered and rolled in a buffalo sauce that is made from scratch.
In addition to serving BBQ, they have fresh cut burgers and smoked chicken salad sandwich. If you have a picky diner in your group, this might just be the right spot to eat. They've something for everyone, including corporate workers and bikers. To load up your order, they serve side dishes like collard greens and mac n' cheese.
As for the drinks, they have a lively bar scene that offers specials every day! Don't leave the joint without trying their award-winning wings!
Bill Spoon's Barbecue
Address: 5524 South Boulevard, Charlotte, NC 28217
Website: spoonsbarbecue.com
Dewel Jackson and Bill Spoon moved to Charlotte in the early 1960s from Wilmington. They opened Jackson & Spoon's BBQ using Dewel's father in-law's recipes. But this partnership didn't last. Instead, Spoon bought Jackson's share of the business in 1963, and renamed it Bill Spoon's BBQ it is today!
The restaurant is currently managed by Steve, Bill's grandson. After all those years, the place has changed a lot, including a change of ownership. Steve took over this restaurant in 2006. However, the restaurant still uses the same recipes it was using more than 50 years ago.
So, expect to find their award-winning Eastern-style BBQ and the original house-made hot sauce. This includes their whole-hog BBQ, banana pudding, and mustard-based coleslaw. Similarly, the tables are covered by the same white-and-yellow checkered tablecloths.
Other items on their menu include chopped meat, ribs, Brunswick stew, hush puppies, hot dogs, and BBQ chicken. For side dishes, they offer mac n' cheese, French fries, onion rings as well as baked beans.
You can also contact this restaurant for delivery, takeout, or catering services. They're open every day, except on Sundays, starting from 10.30 am to 3 pm.
Mac's Speed Shop
Address: 2511 South Boulevard, Charlotte, NC 28203
Website: macspeedshop.com
Owned by Mac's Hospitality Group, Mac's Speed Shop is a bike-bar-vibe restaurant with 8 different locations. This BBQ joint combines traditional barbecue food with a modern bar serving a selection of 300 beers. The combination of bikes, beer, and barbecue make this joint a good spot to hang out.
You'll find this restaurant packed with diners enjoying great BBQ, wings, and burgers. Their meat is smoked, pulled, and tossed in the joint's unique Carolina barbecue sauce. You can match this with their beer to wash down your meat. The beer selection and family-friendly décor draw beer enthusiasts and BBQ lovers from all over Charlotte!
Their barbecue includes hickory-smoked pulled meat, dry-rubbed brisket, and grilled chicken wings. They also have chicken and beef options. These are then dipped in one of their 9 BBQ sauces. Besides serving BBQ, their menu has items to ensure that everyone is accommodated at this spot. For instance, they've traditional sides like creamed corn, red beans & rice, collard greens, baked beans, and cheddar grits.
If you're a pet lover, you'll be glad to know that this restaurant is pet-friendly, with 7 outdoor tables. So, don't leave your lovely pet behind when you're going for some BBQ at this spot!
Bar-B-Q King
Address: 2900 Wilkinson Boulevard, Charlotte, NC 28208
The Bar-B-Q King is an iconic Drive-in BBQ eatery in Charlotte that's owned by Gus Karapanos. Established in 1959, this joint is one of the few drive-ins remaining in the city. A lot of things, including its menu, haven't changed that much at this spot. And it's even serving some of the best BBQ in Charlotte, NC, and quality house-made sauces!
This 6o-year old BBQ joint has about 40 ordering stations where customers can order the favorite dishes. Some of their popular offerings include barbecue plates, chicken, fish, and their signature onion rings. If you're not in the food for some barbecue, you can order po'boys or hot dogs.
Bar-B-Q King has a classic, vintage décor that makes this family-friendly joint look lively. Not to forget their friendly patrons who ensure you've got a memorable dining experience.
In 2009, this restaurant was even featured in Diners, Drive-ins & Dives program. This indicates that it's a cool BBQ spot. For an old-school dining experience, check out this joint in Wilkinson Boulevard! It's open Tuesday through Saturday from 10.30 am to 9/ 10 pm.
Sweet Lew's BBQ
Address: 923 Belmont Avenue, Charlotte, NC 28205
Website: sweetlewsbbq.com
Located in the Belmont neighborhood, Sweet Lew's is a low key BBQ joint in Charlotte. The joint was opened by Lewis Donald and Laura Furman Grice in 2018. Although this BBQ shack is in a rapidly modernized neighborhood, it's designed like the back-country roadside BBQ spots on rural highways.
The smokehouse behind this joint covers 450 sq. ft. and smells of hickory, peach, and pecan wood. Diners can enjoy their meals at the indoor tables or the picnic tables on the outdoor cement patio. Another great thing about this restaurant is that they serve their smoked meats until everything is sold out. This indicates that their meats are cooked daily, ensuring diners get fresh meals!
This spot specializes in Lexington-style BBQ. If you're familiar with NC BBQ styles, you know that this includes shoulder, seasoned with pepper and salt only. It's then smoked for about 10 – 12 hours and served with a selection of sauces. This can either be Lexington-style red dip, mayonnaise-based Alabama white, South Carolina mustard, or Eastern NC vinegar.
The menu also serves dry-rubbed spare ribs, beef brisket, and smoked chicken. For the daily specials, they've fried chicken-Sunday, sausage-Saturday, fish fry-Friday, hash-Wednesday, and smoked Tuesday-Tuesday. While their side dishes include boiled peanuts, hush puppies, slaw, baked beans, and collard.
If you're not in the mood to walk out, you can just make your order online!
Bubba's BBQ
Address: 4400 Sunset Road, Charlotte, NC 28216
Website: bubbasbarbecue.com
Sometimes, appearances can be deceiving, right? If you don't believe that, then you might miss one for the most authentic culinary gems in Charlotte: Bubba's BBQ! While this joint is very popular across the Southeast, it doesn't impress customers with mirrors and smoke. Instead, you'll only find a few tables, some metal chairs, and wood panel walls. But don't let this stop you from tasting their delicious hickory-smoked Eastern NC barbecue!
Owned by Ralph Miller, this joint uses a unique hog-roasting process to prepare some of the best barbecue in Charlotte, NC. This involves slow-cooking the meat for 33 hours, eliminating most of the fat. The resulting lean meat is then lightly seasoned with crushed pepper, vinegar, and salt.
Although Bubba's cooks eastern NC BBQ, there's something unique about this place. Unlike most BBQ restaurants Charlotte NC, you will not find a fire pit here! Instead, the joint prepares their whole hogs using 2 electric pits. They then use a wood box to add the smoky flavor. You can pair your meal with sweet tea, southern staples, and hush puppies.
This joint's BBQ was ranked as the 3rd best barbecue in North Carolina by the Southern Living Magazine. Once you taste the BBQ served at this spot, you'll understand it's one of the best in the state. Moreover, this casual joint offers catering services to events with up to 4,000 guests!
The Improper Pig
Address: 9855 Sand Rock Pl Suite A, Charlotte
Website: theimproperpig.com
Over the years, the Improper Pig has been featured on the Diners, Drive-Ins, and Drives program by the Food Network on multiple occasions. But, regardless of this attention, the joint has not compromised its quality at all. Thanks to its passionate team that is dedicated to creating Carolina-style BBQ with personal twists. This creates a memorable, fun, and relaxing experience that keeps the customers coming back for more!
The restaurant has 2 locations; one in Fort Mill, and the other one in Rea Farms, Charlotte. This restaurant is owned by Stomp Chop and Roll, which owns other restaurants like the Pizza Peel and Flying Biscuit.
Before moving to the Rea Farms location in 2018, the original location was in Cotswold. The Rea Farms spot has 3,535 sq. ft. and includes a mezzanine level with a private dining space. After relocating, the joint updated its menu to include seafood and steaks grilled over a wood fire.
The menu also includes Improper Pig's classic items like Eastern-style BBQ. While the side items include seared ahi tuna, Asian slaw, and black-eyed pea. For vegetarians, they offer a 'No Pig' sandwich made with grilled Portobello mushrooms.
Noble Smoke
After dreaming about BBQ for 25 years, Jim Noble finally opened the Noble Smoke BBQ joint in 2019. Jim had been traveling across Texas and the Carolinas, sampling meat sandwiches and ribs in between. This shows that Jin has been in love with smoked meats for quite a long time. So, if you're looking for a great spot you can hang out with friends and enjoy some Southern-style BBQ, try out this spot!
The restaurant is located in a former tractor-trailer garage with an area of about 10,000 sq. ft. on Freedom Drive. This building was uplifted and its main dining space can now accommodate 200 people. There's also a Biergarten out and patio that can hold 200 people as well as a 1,400 sq. ft. event space. The main dining space features a 43 ft. bar with 23 seats. This joint also has a to-go order parking space.
Their meat is cooked in both Texas and Carolina style in the 1,800 sq. ft. smokehouse. This restaurant has 8 wood fired smokers- 2 traditional NC masonry BBQ pits and 6 made of steel. To wash down your meal, this joint has several taps inside with your favorite drinks. Make sure you stop by this spot. They're open Monday through Saturday, starting from 11 am to 10 pm!
City Barbecue & Catering
Address: 1514 Galleria Boulevard, Charlotte, NC 28270
Website: citybbq.com
City BBQ is a delicious and affordable catering company based in North Carolina, with 4 locations across Charlotte. The first restaurant, which is the Ballantyne location, was opened in 2016. Since then, 3 other locations have been opened. Including the Mathews and University location.
Their BBQ is made from scratch and it has even won various awards nationally. The smell of their hickory-smoked meats will leave you with a positive memorable experience. Another unique thing about this restaurant is that it accommodates other dietary needs like no-meat, vegetarian, vegan, and gluten-free.
The restaurant's menu serves smoked meats like turkey breast, beef brisket, pulled chicken, smoked sausage, and St. Louis-style ribs. For dessert, you can enjoy their homemade sweets such as banana pudding, triple chocolate cake, or peach cobbler.
One thing you should note about this joint is that it doesn't offer table service. This can be a bit challenging if you've got a dog. Luckily, they have 10 outdoor tables, where you can tie your pet as you walk in to order!
Besides serving authentic and inspired craft BBQ to tourists and locals in Charlotte, this joint has catered to many events in the area.
Sonny's BBQ
Address: 440 Tyvola Road, Charlotte, NC 28217
Website: sonnysbbq.com
Owned by Bob Yarmuth, Sonny's is a BBQ chain that specializes in Southern-style barbecue. This restaurant was started in 1968 by Lucille and Floyd Tillman in Gainesville, Florida.
Since then, the restaurant has continued to expand and it has more than 100 locations spread across the country today! In North Carolina, this restaurant is available in 4 locations, including Mooresville, Concord, Rock Hill, and Charlotte.
Sonny's is well known for its good quality BBQ as well as friendly and fast services. Their meats are slow-smoked over oak wood to perfection. With some of their popular meats being; pulled meat, ribs, barbecue chicken, and brisket. Their menu also offers other mouthwatering items like side dishes, sauces, and salads.
In addition to serving delicious dishes, this joint offers catering services to special occasions. They also offer delivery, pick-up and you can even make your order online! Make sure you try the mouthwatering authentic Southern-style BBQ at this joint!
The Q Shack
Address: 10822 Providence Road, Charlotte, NC 28277
Website: qshackclt.com
The Q Shack restaurant in Charlotte is owned by Dan and Deb Shane. After spending most of their time traveling around the world and working, Dan and Deb decided to buy this restaurant in 2017. This joint is a local favorite and it's located at the interchange of Interstate 485 and Providence Road.
Although the ownership of the restaurant changed when the Shanes acquired it, the menu has not undergone any drastic changes. It still offers hickory-smoked meat, turkey, sausage, beef brisket, and chicken. As you can see, this restaurant features many different BBQ styles.
However, they expanded the restaurant to include catering services. Therefore, you can contact them if you've any upcoming events including graduation parties, corporate events, weddings, and more. Moreover, they've got a selection of small bites and hand-made appetizers.
The meats are smoked every day in their on-site BBQ pits. While their handmade sides are prepared using fresh ingredients from the local farms.
This joint has an outdoor patio with 5 tables. So, don't leave your pet behind when you come to enjoy your meal at this joint. Stop by this joint on any day except on Monday, starting from 11 am to 7/ 8 pm!
Boardwalk Billy's UNCC
For delicious BBQ or seafood in Charlotte, just head to Boardwalk Billy's Raw Bar and Ribs. The joint has 2 locations in Charlotte and the first location was established in 1998. They specialize in serving smoked barbecue, seafood as well as American fares like nachos, wings, and burgers.
This joint has more than twenty large screen TVs and an amazing audio system. You'll also love their wide selection of signature cocktails and beers on tap. All these things make this joint a great place to hang out with friends as you watch the game.
Broadwalk Billy's has something for every diner, with their menu including gluten-free and vegetarian options. Their slow-cooked ribs, barbecue, and seafood and served alongside various items including hand-cut French fries. They have three menus which serve dinner, lunch as well as late-night diners. Also, they serve many lunch specials every day. Make sure you try them out when you get to this spot!
As you can tell from the name features a bar. They have an amazing drink menu that offers refreshing cocktails and ice-cold beers. Creative Loafing's readers even voted this joint's drink specials as the best in Charlotte!
The restaurant also features an outdoor patio with 12 dog-friendly tables. Even better, this space is heated when the weather is cold. So, don't leave your dog behind when you're heading to this joint. Come to this joint with friends and family for a delicious meal and a memorable dining experience!
You cannot live in Charlotte, NC, and not love the 2 North Carolina BBQ styles. Luckily, there are many BBQ joints in town. However, if you want to it right, I suggest you try these joints since they serve the best barbecue in Charlotte, North Carolina. Just choose one restaurant from the restaurants listed above and taste their BBQ. You don't even have to go to the restaurant since some of them allow online ordering.
But if you've got the time, check these joints and try their barbecue. Trust me, you'll not regret it! Just make sure you don't mistake these Charlotte BBQ restaurants with the best BBQ in Charlottesville, VA.