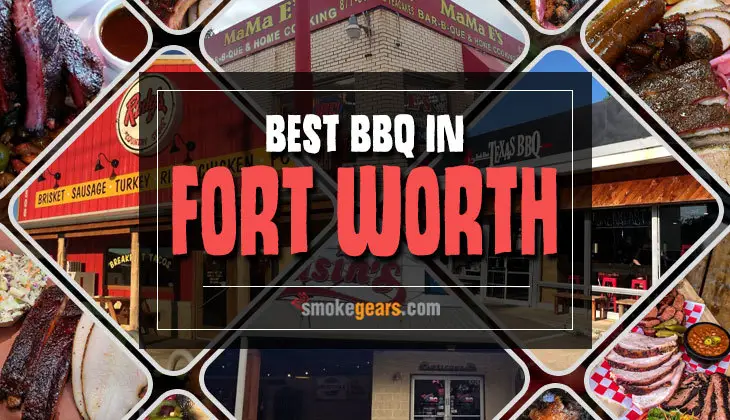 25 Best BBQ Restaurants in Fort Worth TX
Texas State is filled with many great BBQ joints that you can choose from. Being a city in the Lone Star state, Fort Worth offers the same incredible quality BBQ as the rest part of the state. Cleverly nicknamed 'Cowtown', this city is in the best business. So, rest assured that it serves some of the best BBQ in the state!
Whether you're just visiting or Texas native, you'll not get a time finding a BBQ joint in Fort Worth. But, if you want the best BBQ in Fort Worth TX, which BBQ restaurant would you go to? To make it easy for you, we've listed the most popular restaurants in this city. Let's have a look at them!
More...
25 Best BBQ Restaurants in Fort Worth TX
Riscky's BBQ
Address: 140 E Exchange Avenue #101, Fort Worth, TX 76164
Website: risckys.com
If you've been to Fort Worth, you probably know something about this BBQ joint. Established in 1927, Riscky's BBQ has been serving award-winning barbecue to resident BBQ lovers and visitors alike. They have got a burger bar, a steakhouse, and a deli. This joint is popular for serving up the best ribs in the city!
This legendary BBQ restaurant offers all the favorites including ham, turkey, ribs, beef ribs, and chicken. Each of these items is seasoned with their 'Riscky dust' and slow-smoked to perfection for hours. You can also order their Prime certified brisket and brisket bites. With their kids' menu, this family-friendly restaurant has many items that will satisfy your entire family.
Their patio allows you to enjoy the fantastic cattle drive view 2 times a day. Besides the Fort Worth Stockyards location, this restaurant has other locations spread across town including West Side and Stockyards station. Therefore, you can get their popular ribs at different places in town.
In addition to smoked meats, their menu also serves fried catfish, smoked sausage, chicken fried steak, and even barbecued shrimp. Sandwiches and burgers are also available. To accompany the smoked meats, they have potato salad, fried okra, and beans.
Cousins Barbecue
Address: 5125 Bryant Irvin Road, Fort Worth, TX 76132
Website: cousinsbbq.com
Beverly and Calvin opened the first Cousins BBQ joint in 1983, serving up hand-crafted Texas-size slow and low smoked BBQ. Since then, the restaurant has expanded significantly. Today, it has 6 different locations in the Fort Worth area.
To give their smoked meats a perfect smoke flavor, they only use hand-selected hickory hardwood and the freshest ingredients. In 2008, this restaurant was featured in the 'Top 50 Texas BBQ restaurants' by the Texas Monthly for its award-winning BBQ.
This savory spot has a friendly atmosphere, thanks to its casual and comfortable dining space. You'll also see the visual history of the restaurant on the decorated walls.
They serve all types of smoked meats including brisket and ribs. These succulent meats are covered with zesty sauces, giving you a memorable dining experience. Moreover, the menu offers sandwiches and plates, as well as salads, baked potatoes, and desserts.
With 2 locations in DFW airport, this joint has gained national recognition. It was even featured by Conde Nast Travel magazine in 2014 as one of the best airport joints in the entire world!
Angelo's BBQ
Address: 2533 White Settlement Road, Fort Worth, TX 76107
Website: angelosbbq.com
When Angelo George first opened this restaurant in 1958, it only had an ordering counter, 4 dining tables, and a stand-up table. The restaurant also acted as a beer joint. This restaurant has developed to become a world-famous joint, partly because of the cozy atmosphere. Today, this family-owned business is being run by the 3rd generation of Angelo's family.
It's located just a couple of minutes west of Downtown. The joint is well known for its brisket, chicken, and ribs. Having served smoked meats in Fort Worth for more than 60 years, this joint has earned the respect of celebrities and locals.
At the restaurant, there is dark wood paneling and mounted hunting trophies which create a rustic atmosphere. This place is also a comfortable casual joint. To wash down the smoky BBQ, you can order their cold drinks which comes in frosty mugs. However, remember to come with cash since it's the only payment mode accepted here!
Railhead Smokehouse
Address: 2900 Montgomery Street, Fort Worth, TX 76107
Website: railheadbbq.com
Located off Montgomery street, this BBQ joint has been serving up legendary BBQ in Fort Worth for 25 years. From 1995, when this location was first opened, the joint has offered many BBQ plates to diners. But their delicious flavors and classic recipes have not changed a bit!
You'll find people lining up at this restaurant waiting to be served their fantastic barbecue. Don't let the line stop you from tasting some of the best BBQ in town. You can either choose their juicy chicken, luscious ribs, or tender beef brisket. They are all good! Their offerings come as a dinner plate, sandwich, or sandwich plate. The menu also includes side dishes like fries, potato salad, coleslaw and beans.
Everything served at this restaurant, including sides and sauces, is made from scratch in house. Not to forget that they great specials on both drinks and food every day. Their customer service is friendly and the casual environment is family-friendly. Moreover, there is live music being played at this spot, attracting artists from Texas, Oklahoma, and Tennessee.
If you're not in Fort Worth, you can still enjoy these joint's famous BBQ since they offer countrywide shipping!
Woodshed Smokehouse
Address: 3201 Riverfront Drive, Fort Worth, TX 76107
Website: woodshedsmokehouse.com
Owned by local chef Tim Love, the Woodshed Smokehouse is located on the edge of Trinity River Walk. This provides a beautiful spot when you can catch some rays as you chow down some of the best BBQ in town!
The open and welcoming space attracts diners from different places to come and enjoy classic Texas plates or innovative and new twists. You can either have your smoked meat the traditional way or load it with their fresh Brussels sprouts salad. The best item at this joint is their lamb brisket, but their ribs are good too.
Their meats are slow-cooked, roasted, and grilled. In addition to brisket and ribs, this restaurant also serves beef, wild game, fish, and chicken. All these items are cooked over various fire sources and woods. Specialties include; Bulgogi Salmon Tacos, Open-Fire Paella, 3 Kale salad and Tomahawk Prime Rib.
Furthermore, there's a dog-friendly outdoor seating area. There is also a bar at this joint that serves a wide selection of drinks on tap. You can also try their specialty cocktails or hand-crafted margaritas. This spot is open every day starting from 11 pm. If you love live music, you should check this joint out!
Panther City BBQ
Address: 201 E Hattie Street, Fort Worth, TX 76104
Website: panthercitybbq.com
Ernest Morales and Chris Magallanes started this joint in 2014 as a food trailer. Years later, the joint has expanded and they're currently operating from a permanent brick and mortar location. This joint is so great that it has even been featured by the Texas Monthly!
All their meats are smoked on-site for 16 hours using Post oak wood. This gives them the delicious aromas and guarantees flavorful and juicy bites. Some of their favorites that you should try include; ribs, brisket, sausage, and chicken. You should also taste their popular brisket elote cup and belly jalapeno poppers.
They are located at 201 E Hattie Street, next door to the Republic Street Bar. This open-air backyard-style BBQ joint draws BBQ enthusiasts from far and wide. While the covered, slant roof patio provides a shaded picnic seating.
If you want to access a full bar, you can buy your BBQ at this joint and dine inside the Republic Street bar. They are open Wednesday through Sunday starting from 11 am to 7 pm.
Derek Allan's Texas BBQ
Address: 1116 8th Avenue, Fort Worth, TX 76104
Website: derekallansbbq.com
Derek Allan's is among the newest BBQ joints in town. But the owners, Brittany and Derek Crudgington have been in the BBQ business for long. In 2015, they were operating a food trailer known as 'Don't Mess with Texas Barbecue', but they closed in 2017. This is when they came up with the idea of establishing a brick and mortar restaurant in Frisco.
But they ended up opening it in Fort Worth in 2019. This location is perfect since it's within a walking distance of 4 major hospitals. It's also close to Magnolia Ave revitalization and it has enough parking space.
This joint has become very popular in Fort Worth for their BBQ. They serve wagyu brisket, as well as both moist and lean brisket slices. Other items in their menu include; wagyu beef ribs and tacos. If you don't want beef, they have ribs, pulled meat, and turkey breast. Their side dishes include; chipotle mac n' cheese and pintos. For dessert, order the pecan pie, banana pudding with housemade vanilla.
When you get to this place, be ready to wait in line. But based on how delicious their smoked meats are, especially the wagyu brisket, it's worth it!
Dayne's Craft Barbecue
The first Dayne's BBQ started in 2018 as 'Dayne's Underground BBQ'. It was a home-based pop-up joint started by Dayne Weaver and his wife Ashley Weaver. This concept was well-received by family, friends, and neighbors, encouraging them to turn it into a business.
Dayne focuses on smoking the meats and managing advertisement, while Ashley handles the finances and prepares the sides. They are planning to extend the joint to a brick and mortar location. This will include BBQ a pet- and family-friendly spot. Besides, the joint will have an outdoor space with a live music stage, games, and a seating area.
Dayne's BBQ smoke their prime meat cuts over pecan and post oak wood on the offset smoker to perfection. Thus ensuring they serve you the highest quality meat in town. The menu offers; prime brisket, belly burnt ends, pulled meat, beef ribs, bacon brisket, and spare ribs. As for the side dishes, they have; red potato salad, corn and mac n' cheese. All side dishes and sausage are made in house by hand.
Check out this pop-up joint on Saturdays starting from noon since it's the only day they're open.
Cooper's Old Time Pit Bar-B-Que
Address: 301 Stockyards Boulevard, Fort Worth, TX 76164
Website: coopersbbq.com
After serving BBQ in Texas since 1953, Cooper's Old Time Pit opened a new location in Fort Worth in 2010. This joint is located in Stockyards, near Billy Bob's Texas. It's a replica of the original location Llano location, occupying 26,000 sq. ft.
The joint has a massive dining space and an incredible outdoor/ indoor patio. This patio provides beautiful views of the city's skyline and it can accommodate about 200 diners. It also features a 'Llano room', which is intended for private events and it can accommodate up to 300 people. Therefore, Cooper's is a perfect BBQ venue when you're having any occasion in Fort Worth.
Meats are smoked over mesquite coals in the giant pits. With some of their favorite offerings being; sausage, brisket, beef ribs, loin, turkey, and chicken. Don't leave the restaurant without tasting their famous 'Big Chop'. These mouthwatering meats will ensure that your BBQ craving is sorted.
This joint also provides off-site catering services for various events. Whether it's a wedding rehearsal, birthday party, or even a corporate luncheon, they'll be there for you! They are always open starting from 11 am, ready to give you some of the best BBQ in town!
Campo Smokehouse
Address: 4801 Edwards Ranch Road, Fort Worth, TX 76109
Run by Chris Reale, Campo Smokehouse is a food truck serving Tex Mex BBQ along Edwards Ranch Road. This truck was initially operating under the name 'Flores BBQ' at the same location. However, it was renamed after pitmaster Michael Wyont, co-owner of Flores BBQ, decided to abandon the BBQ business.
Chris Reale is planning to build a 3000 sq. ft. standalone full-serves bar and restaurant at this place. The joint will include a river-view patio that can accommodate about 100 people and a large smokehouse. But until those plans are realized, you can still enjoy some delicious BBQ at the Campo Smokehouse trailer. They are open Thursday through Sunday starting from 11 am to 4 pm.
The joint still use the food truck and smoker that was being used by Flores. Moreover, their menu has not changed, but they have expanded it. For instance, they recently added barbacoa as well as side dishes like watermelon salad and cucumber.
Their menu serves Flores' BBQ, wood-grilled fish, and steaks, wood-roasted dishes, and TEX-MEX dishes like burritos, chiles-Rellenos and elote salads. Stop by this BBQ trailer and enjoy some delicious Central Texas BBQ!
Wilson's BBQ
Wilson BBQ is a small BBQ joint that started in a small blue mobile unit. It was established by Leroy Wilson in 1994. This restaurant is currently located next to the Conoco gas station.
The joint's menu offers chopped beef, sausage, chicken, barbeque bologna, ribs, and brisket. For the side dishes, they have pinto red beans and homemade potato salad. While they serve pecan pie and homemade sweet potato for dessert.
With a casual vibe, this joint is a great destination when you're in a hurry. There's also a parking lot adjacent to the joint, so you'll not get stuck when you get to this spot. They offer parking for every diner, including those with bikes.
Besides serving delicious sides and smoked meats, they cater for various occasions. They started offering catering services about 6 months after they went into business. Wilson's BBQ is open every day starting from 11 am, except on Monday and Sunday.
Shady Oak Barbeque and Grill
Address: 6364 Sandshell Drive, Fort Worth, TX 76137
Website: shadyoakbarbeque.com
Over the years, Fort Worth BBQ scene has changed a bit. Yet Shady Oak BBQ has embraced the area's tradition by serving classic Texas cuisine and slow-smoked BBQ specialties. Located in the historic Stone Barn building, this joint is owned by Caroll family. The Caroll family owns a chain of BBQ restaurants across Texas including the famous Spring Creek BBQ in Richardson, Texas.
Chris Caroll, a local restauranteur, bought the Stone Barn in the 1990s. He built a restaurant around the initial barn and opened Shady oak BBQ in 2002. The joint uses the same concept as the Spring Creek BBQ. If you love smoked meats, you'll love this BBQ joints! It's both kid- and family-friendly and includes a patio for the warmer months. With the live music played here and the comfortable dining room, this spot offers a memorable dining experience.
Their offerings include; smoked brisket, hickory-smoked sausage, chicken, ham, turkey breast, rib platters, and pulled meat. They also have sandwiches, burgers, and desserts. For those who cannot make it to Fort Worth, you can make your order online. Moreover, you can check them out if you want catering services for an upcoming event with 10-75 people.
Woody Creek Bar-B-Q
Address: 1776 Mall Cir, Fort Worth, TX 76116
Started by Jimmy Neeley, this family-owned restaurant has 2 locations, one in Fort Worth and one in Springtown. When starting, Jimmy Neeley Sr. was doing many things including cooking BBQ, running the business, and driving a truck. Today, the place is operated by his wife, son, and daughter.
You'll see a lot of steer/cow Texas knacks on this joint's walls. This place serves great BBQ and it attracts many meat lovers in this area. When you get to the restaurant, make your order at the register and take a seat. Once your order is ready, your name will be called so that you can pick it up.
To smoke their meats, this joint orders hickory wood from Honey Grove. They serve their smoked meats in sandwiches and by the pound. These meats are accompanied by side dishes like coleslaw, red beans, baked beans, and potato salad. Besides serving great BBQ, they offer cow patty-size cookies and 'Nanner puddin'.
This place is usually crowded, especially if you go there for lunch on weekends. Their opening hours are 11 am to 8 pm Tuesday through Saturday. Moreover, for catering services, reach out for this joint for events with up to 100 guests.
Longoria's BBQ
Address: 100 Christopher Drive, Fort Worth, TX 76140
Website: thelongoriasbbq.com
Texas Monthly and D-Magazine rate Longoria's BBQ among the best BBQ restaurants in Fort Worth TX. They specialize in smoking, catering as well as manufacturing. Their world-famous sausage which is entirely made with brisket is popular across the whole state.
This low-key BBQ joint was opened Fidencio 'Fred' Longoria in 1995. Fidencio had been preparing his sausage since 1975. Over time, he mastered the art and solidified the recipe. He used coarsely ground brisket to make the sausage and smoked them over oak wood for hours. Since then, the joint has been using this unique recipe to prepare the popular sausages.
In 2002, the business was taken over by John Longoria, Fidencio's son. Today, this joint operates from a corrugated metal shack in Fort Worth. It has a drive-thru window and tables on the porch. As you go over their menu options, this joint will give a free sample of their signature sausage. The menu includes brisket burgers and juicy ribs.
As for the catering services, they can cater for events with 8 to 500 people. Even better, this joint provides its great dishes and quality catering at affordable prices!
Sammies BBQ
Address: 3801 E Belknap Street, Fort Worth, TX 76111
Website: sammiesbbq.com
For 7 decades, Sammies BBQ has been serving some of the best BBQ in Fort Worth TX. Since its establishment in 1946, its offerings have only gotten better! Their handcrafted barbecue is made using all-natural ingredients and 100% fresh meat.
To prepare their BBQ, fresh meats are rubbed with pepper and salt. They're then low and slow-cooked for 12 hours. Once they're completely cooked, these meats are shredded and topped with BBQ sauce and coleslaw.
Items offered at their menu include; smoked ribs, burgers, and brisket. You can also enjoy their house-made sauces, daily specials as well as ice-cold beer. The beer comes in the joint's unique frosted mugs. This down-home BBQ joint serves meats by the pound. You can either dine-in or order to go. If you're in a hurry, stop by their drive-thru window and take your order.
Bailey's BBQ
Address: 800-898 Taylor Street, Fort Worth, TX 76102
Although Bailey's is a small BBQ shack, it serves some unbelievably good BBQ in their signature brown bag. This joint dates back to 1931 and it's located near an all-night parking garage at Taylor Street in Fort Worth. So, why hasn't this joint not extended its space since 1931? That would be attributed to the newer buildings and growth of Downtown, Fort Worth.
However, don't let the small size of this joint fool you. They've some of the best-smoked meats in town and it's even a local favorite! Since the joint has about half a dozen tables, most people get their meal to go. Their food is very consistent and they treat everyone like family. So, it's not surprising to find this spot full, especially during lunchtime.
While beef is king in Fort Worth, expect to find a pulled meat sandwich at this spot. Their menu also includes items like hot links, ribs, turkey, sausage, and ham. Similar to most Texas BBQ restaurants, they serve their meats by the pound. As for the side dishes, they have; pinto beans, chips, slaw, and potato salad. Another unique thing about this joint is that they accept cash and all major credit cards.
They're also served drinks that are either canned or bottled. Make sure you check out this post when you're in Downtown, Fort Worth. They're open from Monday to Thursday, starting from 10.30 am to 3 pm.
Jube's Smokehouse
Address: 1900 South Edgewood Terrace, Fort Worth, TX 76105
Website: jubes-smokehouse.com
Jube's Smokehouse is situated in the building that was once home to the short-lived Brown's Barbecue. It was opened by Louisiana native Patrick Joubert in 2018 on Edgewood Terrace. Before joining the BBQ business, Joubert was a preacher at a church in Fort Worth. But he had 30 years of experience as a backyard cook.
The menu of this joint combines the new Joubert's techniques and his native homes. So, expect to find Texas BBQ staples like ribs, chicken, sausage, and smoked brisket. These are joined by various Louisiana specialties like gumbo and dirty rice. But the former is served during the warmer months.
When he started, Joubert was using a 125-gallon smoker. After the business grew steadily, he added a 250-gallon smoker. He also bought another smoker with a capacity of 500 gallons. The 3 smokers are powered by pecan and oak wood, and you'll find them behind the building.
Get to this joint and taste their BBQ which is a bit of Louisiana and Texas rolled into one! They're open Tuesday through Saturday starting from 11 am to 5 pm.
Smokey's BBQ & Diner
Address: 5300 E Lancaster Avenue, Fort Worth, TX 76112
Website: smokeysfortworth.com
Established in 1971, Smokey's BBQ serves award-winning authentic Texas BBQ to tourists and locals in Fort Worth. To ensure you've got an amazing BBQ dining experience, this joint specializes in slow smoking their meats over hickory to perfection. If you want authentic Texas-style BBQ items like brisket, sausage, chicken, ribs, and brisket, this is the place to be!
Besides smoked meats, they have various delicious sandwiches and side dishes. They offer meat plates, by the pound, and even family-style meals. Not forgetting their mouthwatering desserts. For side dishes, they have coleslaw, potato salad, and Chuck Wagon beans. While for dessert, you can enjoy their homemade buttermilk pie. Specialties like smoked turkey breast and pulled meat are only served on Friday and Thursday.
This BBQ restaurant is pet friendly since they've got an outdoor patio with picnic tables. As for the opening hours, check them out any day starting from 11 am! They usually close by 8 pm every day, except on Sunday whereby they close at 4 pm.
Moreover, if you have a large event, with 20 to 20,000 guests, you can hire their catering services. Their catering staff is very friendly and they prepare a custom menu for your event.
Smoke-A-Holics BBQ
Address: 1417 Evans Avenue, Fort Worth, TX 76104
Website: smoke-a-holicsbbq.com
This new BBQ joint is owned by Derrick and Kesha Walker. It's located in southeast Fort Worth. Since its opening on 1 August 2019, this joint has attracted many BBQ lovers in the neighborhood. All thanks to its perfectly smoked brisket and turkey as well as great desserts and sides.
Before opening the current location on Evans Avenue, Derrick was operating from a food truck. He had purchased that truck from owners of Panther City BBQ, Ernie Morales, and Chris Magallanes. After some time, the business was doing well, and that's when he decided to open the small restaurant. The original location was initially occupied by a bakery. Derrick upgraded it and turned it to the dine-in restaurant it is today.
The restaurant specializes in serving traditional Central Texas-style barbecue with a soulful twist. Therefore, their menu includes items like brisket, rib tips, turkey, and even stuffed baked potatoes. You should try their sides of cajun cream corn, greens, and a slice of sweet potato pie. Their meats are topped by green onions and barbecue sauce.
Although the joint uses a 1000-gallon smoker, their smoked meats sell out early. So, if you don't want to miss out on these tasty smoked meats, get there early! They are open Wednesday through Saturday starting from 11 am to 7 pm.
Cowtown Brewing Co
Address: 1301 E Belknap Street, Fort Worth, TX 76102
Website: cowtownbrewco.com
Cowtown Brewing Co. was established on the concept that great beer deserves great BBQ! It was started by brewer Shawn Kidwell in 2018. Their craft beer and BBQ are prepared and perfected on-site in downtown Fort Worth. If you're looking for the perfect place to gather with friends or family for lunch, look no further!
This joint has an expansive pet-friendly outdoor patio and a 5,000 sq. ft. taproom. The air-conditioned taproom and outdoor deck create a lively and family-friendly atmosphere. Their taproom features 12 taps, HD televisions, a powerful sound system, and a projection screen. You can easily see the brewery from the taproom.
You'll certainly fall in love with their wide selection of perfectly smoked meats and drinks. Their smoked meats menu offers smoked chicken, smoked turkey, brisket, pulled meat, ham, jalapeno cheddar sausage, and baby back ribs. To complement these smoked meats, they have sides of coleslaw, elotes, seas salt chips, potato salad, cowtown fries, mac n' cheese, and brisket beans. If you've kids, don't leave them behind since this joint has a kids' menu.
They feature the best ingredients in Texas and a mix of global flavors. This ensures that you get a memorable local dining experience at this joint!
Spring Creek BBQ
Address: 6701 Lake Worth Boulevard, Fort Worth, TX 76135
Website: springcreekbarbecue.com
With more than 30 locations across Texas, Spring Creek has been serving mouthwatering Texas-style BBQ for about 40 years. Two of these locations are in Fort Worth, so it's up to you to choose the best one for you!
This restaurant was first started in 1980 by Chris Caroll. Caroll Family restaurant owns other restaurants like Shady Oak BBQ & Grill and Mexican Inn Café. Since its establishment, this joint has developed to become one of the best BBQ restaurants in the whole state.
The restaurant has become so popular in the area. Thanks to its great BBQ and side dishes. Moreover, the family-friendly setting provides enjoyable and memorable dining experiences.
They serve BBQ dinners every day, accompanied by 1 premium side or 2 home-style sides. This includes items like St. Louis ribs, brisket, pulled meat, sausage, ham, baby back ribs, and chicken. While the side dishes include; pinto beans, mac n' cheese, okra basket, green beans, potato salad, baked potato, and corn. If you've got a child, this joint has a kids' menu.
As if that's not enough, this restaurant has a private dining space that can accommodate about 50 to 60 people. So, if you have a special event, you can hold it in this space. Even better, it's free to use this space! You only need to book a private space with them in advance!
Rudy's 'Country Store' & Bar-B-Q
Address: 6800 N Freeway Service Road W E, Fort Worth, TX 76137
Website: rudysbbq.com
This is one of the largest BBQ restaurants in Fort Worth and it has more than 30 restaurants across the country. The original Rudy's was opened in 1989 in Leon Springs. Since then, the joint has expanded and it has multiple locations. The one in Fort Worth was opened in 2015 and it's located at 6800 North Freeway. Moreover, it was the first Rudy's to be established in the Fort Worth area.
Rudy's BBQ is popular for its rustic, barn-style dining space. In the dining space, you stand in line, head to the pit, and choose your favorite smoked meat. This can either be served in a sandwich, by the slice or by the pound.
They have many options which include; lean and moist brisket, loin, ribs, jalapeno sausage, ham, pulled meat, chicken, and turkey breast. On weekends, they have special meats like peppered tenderloin and prime rib. Side dishes include creamed corn, coleslaw, smoked potato, beans, corn on the cob, and potato salad.
Furthermore, the restaurant has indoor picnic tables and 5 pet-friendly outdoor tables. So, feel free to bring your dog along when you're heading to this joint. If you want to enjoy their barbecue in a breakfast taco, get there early!
Billy's Oak Acres BBQ
Address: 7709 Camp Bowie W Boulevard, Fort Worth, TX 76116
Website: billysrealtexasbbq.com
Owned by Billy Woodrich, Billy's Oak Acres smokes some of the best briskets in the Fort Worth area. The restaurant is popular for meat chops and chicken fried steak along with BBQ. This joint was started at a backroad location in far west Fort Worth outside Loop 820 in 2011. In 2018, they moved to another location in Camp Bowie W Blvd.
You'll love their smoked brisket which is moist, smoky, and perfectly tender. This low-key fixture uses a decades-old pit to prepare some of the best BBQ in the area. They get their brisket from Creekstone Farms. This is the same company that supplies brisket to the world-famous Franklin BBQ in Austin. You can either order their meats by the pound, plate, or in a sandwich.
In addition to brisket, they serve sausage, bologna, hot links, pulled meat, turkey, and ribs. They also have housemade sides and desserts. If you're looking for catering services, you can get them at this joint. You can also rent their back room for any party or event.
To pair your favorite barbecue plate, this joint provides a wide selection of specialty craft drinks. Try this joint out for a great BBQ and a great atmosphere!
Brix Barbecue
Address: 218 Bryan Avenue, Fort Worth, TX 76104
Brix BBQ was opened by Trevor Sales in 2017. The joint started with occasional catering gigs and pop-ups. Trevor was also selling BBQ tacos to a gymnasium in south Fort Worth. He later moved to a temporary location on Berry Street at Americado food hall and eventually opened a permanent location.
This spot is extremely easy to find. Just look for the Brisket Smoker (a large wheeled smoker) and Smokestream One (an Airstream trailer). Although the joint mostly operates on Saturdays only, Sales is trying to operate during some evening hours. The joint's menu features unique items that draw customers from the neighborhood.
While this joint serves real Central Texas-style BBQ, it's not your typical barbecue joint! Instead, it's a barbecue pop-up that operates all night long on Saturdays. Sides and meats are served a la carte. However, I suggest you come with your friend and sample everything offered at this spot.
Once you get to the joint, order your meal at the Air stream's window. Thereafter, you'll receive a heavy tray of BBQ awesomeness. The tray includes brisket, ribs, beef cheek tacos, jalapeno coleslaw, tallow beans, spicy cheese sausage, and 'Brix balls'. Brix ball is a delicious, deep-fried combo of barbecued meats.
Mama E's BBQ & Home Cooking
Address: 818 E Rosedale Street, Fort Worth, TX 76104
Opened in 2006, Mama E's Barbecue is a family-run and owned business. It's located along Rosedale Street, just a few minutes from downtown Fort Worth. The joint was started by Ernestine Edmond and it's popular for serving up classic home-cooked dishes and BBQ!
Ernestine is one of the few female pitmasters in the Lone Star state. Her mother taught her about processing and killing chickens, while her mother-in-law showed her how to clean a fresh hog. When starting, she took loans to open this joint but she's cleared out those loans now.
This spot's family-style BBQ includes turkey legs, meatloaf, and ribs. The meats are smoked over oak, pear, and pecan wood in an offset smoker. They are then heavy rubbed and topped with a homemade sauce, giving them the unique flavor.
Don't leave without grabbing one of Ernestine's homemade pies! The joint is open every day starting from 11 am, except on Friday and Sunday.
Over the last 10 years, the BBQ scene of the Fort Worth area has advanced significantly. And you can see this by the number of new BBQ joints that have come up with that period. For that reason, there is no shortage of BBQ restaurants in the area. But if you want the best BBQ in this area, try out any of the BBQ restaurants listed above! You will love it since they're the best BBQ restaurants in Fort Worth TX!