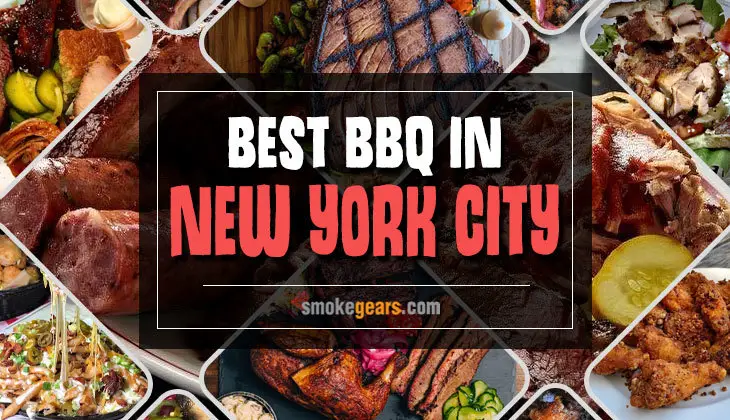 20 Best BBQ in NYC 2021 – Ultimate Guide to Barbecue Joints in New York
When it comes to BBQ, NYC is no Kansas City, Texas, or North Carolina. Yet, the city has become a popular BBQ destination in its way. And you'll find exceptions spots for American-style BBQ all over town!
These restaurants have drawn inspiration from various regions including Carolinas, Texas, and Kansas City. Moreover, some establishments have come up with new exciting styles! Best BBQ in New York State tends to vary in terms of décor, inspiration, and conceit. But they all use real wood to smoke their meats.
Collectively, these joints demonstrate how the strong the BBQ state in New York is at the moment! Now, let's have a look at the best BBQ joints in New York City!
More...
20 Best BBQ Restaurants in New York City
Mighty Quinn's Barbecue
Address: 103 2nd Avenue, New York, NY 10003
Website: mightyquinnsbbq.com
With multiple locations in West Village, Upper East Side, and East Village, Mighty Quinn's combines the BBQ traditions of both the Carolinas and Texas. For that, the joint offers what pitmaster Hugh Mangum likes to describe as 'Texalina style'. The restaurant creates its mouthwatering BBQ using one simple technique: sourcing the highest quality ingredients!
They use a traditional technique that pays homage to the several pitmasters before them. This involves using all-natural poultry and meats that are then seasoned and smoked over wood for many hours. Thus allowing their natural flavors to seep out. The perfect level of Maldon salt and spice is then sprinkled on top of the meat. This allows the delightful union of the process and product, creating something transcendent.
Their menu serves up staples like slow-smoked chicken, brisket, and pulled meat. You can also share this joint's offerings with a family member or friend across the country to enjoy. This is because they offer nationwide shipping for things like burnt ends and giant brontosaurus ribs.
Relax in their warm and welcoming sustainable dining space constructed with reclaimed wood as you enjoy their delicious BBQ. To complement the pulled meat, brisket or chicken wings, order sides like buttermilk broccoli salad and sweet corn fritters.
Virgil's Real BBQ
Address: 152 W 44th St, New York, NY 10036
Website: virgilsbbq.com
Owned by Artie Cutler, this BBQ restaurant was founded in 1994. And it is considered to be one best BBQ restaurant New York. This joint incorporates a new concept of combining Carmine's Italian Family style around the Upper West-side and in Times Square, NY. Cutler desired to start an authentic BBQ restaurant NYC in the middle of Times Square. Today, the restaurant has other locations in Nevada as well as Atlantis in the Bahamas
Virgil's Real BBQ serves more BBQ daily than most restaurants in the city offer in a whole month. Thanks to its strategic location in Times Square and smoking style. Moreover, as one of the longest-running authentic wood-smoked BBQ in the city, this restaurant deserves recognition.
To prepare their BBQ, the joint uses a special blend of oak, hickory, and fruit-woods. This brings out most of the flavors as the meat is slow-smoked over indirect heat for hours. Some of the items that stand out at this place are their hush puppies and southern-style pulled meat.
This restaurant stands out from the competition, thanks to its menu diversity and in-house bakery. Their menu serves various regional cuisines, including Creole, Cajun, and Mexican classics!
Hill Country Barbecue Market
Address: 30 W 26th Street, New York, NY 10010
Website: hillcountry.com
Inspired by Lockhart's Kreuz Market, Hill Country BBQ serves the best central Texas BBQ in New York. This spot was opened by Marc Glosserman in 2007, to bring Central Texas BBQ to the city. When he opened this restaurant on 26ths St, Manhattan, he was assisted by his wife, Kristen.
Since the joint prepares Central Texas-style, their meats are smoked over post oak wood from Texas State. They combine high-quality meats and simple dry rubs with slow and low cooking techniques. Thus creating a super moist and fatty brisket. And similar to Texas, the brisket is served on a butcher paper and sold by the pound. 
To beef up the brisket, you can order their ribs, chicken sandwiches, or Kreuz sausages brought in directly from Lockhart. The restaurant offers 3 types of chicken sandwiches including Ranchwich, Chickwich, and Ragin'wich.
In addition to their delicious BBQ, this place features live music to make your dining experience more enjoyable. This place has won numerous awards and it has even been featured by various publications like the NY Magazine. If you're craving for some authentic Central Texas-style BBQ in New York, this is the joint to go to!
Blue Smoke Barbecue Restaurant
Address: 116 East 27th Street, New York, NY 10016
Website: bluesmoke.com
Blue Smoke was opened in 2002, to provide diverse American South culinary traditions to NEW Yorkers. And that is exactly what it has been doing for all those years. Something that has seen it being ranked among the top BBQ joints in the city!
Owned by Danny Meyer, this spot was started by the team behind Manhattan and Union Square Cafe. Over the years, their menu has shifted from the pan-regional BBQ focus it held when it started. Today, they mainly focus on serving up southern cuisine. For that, you'll find them offering baby back ribs and Texas-style brisket. This is served alongside less traditional BBQ meats like turkey pastrami and Alabama white wings.
Make sure you don't leave this restaurant without ordering their chopped shoulder and beef brisket! Moreover, this joint serves up BBQ brunch as well as smoked chicken, mimosas, and chopped BBQ sandwiches.
Also, if you're looking for a great spot for business dinners, the large 2-floor space of this joint is a great option. You can also sit at their bar during happy hours and enjoy their tender and tasty baby back ribs. Or even enjoy the live jazz music at the basement venue. Whether its brunch, lunch, or dinner, this kid-friendly BBQ restaurant is an excellent option!
Dinosaur BBQ
Address: 700 W 125th Street, New York, NY 10027
Website: duinosaurbarbque.com
Still one of the most established BBQ joints in NYC, Dinosaur BBQ doesn't look for inspiration from one particular location. Instead, the restaurant combines various flavor profiles for juicy ribs covered in a sweet BBQ sauce and tender beef brisket. But their real standout meal is the pit-smoked, spice-rubbed, char-grilled BBQ chicken wings.
Owner John Stage opened this Harlem location in 2004. It's located in a brisk construction near the popular Cotton Club Nightclub. But, this is not the first Dinosaur BBQ restaurant to be opened in the country.
The first Dinosaur BBQ location was started in downtown, Syracuse, N.Y in 1988, as a fast-food dinner/ lunch BBQ joint. This restaurant was extended in 1990 to include a full-service dining space, full bar, and live music. Besides the Harlem and Syracuse locations, the restaurant has other locations including Brooklyn, Buffalo, Troy, Rochester, and Newark
Their Harlem location can accommodate bookings of up to twenty people online. Also, you can take your favorite meal for lunch and enjoy it in their outdoor seating area. This is a great option especially if you've got a pet since they also give water bowls. And the joint is kid-friendly too as they have a kids menu.
Diners will enjoy the commitment to traditional dishes that have been combined with new flavors. As this gives them their unique personalities. Also, if you're looking for Southern BBQ, there are some great options served here like slow-smoked, hand-pulled meat!
Dallas BBQ
Address: 241 W 42nd Street, New York, NY 10036
Website: dallasbbq.com
Dallas BBQ restaurant is a family-owned and runs restaurant chain operated by the Wetanson family. This joint has been in operation for over 30 years. And they have multiple locations across NYC except on Staten Island borough. The original location is the West Side joint on W 72nd St., which was opened in 1978.
Their Times Square location has the largest space since it can accommodate 780 people. It's situated in Times Square between 8th and 7th Avenue. The restaurant specialized in slow-cooking baby back ribs and rotisserie chicken. But they're also popular for their seafood, wings, burgers as well as Texas-size frozen drinks. Also, their menu includes some delicious salads and sides.
The restaurant's décor matches with their cuisines perfectly since you'll feel like you're enjoying your BBQ in the center of the Lone Star State frontier. Their favorites include; the barbecue special combo, beef short ribs, and Texas crispy wings. The atmosphere at this place makes it a perfect spot to spend your evening out with friends or family.
Whenever you're in Times Square, make sure you check this joint out! Also, if you're a middle-class or working-class New Yorker looking for an affordable BBQ joint, Dallas BBQ is a great option!
Ducks Eatery
Address: 351 East 12th Street, New York, NY 10003
Website: duckseatery.com
At Ducks Eatery, Vietnamese fare and Texas BBQ come together to create unique meat dishes. This includes brisket marinated in chili paste and fish sauce, as well as curry-laced goat neck. Most of their plates are intended to be shared and served with a simple cocktail/ beer.
Since its establishment in 2012, this joint has been serving quality, home-style BBQ to diners in the New York area. Chef and owner Will Horowitz only use fresh seasonal ingredients, which are mainly obtained from local vendors and farmers.
Their menu serves up smoked brisket, ribs, crawfish, seafood, beignets, smoked watermelon, and smoked cantaloupe burgers. On weekends, you can enjoy their brunch menu which offers unique items like eggs Pontchartrain and pumpkin waffle. For dinner, you can choose from smoked whole goat neck, St. Louis ribs, and waffle. Moreover, they've got a large format dinner menu, which comes in handy when you're ordering meals for larger parties.
After enjoying your delicious dishes, order a drink from their full bar. This bar serves drinks, and a wide selection of house cocktails. Visit this small and friendly join in East Village for some tasty smoked meats with Asian, Creole & Southern flavors.
Holy Ground
Address: 112 Reade Street, New York, NY 10013
Website: holygroundnyc.com
Named for its location, which was once called the 'Holy Ground', this restaurant opened its doors for the first time in 2018. The joint borrows from the colorful and rich history of the neighborhoods. This establishing a unique drinking and dining experience. So, if you want to have a memorable BBQ dining experience in NYC, this is the place to be!
It's in a cool underground Tribeca space featuring low ceilings, vintage speakers producing instrumental jazz, and red leather booths. There is no way you'll not love this setting.
The 58-seat dining space features décor and architectural elements representing clubby and historic dining destinations. While the dimly lit atmosphere and secretive nature of the restaurant creates a seductive feel. Moreover, you'll find bold shades of vintage and red touches in the bar, dining space, and private rooms.
Their menu focuses on slow-smoked meats, offering items typically found at counter-service barbecue spots. This includes; brisket, spare ribs, and shoulder. They're served along with wide side dishes like mac n' cheese and collard greens.
However, it's good to know that the Holy Ground is not a typical barbecue spot. They've red cloth napkins, instead of the paper ones, their brisket is wagyu and they serve cocktails instead of beer. Also, most dishes' primary flavors are obtained from sauces, instead of smoke, meat, or bark.
Brother Jimmy's BBQ
Address: 181 Lexington Avenue, New York, NY 10016
Website: brotherjimmys.com
Brother Jimmy was established in 1989 by Jimmy Goldman and Josh Lebowitz. When opening it, the owners knew that anyone moving to NYC from the South would miss 3 things: Beer, BBQ, and football. And that's what this joint has been offering! The original Brother Jimmy restaurant is located on 2nd Ave, between 77th and 78th Street. They have other locations in the metro New York area including, Murray Hill (31st St in Lexington), White Plains, Midtown, Yankee stadium, and New Brunswick, NJ.
This place has developed into one of the best BBQ restaurants in NYC. It reminds Southerners about their culture while showing Northerners how they been missing out! The joint is all about quality, warmth, and comfort. And their extensive menu offers popular home-cooked Southern barbecue food for dinner, lunch, and brunch.
This restaurant has been rated among the best nightlife venues in the city. It's one of the best places to catch big sports events and games. For that, you'll find many New Yorkers hanging out at this joint including sports fans and celebrities.
They also accept party reservations for a group of up to 12 people in their private dining rooms. For more than 30 years, Brother Jimmy's has been serving up the best North Carolina slow-smoked BBQ in NYC!
John Brown Smokehouse
Address: 10-43 44th Drive, Long Island City, NY 11101
Website: johnbrownseriousbbq.com
Josh Bowen, an alum of Hill Country, opened this John Brown Smokehouse in 2011 in Queens. This BBQ spot is located on the industrial stretch of Long Island. It's popular for serving some of the fattiest and most delicate briskets in town!
Since Josh Bowen is a Kansas City native, this joint specializes in Kansas City style BBQ. They offer meat platters by the pound, including meat and turkey. Moreover, they serve sides, salads as well as specialty sandwiches. Their side dishes include; hand-cut fries, baked beans, cornbread, and coleslaw. While their sandwiches include the Pollo Gregorio with peppers, onions, and chopped chicken, and the John Brown Rueben. Also, don't forget to order their burnt ends, a specialty in Kansas City!
The restaurant's ambiance blends a downtown vibe with a down-home feel. This spot focuses on keeping their items fresh by preparing a limited amount of food every day. Thus ensuring diners only get the juiciest and freshest fall-off-the-bone smoked meats to pair with classic sides! Although it's a down-to-earth hole-in-the-wall BBQ spot, it has the best Kansas City BBQ in Queens!
Mothership Meat Company
Address: 27-20 40ths Avenue, Long Island City, NY 11101
This is another BBQ joint owned by the same people behind the famous John Brown Smokehouse, serving up the same solid BBQ! Pitmaster and Co-owner, Josh Bowen, claims that his BBQ gets inspiration from Texas-style BBQ.
John Brown Smokehouse was the 1st BBQ joint Josh Bowen founded in 2012. In 2013, he opened another joint known as Alchemy in Jackson Heights, but it was later closed permanently. Similar to Alchemy, Mothership Meat Co. specializes in Texas-style BBQ. With their menu featuring smoked ham, spare ribs, brisket, and sausage. And side dishes like potato salad, beans, and cheesy corn. Also, the menu recently added smoked belly.
Their meats are intensely flavorful and smoky, thanks to the J and R Overly pit smoker at the joint. This smoker only runs on oak wood, and it's not gas-powered like most commercial smokers. The high ceiling dining space offers additional seating and creates a friendly atmosphere. The restaurant has a nice outdoor space that you can enjoy your meats during warm weather. This joint is also kid-friendly, especially with the space creatures and rocket ships done in graffiti style in the yard.
After enjoying your smoked meats and sides, wash them down with the craft drink served at the prominent place. This spot is usually open Tuesday through Sunday starting from noon to midnight. Stop by this Long Island joint and have a look at their ever-changing menu!
Butcher Bar Smokehouse
Address: 37-10 30ths Avenue, Astoria, NY 11103
Website: butcherbar.com
Opened in December 2011 by 3 young New Yorkers, Butcher BBQ is located in northwest Queens. The founders of this joint are of Greek descent. They are; George Haramis, Matthew Katakis, and Kathy Castro. Although this place is not the first joint to serve local natural meats in NYC, it's among the first ones in Queens.
This joint started as a market, then developed to include table service and a kitchen. For that, their menu can be confusing since it incorporates both sides of the business. Luckily, their friendly servers will guide you until everything is clear.
Once you enter the restaurant, you'll see a 20-seat dining room framed by blond wood and a mirrored wall. Beyond you'll also see an open kitchen showcasing pasture-raised meat, chicken, and grass-fed beef. This restaurant cooks and serves the meats on the spot. However, if you want, you can take cuts of meat home and prepare them in your kitchen
The joint has a 500-gallon hardwood smoker that they use to prepare their BBQ. With some of their favorite offerings being; smoked pulled meat, smoked beef brisket, burnt ends, chopped brisket sandwich, St Louis style ribs, and smoked turkey. As for the side dishes, they have cornbread, potato salad, coleslaw, fresh corn on the cob, and baked beans. Their smoked meats have won various awards including the NYCWFF Backyard BBQ award in 2016.
In addition to serving the best BBQ in Queens, this joint caters for various events such as corporate events and weddings. Also, don't expect to find any alcohol at this joint. Instead, they serve cane-sweetened sodas and iced tea!
Corner House BBQ
Corner House BBQ is located on Stated Island in Grant City. This joint was opened by pitmaster Anthony Valois in 2018. It specializes in offering authentic Southern BBQ after recreating regional BBQ styles. Anthony competes in various BBQ competitions around the country.
This joint has won several awards for its delicious BBQ including the 2017 People's Choice Award at the NYC BBQ Cook-of. Although this restaurant continues the legacy of 102 Lincoln Avenue, it has some unique decor and artwork that sets it apart from the 100-year-old restaurant.
You'll love the joint's appetizers which include; Poutine, 'wings' made using baby shanks, and Bao Buns. While their BBQ platters range from Alabama style chicken and St. Louis ribs to Carolina pulled meat and Texas-style brisket. Don't miss their signature sandwiches such as the Smoke Stack (made using Texas beef brisket, spicy Italian sausage and Carolina pulled meat).
To wash down their delicious BBQ, choose a drink from their wide selection of cocktails, drinks. Get to this joint and get an excellent dining experience by enjoying their award-winning BBQ!
Best BBQ in Brooklyn, NY
Arrogant Swine BBQ
Address: 173 Morgan Avenue, Brooklyn, NY 11206
Website: arrogantswine.com
Located in Bushwick, Arrogant Swine was the first NYC BBQ restaurant to serve up North-Carolina style BBQ. The joint is owned by pitmaster Tyson Ho, who wanted to introduce the classic North Carolina BBQ to the city.
Their menu focuses on the slow-cooking technique to prepare the day's whole hog until it is tender and full of flavor. The meat parts are then mixed so that diners can taste different flavors in every bite! You can order a half-pound of the pulled meat from their Whole hog, seasoned with vinegar pepper sauce. Or order their other specialty; Western North Carolina outside brown shoulder.
To complement these items. Choose one of the many delicious Southern side dishes like mac n' cheese. Furthermore, the restaurant offers other smoked meats like spare ribs and belly. If you want to wash down your charred meat, there is a long bar at this East Williamsburg's warehouse-like space. Here, you can order from their extensive drink menu that's updated weekly and enjoy your drink.
Fette Sau BBQ
Address: 354 Metropolitan Avenue, Brooklyn, NY 11211
Website: fettesaubbq.com
Besides being a great BBQ spot, Fette Sau is also the ideal destination for a night out with friends for some booze and grub. It's located inside a warehouse that used to be an auto-body shop. Today, this gutted garage offers a combination of Texas-style BBQ and Brooklyn beer garden.
The spot was opened in 2007 by Joe Carrol. He aimed to combine high-quality BBQ meats with small production American spirits and local craft drinks. This restaurant helped to define the Brooklyn BBQ scene serving an eclectic, ever-changing menu and using naturally-raised meats.
Their menu mainly focuses on meat, conceptualized as part New York Deli and part Central Texas BBQ. But the joint also offers other items like ribs, burnt end baked beans, and brisket. You'll enjoy their slow-smoked Angus Beef Brisket and dry-rubbed Duroc pulled meat. Also, the restaurant has an impressive bourbon and beer collection to complement items on the menu, including potato salad and Black Angus Brisket.
The house-cured smoked meats are served on a butcher paper. While drinks comer in different sized growlers and jugs. With outdoor and indoor communal tables, this joint offers such an amazing urban picnic!
Mable's Smokehouse and Banquet Hall
With wood-shared tables and cafeteria-style ordering, Mable's Smokehouse serves up real Oklohama barbecue that will appeal to any Southerner. Once you get to this place, you'll not feel like you're in NYC anymore. Instead, you'll feel like you're in places like Lubbock. Little Rock or Kansas City. Especially because of the deer head mounted on one wall and wagon wheels that have been designed into lights.
This family-run restaurant was started by Meghan Love and Jeff Lutonsky. They named the joint after Jeff's grandmother, Mable. Locals love this friendly casual joint for their smoky juicy brisket, St. Louis ribs, and tender pulled meat.
At this spot, you can enjoy meat platters with an option of 2 sides, salads, bowls, snacks, and sandwiches for dinner and lunch. On weekends, the restaurant offers brunch, with unique options like cheese Grits and Crawfish Etouffee served with fried egg and cheese grits. You'll also love their BBQ sauce and can buy a bottle as you leave the joint.
Make sure you check out this restaurant with a roadhouse honky-tonk atmosphere. And enjoy some tasty authentic Texas-style BBQ!
Main House Kosher Bar and Restaurant
Address: 6001 Strickland Avenue, Brooklyn, NY 11234
Website: mainhousebbq.wixsite.com
This joint was previously known as Main House Barbecue, which was originally started in 2016. After the restaurant went for a 1-and-a-half-year break, it reopened under new ownership with the name Main House Kosher Restaurant.
The joint showcases a new BBQ style in Brooklyn that is inspired by local BBQ styles with Jewish influences. Based on the Main House concept in Borsch, this spot brings people together with its warm and inviting atmosphere.
Since this place is not solely a barbecue joint anymore, it's offering smoked meats, burgers, spare ribs, and more. According to the owners, the menu is a blend of BBQ, Israeli, American, and Mediterranean cuisines.
Their smoked meats include; pulled beef, smoked turkey, fried chicken, and smoked brisket. While some of their sides are 'Insane Fries', wings, fried shishito peppers, and nachos & guac. Besides serving tasty meals, this place offers a wide selection of kosher drinks.
With 35 seats indoor and the upcoming outdoor space, expect to have the best BBQ dining experience at this spot. They are open Sunday through Thursday starting from 5 pm to 11 pm.
Pig Beach Brooklyn
Address: 480 Union Street, Brooklyn, NY 11231
Website: pigbeachnyc.com
Owned by Matt Abadoo, this award-winning BBQ restaurant is located in Brooklyn along the Gonawus canal. It was started when the BBQ team behind Salty Rinse & Ridiculous Bar-B-Krewe partnered with various pitmasters in 2015. The pitmasters included; Matt Abdoo (Del Posto), Shane McBride (Balthazar), and Ed McFarland (Ed's Lobster Bar). They aimed to bring the award-winning BBQ items to NYC. One year later, the joint took over the Gonawus space and started acting as a full-time restaurant.
The restaurant's BBQ is eclectic since it combines several culinary influences. And the outcome is amazing as evidenced by many victories including the prestigious May BBQ competition in Memphis. This 150-seater outdoor BBQ joint is a perfect destination for large groups and families. Also, if you love spending time enjoying some good food and good drinks alongside your dog, you'll love this pet-friendly spot.
Occupying 13000 sq. ft. space, this restaurant features high-top tables, corn hole, picnic tables, Ping-Pong, and string lighting. While some of their mouthwatering dishes include; homemade sausage, baby back ribs, Pig Beach Burger, and brisket. To drink, choose from their craft beers, frozen cocktails such as the Siesta, and rose drink on tap.
Morgan's Brooklyn BBQ
Address: 267 Flatbush Avenue, Brooklyn NY 11217
Website: morgansbrooklynbarbecue.com
Established in 2013 by 2 long-time friends, Chris Morgan and Joel Bolden, Morgan's BBQ specializes in offering Texas-style BBQ. This spot is usually crowded and you'll find it extending to the sidewalk on Flatbush Ave during the warmer months. Thus making a perfect joint for outdoor BBQ dining.
Their meats are prepared by slow and low smoking them in fire-burning pits. You can start by ordering their house-smoked sausage, brisket, and ribs. Then add a Texas classic like brisket nachos and catfish tacos topped with melted cheese, scallion, sour cream, and pinto beans.
If you are yet not satisfied, try their 5 different kinds of mac n' cheese or fried chicken platter! As for dessert, they serve fried Oreos, candied bacon, and pecan pie.
With ample seating on the outdoor patio, this spot is a perfect hangout joint in the city, especially in the warm months. Be sure to check it out in Brooklyn, just a few blocks from the Barclays Center!
Fletcher's Brooklyn BBQ
Address: 433 3rd Avenue, Brooklyn, NY 11215
Website: fletchersbklyn.com
Fletcher's Brooklyn BBQ is a counter-service BBQ restaurant in the innovative and edgy neighborhood of Gowanus in Brooklyn. This joint is among the top restaurants that have helped to expand BBQ definition in NYC.
The restaurant draws inspiration from various places, including Chinatown and Kansas City. This helps them to invent their unique version instead of recreating other regions' BBQ styles. Bill Fletcher and pitmaster Matt Fisher use a 2600-pound pit smoker at this spot. Using red oak and maple wood, they create mouthwatering dishes like Beef Tri-tip, Char Siu meat, and Brisket Flat. Not to forget their favorite brisket cheese steak sandwich, topped with onions and house-cheese sauce.
The BBQ sauces, spice rubs, and pickles are made in-house every day. You can order their pulled meat, hot links of Italian sausage, and chopped brisket sandwiches. As for the sides, the restaurant has a wide selection including waffle fries.
In addition to serving delicious BBQ, this 50-seat joint has a full bar serving New York state drinks. Also, if you want catering services for an upcoming party/ special event in NYC, you'll get them at this restaurant! Or check them out at their Dekalb Market Hall location.
Conclusion
Although New York City doesn't seem like a place you can traditional Southern BBQ, the BBQ joints above say otherwise. Indeed, NYC has some of the best BBQ in the country. This is because most restaurateurs in the city come from different places, bringing their regional style along with them. For that, you can find almost all BBQ styles being served here!
Whether it's Kansas City-style, North Carolina Style, Texas-style, St Louis style… Any regional style you can think of, there are best BBQ restaurants in Brooklyn offering it! Whatever your BBQ style you're looking for NYC, just go to the restaurants listed above and you'll find it! These BBQ joints are undoubtedly serving the best BBQ in New York right now!