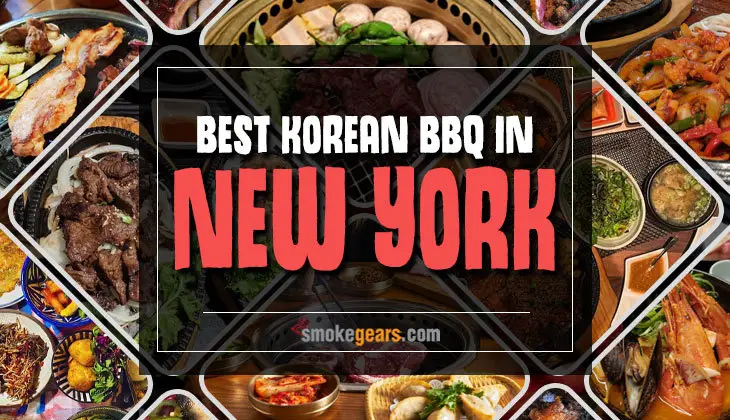 Best Korean BBQ in NYC
You can find any cuisine in New York City. But, there is one kind of cuisine that's becoming increasingly popular in the city: Korean BBQ! Unlike the southern BBQ, Korean BBQ (KBBQ) is usually prepared and cooked at the dining table. And it appeals to both the meat lovers and vegetarians alike.
So, why is KBBQ becoming so popular in NYC! Firstly, diners are always looking for a new dining experience. Something they're getting with this cuisine, which involves fitting your team at the table and cooking your meat.
Secondly, there is a lot of variety in the restaurants serving KBBQ in the city. But, this poses yet another challenge! With so many Korean BBQ restaurants in NYC, which ones serve the best Korean barbecue NYC? To answer that, I have broken down the best Korean BBQ restaurants in NYC one by one! Let's get into it right away!
More...
20 Best Korean BBQ Restaurants In New York City You Need to Try
Jongro BBQ
Address: 22 West 32nd Street fl 2, New York
Website: jongrobbqny.com
Located on the 2nd Floor of an ordinary office building in Manhattan's K-town, Jongro is a very popular KBBQ joint in the city. The joint is a perfect spot to relax before and after a night out with your friends. For that, the place is always crowded with young people looking for large portions of delicious and affordable meats.
The joint serves fresh meat that is delivered every day and cut to order in their in-house butchery. You'll also love the restaurant's atmosphere which has snacks and posters from the 1980s that pay homage to Korea. So, if you're homesick Korean in NYC, this place will make you feel like you're at home.
What so unique about this restaurant? That would be its wide variety of meat cuts. They serve cuts you can find in a normal Korean BBQ restaurant. And their beef is only produced with natural feeds, not that artificial stuff! Whether you want Korean marinated short ribs, kimchee stew, brisket, or spicy rice cakes, you'll get them here!
With its enormous space, this place is a perfect group destination. So, make sure you bring your friends along when heading to this restaurant. After enjoying your meal, get into the elevator and head to the 7th Floor for some karaoke!
Miss Korea BBQ
Address: 10 W 32nd Street, New York, NY 10001
Website: misskoreabbq.com
Open 24/7, Miss Korea BBQ is a 3-floor Korean BBQ joint in the middle of Manhattan's Korea town. Since it's opening in 2002, the joint has been serving more traditional KBBQ than most Korean restaurants in the city. And the joint is not only for those who 'Miss Korea', but it's also for everyone!
Miss Korea BBQ is owned by Sophia Lee who moved to New York City from Korea. This restaurant emphasizes serving high-quality meat and the use of both dry and wet techniques to age the meat. You will also free side dishes at this joint. Amazing, right?
Another thing you should know about this 3-floor restaurant is that each floor has a distinct atmosphere. Jin (floor 1) has various organic accents like stone and it's the most natural. Sun (floor 2) is embellished with imperial flair while Mee (floor 3) is designed like a stylish bar. Also, each floor has its price range and barbecue dinner course. Mee is the least expensive and Jin is the most expensive. As I said earlier, this restaurant considers everyone!
Stop by this amazing restaurant any time you want. And have the best Korean BBQ experience you'll ever have in Manhattan!
Baekjeong NYC
Chris Rock, Anthony Bourdain, Channing Tatum…. almost every celebrity in New York has been at this joint! From musicians and actors to celebrity chefs, you name them! So, I think it's fair enough to say that Baekjeong NYC serves the best Korean BBQ in Koreatown NYC! Based on the number of Korean restaurants lined up in Koreatown, this joint must be pretty good to attract all those celebrities.
Baekjeong is a Korean term that means 'butcher'. But this doesn't mean that the joint does not cater to vegetarians. Some of their vegetarian options include; scallion salad, Sam lettuce wraps and soft silken tofu. While their meat options can either be ordered in sets, in combos, or individually.
Each table at the restaurant has an inbuilt meat grilling meat. Also, the tables have special compartments for side dishes like corn cheese and streamed egg. You can either order beef or a la carte. They are then served with a combo of 3 different cuts of the meat.
This franchise restaurant is owned by a retired Korean wrester-turned-comedian Kang Ho Dong. The restaurant recently opened other locations in New Jersey, Queens, Palisades Park, and Flushing. When you get to the Koreatown location, be ready to wait for about an hour, especially during prime dinner times. However, this wait time is expected to be shorter because of the recently opened locations.
Yoon Haeundae Galbi
Address: 8 W 36th Street, New York, NY 10018
Website: yoon-nyc.com
The roots of this restaurant date back to 1964 when Bobby's grandfather established a restaurant in Busan, South Korea. Bobby Yoon grew up in that restaurant which was known as Haeundae Sommunan Amso Galbijip. When Bobby moved to New York City, he brought his grandfather's recipes with him.
The joint specializes in serving authentic KBBQ and traditional dishes with a contemporary twist. They use high-quality meat which is prepared with a unique technique. Thus allowing each cut to have a perfect sear and give it a tender core beneath the caramelized glaze.
Also, because of the joint' connection with Busan, their menu serves may dishes that are inspired by the region. This includes; yook-kal (spicy beef noodle soup) and a seafood pancake. I also suggest that you try out their potato noodles, prepared with the meat marinade. 
While most NYC Korean BBQ restaurant serve various types of meats, Yoon Haeundae Galbi only offers 1 cut of meat: Haeundae Cut!
The design of this restaurant is the same as the Yoon's family restaurant in Busan. It is built with wood and iron, as well as ceramics brought in from Korea. This restaurant is always open except on Sunday, starting from 5.30 pm – 11 pm.
Dons Bogam
Address: 17 E 32nd Street, New York, NY 10016
Website: donsbogam.com
If you're looking for an authentic unique Korean BBQ experience in NYC, Don Bogam is the perfect place to go to. In addition to being a KBBQ restaurant, this joint also has a stellar drink place. You'll love their tabletop grills, floor-level seating, and a menu serving Korean staples. 
Owned by K. R. Choi, this restaurant was opened in 2003. Their menu has a wide selection of Korean meats. Not to forget it also offers seafood and chicken for grilling. Each BBQ comes with a dipping sauce to enhance the meat's flavor. Besides the tableside BBQ, the restaurant offers various savory classic Korean dishes like Japchae and Haemul Pajeon. As if that's not enough, all dishes are offered with a selection of tasty Korean sides!
For the drinks, there is a long list of drinks to choose from. This includes more than 50 types of drinks, soju, sakes as well as other Korean liquors. Don't hesitate to combine these drinks and BBQ sides when you get to this joint!
Cote Korean Steakhouse
Address: 16 W 22nd Street, New York, NY 10010
Website: cotenyc.com
Owned by Simon Kim, Cote Korean Steakhouse mixes things up by combining Korean BBQ with an American steakhouse, creating a unique experience. Kim opened this joint in 2017 to pay tribute to his home country and his love for beef. He also operates Piora, a Michelin starred restaurant, in Manhattan, NY.
When you get to the restaurant, you'll see a long hallway directing you to the modern, dimly-lit dining space. The dining space has maple tops, concrete floors as well gold-rimmed grills at the tables. While most steakhouses cook their kitchen, at Cote the beef is served and cooked professionally at the table.
You can order from their wide selection of meats. This will then be prepared by the server at the smokeless tableside grills. But, if you want, you can cook the meat yourself. To complement your meat, the joint serves various side dishes in Korean culture. Their sides include; red leaf lettuce, an egg soufflé, a scallion salad, and 2 kinds of Korean stew. 
Moreover, the basement of this restaurant house a dry-aging room. This enables the chefs to manage the whole process and ensure the beef cuts meet the joint's high standards.
Grand Seoul
Address: 85 Chrystie Street, New York, NY 10003 
Website: grandseoulnyc.com
Chinatown has several hot pot and barbecue options. But, there is only one place in this area serving an authentic Korean-style BBQ dining experience: Grand Seoul! Located in Downtown, Chinatown, this joint specializes in serving a home-cooked Korean meal. In addition to serving the best Korean BBQ in New York City, this restaurant offers excellent services to its customers!
This mom & pop Chinatown shop offers 15 different types of meat. Other options also include; wagyu, 2 meat cuts with veggies, desserts, and stew. Also, if you want a more affordable option, the menu offers a meal with limited meat choices. While the favorite Korean BBQ items include; chicken thighs, belly, and marinated beef.
The restaurant is also good for perfect dining since it has a large dining space. To add to your meat option, this joint has various drinks and side options that you can order. I suggest that you don't leave without ordering their somaek (sake and beer combo)!
GunBae Tribeca
Established in 2015, GunBae is a Korean BBQ joint located in Tribeca. This is popular for serving up exclusive meat cuts and some karaoke fun! With the increasing popularity of Korean BBQ in New York City, this spot is also becoming a popular spot in town.
Some of the meat cuts offered by their menu include; belly, wagyu, fillet, brisket, and ribeye. If you are going to this spot with some friends, the barbecue combo is a great option. This BBQ combo comes with egg hot spot, fried dumplings, ssamjang, banchan and kimchi jjigae, and meat options. Also, if you are a gluten-free diner or a vegetarian, there is plenty of options for you too!
After enjoying your diner head to the basement and order soju or Korean beer. Then dust off your vocals with some karaoke! You'll be glad to know that this place has three Karaoke rooms (two-party size and one medium size)! All this Korean fun, and you don't even have to head to uptown Koreatown! If you don't want to leave the house, you can make your order online!
Gopchang Story BBQ
Address: 312 5th Avenue 2nds floor, New York, NY 10001
Website: gopchangbbq.com
Gopchang refers to the small intestines of a pig or a cow. While Gui refers to a grilled dish. So, Gopchang-gui is grilled small intestines from a cow/ pig. In Korean cuisine, the small intestines are grilled over a BBQ. They are then used to make sausage or boiled in soup alongside other intestines.
Today, Gopchang is seen as a delicacy, but it was traditionally used as a source of vitamins and iron. This dish is an important part of Korean BBQ culture, yet it's not well-appreciated outside of Korea. But this might soon change, with the establishment of Korean restaurants like Gopchang Story in other parts of the world.
Located in the middle of Koreatown, Gopchang Story specializes in Korean Horumonyaki-style barbecue. The first location was established in 2004 in South Korea as Gopchang House. But they now have a location in New York near the Empire State Building. This location is among the 1st international outposts of this popular Korean chain.
Enough with the 'story', what can you get at this restaurant? Well, this joint serves a variety of beef intestines, beef heart, and tripe. They are sprinkled with a unique spice blend and grilled. In addition to the grilled intestine, the restaurant serves the beef intestine casserole. This is a spicy blend of tripe, beef, ox intestines, and vegetables.
If Korean food is your thing, check this joint out and enjoy a new Korean BBQ dining experience!
Madangsui
Address: 35 W 35th Street, New York, NY 10001 
Website: madangsui.com
Whenever you're in Midtown, make sure you check out this Korean BBQ hotspot. Since this joint was opened in 2006, this restaurant has a warm and inviting atmosphere that appeals to their customers. In addition to serving KBBQ, the joint on 35ths St. also offers a wide selection of side dishes. To make the barbecued meat more delicious wrap it in crisp lettuce.
This joint always uses fresh, quality meats from prime USDA certified sources. Some of their barbecue classics include; galbi, rib-eye. But their fried mandu go well with sesame glass noodles and japchae are also great.
The most popular meats served here are; thin-sliced brisket, Korean-style short ribs, and marinated meat among other options. Each of these options comes with banchan, an array of small sides in Korean cuisine.
Also, their menu is not limited to these amazing Korean BBQ options. They have many traditional options like Korean soup, sushi rolls, and classic bibimbap. Not to forget they have an all-day special like seafood combo on Monday, bulgogi on Tuesday, belly on Wednesday, and spicy meat on Thursday.
New Wonjo Restaurant
Address: 23 W 32nds St, New York, NY 10001
Website: newwonjo.com
In 2010, Wonjo experienced ownership change to become the New Wonjo restaurant. The restaurant is currently owned by Christina and Steve Jang. In addition to the new name, the restaurant underwent kitchen renovation, a revitalized menu, and a new Korean grills' venting system. The new venting system is super silent and you can even hold a conversation while the fans are on.
This restaurant is open 24/7, meaning you can check it out any time you want. Once you get to the restaurant, you'll note hot coals being taken to the steel buckets to heat the Korean grills. The restaurant has dining spaces on multiple levels, with the bathrooms being on the lower level. You can choose to sit upstairs to BBQ. Or stay downstairs and enjoy their banchan as you wait for the signature dishes to be prepared.
If you are in search of an incredible late-night Korean grub in New York, New Wonjo is a great option. Just don't leave without trying some of their sizzling banchan or seafood pancake!
Mokbar
Address: 75 9th Avenue, New York, NY 10011
Website: mokbar.com
Now let's have a look at this restaurant that merges Japanese and Korean cooking traditions. Sound impossible, right? Well, that is exactly what Esther Choi, owner, and chef, do at this restaurant in a restaurant in Chelsea Market. Without forgetting she has another location in Brooklyn.
Opened in 2014, this unique Korean joint combines fresh ramen noodles with traditional Korean soups, creating a special noodle experience! This place is also an ideal spot for Soju and an ice-cold beer with their Korean snacks.
Choi's secret is the use of seasonal and fresh ingredients in her healthy menu. And she also has a lot of experience in cooking as she learned from her grandmother. So, you'll have authentic Korean meals. Some of her classic Korean dishes include; budae jjigae and kimchi. You can top each order with poached eggs to make everything better. While the Korean sides include; banchan, bulgogi ribeye, sun noodles, and ramen. For vegan diners, you can enjoy the vegan miso ramen alongside dumplings.
The place has also won various awards for its dishes including the 'Best New Restaurant in 2014' award. Be sure to check out this award-winning restaurant and try their wide selection of saucy ramen and brothy. All of which are made with all-natural, true Korean ingredients.
The Kunjip
Address: 32 W 32nd Street, New York, NY 10001
Website: thekunjipnyc.com
The Kunjp is located in the heart of K-town in Manhattan. And it's popular for serving up real Korean cuisines in a unique setting, dating back to the medieval Korean era.
Being a family-run restaurant, the joint offers a diverse selection of flavors with different homemade delicacies. Some of these delicacies include; dumplings, Korean-style kimchi, different soups, and sausages.
Moreover, the restaurant uses high-quality ingredients grown in their farm to prepare the special dishes. For instance, their 'soon dae-gukbap', lettuce wrap, 'ssambap', and sausage soup are made with in-house veggies & Korean blood sausage.
Once you get at the table, you'll see that their full of meats to meet all your grilled BBQ needs. This restaurant operates 24/7 and it's tightly packed with wooden chairs and tables.
The joint is occasionally packed, and there's a reason for that: the incredibly fiery grub! Don't shy away from this joint! It's ranked among the best Korean BBQ NYC for a reason!
Han Bat Korean Restaurant
Address: 53 W 35th Street, New York, NY 10001
Website: nyhanbat.com
Hanbat Korean restaurant is a family-owned and run establishment that has been serving Korean cuisine for the last 30 years. The joint is currently run by Nack Gyeun M. Located on 35th St., this restaurant has a lovely atmosphere, styled like a classical Korean dining space.
The restaurant serves what is arguably the best dish in Korea: Gamjatang. You can also try out the Bul Go Ki or Gal Bi, which are cuts of meats marinates in a unique sauce. For vegetarians, you can enjoy the Korean BBW with their vegetarian dishes. 
Han Bat was also listed among the best Korean BBQ New York by the New York Times. But, this did not come as a surprise to anyone who has been at this place!
The joint is popular for its Korean BBQ (L.A. Galbi), spicy seafood Tofu soup (Soon Doo Boo Chi), and Hot Stone Mixed Rice (Gobdol Bibimbab). But they also have specialty dishes like a chicken stew (Samgye Tang), Bone Soup (Gamja Tang), and Braised Short Ribs (Galbi Jjim).
Samwon Garden Korean BBQ

Address: 37 W 32nd Street, New York, NY 10001
Website: samwongardenbbq.com
Sam Won Garden is one of the largest and the oldest Korean BBQ joints in Seoul, South Korea. It was founded in 1976. Their New York location on 32nd Street, which is a 3-story, was the first one in America. This restaurant offers a luxury experience, but surprisingly, it's very affordable.
The spot is widely known for its marinated short ribs and galbi. But it also serves other meats like thinly sliced brisket, belly, and ribeye. Beyond the grill, the remaining items on the menu are also great. They include; mild and acidic Pyeongyang naengmyeon and northern Korean style chilled noodle soup with beef broth. To complement your meal, order mookeunji samgeyopsal Jjim, which is braised belly served alongside aged kimchi. 
Each table has a gas-powered grill that you can use to prepare your Korean BBQ. The servers monitor these grills closely, ensuring that you don't worry about burning the premium meat cuts. 
Get to this joint and experience the best traditional Korean BBQ in South Korea. This place uses its authentic recipes and the highest quality ingredients. And did I tell you that this joint has an outdoor space? But what do you expect from one of the oldest Korean BBQ joints in the area?
Gaonnuri
Address: 1250 Broadway, New York, NY 10001
Website: gaonnurinyc.com
Talk about the Korean BBQ restaurant NYC with an insane city view! Because that's what you get when you go to Gaonuri restaurant. This restaurant is on the 39th floor of a skyscraper in Koreatown. So, if you're a memorable dining experience, this is the place to go to!
Besides offering incredible views of Manhattan, this large lounge-style BBQ restaurant has some taste Korean cuisines. Try out their plate of succulent duck breast and short ribs. These are usually served alongside banchan (free sides) like fermented squid and kimchee.
Their traditional Korean BBQ comprises perfectly grilled meats, mouthwatering appetizers, satisfying soups, delicious desserts, and specialty dishes! To wash down your meal, you can order a drink from their great selection of drinks. 
The place has slick and modern décor, with the entryway's ambiance looking like a hotel/ boutique lobby. As for the dining space, you might not care much for the interior because of the skyline views and bright atmosphere. You can also invite your loved ones, friends, or significant other to this place and enjoy the delicacies with them!
Her Name is Han
Address: 17 E 31st Street, New York, NY 10016
Website: hernameishan.com
Owned by Kihyun Lee, Her Name is Han is located on 31st Street Gramercy neighborhood in New York. The joint serves traditional Korean food dishes and stews, similar to the one you can find in Seoul. Because of the relative novelty and nostalgia effect in New York, this place attracts a youthful crowd of Americans and Koreans craving for KBBQ!
The restaurant offers Korean cuisine for dinner and lunch with a modern flair. On the weekend, the joint also serves brunch and takes part in the pop-up location in different parts of the city occasionally. In addition to serving up Korean cuisines, this restaurant offers traditional Korean spirits and cocktails.
Once you get to this restaurant, I suggest you start with an appetizer. This can either be the potato croquettes and corn or crispy pancakes with hot peppers and seafood. Then choose from their dinner entrees like kimchi salad and slow-cooked pot belly or marinated raw blue crab. For non-meat options, the menu includes several gluten-free and vegetarian options!
Her Name is Han will make you feel like you've just landed in a restaurant in Seoul, South Korea. If you need their dishes delivered to you, make your order online!
Take 31
Address: 15 E 31st Street, New York, NY 10016
Website: mytake31.com
When you find Her Name is Han packed up, just go next door near Avent Gallery into Take 31. This place has gathered a huge following in Manhattan, thanks to its creative, authentic Korean cuisines! Take 31 was opened by Lee in 2011, while he was studying at the Fashion Technology Institute. And it's owned by the same group that owns Her Name is Han.
The restaurant has a cozy atmosphere that allows you to relax after a long day. Even better, the spot has hospitable hostess and their service is amazing! Not to forget the divine décor which makes the joint appear more modern.
They serve up tasty tofu, fried chicken, and belly. You can try out their perfectly cooked brioches, green tea ice cream, and vanilla ice cream. Also, if you want some delicious drink or soju, you'll get it here!
This spot is a bit more casual and it acts as a coffee shop during the daytime. At night, it's the perfect place for a small group looking for an affordable dinner. Just know that this restaurant gets busy and you may have to wait for some time. But their delicious dishes are worth the wait!
Hyun
Address: 10 E 33rd Street, New York, NY 10016
Website: hyun-nyc.com
Opened in 2019, Hyun is among the newest Korean BBQ joints on East 33rd Street in New York. This spot offers a luxurious BBQ dining experience specializing in serving Wagyu. Their Japanese A5 Wagyu is directly flown from Japan in the form of a whole cow and butchered in-house!
This restaurant features enclosed private dining rooms and the main dining area. The dimly-lit sleek space has dark wood-paneled walls and ceremonial brassware. When you arrive at the restaurant, you'll be assigned a serve and the menu will start with various Korean dishes.
After enjoying those Korean dishes, the server will place Wagyu fat, garlic, and rosemary on the electric induction grill. This type of grill produces less smoke and enhances the flavor of your wagyu. Besides Wagyu, the restaurant also offers marinated short rib, striploin, skirt, hanger, and flatiron. But don't expect to find meat here!
With more than 30 different types of Wagyu, this joint is popular for its beef. However, their menu also features other delicious items like Sot Bap and Wagyu Tartare. All these dishes ensure that you get a memorable Korean BBQ dining experience!
Osamil
Address: 5 W 31st Street, New York, NY 10001
Website: osamil.com
The name of this restaurant is derived from the address of the joint's Korean translation; 5-Oh 3-Sam 1-il. It's located at 5 West 31st Street. Smart, right? Besides the unique name, this joint serves some of the best KBBQ in New York. But I'm sure you already know that, seeing that it has made it on this list.
This space features an open kitchen, a well-ventilated dining space, and an open bar. The bar is up front while the dining space is located at the back. Dishes served here include; kimchi pancake and other items like burgers and bibimbap.
Similar to their food, this restaurant's design combines both traditional and modern elements to create a lively atmosphere. At the open kitchen, you can see their Korean–style skewers grill (Ko-Chi) that infuse Korean flavors.
The dimly-lit space and the old school music will make you want to hang out at this spot more. This also makes it a perfect spot for an upscale Korean meal with your parents or friends.
New York City has become a lively center for Korean culture with the number of Korean BBQ restaurants increasing rapidly. Thanks to the increased demand for Korean cuisine in the city. This has also attracted several Korean chains trying to get into the American market.
However, with Korean BBQ joints coming up in the city almost every day, you may have a hard time choosing the best ones. But not anymore, as I have listed the best Korean BBQ restaurants in NYC that are worth checking out!