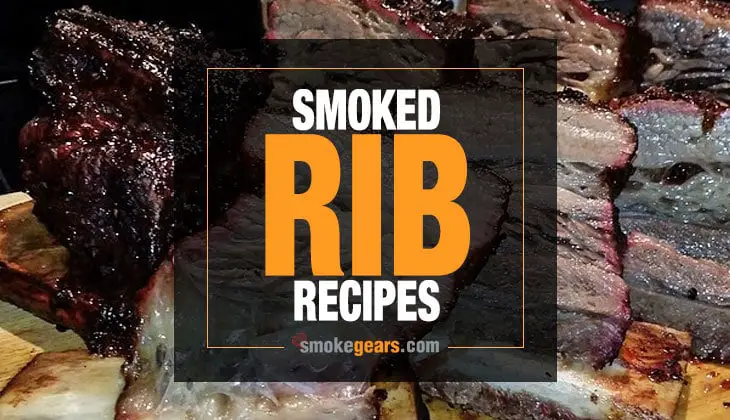 6 Best Smoked Rib Recipes to Try at Home and Places
Craving for some delicious restaurant-style smoked ribs but reluctant on ordering out every time?
Well, this article will give some of the best recipes for smoked ribs that you can easily cook at home for yourself or when arranging a party. The best part of these dishes? They are surprisingly simple to make yet delightfully delicious.
More...
Best Smoked Rib Recipes
Smoked ribs are a favorite among many people. You can create these dishes with any kind of ribs, but baby back ribs are the most popular choice for convenience. Some people also prefer pulling off the membrane from the ribs before smoking it.
Although it is not a necessary step, it sure does contribute to some extra flavor coming through. You can use any kind of wood to smoke the ribs, but some kinds are preferred more than others.
It is recommended to use fruitwood or wood that are lighter while smoking ribs because the heavier ones often overpower the flavor of the ribs themselves. Some of the best woods for smoking ribs are hickory, apple, pecan while the worst are fir, pine, elm, etc.
You can serve ribs in plenty of ways. They can be served alone as the main hero of the dish or alongside some salad dressing, chips, or fries. It totally depends on your preference.
Ribs can be smoked in many ways. One of the most popular methods is the 3-2-1 method. In this method, ribs are first smoked with some rub on them, then wrapped in foils and sometimes bathed in a mixture, and then finally finished. 
All three steps are not always needed; as different recipes call for different procedures. Let's have a look at some of them-
Korean Style Baby Back Ribs with Cheese
Korean food is really popular for its spicy flavor all over the world. Smoked ribs alone are something that food bloggers rave about in Korea, and this special dish with cheese just does the job of bringing more to the table.
For the Sauce:
For the Cheese Mixture:
Steps to Follow:
Smoked Baby Back Ribs
This is one of the easiest smoked rib recipes to make, yet it goes a long way in terms of flavor and taste. The ingredients and instructions are listed below.
Steps to Follow:
Smoked Beef Plate Ribs
This one is a fairly new dish that has seen great growth in popularity lately. Why, you may ask. Well, the primary reason behind it high popularity is its ability to satisfy the tastebuds of the food lovers. And I have no doubt in mind that if given chance, it will satisfy your tastebuds as well.
But keep in mind that you have to cook it carefully. Otherwise, you are going to ruin it. To help you make the dish properly, I'll detail the steps below.
Steps to Follow:
Apple Jalapeno Smoked Ribs
Do you like gravy meat? If you do, you are gonna love this one. This one is going to burst in your mouth and flood you with a variety of tastes.
However, I must warn you that you need to grab a napkin before jumping on it as it's really gravy. But that's what makes this dish one of my favorites. And after tasting this delicious dish, it'll become your favorite too.
Steps to Follow:
Smoked Texas Style BBQ Ribs
When it comes to beef ribs, is it possible to omit Texas-style beef ribs? Certainly not. So, here we present one of the best Texas-style BBQ ribs recipes. Now, this dish gets so so tender that it will just melt in your mouth. So, if you are ready to taste the unique style of Texas, then let's get started learning the recipe.
Ingredients:
Steps to Follow:
Memphis-Style Hickory-Smoked Beef Ribs
If I were to describe this one, I'd use 3 words; Easy, tender, delicious. Even if you aren't very good at cooking, I can assure you that you won't have any problem making this dish. So, if you want to give this one a try, read on.
Ingredients:
Steps to Follow:
Conclusion: In terms of taste, ribs are something that is loved by almost everyone. Smoking that universally well-loved food with the new tips and tricks you have just learned and these amazing recipes that you have just learned will definitely give you an edge in gatherings.
So, no need to wait anymore! Smoke some ribs on the very next party and show off your culinary skills to the world!