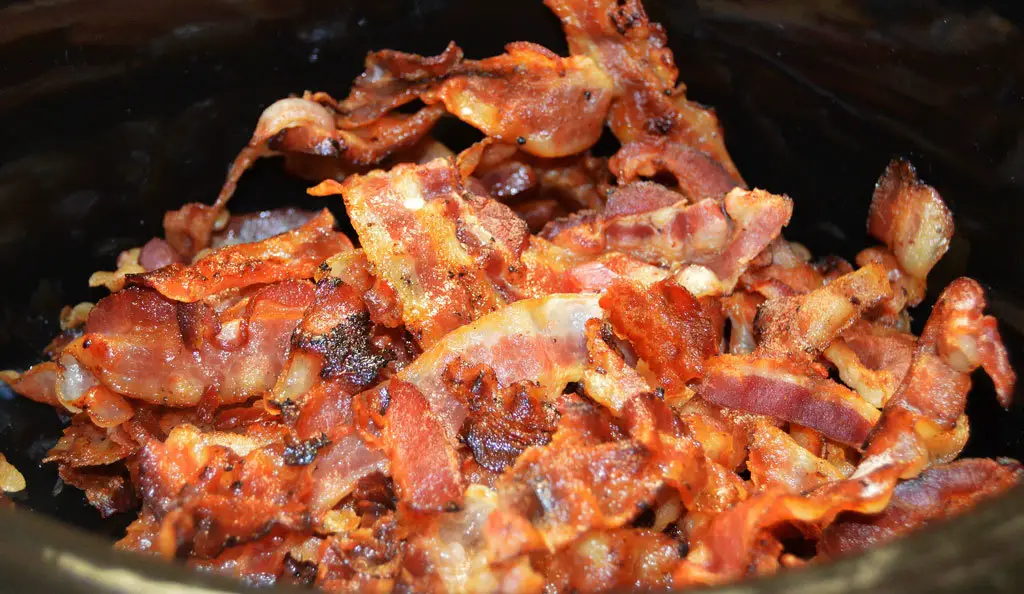 How to Cook Bacon on an Electric Griddle
Bacon is one of the most commonly eaten processed foods worldwide. If you love bacon, I'm sure you have cooked it at least once, probably using a frying pan. Of course, there's nothing wrong with that especially if you're not cooking many bacon strips.
But if you're cooking a lot of bacon pieces, then a griddle is the best way to go! So, with that in mind, you decide to get yourself a griddle.
If you don't know, worry not! I'm here for you! Indeed, there are several ways of preparing and cooking bacon with a griddle. But, since you're just starting, I'll take you through the easiest and the tastiest! Ready? Let's get started then!
More...
Why cook bacon with a griddle? 
One benefit of using a griddle is that you can cook lots of bacon at the same time, right? Yet, that's not the only benefit this amazing cooking appliance has to offer. So, let's have at other benefits you'll get from cooking bacon with a griddle!
What is the best way to cook bacon?
Preparation: 
Preparation guarantees success in everything that you do! And cooking bacon on a griddle is no exception! Experienced cooks might find this section irrelevant as they already know they should have. But for beginners, they may not even have a clue. For instance, what is the best temperature to cook bacon? Continue reading and you'll about that and much more!
But, before you proceed any further, make sure you have; a griddle, silicon/ wooden spatula, paper towels, water, a timer, and some plates. If you're looking for the best griddle to cook bacon strips, Black & Decker Family-Sized Electric Griddle is a great option.
If you've all those tools and ingredients follow these steps:
Preheat the griddle: 
Season bacon strips:
The cooking processes Step-by-Step
After seasoning your griddle, you can now cook your bacon. Remember, using a griddle is not the same as using a grill or a pan. This is because a griddle allows you to maneuver freely without spilling the bacon. Therefore, put your bacon close to you as the bacon cooks faster than other food items. With that in mind, let the cooking process begin!
How do you cook turkey bacon on a griddle? 
As compared to traditional bacon, turkey bacon contains lower fat content and fewer calories. So, if you're watching your cholesterol, turkey bacon is a healthy meal. However, similar to other bacon, it's highly saturated in sodium and fat. But, do you even know how you can cook it on a griddle? Well, just follow these steps: 
Frequently Asked Questions (FAQs)
What temperature do you cook bacon on a griddle?
The ideal temperature for cooking bacon on a griddle is between 325 and 375° F. To determine if the griddle surface is hot enough to cook bacon, spray some water, and observe if it splatters.
How long do you have to cook bacon?
Cooking each side of the bacon strips takes about 5-8 minutes. You can also check if the strip starts to turn brown on the side or shrink a little bit. This indicates that you can now flip them to the second side.
How do I make crispy bacon?
To prepare crispy bacon, you've to allow the fat and meat to cook uniformly. So, leave the bacon at ambient temperature for about 15 minutes before you place it on the griddle. This enables the fat to render more quickly, ensuring that it's always crispy.
How do you cook a lot of bacon at once?
Choose a griddle with a larger cooking surface area like Zojirushi Gourmet Sizzler Electric Griddle. Griddle with large, rectangular surfaces enables you to cook many bacon strips at the same time. Now, preheat your griddle to high temperature. Once it's hot enough, put your bacon strips one by one across the surface.
Let them cook for 5-8 minutes, then flip them over. You can now lower the temperature to medium and let the strips continue cooking for another 5-8 minutes. When they're well-cooked, turn off your griddle and put your bacon strips on paper towels. Let them rest for a few minutes before you serve them to the crowd.
Can you boil bacon?
Yes, you can. Just put the bacon in a large pot and pour some cold water. Then cover the pot and put it on a heat source to boil.
How do restaurants cook bacon?
Bacon strips are arranged on a sheet pan lined with a parchment. Then cooked in an oven at a temperature range of 350 to 375° F. When the bacon is almost cooked, it's removed from the oven and cooked fully on a griddle. Once cooked, it's put on paper towels to remove any excess grease and then served!
Is it better to cook bacon in the oven or on the stove?
Cooking bacon in an oven is a much better option than using a stove. Using an oven doesn't splash you with hot oil/grease and it's fast to clean up. The same cannot be said about using stoves.
How far in advance can you cook bacon?
If you have the time, you can cook your bacon in advance. Just cook it until it starts to become crispy, so that when you want to reheat it, you'll do it until it's crispy!
Can I cook bacon the night before and reheat?
Yes, just avoid degreasing them with paper towels to keep them crispy. Also, don't keep them warm by covering them with a dish or bowl. To reheat them, use an oven.
Can I eat cooked bacon left out overnight?
No. Especially if it was left at an ambient temperature for more than two hours. This is because they might have encountered some bacteria growth which might lead to food poisoning. Therefore, such bacon should be discarded instead!
Conclusion:
As I said earlier, cooked bacon is one of the most popular breakfast choices across the world. If you love it and you own a griddle, don't let the opportunity of preparing mouthwatering bacon strips pass you. But if you don't have a griddle, try and get one. And trust me, you will not regret it, especially if you use it to cook bacon strips! 
Besides, bacon cooked on a griddle is much healthier since fat is removed. Something you may not get with other methods of cooking slices of bacon.