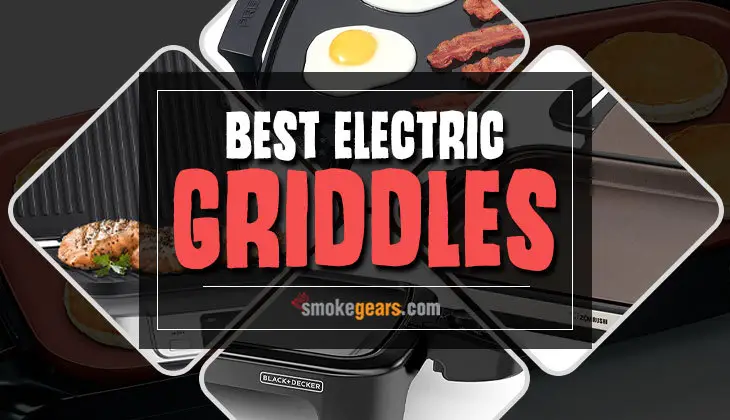 Best Electric Griddles Review of 2021: For Pancakes, Camping
Have you ever cooked pancakes for your entire family, only for the stack to get cold? Or are you struggling to flip fried eggs in that curved cooking pan? Whichever the case, you must try out an electric griddle!
An electric griddle is a multi-functional appliance that you can use to make any breakfast meal in your kitchen. Whether you want to cook bacon, sausage, hash browns, pancakes, eggs, and even toast. Even better, you can cook all these meals on the same cooking surface at the same time!
However, to achieve all these benefits, you must buy a good electric griddle. Understanding that, we have tried out various griddles to give you the best ones out there. Each of these products will meet all your breakfast needs. So, let us get right into it!
More...
At a Glance: Our Top Picks of Electric Griddle
Note: The above links will take you to additional information, current prices, and reviews on Amazon.
Top 13 Different Types of Electric Griddles Review
The Best Overall Electric Griddles:
With 5 unique functions, this Cuisinart Electric griddle allows you to cook different dishes. You can use it as a Panini press, contact grill, full griddle, full grill, and half griddle/ half grill. All these features will give you limitless culinary creations.
In addition to those functions, you can also use this griddle to sear meats. Thus adding to the reputation of this countertop grill as an extremely versatile option. The product features an LCD for convenient monitoring and handling.
Being able to see the temperature and function prevents any guesswork and increasing accuracy. You can easily set the temperature using the dial between 175 & 450 degrees Fahrenheit. As if that's not enough, there is a timer! You use the same dial to adjust the time and the cooking mode.
While we're still on versatility, you can use this handy appliance to prepare delicious pancakes, bacon, Paninis, and more.
Expect to use this product for a very long time. This is because it has a stainless steel finish and sophisticated design that increases its durability. Also, this griddle is dishwasher safe and its cooking plates are detachable. However, I recommend that you don't wash the drip tray in a dishwasher since it's made of plastic. Nonetheless, whether you wash this griddle by hand or dishwasher, you can easily achieve proper care.
This griddle heats up quite quickly and it's ready to use in no time. Moreover, because it has a nonstick surface, you don't have to add any butter or oil when cooking. Another benefit of the nonstick coating is that it makes it easy to clean.
Features:
Considering user-friendly features like digital controls and LCD, this griddle is extremely simple to use. Moreover, it comes with an instruction guide that will guide you through various recipes.
If you intend to use the griddle every day, investing in a high-end product can be a wise decision. Even though this Zojirushi EA-DCC10 griddle is a bit costly, it has many benefits to offer! The best thing about this product is that the manufacturer prioritizes quality above everything else.
It has a large cooking surface that measures 19 by 12.5 inches. However, the entire unit is bigger since it measures 23.6 by 15 by 4.4 inches. Weighing just 12 pounds, this electric griddle has unique features that make it stand out from the rest griddles.
For one, the large cooking surface allows you to prepare large meals at the same time. This gives you enough space to cook large meals for dinner or party meals. This luxury electric griddle also features a removable, covering lid that ensures faster cooking to save time. Moreover, the lid enables the steam to cook through your meal and prevents oil splattering.
The cooking surface of this product features a ceramic nonstick coating that is titanium-enhanced. This promotes uniform browning and enhances the product's durability. The nonstick property also makes cleaning the extra thick plate easy. To make the cleaning process much easier, both the bridle plate and slide-out drip pan are dishwasher safe.
With the temperature control setting, you can keep the meal warm at 176°F or cook meals up to 425°F. You have to let the cooking surface to preheat, which takes about 8 minutes. After that duration, the surface will be heated uniformly for even cooking.
Features:
Overall, there are many reasons to choose this brown Zojirushi Electric Griddle. It's designed with safety and quality in mind while ensuring uniform heat distribution across the surface. Furthermore, with an air-tight covering lid, this griddle cooks your food faster than usual!
As the name suggests, this griddle is designed to cook meals for your entire family. Unlike the previous product, this Black + Decker griddle is an affordable option. So, if you are on a budget, this is the product for you!
With a cooking surface that measures 20 by 11 inches, this griddle provides enough cooking space for your family. You can even use it to cook 6 pancakes at once. Not to mention the warming tray that can store 1 pancake or many pieces of bacon.
One feature that sets this product from other griddle is the strong plastic frame beneath the cooking base. Its design has cool-to-touch sides that allow you to move the griddle safely.
You can conveniently adjust this griddle's temperature between warm and 400 degrees Fahrenheit. Thanks to the click & lock temperature control dial attached to the unit. You'll find this dial very useful, especially when you want to reheat food.
Besides the large cooking surface, it has a non-stick coating. The plate is very thick, which increases the product's durability. One benefit of a nonstick surface is that it makes the cooking surface easy to clean. Also, this griddle features a removable drip tray that attaches to the base. This drip tray is dishwasher safe and makes the product much easier to clean. Once you detach it from the unit, you can easily scrape any food debris and drippings on it.
You can safely immerse this unit in the water when cleaning. However, always make sure you remove the temperature control before you immerse it!
Features:
At such an affordable price range, this griddle is a great kitchen appliance for families. It has some unique features that ensure food is cooked uniformly. Moreover, even with a large cooking surface, this model is still compact and lightweight. This makes it ideal for traveling, camping, and storing.
Best Electric Griddles for Pancake
With an electric griddle, cooking pancakes is a pure time and volume play. As compared to traditional cooking pans, griddle provide a larger cooking surface. Moreover, cooking pancakes with a griddle leave the surface clean for other things like eggs and sausages.
As you know, an electric griddle can be used to cook many things, other than pancakes. However, here are the electric griddles for your pancake needs!
Presto is well known for producing bulky griddles with large cooking surfaces. This can be a great option if you're cooking meals for a crowd. However, if you're preparing a meal for two or you've no storage space, you would prefer a compact griddle, right? That's why Presto offers you this compact electric griddle which can help you cook pancakes for one or two!
The compact size enhances the heating performance of this griddle since there's minimal space to heat up. Also, this allows it to maintain temperatures for a longer period. This is a very important feature when you want to prepare foods like pancakes.
This product has a lightly textured cooking surface that measures 8.5 by 10.5 inches. The surface features a nonstick coating. Thus ensuring your pancakes comes off easily even without oil or butter and promote easy cleanup. Besides cooking pancakes, you can use this unit to cook other meals like grilled cheese and eggs.
Regarding the construction, this griddle is made with light and rigid cast aluminum. The aluminum build defies warping and disperses heat uniformly across the cooking surface. This unit has a master heat control that allows you to adjust the temperatures from warm to 400°F. Unlike most griddles, this unit maintains the temperature at an ideal level by controlling it automatically.
Once you remove the temperature control, you can safely submerge this unit in water completely for convenient cleaning. Also, remember to detach this unit from its power cord when cleaning. You can clean it with cold to lukewarm water or soapy water.
The only issue with this griddle is that it doesn't have a removable grease tray. However, it has an inbuilt grease channel that traps all grease drippings.
Features:
In general, compact size, great looks and affordable price makes this Presto electric griddle a great buy. Moreover, the manufacturer offers a 1-year warranty.
For beginners, this DASH griddle is the best model for cooking pancakes. However, this doesn't mean that you can't use it to cook other items. In addition to pancakes, you can use it for eggs, quesadillas, cookies, grilled cheese, and even burgers, all on one surface.
At 1500 watts, this electric griddle has some amazing features. The most unique feature is that it comes in 4 trendy color options; black, white, red, and aqua. This allows you to choose the best color to suit your kitchen décor.
Its cooking surface measures 19.75 by 9.5 inches. This gives you enough surface to prepare large meals for the entire family. For that reason, you can use it to prepare dinner, lunch as well as breakfast. Besides, with a weight of 6.3 pounds, you can comfortably transport and handle this unit
Thanks to the nonstick, PFOA-free cooking surface, this product is safe to use and easy to clean. Another good thing about this griddle is easy and quick to use. Just plug it in a compatible outlet, let it heat up and start cooking your pancake!
The design of this unit also features a removable drip tray. This tray collects any excess oil, which protects countertops from staining and makes it easy to clean. As for the temperature, there is a control probe that enables you to adjust the temperature of the surface up to 400°F. This will enable you to cook your pancakes comfortably according to the desired temperature.
This product has anti-slip feet that keep it in place. Also, this will allow you to cook effortlessly without adjusting it constantly. If you're a beginner, you'll love the handy recipe book that comes with this product.
Features:
If you love pancakes, adding this griddle to your kitchen is one of the best investments you'll ever make. Especially considering that you can use it to cook almost all types of food.
Best Ceramic Electric Griddle
Ceramic cookware is becoming increasingly popular among consumers. And ceramic electric griddles are not being left behind. While ceramic is a certain type of clay, it doesn't mean that ceramic griddles are made up of clay. Instead, these griddles are made with a cheaper metal and then coated with ceramic.
So, why do people love ceramic products? Simple! Because ceramic is organic, it's a much healthier option than other synthetic nonstick materials. Moreover, ceramic products are much more appealing and versatile.
Now that you know why you should consider buying a ceramic griddle, which one should you buy? Well, here are the best ceramic griddles in the market at the moment!
Made of Durathon Ceramic, this product is one of the best ceramic griddles you'll ever come across ion the market. It has an ideal reversible design that allows you to cook from both sides. This also allows you to cook your meal with ease, regardless of how the power cord fits. For that, you can plug the power cord from any side without having to use an extension all the time.
This Hamilton Beach griddle features a nonstick ceramic-coated cooking surface that is easy to clean and guarantee fast cooking. The coating is long-lasting since it doesn't peel, scratch, or crack after extended use.
With a surface of about 200 sq. in., this griddle offers a fairly large cooking surface. This enables you to prepare enough meals for your entire family. Its base is made with cast aluminum, while the entire unit measures 24.4 by 12.8 by 3.2 inches. Moreover, the unit weighs 7.4 ounces. This portable design makes it ideal for cooking in small kitchens, camps, and vacation homes.
You can easily adjust the temperature of the cooking surface between 200 & 400°F. The adjustable temperatures allow you to cook different meals comfortably. When you remove the temperature probe, you can easily wash the entire unit in a dishwasher.
There is also a removable grease trap that adds convenience to the cleaning process. This drip tray catches all run off things like hamburgers and sausages.
Finally, this griddle is power-efficient heat-resistant features to ensure safety. Therefore, you can cook meals with this unit for hours without injuries or burning your fingers.
Features:
If you're looking for a ceramic cooktop with a nonstick surface, this griddle is a serious contender. It is extremely easy to use, durable, and ideal for cooking perfect meals!
Want a non-greasy solution to help you serve a BBQ without having a backyard? Then you should consider investing in this Presto Electric Ceramic Griddle. With its cool sides, this griddle will ensure that you cook your meals safely without burning your arms.
While we're still on safety, this unit has heat-resistant on both the back and the front side. This will help you to maneuver this griddle easily and safely when it's hot. Moreover, it has an inbuilt backstop ledge that allows convenient food handling.
The Master Heat Control enables you to adjust and maintain the desired temperature when cooking. Once you set the ideal cooking temperature, this unit will maintain it automatically. This feature makes it one of the best electric ceramic griddles out there.
It has a large cooking surface whose dimensions are 10.5 X 20 inches. This provides sufficient surface to prepare perfect dishes for the whole family at once. Even better, the surface has a nonstick ceramic coating that ensures stick-free experience and easy cleaning. The surface heats uniformly. So, with this griddle, overcooking and burning will be a thing of the past in your home!
Besides the nonstick surface, this unit features a detachable drip tray which also makes it easy to clean. This tray will help you avoid all those greasy messes which makes your visitors queasy. And when you remove the temperature controls, you can even immerse it in the water fully in a dishwasher.
As for the build, this unit is crafted from sturdy and durable material to extend its durability. It features a black finish to give it that elegant look when sitting on the kitchen counter. Furthermore, the low-profile designs ensure that this unit can act as a buffet server.
Features:
This Presto ceramic griddle is a great addition to your kitchen since it comes with a 1-year warranty. You can use it for any meal, including lunch and breakfast. Thus, it's ideal for both large and intimate family gatherings.
Best Nonstick Electric Griddle
The nonstick property in griddles offers several benefits. It makes it easy to cook foods like eggs that stick easily. Moreover, nonstick griddles promote healthier cooking since you don't have to add oil to prevent foods from sticking. Not to mention that they make it easy to clean the cooking surface after use.
With that in mind, you might need to buy a griddle with a durable nonstick coating. If that's what you're looking for, here are the best options;
BELLA electric griddle is an innovative yet affordable product, featuring a powerful 1500 watts heating system. This allows you to cook various types of food. And that's not even its main benefit! That would be the durable ceramic nonstick coating which lasts 8X longer than typical coatings.
This chemical-free griddle is crafted from copper and coated with a ceramic coating. It's free from harmful chemicals like cadmium and lead. Besides, this cooking surface distributes heats throughout the surface to ensure that food is cooked evenly. To make the nonstick coating scratch resistance and strong, it's reinforced with titanium.
Besides ensuring durability, the copper constructions make this product 30% more efficient than other griddles in cooking. Thus, you can use this griddle to cook your bacon and pancakes perfectly for breakfast.
For serving food for large families, this unit has a removable probe that allows you to control the temperature. This probe is extremely easy to use and the temperature can go up to 850°F in a short time. Thus allowing burnt food to release cleaner and easier than with the standard nonstick coating.
You can easily flip pancakes with this griddle. This is because its base has an inbuilt ledge with backstop as well as cool-to-touch handles.
To clean this griddle, you only need a soft cloth and soapy water to remove grease. Just heat the griddle to 400°F in 5 minutes, let it cool and grease will be removed. Moreover, the cleaning job becomes much easier knowing that you can fully immerse it in water.
Features:
This electric griddle is a great product that's ideal for large families. Unlike most griddles, it has a durable nonstick coating that's reinforced with titanium. For that' it's faster, stronger and lasts longer than standard cooking items.
Serving up mouthwatering dishes is a good way of keeping your family happy at all times. For that reason, you should consider buying a reliable impressive kitchen appliance for your cooking needs. One such product is this Augostar Vermo electric griddle!
With a 1500 Watt power rating, this griddle guarantees a super-fast action. It features a nonstick surface that measures 10 X 20 inches. This gives you an extra-large surface for preparing large batches of meals. The large tray can hold a maximum of eight serving comfortably. Thus, you can cook multiple pancakes or various food items at the same time. Moreover, nonstick nature reduces the amount of needed cooking oil and allows convenient cleaning.
Another thing that adds to this griddle's cleaning convenience is the removable drip tray. This drip trap collects all the excess fats to ensure a healthier meal. Not to mentions that it's also dishwasher safe.
At the top of the griddle, you'll see an adjustable thermostat that enables you to control heat. This allows you to cook different meals using the same appliance. You can adjust the temperature from 150 to 400°F, meaning you can cook raw food or warm dishes smoothly. The cooking surface heats up quickly to promote speedy cooking.
Furthermore, this unit has a heat-resistant base on both sides and the front. This makes handling this griddle when cooking or transporting it conveniently. While the compact nature makes it simple to store when you're not using it.
Another thing we can't overlook in this unit is that it's durable. Also, it's crafted with food-safe materials that are free from harsh elements like phthalates and bisphenol-A.
Features:
The robust electrical system and the nonstick surface makes this unit a good kitchen appliance for making perfect meals. Even better, the surface ensures even heating to help you cook meals hassle-free!
Best Large Electric Griddle
When you want to feed a crowd, cooking at home can be a challenge. If you don't have a multifunctional appliance, you'll have to juggle multiple cooking pans between the limited oven and stovetop space. Yet, with a large griddle, you can cook big-batch meals a lot easier.
After considering various designs and price ranges, we brought you the best large electric griddle worth buying.
If you're looking for an electric griddle that offers ample cooking surface area, you'll have to go with this model. It's an ideal option for cooking for huge parties with friends and family. All thanks to its large 35 by 9" surface that allows you to cook more food at once! Every BBQ lover out there will find this large rectangular griddle very handy.
Even with such a large surface, this product provides uniform heat distribution. It features an adjustable thermostat that allows you to various food items at desired temperature settings. And with both handles being crafted with an insulating material, you don't have to worry about burning your skin. Not to forget the 4 anti-slip feet that offer more stability and protect the table from heat.
Similar to most great electric griddles, this unit features a premium nonstick cooking surface. This offers you a nonstick experience when cooking food items like meat, fish, vegetables, and fried dishes. Also, this indicates that you need very little or no cooking oil to lubricate the cooking surface. So, with this griddle, you not only get tasty food but also healthy eating.
And that's not all! The nonstick surface makes the cleaning process after use a breeze. You can even wipe it off using a damp cloth and it will be perfectly clean. When cleaning, you can remove the power cord to make the cleaning process much simpler.
You will also love how portable this unit is, regardless of the large size. In addition to all these amazing features, this product comes with two nonstick egg rinds and six wooden spatulas. This ensures that you get all the essentials you may need when cooking food items with friends or family.
Features:
This electric griddle will help you cook food items that will be enough to feed a crowd or a large family. It's ideal for hosting BBQs, parties, and other outdoor activities.
Presto seems to be doing good work producing great electric griddles. This is another one of their product that features a large cooking surface. It's ranked among the biggest electric griddles online, thanks to its cooking surface which measures 18.5 by 15 inches.
According to the manufacturer, you can use this griddle to prepare 50% more food as compared to other jumbo-sized products. For instance, you can cook about 10-12 pancakes or 12 French toast slices.
Considering the griddle's large size, you must ensure there is sufficient space in your kitchen counter. I recommend that you put it in a permanent position. Otherwise, it's a great kitchen tool for cooking meals for your friends and family.
Another added advantage of this unit is that its temperature is automatically controlled. You can adjust the temperature with the control knob between warm and 400°F. Even better, you can remove this knob when cleaning the griddle. However, because of the large size, cleaning this product is not as easy as cleaning smaller units.
Its base is crafted with cast aluminum. The heat resistant base surrounds both sides and the front side of the cooking surface. This protects you from the hot cooking surface. As for the surface, it has a nonstick coating that prevents food from sticking to it.
The most unique feature with this product is the inbuilt sloped cooking decks. This allows the juice and grease to drain down on its own by tilting the surface. Hence the name 'Tilt n' Drain'! Also, because of this feature, make sure you use lesser cooking oil.
Regarding food handling, you'll be happy to know that this product has a convenient inbuilt backstop edge. Moreover, it has 2 handles on both sides of the griddle.
Features:
Presto offers a 1-year warranty for this unit. I recommend it if you're looking for an affordable griddle for preparing a sizeable quantity of food.
Best Electric Griddle Pan
Unlike regular griddles, griddle pans produce those perfect and fluffy rounds you normally see on TV. However, if you have the right griddle pan, you can easily make them yourself.
But, which one should you buy? I have rounded-up two of the best griddle pans you should check out. With one of these products, you'll soon become a breakfast master!
For those looking for a good electric crepe pan, this Crepe Maker brand from CuisinaPro is an incredible option. It's one of the best performing crepe makers for creating fluffy and light pancakes. In addition to pancakes, you can use it to make delicate blintzes quickly.
With its 12" long cooking surface, you can use this griddle pan to make healthy desserts as well as breakfast. The product features 5 temperature settings that allow you to choose the ideal heat level for your different dishes.
Even with five temperature settings, this unit is extremely easy to use. Just plug in the griddle, touch the power button, pour the batter and your crepe will be ready in no time.
The unit's black exterior enhances the appearance of this crepe maker. While the sleek and smooth surface matches perfectly with the pan's glossy base. The control panel has two light indicators and displays the temperature numbers. These on/ off lights lets you know when the unit is well heated for cooking. It also has sticky rubber feet that ensure stability.
Its nonstick surface is made up of aluminum material. You'll find this surface extremely easy to clean because of the nonstick coating. The product also comes with a spreader that allows you to spread the batter uniformly and thinly. And the nice shape of the pan results in perfect crepes. This, plus the recipe booklet ensures that you only cook mouthwatering dishes.
However, this product is only perfect for a small family. This is because, even with a 12" long surface, you can use it to cook 1 crepe at a time. The upside of this is that it makes the unit easy to store.
Features:
This versatile appliance is ideal for making breakfasts, pancakes as well as proofing dough. When using it, make sure you don't apply too much liquid or fat since it doesn't drain away excess liquids!
If you have got a small space in your kitchen, then a mini model might be the best way to go. In that case, this Dash Mini Maker Griddle pan is a perfect choice. You can use this model to make individual servings of pancakes, grilled cheese, eggs, and even cookies. So, whether you want to make a midnight snack or breakfast, this electric griddle will come in handy!
Weighing only 1 pound, you can comfortably carry this lightweight unit around. Also, measuring 5 X 6 x 2.8", the unit will take up minimal space on the kitchen countertop. For that, you can also use it in your RV or college dorm. In addition to the sleek design, this product has non-slip feet. This provides stability to the griddle while protecting the countertop from scratches.
You might also like to know that this griddle comes in various colors. Thus allowing you to choose the trendy color option that matches your kitchen décor.
As you may have guessed, this griddle heats up quickly, thanks to the compact size. It's also extremely easy to use. Just plug it in, let it heat up and it will be ready within minutes. Moreover, it features dual nonstick surfaces that provide consistent results by ensuring even cooking at all times.
The nonstick surface is PFOA-free and reduces the messes, allowing you to maintain and clean the product with ease. You can heat this surface up to 400°F. Luckily, since this product has an ergonomic handle, you can close or open it safely. There is also an indicator light at the top to let you know when the griddle is ready to cook.
Features:
Considering all those features, it's not surprising that this Dash product is one of the top electric griddle pans out there. However, since this unit does not disassemble easily, it's not dishwasher safe.
Buyer's Guide: How to Choose the Best Electric Griddle
Even though you know the electric griddles, don't just head out there and buy any product that comes your way. Instead, you should give careful consideration before you make any purchase. This is because different products are intended for various applications and needs. So, before you settle on a certain electric griddle, make sure you consider each of the following factors:
• Size
Electric griddles are available in different dimensions and sizes. Some are intended for 2 to 3 people, while others are ideal for feeding a crowd. So, you should consider the number of people you intend to feed to help choose the ideal griddle size. Otherwise, you might end up buying appliances that don't work for you!
• Temperature control
The heating element and temperature range of an electric griddle is another important factor you should consider. If the griddle only offers the same temperature then you'll not be able to cook different types of food items. That's why you must invest in a unit that allows you to adjust the temperature. These options are mainly indicated as high, medium, and low. However, some griddles have a display that indicates the actual temperature.
• Surface Coating
Electric griddles are used to cook different food items like omelets and pancakes. Some of these dishes require a nonstick surface for convenient cooking and better flavor. Unfortunately, not all electric griddles have a nonstick coating. Thus, when buying a griddle, make sure you check the specifications accordingly.
• Power cord 
Since electric griddles are powered by electricity, they have power cords. One thing you'll note is that these power cords have different lengths. I always recommend that you buy a griddle with a longer cord instead of a shorter one. Also, ensure that the cord has an extra coating to protect it from melting because of heat.
How to make pancakes on an electric griddle
Of course, there are many techniques for cooking pancakes. But using an electric griddle has some distinct benefits you'll not get with other techniques. For one, griddles can help you to cook mouthwatering pancakes without additional cooking oil. Also, with large griddles, you can cook many pancakes at once.
However, to enjoy these benefits, you must learn how to use electric griddles to cook pancakes. Surprisingly, that process is extremely easy, even for beginners. Just follow the following steps;
How to Clean an Electric griddle
Clean electrical appliances look good, and if done well, increases its durability. As for electrical griddles, the cleaning process is very simple. Even better, most griddles follow the same basic cleaning rules.
There are several methods of cleaning electric griddles. However, I'll take you through the easiest method which is;
Using soapy water and sponge
You'll need things like; sponge, paper towels, dishwashing liquid, and hot water. Once you've got those items, follow these steps;
How to Maintain Your Electric Griddle
Maintaining an electric griddle involves cleaning its surface regularly using the right tools. For best results, always makes sure that you follow these instructions;
FAQs:
Q1. What Is an Electric Griddle Anyway?
An electric griddle is simply a flat cooking surface that features an inbuilt heating element powered by electricity. These griddles are made with durable materials like cast iron or aluminum, but they have a nonstick coating.
Q2. What You Should Know About Electric Griddles
One thing you should know about griddles is that they're different from grills since they don't have grill ridges. Thus ensuring that food is cooked evenly. It's also worth noting that electric griddles are ideal for cooking various food items including grilled cheese and burgers.
Q3. Why you need an electric griddle
There are many reasons to consider buying an electric griddle. For one, electric griddles promote healthy cooking since they've got a nonstick surface that doesn't need additional grease or oil. While the flat surface ensures that your food is cooked evenly. Moreover, large griddles enable you to cook multiple food items at the same time!
Q4. What is the best griddle temperature for pancakes?
To make good pancakes, there are 2 things you must consider; griddle temperature and a good recipe. For an electric griddle, the ideal temperature is 375°F.
Q5. What kinds of power sources are available at campsites?
Camping sites have various types of power sources. You'll even find electricity in some campsites. But if you're going off-grid, you'll need power sources like solar panels and rechargeable batteries.
Conclusion:
An electric griddle is a highly versatile kitchen tool that allows you to cook almost any food. They also have a nonstick coating that makes them less-maintenance intensive. Also, you may come across an electric griddle that allows you to control the temperature, enhancing your cooking experience.
With that being said, I have already given you a list of the best electric griddles based on various consumer needs. So, make sure you choose the electric griddle that will suit your cooking needs!