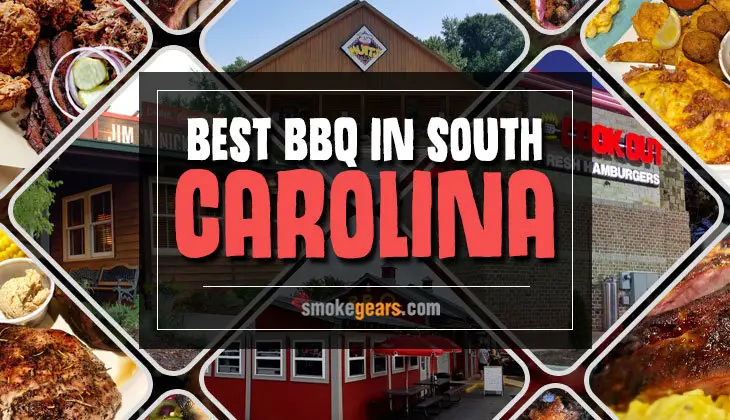 The 25 Best BBQ Places In South Carolina
To Americans, barbecue is the main diet. South Carolina acknowledges that too. Hence, it won't surprise you to see barbecues with all sorts of flavors around the states.
Yet, there are ancient locations that won't seize to bring out the best tastes. You definitely have heard of Texas-style ribs, Carolina-style, Memphis sauces. Well, every barbecue wishes to serve you the best. But, have they yet mastered the skills of the pitmasters?
South Carolina has proudly unveiled and created numerous best BBQ tips you should try. Besides that, they have brought the smoke pits closer to you. Wondering where to enjoy those juicy ribs in South Carolina? Here is a list of the best barbecue restaurants in South Carolina.
More...
The 25 Best Places for BBQ In South Carolina
BBQ in Charleston: Lewis Barbecue
Address: 464 N Nassau St, Charleston, SC 29403, United States
Website: lewisbarbecue.com
The first thing to meet your eyes at the Lewis barbecue is the massive custom-made smokers crafted by the pitmaster. John Lewis never cuts corners unless it's burnt ends.
Since 2010, the barbecue master has sharpened his pit skills through different relevant interactions. After a barbecue partnership with LeAnn Mueleer, he decided to start his.
In 2016, John packed and left for Charleston where he opened his own barbecue.
As the pitmaster, saucy barbecue dishes are a sure bet.
Meats, fresh as they can ever be will lure in. Drop your eating manners and hold on that USDA prime beef brisket. Pulled meat, sliced turkey breast, and Texas hot guts sausage will have you salivating at their sight.
Original red, hatch green Chile, and tangy sauces and fixins will give you that taste you have been wishing for.
Bulgy sandwiches, complementing sandwiches are available. To end your dining time at a climax, enjoy their pocket-friendly deserts. Great daily specials are available. To clear off the aftertaste, drain down a glass of your favorite cocktail and drinks.
BBQ in Columbia: Little Pigs Barbecue
Address: 4927 Alpine Rd, Columbia, SC 29223, United States
Website: littlepigs.biz
You haven't had a Carolina barbecue experience until you visit the little pig's barbecue. Featuring the three barbecue styles, the joint deserves to be the best barbecue in South Carolina.
Being among one of the oldest spots in Columbia, the hiding spot has had a warm share of the grateful customers. On the take out, get the BBQ meat and chicken sandwiches and enjoy the sweetness at your comfy home seats. Meat full plates and baskets, chocolate delight desserts are made perfect.
Drinks, small and large, sweetened and unsweetened are all served to meet your preferences. Having meat cravings, order the bulk meat sale. Besides being adequate, every bite is as tasty as the previous one. Complimenting sides that will add a heaven flavor to your meal are available.
During the pandemic, the spot does take-out and delivery only.
BBQ in Greenville: Henry's Smokehouse
Address: 240 Wade Hampton Blvd, Greenville, SC 29609, United States
Website: henryssmokehouse.com
Even with the brutality of the pandemic, the Henry's has armored itself to ensure your safety as you dine with them. The award-winning barbecue wishes to serve you the leanest butt in town. To become the best barbecue in South Carolina, hard efforts has to be applied. Thus, with Henry's, this was greatly considered.
The southern traditional barbecue does its meat the old-fashioned way. Hickory logs and 12 hours cooking will result to fall off the bone ribs on your plate. Juicy dripping they look but also the freshest ribs you will ever have.
Pull up your chair, roll up your sleeves, and dig your teeth into the hickory smelling ribs from the Henry's. Yet, the sweetness is not saved for the ribs only. The other menu items all speak of the alluring aroma of the Henry's. Smoked chicken sandwich, large or small is perfectly made to have you nodding to every bite.
Side dishes are Brunswick stew, peach cobbler, French fries among others. Mouth-watering combos and sandwiches plates tasty enough will have you thinking you for another visit. One lab of banana pudding or the cookies, cake, and brownies works well for a dessert.
A great drink should have you read the ingredients after the first sip. Enjoy a cup of iced tea or a soft drink at Henry's.
BBQ in Mount Pleasant: Page's Okra Grill
Address: 302 Coleman Blvd, Mount Pleasant, SC 29464, United States
Website: pagesokragrill.com
The page's Okra grill combines easy southern cuisines with the casual items of traditional coastal seafood. With this simple combination, their homemade dishes are always heaven tasting.
The family-owned restaurant wishes to serve you the most flavorful eats at any time of the day. Have a bite of their Southern living, magazine featured dish. The Ashleigh's signature shrimp and grits. It is lightly battered and fried cheddar cheese grits. It is topped with a smoked Andouille sausage cream sausage and jumbo pan-seared fresh shrimp.
Other items to jerk up your appetite are redneck rolls, jumbo lump crab cakes, and loaded tater tot skillet.
Other delicious choices on their breakfast menu are omelets, biscuits, sandwiches, and low country specialties. Their favorites include the Coleman and boulevard basic. Brunch, lunch, and dinner menu all with salivating items are waiting for you.
The bottle filled bar section will quench your thirst. Head at the okra's and unleash the yummiest east you never had.
BBQ in North Charleston: Jim 'N Nick's Bar-B-Q
Address: 4964 Centre Pointe Dr, North Charleston, SC 29406, United States
Website: jimnnicks.com
The Jim's spot has a solid recipe for the tastiest barbecue meals. Time, smoke, and meat are what they believe results in the delicious bites ever. With over 30 years on the smoke pits, the hideout is confident of serving you the most savoring bites ever. Commitment to the flavors and hospitality of the south is what makes the spot the best BBQ places in South Carolina.
Feast in a flash dishes made with warm hearts to meet your flavor expectations is available to add a smile to every bite. Garden picks and potatoes, BBQ sandwiches, southern plates, and trimmings are mouth-watering. Banana pudding made the best way is a nice choice for a dessert.
For your kid, a BBQ sandwich, grilled cheese, chicken drumsticks, and macaroni and cheese are enough to have him drag you back there. Endless drink choices are available to suit your taste. The choices include lemonade, coke, and unsweetened tea.
BBQ in Rock Hill: The Dixie Pig Rock Hill
Address: 2007 Celanese Rd, Rock Hill, SC 29732, United States
Website: thedixiepigBBQ.com
Paul Pflug, Paul Pagan, and Curtis are the operators at the Dixie Pig Rock Hill. The three owners founded the joint with an aim to deliver amazing food and superb service to the locals. And surprisingly, the spot is among the best BBQ restaurants in South Carolina as per the locals and visitor's reviews.
From slow-cooked meats to the sauciest homemade sauces, the barbecue knows how to barbecue delicious meats. To accompany your bites is great blues playing on the background. You can't smile any more than you can at Dixie pig.
Grilled belly and sundae sit well for a starter dish. Salivating sandwiches, St: Louis style ribs plates are a must-try. Signature plates comprise fried catfish, smoked Cajun shrimp, BBQ hash, and smoked bratwurst.
Homemade desserts crafted careful and up to standards will have you planning a second visit. Pecan pie, the black Betty, and banana pudding dessert fit well after a plate full of ribs. Kid's plates comprising chicken tenders and mini corn dogs are served.
BBQ in Sumter: Logan's Roadhouse
Logan's roadhouse roots itself in the American tradition. A laid back spot that will have you feeling home no matter how many seas you have crossed. At Logan's, there are no strangers, only buddies. A quick look at their rules and you already feel the warmth of the place.
The home feeling is fully transferred in preparing your meals. Loaded potato skins and fresh hand-breaded wing are the recent items on their appetizers. You sure want to be the first to taste these amazing dishes. When it is homemade, it is usually unique and sweet. Try their award-winning chili and home-crafted soup.
USDA Choice hand-cut steaks, tasty sandwiches, and burgers will have you salivating at their sight. Chicken and seafood entrees have been chosen carefully to complement your meal. For a dessert, order the chewy fudge brownie or the New York-style cheesecake. A glass of drink and a soft for your kid will sweeten the storytelling. Go ahead and toss with a bottle of ice-cold drink.
BBQ in Florence: Woodstone BBQ and Seafood
Address: 1247 S Irby St, Florence, SC 29505, United States
Website: woodstoneBBQ.com
For the best BBQ dishes and seafood, the woodstone BBQ is your ideal spot. Fried chicken, BBQ chicken, meat chops, BBQ ribs, and mild or spicy BBQ meat are options on the BBQ dishes. For seafood, order shrimp, flounder, catfish, or the seafood combo. Endless choices of sides that include green beans and gravy will have you thanking every bite.
Deserts not clashing your previous aftertaste are available. Try the chocolate delight dessert, tastier than you ever imagined. Peach cobbler and banana pudding are other choices for desert.
BBQ and seafood sandwiches have been carefully made to satisfy your flavor choices. Would you go for iced tea or a soft drink? Grab your choice at the woodstone and help drain down the aftertaste.
BBQ in Spartanburg: Bubbas BBQ Bash
Address: 827 W Blackstock Rd, Spartanburg, SC 29301, United States
Website: bubbasBBQandbash.com
Want to know what makes them the best barbecue restaurant in South Carolina? Take a bite of their award-winning dishes. Bubbas award-winning, BBQ, ribs, wings and smoked chicken assures you they have mastered the skills well. Since 2002, the spot has done it ways simple yet leaving you fully satisfied.
From the main entrees to sides, their menu is filled with delicious dishes saucy enough for your mouth. Soups and salads full of well-blending spices are available for you. Don't leave without a bite of their sammich plates. The taste is incomparable.
For your under 12 old one, mouth-watering Lil-bubbas and bubbetes are available. The dishes under this category include a cheeseburger, bash, BBQ sandwich, and grilled cheese.
To finish your meal on a high note, drag a coke, lemonade, or tea along with you.
BBQ in Myrtle Beach: Carolina Broadhouse
Address: 4617 N Kings Hwy, Myrtle Beach, SC 29577, United States
Website: carolinaroadhouse.com
Being among the most popular barbecues in Myrtle Beach, this spot is where you could party with your buddies. The jam-packed eatery takes on and serves you the best of southern favorites. Fall off the bone baby back ribs cooked slow and low will get you messing your cheeks.
The foot-long hot dog smothered chili commonly known as the killer dog is enough to lure you in. Croissant and chicken wings appetizers are made perfectly to achieve that sweetened flavor you've been yearning for. Salads that look like they may grow again on your plate will bring the perfect combination on your tray.
For seafood nerds, a Carolina flounder or a large shrimp will have you exploring the sea world while on Carolina's seats. Chicken served with your favorite side, steaks and chops are made well not to disappoint you.
All their gluten-friendly dishes are prepared in a fryer with wheat ingredients. Their Danish baby back ribs are tender enough for a blunt fork to go through. Running late for work? Grab a monster burger and enjoy your already cheerful day.
BBQ in Hilton Head Island: One Hot Mama's American Grill
Address: 1 Greenwood Dr #7A, Hilton Head Island, SC 29928, United States
Website: onehotmamas.com
One hot mama is a family-friendly restaurant that welcomes you to host your data and expect nil disappointments. With one bite of their baby back ribs, be sure to join the raving fan of the hideout. Orchid Paulmeier is the star behind the success. Not only is she known for owning the spot but also for having the incomparable barbecue skills. 
The award-winning barbecue and the food network star continue to be a favorite among the barbecue community. In 2016, she was named the SC chef ambassador. With such proof, be sure to get the sauciest dishes at Mama Orchid's spot.
While visiting the joint, be sure to add the lip-smacking wings on your plate. Whether it's fried wings, boneless wings, or grilled wings, the grill does them like no other. Super pulled meat sandwich slowly smoked and hand-pulled on fresh-baked yeast roll will leave you yearning for an extra one. Brisket burnt end chili starters and cobbs salads are all irresistible items to add on your plate.
BBQ in Maudlin: Mutts BBQ Maudlin
From adults, kids to seniors the Mutts dishes have all of you covered. Wish to add great sides on your plate? Try their premium sides' category.
The section includes sweet potato crunch, Brunswick stew, and corn on the cob. Ribs and combo plate all well cooked and nicely flavored are worth your growling stomach. For amazing sandwiches, desserts and buffets, visit the Mutts.
BBQ in Summerville: Swig, and Swine
Address: 1990 Old Trolley Rd, Summerville, SC 29485, United States
Website: swigandswineBBQ.com
As a Mantua, New Jersey resident, Anthony DiBernardo has always had a passion for cooking. He joined the culinary world at the age of 14 as a banquet cook.
After combining barbecue menu pieces while in each culinary venture, Anthony opened his own barbecue catering spot. That's where his passion began to set fire. He partnered with Queen Street Hospitality Group and opened Swig & Swine BBQ in 2013. He then became a sole proprietor of Swig & Swine in 2019.
This Summerville's joint believes that there is no replacement for hard work and long hours. Therefore, their barbecues are cooked low and slow while savoring all-natural juices. Besides, they also ensure they retain in that iconic smoked flavor just for you.
House-made sausage sandwiches, mouth-watering wings packages will have you obsessing with the spot. For a laughter-filled meal with your loved ones, order the barbecue family plates. Not only are they juicy but also tender as mothers love. Nutter butter pie would be a great choice for a dessert.
For a premium barbecue experience, a great cold drink should be on your list. Other drink choices to enjoy are cocktails, drinks.
BBQ in Aiken: Dukes Barbecue
Address: 4248 Whiskey Rd, Aiken, SC 29803, United States
Website: dukesBBQaiken.com
Dukes Bar-B-Que was established more than 45 years ago by Uncle Danny Dukes. Since the first franchise in 1992, the joint has grown all over South Carolina. Rauly and Jan Judy have opened 14 branches in South Carolina.
Dukes-Bar-B-Que includes tasty Southern dishes and an all-you-can-eat barbecue buffet. The barbecue is smoked with hickory wood and cooked to perfection. At Duke's, their pride is to offer you the best barbecue with a variety of fresh vegetables and sides. Their large selection will sure offer you a healthy and nutritious meal. Cooking most dishes from scratch, the spot assures to serve you the freshest quality food.
Eat-in-buffets of both kids and adults are prepared to ensure each of you enjoys the sweetness of the dukes. All sandwiches whether eat in or take out tag along with the mild sauce. Stewed apples, broccoli casserole are some great options for your side choices. A soft drink to drain down the goodness is necessary. Help yourself with coke or drink.
BBQ in Greer: Cookout
Address: 1353 W. Wade Hampton Blvd. Greer, SC 29650
Website: cookout.com
The cookout is one of the best BBQ restaurants in South Carolina. With uncountable branches, the barbecue has won the hearts of many through their kitchen skills. Among the lucky fans are the Greer residents. The cookout has brought their divine dishes closer to you.
Not only will they serve you, but also ensure great service tags along. Their combo trays will have you full of burgers, chicken strips, and hot dogs. Other options to add on your combo are quesadillas, corn dogs, and sandwiches. Besides your tray is full, every bite is tasty as the previous one.
Try their fresh homemade char-grilled hamburgers that come in diverse varieties. You can never miss your favorite one. Fancy milkshakes ranging from chocolate flavor to peanut butter are a great choice to sweeten a great conversation.
Love chicken? Please try the crispy spicy chicken breast fillet. Hotter than you can imagine. Floats, cheesecake, and drinks are also available.
BBQ in Goose creek: Sapphires Sports Bar and Grill
Address: 203-B N Goose Creek Blvd, Goose Creek, SC 29445, United States
Website: sapphiresbarandgrill.com
The Sapphires is a locally owned neighborhood restaurant and a sports bar. For great meals, ice-cold drinks, and a serious green bay packer, this spot is your perfect hideout. The owner, Mike Szews, is a great lover for a good meal and drink. Also, a good football game is worth his eyes. 14 years ago, he opened this joint where most locals and visitors can't resist to tour.
The spot is known for the best cheese curds in all of Charleston.
Other delectable dishes are huge nachos, fresh half a pound shrimps, and quesadillas. Ever tried snowballs from hell? I don't know how you think of from the name but you will be awed. They are fried cream cheese balls with diced jalapenos. They are then served with sweet chili Thai sauce. Tasty, right? BYO and seafood dishes are available in every menu section. In sandwiches, appetizers, and sides, simply order your favorite.
For a football fan, head to sapphires and thrill your eyes as you toss with a bottle of cold drink.
BBQ in Anderson: The Pompous Pig
Address: 3320 N Main St, Anderson, SC 29621, United States
Website: pompouspig.com
As the name suggests, you are sure to meet some meat dishes under this roof. Besides, the well-cooked meat dishes, other great barbecue dishes are also available. Yet, most of their sandwiches, sides, brisket contain a slice of meat. So for a meat lover, the aroma will have you grinning as you step at the joint.
Dishes offered are specialty sandwiches, BBQ salads, and baked beans salads. BBQ sliders whether meat or chicken come topped with toasted brioche. For meat and chicken lover this hotspot will have you living your fantasy land.
Ice cream float and brownie desserts will complement well with your aftertaste. Soothing as your previous meal. Grab a Soft drinks to ease your bites.
BBQ in Greenwood: Smokehouse Barbecue and Home Cooking
Address: 1352 SC-72, Greenwood, SC 29649, United States
Website: smokehousehhi.com
The award-winning barbecue has been serving the same sweet delicacies since 1999. The spot offers a diverse lunch and dinner menu featuring wings, ribs, barbecue, and chili.
The realest thing you can get about a spot is the reviews. At the smokehouse, they serve and let their customers speak.
"The 50 cent of bourbon wings were great"
"This place has incredible food and very friendly and helpful staff. My mother and I are sitting here about to leave. They give you a lot for your money. Will definitely be eating here again soon. Check it out I highly recommend."
With a few dimes, you get more than enough sauce on your plate.
Unfortunately, the barbecue is closed due to a fire incident. Be sure to check their websites for updates.
BBQ in North Augusta: Southbound Smokehouse
Address: 1855 Central Ave, Augusta, GA 30904, United States
Website: southboundsmokehouse.com
Southbound is a new concept, not only for the Hill but for all over Augusta. It's a barbecue spot that is serious with food matters. Yet, not so serious to charge you an arm and a leg. It, unlike other 'cue spots is open every day of the week.
Claussen, a music advocate and creator of Friends with Benefits, is undoubtedly more interested in Southbound as a venue. The restaurant is presently only utilizing the patio and the first two rooms of the building. But, expansion moves are on the way.
"I know," he laughed, "but that's why we have a great pitmaster and an incredible smoker. If there's one thing we didn't skimp on was that thing back there. And we've done a lot of taste testing, which is fun. Right now we're doing traditional, hickory-smoked butts, ribs, and chicken." Says Brittingham.
The joint is ready to serve you with their delectable tacos, flavored wings, and quesadillas. A great meal isn't complete with a yummy appetizer, fresh and juicy main meal, and a salivating dessert. Head to Southbound and by the time you are sipping your drink, you will have had the best barbecue experience.
BBQ in Easley: Copper River Grill of Easley
Address: 102 Southern Center Ct, Easley, SC 29642, United States
Website: copperrivergrill.com
Not all times a memorable dining experience should be expensive. The first Copper River grill opened in 2005 in Seneca, SC. This hideout can be described as "polished casual". With a relaxing and comfortable atmosphere, the spot is fit for any occasion. Reminiscent of an Alaskan mountain lodge, the BBQ feature wide-open show kitchens, stone fireplaces, and comfy booths.
The joint serves American cuisines. Their dishes are crafted from fresh top-quality ingredients. Their diverse menu with great varieties will sure have enough choices for your growling stomach. Get to enjoy their delicious soups, dressings, and sauced all made from their special recipes. Sweet meals, great lunch combos, and saucy ribs are what the joint offers you.
Dishes for kids under 10 are available. Tag with all your loved ones and have a lot of fun at the joint.
BBQ in Ladson: Slaughterhouse by Nigels
Address: 9616 Hwy 78 Suite 13, Ladson, SC 29456, United States
Website: slaughterhouseBBQandbrew.com
The Nigels emphasize Goethe's words.
"The person born with a talent they are meant to use will find their greatest happiness in using it", Goethe. And for sure with great happiness comes to the best results. At the slaughterhouse, the meals cooked with warm hearts will not only satisfy your appetite but also have you agree one more thing. A great barbecue means it unveils to you other great tasty dishes.
In between your buns is a complementing BBQ slice that will have you rolling your eyes at the first bite. From their smokers are chicken leg quarter, the most tender ribs, and juicy dripping hot links.
Your kid should never miss the opportunity. Mac and cheese, hot dog, and fried potatoes, perfectly cooked will put a smile on your young one.
BBQ in Lexington: Hudson's Smokehouse BBQ
Address: 4952 Sunset Blvd Lexington, SC 29072
Website: hudsonssmokehouse.com
The barbecue has been featured on Turner South's "Blue Ribbon Award Show" as among the top BBQ joints in the south. With such a widespread acknowledgment, the dishes are truly amazing. From buffets to BBQ plates, every piece carries enough sweetness.
For a tasty sandwich, the Hudson will make you a warm one. Appetitive appetizers, chicken baskets, and healthy salads are all you need. And, the Hudson's got you.
Daily specials are also available. Don't miss out.
BBQ in Gaffney: Daddy's Joe's Beach House BBQ and Grill
Address: 1400 W Floyd Baker Blvd, Gaffney, SC 29341, United States
Website: daddyjoesBBQ.com
The joint welcomes you to have a spell at Daddy Joe's Beach House BBQ & Grill. Daddy Joe's Beach House BBQ & Grill offers flavored ole Southern cooking in a peaceful, fun atmosphere. From BBQ Ribs, Chicken, and Steak to Salads and Burgers. You sure will find something for your stomach.
Great starters, colorful salads, and sensational sandwiches is what you deserve. Other items you may try are chargrilled chicken and burgers, fat steaks, juicy BBQ plates, an irresistible combo plates. For every tempting delicacy, you wish on your plate, visit the grill.
BBQ in Conway: Big D's BBQ Trough
Address: 2917 Church St, Conway, SC 29526, United States
Website: bigdsBBQtrough.com
Whether from Tennessee, Texas, Georgia, Louisiana, or the Carolinas southern BBQ is the sweetest place to be. For the sultriest taste around, knock at their door. Made with all the fixins, their food is sure to sate your cravings. The buffet is all you can eat!
Since 1972, the barbecue has held onto their original recipes to serve you that same tasty flavor whenever you visit. Also, tag your family and enjoy their down-home cooking together. You'll never forget your first time! You'll be back for more.
Whether is a lunch or dinner buffet you crave for, the joint has got you covered. Their buffet constitutes BBQ meals and a scoop from their blending sides and vegetables. The result is amazing. Ribs, meat chops, and catfish are only available at night unless they are constituted on your buffet.
BBQ in Simpsonville: Smoky Dreams Barbecue & Catering
Address: 2131 Woodruff Road, Suite A, Box 9, Greenville, SC 29607
Website: smokydreamsBBQ.com
The barbecue is keen on every of their cooking step to ensure you eat safe and quality food. All their dishes are cooked daily with juicy, authentic seasonings and sauces.
The perfectly smoked brisket, chicken, ribs, and even the wings basically fall off the bone. The periodic soups and vinegar slaw are fully exceptional. Besides, there's a creamy lemon and peanut butter pie to top it off.
If not in South Carolina, then where else will you find the fresh juicy ribs? Simply nowhere. Create an exceptional South Carolina at your favorite new spot.