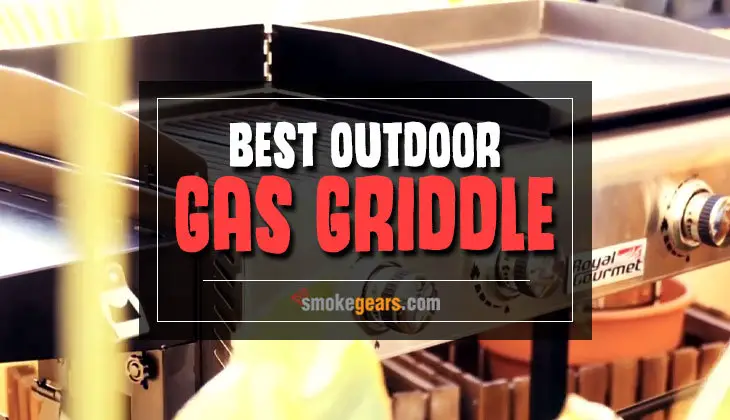 Best Outdoor Gas Griddles for Camping, Home and Commercial Use in 2021
Today, the popularity of outdoor gas griddle is growing steadily. As such, they're being considered as an alternative to other griddles like electric griddles, especially for outdoor applications. Sure, electric griddles are self-sustainable and lightweight. However, they're not as powerful as gas griddles. Also, gas griddles have a flat design that makes them cook foods better than typical grills.
So, if you were to get yourself an outdoor gas griddle, which one would you buy? With so many models out there, settling on one particular model isn't usually that simple, especially if you're a first-timer! Luckily, you've got this article to help with that. We have listed some of the best outdoor griddles to help choose the one that suits your needs perfectly. Now, let's have a look at these griddles!
More...
At a Glance: Our Top 12 Picks of Outdoor Gas Griddle
Note: The above links will take you to additional information, current prices, and reviews on Amazon.
Top 3 Outdoor Gas Griddles:
12 Best Outdoor Gas Griddles Review
Best Overall Gas Griddles:
For a gas griddle with an efficient dual-purpose design, then this Royal Gourmet Griddle is a great option! It combines the properties of a classic grill and a smooth griddle. Thus giving you more cooking options and culinary skills even in outdoor activities.
The unit features a large flat cooking surface and 4 stainless steel burners, 2 for the griddle, and 2 for the grill. The heat output of each burner on the maximum setting is 12,000 BTU, meaning the total heat output is 48,000 BTU. This is more than enough heat output for any outdoor cooking.
As for the cooking surface, the 2 separate surfaces have a total of 584 sq. in. (292 sq. in. each). This gives you sufficient cooking space to cook various foods. As such, you can use this griddle to prepare meals for 4- 5 people comfortably. Also, the separate surfaces allow you n to cook on the grill and griddle at the same time. 
Both sides of the cooktop have 2 wide, yet space-efficient shelves. This helps in extending the preparation space. Other notable additions include an inbuilt bottle opener and utensil hooks.
There is also inbuilt detachable drip pans that trap all grease from the griddle and grill trays for easy cleanup. You can easily remove the pan and dispose of the grease, even without using scrapers or any other utensil.
Another great feature is that this unit uses a simple button and electric ignition to start the ignition process. So, you don't need any lighters or matches. The unit also features durable caster wheels and its cooking surface stands on foldable legs. The caster wheels make moving the griddle around much easier. 
Final Thoughts:
When you first see this model, its design might seem bulky, yet it's extremely easy to assemble. Moreover, it has various useful features that make further maintenance more efficient.
As an industry leader, it's not surprising that Blackstone has one of the best outdoor gas griddles in the market today. This Blackstone 1554 model is ideal for preparing a large number of meals for an entire outdoor meeting with friends and family.
The cooking space of this 36" griddle offers up to 720 sq. in. Thus providing enough cooking space to serve many people, while still maintaining great flexibility of cooking flavors and techniques. The overall heat output of this unit at the maximum level is 60,000 BTU. This enables you to prepare a variety of delicious meals for a large group of people.
Moreover, the separate burners allow you to control the 4 heat zones individually. For that, this unit is ideal for both light warming and hard searing, all at once. It's also worth noting that the burners are made of stainless steel to ensure substantial durability and longevity under high temperatures.
Its cooking surface is crafted from cold-rolled steel, which is not as rust resistant as stainless steel. However, it promotes excellent heat distribution and retention.
Furthermore, this griddle includes a battery-powered electronic ignition system. This makes it an even better option for an outdoor event since you can light it up hassle-free. Besides, this unit comes with other useful features like utility handles, foldable tables, and bottom storage shelves. Not to forget the grease management system for convenient clean-up after every cooking session.
There is also 4 caster wheel that gives this unit the desired mobility. You can easily lock 2 wheels to enhance safety when cooking. Its top is also detachable for transportation purposes and it's extremely easy to reassemble.
Final Thoughts
This Blackstone 1554 model is a highly versatile griddle with a spacious cooktop, 4-zone heat delivery, and convenient ignition system. It's also the perfect griddle for outdoor events since it's easy to assemble and very portable. 
Camp Chef outdoor gas grill is a highly-functional and versatile griddle that's ideal for large-scale grilling. The unit comes pre-seasoned and its cooking surface features a nonstick coating. As such, you can use it to cook multiple burgers or eggs at once in any outdoor event.
With a grilling surface of sq. in. and a griddle surface of 600 sq. in., you can cook meals for a large group without interruption. The griddle setting is ideal for cooking different breakfast foods like toast, omelette, eggs, and bacon. While the grill set-up is perfect for cooking steaks, hot dogs, and burgers since it gives them those traditional charred lines.
Unlike most outdoor griddles that integrate 2 cooking areas side-by-side, this unit aims to expand its workspace. That way, you can seamlessly switch between the grill and the griddle space without sacrificing your cooking space.
The cooking surface is powered by 4 stainless burners with spate heat zones. This enables you to adjust the heat intensity of various food types freely while cooking many food items at once. Each burner can produce 12,000 BTUs, which amount to an overall heat output of 48,000 BTUs at the highest level. That amount of heat is ideal for boiling, charring as well as searing. You'll find this burner extremely easy to light up, thanks to the matchless ignition system.
Its cooking surface is made of cold-rolled steel, which is heated uniformly by the burners. The unit also features an additional grease cup and an inbuilt grease management system for easy surface clean up.
Moreover, this station includes space-efficient side tables for convenient food preparation. You can easily fold these side tables during transportation. Also note that this unit has 2 wheels, instead of 4 for transportation. It has levelers that ensure a flat and uniform cooking surface.
Final Thoughts
Considering the solid and durable construction, Camp Chef is the best flat top griddle you can use for any outdoor cooking event! 
When it comes to quality gas griddles, Char-Broil has already established itself as a reliable manufacturer of the best grills. This 4-burner gas griddle is a highly versatile product that every serious grille would love to have. 
It comes with a mobile design and includes 4 independent burners. Besides, this model is extremely easy to assemble and maintain.
Regarding its construction, this durable outdoor gas griddle is crafted from stainless steel. The 778 sq. in flat top is made with rolled steel that is pre-seasoned to resist rust. While the frame has a powder coating and it's mounted on long-lasting wheels for better transportation and stability. That, plus the sleek design extends this griddle's durability even in the most severe conditions. Thus making it ideal more accessible and ideal for daily use.
This unit has 4 burners with a stainless steel casing and a convenient ignition system. At the maximum level, the total heat output of these burners amounts to 40,000 BTUs. The griddle is very stable, thanks to the adjustable side screws on the unit that level the cooking surface.
It's powered by liquid propane and features folding side shelves. There is also a circular cutout under its cooking surface for gas storage that provides stability when cooking.
Both sides of this griddle station have 2 neat foldable tables that expand your working space. They also give you more space for storing ingredients and utensils. You can easily move this unit around since it has 4 lockable sturdy caster wheels.
Also, the flat top has a grease management system, allowing you to dispose of any grease and food remnants more easily. It is then gathered in a unique detachable grease cup.
Final Thoughts 
Once you get this Char-Broil griddle, you'll be able to cook different meals simultaneously hassle-free! 
Best Double Burner Griddle 
Griddles with 2 burners have the potential to create a fantastic meal. And they have a perfect size, that's neither too small to hold nor too large to take up much storage space. Even better, you can use them to cook various food items at home or on the go.
After considering features of various outdoor 2 burner gas griddles, we came across some unique models. By choosing any of these units, you'll have chosen the best double burner griddle to fit your outdoor cooking needs. Here they are:
Even though this griddle is one of the most compact units on this list, that doesn't affect its quality at all. This is not that surprising considering that Cuisinart is a reputable brand that has been manufacturing griddles for years. In addition to the high-quality, this unit is portable and very affordable! Not to mention this lightweight gas griddle is ideal for 2, yet it can cook meals for a whole family!
This simple griddle also allows versatile cooking. From breakfast to grilled snacks and more, the CGG-501 can be used to cook just about any meal! And it's a great addition to your patio or outdoor kitchen. With its 285 sq. in. cooking surface, this griddle can cook enough food for your family. The cooking surface is crafted from cold-rolled steel.
This unit has 2 burners that produce a total heat output of 20,000 BTUs. The main benefit of these burners is that they ensure heat is distributed uniformly across the cooking surface. Also, this outdoor griddle has an inbuilt hose that is designed for 20-pounds Liquid Propane tanks.
Moreover, this griddle is compact enough for picnics, camping, tailgating as well as other outdoor events. Thus, with this unit, you can enjoy cooking your favorite mouthwatering grilled food at any outdoor event!
Cuisinart CGG-501 is not demanding in terms of maintenance. It's also very easy to use, thanks to the convenient adjustment controls. You only need to twist the burners to start ignition.
Final Thoughts 
Expect your cooking creativity and ideas to expand once you get this wonderful gas griddle. For anyone looking for a multipurpose, lightweight outdoor easy-to-use cooking appliance, this is the product for you! 
Happybuy is one of the most versatile and unique outdoor griddles on this list. To start, this griddle is both a tabletop and standalone. It features detachable legs that allow you to move it between the campsite grilling and patio grilling with ease. The flat top is also removable. Thus enabling you to use other BBQ accessories like pizza ovens, grills, and other griddle materials.
This unit measures 43.2 by 81.3 cm, providing sufficient space to grill foods for 2 to 4 people at once. With the 32-inch wide cooking surface, you've sufficient space to prepare dishes for a big party. Also, this grilling unit produces a whopping 150,000 BTUs of heat output! As such, you can use it to cook various foods, including grilled sausages and tough meats among others.
The flat top is crafted from stainless steel, ensuring this unit stands the test of time. That, plus the two cast iron burners, promotes uniform distribution of heat across the cooking surface.
Moving this versatile cooking unit to any place is very simple. This is because it only weighs about 50 pounds and includes heavy-duty handles. In addition to being portable, this makes the griddle very sturdy. Not to forget that you can remove the detachable legs for convenient storage.
Note that this unit is a flat top. Therefore, it will not form grill lines on your grilled steak. However, if that isn't an issue with you, you'll not have any problem with this griddle!
Final Thoughts 
Overall, Happybuy gas griddle is both easy to use and set-up. With such a simple unit, you will have a lot of fun cooking meals at your next backyard event! The fact that you can combine it with other cookware makes it an even better choice to meet your cooking needs. 
Looking for an ideal double burner griddle for your medium-sized family? Why don't you consider this amazing model from Cuisinart! It offers enough space to serve your family as well as a group of friends.
Why buy this double burner griddle? For one, this unit will last for a very long time, due to the superb construction. It has a hard-anodized and tri-ply design that enhances durability. And then its exterior is perfected with brushed stainless steel. Thus enhancing its durability and strength. Another benefit of stainless steel is that it's less demanding in terms of maintenance.
Besides, the tri-ply stainless steel has a non-stick coating that's dishwasher safe. This means that you can use this griddle on induction, electric, and even gas cooktops. While the non-stick surface promotes healthy cooking since you only need minimum oil. It has a 10 by an 18-inch surface that gives you enough room to cook any meal for a medium-sized family.
You can trust this griddle to distribute heat evenly across the surface. So, unlike other stovetop griddles, this unit cooks your food uniformly. Even better, heat is distributed uniformly and consistently down to the sidewall and bottom. Thanks to the unit's heat surround technology.
Another useful feature of this griddle is that it has solid stainless steel handles. These handles are riveted to the stovetop and they're very convenient when one is lifting this griddle. Especially since they have cooling features that also make the unit safe to use.
Moreover, this double burner griddle is oven-safe up to 500 degrees Fahrenheit. Hence, you can use to roast vegetables or finish steaks in an oven.
Final Thoughts
As a double burner unit, this griddle is ideal for preparing any meal. You can even use a tight-fitting cover while cooking to seal in nutrients and moisture in your food.
Best Camping Griddle 
Camping helps you to disconnect from the noisy urban life and reconnect with nature. While doing so, you'll want to also have a memorable meal in the wilderness. And to achieve that, you need to get yourself the best camping griddle!
With a camping griddle, you can set up your cooking unit and prepare your favorite meal in no time. Unfortunately, choosing the best griddle for camping is not that simple. Luckily, we've done the hard part of comparing the performance of various models to give you the best ones. They include:
Another Royal Gourmet unit that you should consider buying for camping is this PD1202R model. Unlike most griddles, this unit is specifically designed for camping. Besides, it's the best portable gas griddle that will improve the quality of your camping meals.
The entire unit measures 23.3 by 14.4 by 8.7", but its cooking surface is 221 sq. in. That's enough space to cook up to 8 burgers or patties at once. You can also use it to prepare a breakfast feast for starving campers including food items like hash browns, eggs, and bacon.
Moreover, this unit heats up quite fast, moving from 0 to 12,000 BTUs in a matter of minutes. And that's not even the best part! Igniting this griddle is very simple. You just need to push the integrated piezo igniter button and the burners will startup. Then the nonstick, porcelain-coated surface will heat up in no time.
Underneath this griddle, there is a removable stainless steel grease tray. This tray collects oil and grease while cooking. You can easily remove it and clean it after every use. This, plus the nonstick cooking surface, makes cleaning this griddle quick and simple!
You'll also love how stable this griddle is because of the 4 strong legs. With a width of 17 inches, this griddle is very portable as well as simple to transport. Another unique feature of this griddle is that it has a regulator for connecting to the 1LB liquid propane tank.
Final Thoughts 
Sturdy feet, nonstick surfaces, and other features make this unit ideal for various outdoor events like camping, picnics, and tailgating. Besides, this unit features a simple design, making it extremely easy to assemble at the campsite. 
If you're not contented with the camping griddle above, then this Blackstone griddle might just be what you need. It is a portable and compact cooking unit that you can easily carry around to any campsite. Besides, it only uses 1lb of propane. That wouldn't be that hard to carry when going camping and in the woods, right? In addition to the 1LB propane, this unit has an electric igniter, making starting it very easy!
However, this griddle is perfect for a small family or group of travelers. The top has a cooking surface of 260 sq. in, since its dimensions are 17 X 15.25". As for the weight, this unit weighs just 21LB, meaning you can easily carry it around.
This unit features stainless steel construction and its cooking surface is removable for convenient storage and cleaning. Another notable feature is that this griddle has a single burner. This burner is easily controlled through the single know in the middle of its control panel.
The H-shaped burner allows even distribution of heat across the griddle top. Regarding the heat output, this unit produces 12,000 BTU at the maximum level. This is quite a decent heat output considering the size of this griddle. Therefore, this unit heats the surface quickly in just a couple of minutes.
There is also an inbuilt detachable grease collection tray that comes out from the front. This enables you to conveniently dispose of all the grease and oils through the tray's hole. Its surface is also easy to clean even with absorbent paper towels.
Final Thoughts 
As you can see, this model comes with many benefits. It's even considered the perfect choice if you're looking for the best propane griddle! 
Best Commercial Griddle
No kitchen equipment can cook your favorite meal better than commercial griddles. Whether it's grilled cheese, pancakes, burgers, or even pancakes, these griddles will work just fine for you! They come with various unique features that determine the volume of food to cook and how they're used. When you're looking for a commercial griddle in the market, it's always good to choose the ideal one for your kitchen.
If you're looking for the best commercial griddle for the first time or to upgrade your kitchen, we can help! We have selected some of the best ones out there! So, why look any further? Just consider getting yourself one of these commercial griddles. And rest assured; they're the best the market has to offer at this moment!
Kitma commercial griddle is a powerful outdoor cooking appliance that is made with durable stainless steel material. It has a high-quality surface that resists both rusting and corrosion. So, with this unit, you'll be able to clean it with ease and use it for many years to come.
The griddle comes with 2 controls that enable you to choose the burner you intend to use comfortably. Besides, those controls allow you to adjust temperatures using the ON/OFF option to guarantee precision. As such, it's an ideal model for making sauces, soups as well as other high-quality food items.
Moreover, each burner can be controlled independently, enabling you to cook several food items quickly and simultaneously. Both of these burners produce a total heat output of 60,000 BTUs to ensure fast performance. While the thick plates provide heat retention for quick and effective cooking. These plates are also designed in a way that allows uniform cooking, even when you're cooking multiple meals at once.
This commercial griddle has a detachable full-width waster that assists in collecting all the excess grease and food particles. Another good thing about this griddle is that you can adjust its burners to suit your needs. This makes it easy to accommodate in your kitchen.
The sturdy construction ensures that the unit isn't pushed down by different-sized cooking pots. This is supported further by the four adjustable legs. You can adjust these legs to customize this unit according to your specifications.
Final Thoughts 
With a 24-inch cooking surface, this griddle gives you enough space to cook delicious steaks and burgers. It's ideal for outdoor events because of the portable design that makes it easy to carry around. 
If you're expecting many guests and you'd like quiet cooking time, then this is the model you should be considering. This heavy-duty countertop griddle cooks various dishes quickly and easily!
It has individually controlled burners, with each burner producing 30,000 BTU of heat output. Besides helping you quick quickly, the separate burners help in saving the energy. Also, the burners are positioned below the thick plate that heats evenly and quickly. This will ensure that you cook the best dishes for all your hungry customers!
The exterior of this unit is made with long-lasting stainless steel material. It has a stainless steel landing edge that protects the manual control knobs from any excess grease. While the welded splash guards protect the walls and other components from liquids.
When it comes to maintenance and cleanliness of this griddle, it's very simple. This is because it has a detachable grease pan that promotes fast and convenient clean-up. Also, because of the stainless steel construction, this unit resists rust as well as corrosion. Thus making it easy to maintain!
This unit also features a low-profile design, which makes it a great addition to a kitchen. Its countertop design makes it space-efficient since it leaves enough room for other supplies, equipment, and working areas. This also allows you to place it on top of chef bases and work tables to make maximum use of available space.
Moreover, it has four adjustable legs that allow you to adjust this griddle to the perfect working height for different cooks.
Final Thoughts 
In general, this commercial griddle is a long-lasting and efficient addition to your kitchen. It has versatile features and independent controls that enable you to customize it to suit your needs. 
Whether you've got a chain store, canteen, or even a snack bar, you'll need a good flat-top grill cook various food types. That's why you should consider buying this VBENLEM counter-top electric griddle. This unit features 2 independent controls that enable you to adjust the temperature to suit different dishes. Therefore, you can use it to cook things like fish, chicken, bacon, and beef, all at once. 
The heating plate has a thickness of 0.3", while the cooking area measures 13 by 19.7 inches. This offers sufficient space to cook a lot of food at a go1 also, because of the plate thickness, the cooking surface doesn't deform easily.
This griddle also features dense heating oils that ensure food is cooked more uniformly than with the cheap coils. There is a precise temperature control knob that ranges from 50 to 300°C and an LED light that indicates the heating status. This griddle maintains a reasonable temperature because of the multiple vents that dissipate heat uniformly.
The total heat output of this griddle is 50,000 BTUs. But, with the smooth control knob, you'll find this griddle easy to operate.
Being a commercial-grade appliance, this griddle is designed to last. Its stainless steel construction is corrosion-resistant, food-grade, and durable. This means that you'll use this griddle for a long time without having to undergo significant replacement or repairs.
While cooking, grease, and food debris will collect at the waste tray. This makes cleaning this griddle such a simple task. Also, you don't have to worry about your walls or furniture getting smudge from the grease. This is because the unit has a splash-proof to prevent excess oil from bouncing off the griddle.
Final Thoughts 
This powerfully built griddle is designed to last long and it's ideal for cooking various dishes. Even better, it's designed for both home and commercial use! 
Buyers Guide: How to Choose the Best Outdoor Gas Griddle 
Before you even start reading various outdoor gas griddle reviews, you should know what you're looking for. Doing so will enable you to evaluate each outdoor griddle properly. Moreover, learning about that essential factors to consider, will ensure that you make a wise buying decision! Some of these key aspects to look for in outdoor griddles include;
• Size of the cooktop 
Griddle size determines the number of people you can cook for as well as where. Smaller griddles are ideal for both outdoor and indoor events. But if you want to cook for a large group in an outdoor event, consider a griddle with a large cooking surface. This includes a griddle whose cooking surface is about 500 sq. in. and above.
• Material 
Outdoor gas griddles are made with various materials. But cast iron and stainless are the most commonly used materials. This is because they're durable and withstand frequent use and high heat. However, you can consider buying griddles with other materials, provided they have got an additional heat-resistant and rust-resistant coating.
You should also make sure the material distributes heat evenly across the cooking surface. This offers you optimal heat retention when you want to cook food evenly.
• Number of Burners 
If you intend to use your gas griddle to cook a small amount of food, then a single burner unit is enough. However, if you intend to cook a lot of food items at once, choose a griddle with at least 2 burners. The benefit of multiple burners is that you can control each burner independently. Thus, allowing you to cook different dishes to their ideal temperature specifications.
• BTUs/ Heat Output 
BTUs (British Thermal Units) refers to the total heat output a griddle generates. The griddle's BTU indicates the maximum heat out available at the cooking surface at the highest temperature level. So, BTU doesn't include other areas in your griddle like warming trays or side burners.
In general, griddles with higher BTUs heat up faster than those with lower BTU ratings. But this is also affected by other factors like material type, unit size, and overall design. Thus, before you decide to buy a certain outdoor griddle, consider its BTU output. For simple dishes like burgers and veggie kebabs, griddles with a lower BTU rating will get the task done!
• Portability 
Considering that you're looking for an outdoor griddle, then you must choose a highly portable unit. If the griddle is large, look if it has caster wheels, which will make it simple to move around. Regarding transportation, go with a more compact model that can comfortably fit in your car.
• Maintenance 
Most griddles are much easier to clean and maintain as compared to traditional grates. However, some have fewer crannies and nooks where food residue and grease hide. Therefore, you should consider a unit with an inbuilt grease pan or grease management system. Having a detachable pan, for instance, collects all excess grease, helping you to clean the griddle easier afterward. 
Also, consider griddles with a high-quality surface finish since they're much easier to clean as well.
• Cost 
The value of every outdoor griddle should reflect its quality. However, we all have that budget we've to stick to when purchasing any product. This is usually determined by the intended use of the griddle. For instance, if you want a unit for a small family, you don't have to buy an expensive griddle that can cook for many people, right? It wouldn't be reasonable at all. Just remember that larger griddles are more expensive than smaller griddles. So, make your decision wisely when it comes to the griddle's price.
• Griddle Type 
There are 3 common popular types of outdoor griddles in the market; charcoal, propane gas, and hybrid models. Each of these types is available in various sizes, prices, and materials, depending on the brand. While we recommend brands from reputable manufacturers, choosing the best griddle type depends on your budget and personal preference.
Different types of gas griddles 
Here are some of the various kinds of gas griddles you're most likely to come across out there!
1. Tabletop gas griddles 
These types are generally smaller in size. So they're more affordable and have less cooking surface space. They're designed that way so that they can be positioned on a counter or tabletop.
However, there're smaller freestanding models as well. Such griddles are easy to move around the backyard or kitchen. Also, they usually use 1LB disposable propane tanks/ canisters. The small size of the tabletop griddles makes them a great option for camping.
2. Dedicated gas griddles 
Unlike tabletop griddles, these types are the largest gas griddles in the market. Luckily, they usually have wheels for convenient transportation. Also, because of their large size, they're ideal for cooking more food at once than smaller gas griddles. As you may have guessed, these griddles are the most expensive. However, if you cook frequently or own a small restaurant, they'll give you doo value for your money.
3. Placed on an existing grill 
This type of gas griddle consists of an innovative plate that you can put on top of an existing grill. They cover the grill and then become warm in the process. These griddles have the same benefits as other griddle types. However, they heat up quickly because they're close to the heat source. Also, these griddles are small, compact, lightweight as well as affordable.
How to season an outdoor griddle step-by-step
Seasoning is a process that helps to maintain and prevent rust formation on the non-stick surface of a griddle. Even though seasoning doesn't involve many complicated steps, it requires some patience. This is because it needs some commitment and repetition.
You'll need some simple tools like; heat-resistant gloves, paper towels, tongs, and cooking oil. Once you've got those tools, follow these steps;
How to clean your outdoor griddle
After finishing to cook an amazing meal on your outdoor griddle, you just can't leave it that way. Instead, you need to clean it! This is because most ingredients and oils have been prepared on your griddle's cooking surface. All these results into a buildup of debris, food stain, and grease on your griddle surface.
If you leave that buildup there, it will harden and stick to the griddle. Something that will affect the cleanliness and durability of your outdoor griddle. Without proper maintenance, the griddle can rust or even chip and flake. Not to mention that it can even lose the nonstick surface.
So, why risk running into all these problems when cleaning an outdoor griddle isn't that complicated? Just follow these steps to clean your griddle:
FAQs: 
Q1. What is an outdoor gas griddle? 
An outdoor gas griddle is also known as a flat top grill. This is because it has a flat griddle design that makes it ideal for cooking food items a normal grill wouldn't. Furthermore, outdoor gas griddles allow breakfast aficionados to easily prepare a large volume of hash brown, eggs, pancakes, and bacon all at once!
Q2. What is a commercial griddle? 
A commercial griddle is an important piece of kitchen appliance that is mainly used in most commercial food establishments. This includes places like cafeterias, coffee shops, steak houses, pubs, and diners. They're available in various models, sizes, and types
Q3. What makes outdoor gas griddles different? 
Outdoor gas griddles have a flat, open cooking surface that is usually made with a certain type of steel. The surface is heated through gas burners positioned underneath the griddle surface. These surfaces don't leave marks on the food since they ensure uniform heat distribution. Moreover, they're usually referred to as flat top griddles.
Q4. What kind of outdoor griddle is right for you? 
There are various types of outdoor griddles to choose from. They range from the shiny trolley-style griddles around the pool in luxurious to the large, permanent models in roadside cafes. In short, the options are extensive. You can also find smaller griddles for home applications, portable/ tabletop griddles, and attachments for your existing gas griddle.
With all these types, it's hard to recommend a certain type of outdoor griddle. This is because different users have different cooking needs. Therefore, you should the type of outdoor griddle that suits your needs perfectly.
Q5. What food can I cook on the outdoor griddle? 
Most people think of pancakes, eggs, or breakfast when someone mentions griddle. Yet outdoor griddles can be used to cook so much more. For instance, you can use them to cook burgers, hot sandwiches, teppanyaki, kebabs, and steaks among other food items.
Q6. Which oil should you use on your outdoor griddle? 
Cooking oil is important in griddling and it's used both for cooking and seasoning. There are various types of oil that you can use on outdoor griddles depending on the application. However, good vegetable oil will get the job done. Some of the most popular oil types used for griddling include; sunflower oil, sesame oil, corn oil, coconut oil, and olive oil.
Q7. What are you cooking on your camping griddle? 
You can use your camping griddle to cook various food items. Some of the most common ones include; eggs, bacon, home fries, burgers, grilled cheese, fajitas, and pancakes. 
Conclusion 
If you enjoy staying outdoor, having the best outdoor propane gas griddle will make you feel; comfortable. Especially when you want to cook grilled dishes. Whether it's a picnic, camping, or even in your backyard, make sure you get one of the outdoor griddles listed above.
Each of these griddles gives you the simplest way to taste mouthwatering dishes outdoors. Besides, they're extremely easy to use and maintain, not to mention that they offer you more flexibility. That way, you can enjoy healthier foods and enjoy your favorite recipes.
While choosing the perfect griddle for you, remember that each unit performs differently. So, choose an outdoor grilled depending on your culinary needs and environment. Whichever the unit you decide to go with, rest assured you're choosing from the best outdoor griddles out there!