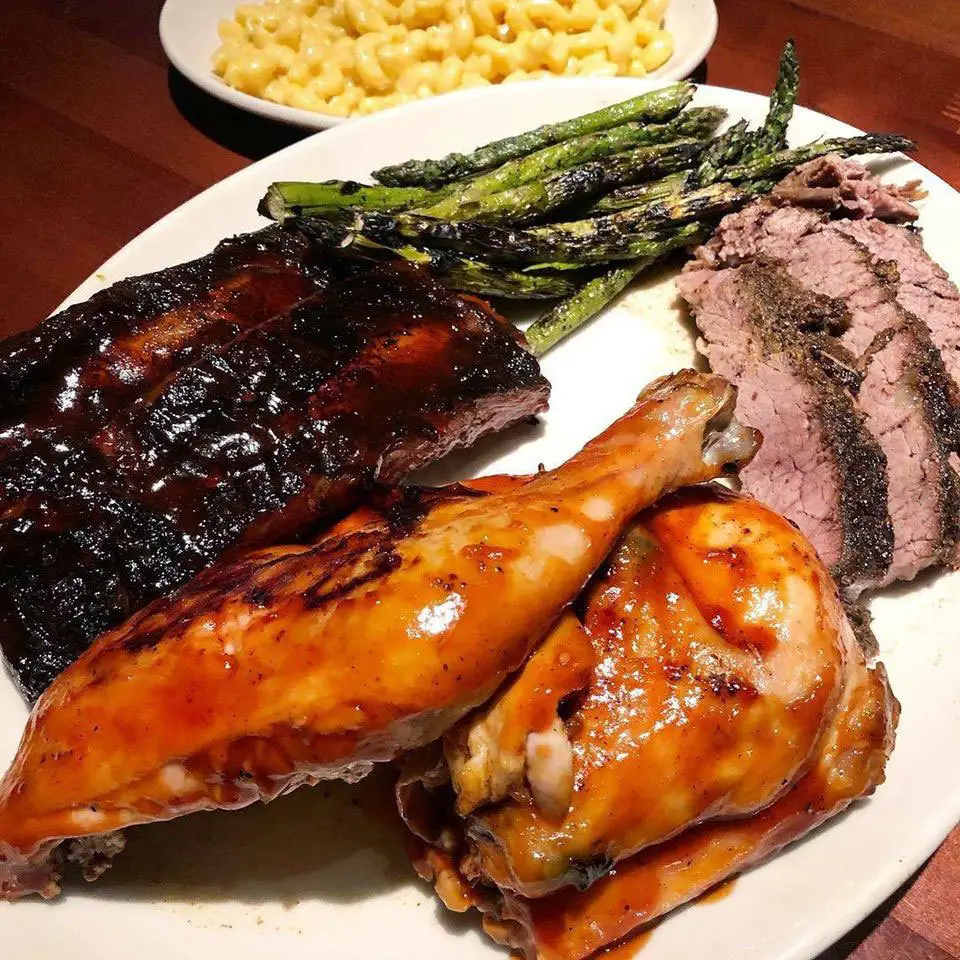 15 Best Barbecue in San Diego California
As a barbecue hard-core fans, all you wish for is a plate of juicy tender ribs. Low and slow smoked meats, homemade sides, and handcrafted sauces are all you yearn for. But, do these barbecue spots deliver what they say?
Among other places in California, San Diego is also sharpening its barbecue skills. And some joints have turned to be the best barbecue in San Diego CA for locals and visitors.
From the famous Phil's BBQ to bull's smoking BBQ, get to enjoy those low and slow-cooked barbecues. Choice of their hand-rubbed sauces, this spot feels like home. The hot spot will serve you the most delectable meals. Besides, get to unleash some new favorite flavors and sauces. While visiting San Diego or a local, knock at any of these hideouts and be sure to get the best barbecue experience.
More...
If the customers chant about it, then be sure you will enjoy it. From great reviews to publications and awards, these joints have proved the ability to sate your barbecue cravings. So do you love wet or dry ribs? Make your choice and enjoy your meal in San Diego restaurants.
15 Best BBQ in San Diego, California
Phil's BBQ
Address: Terminal 2 West, San Diego, CA 92101, United States
Website: philsBBQ.com
In case you are a fan of baby back ribs, this top spot may be your new favorite.
Phil's BBQ is among the best BBQ restaurants in San Diego. It is a joint known for its tasty ribs and chicken. More to offer is their warm hearts to serve underprivileged kids. To give back to society, Phil founded the restaurant.
Sandwiches take only 10 minutes to prepare. This ensures you get your sandwich warm and fresh. Great sandwich bites include El Toro and the Philibuster. The fan's addict one is the BBQ Broham. It consists of seasoned pulled shoulder and char-grilled on a bed of Coleslaw. It is then topped with BBQ sauce. Other notable dishes are the fish salads, delectable sides, and meaty ticklers.
At Phil's spare your cheeks the mess while crashing bones and go with the bone-free meats. The meals on the category are the addictive baby back ribs, chick-less diner or you can order both. Whoopee's pies made the traditional way are a great choice for dessert.
A coca-cola drink is available to save you from choking.
Kansas City Barbecue
Address: 600 W Harbor Dr, San Diego, CA 92101, United States
Website: kcBBQ.net
Established in 1983 the Kansas City barbecue is famous as the top gun bar. From barbecue meals to sweet drinks, this spot ought to be your best barbecue in San Diego. The joint strives to offer you dishes. Premium flavor-packed meats, home-crafted sauces, and fresh sides are some of the delicacies.
Tender baby back ribs and sliced beef brisket are some saucy options on the lunch plates. Yet, the hotlinks choice won't disappoint you. It originates from KCBBQ by Tarantino San Diego. It is the official hot dog and sausage for the San Diego Padres.
Open face St Louis ribs will have you coming back again.
Other great offers are tasty hot wings, chili mac, and mac and cheese bawl. A sandwich plate may have slaw, beans, fries, rings, potato, salad, macaroni, mac and cheese, and corn on the cob. Go ahead and pick your combination. They all are complementing. To spice up your meals are spice-filled hotlinks and divine sides.
All their desserts are homemade. They include sweet potato pie, walnut pie, and a whole pie.
On the drinks, options are domestic and premium bottles, cans, and draught drink. If it is not your best BBQ in SD, then review your flavor choices.
Coop's West Texas BBQ & Catering
Address: 2625 Lemon Grove Ave, Lemon Grove, CA 91945, United States
Website: coopsBBQ.com
For jaw-dropping, authentic slow-smoked barbecue, the Coop's West Texas BBQ is your spot. The hideout utilizes more time on smoking the meats and crafting their sauces. Also, they ensure you get the tastiest sides.
For a meat plate, order the juicy dripping spare ribs. Beef brisket or ribs pulled meat, and south-western jerk chicken is other choices. Great sides to complement with are red beans and rice, baked beans, potato salads, and Coleslaw. Available bread choices are cornbread, burger bun, and white bread. Divine small boy sandwiches and small or large plate combos are more choices for you.
To end your meal with a sweet taste, order the sweet potato pie, peach cobbler, or the buttermilk pie. Drinks available are sweet tea, Pepsi products, and bottled water. Extra BBQ sauce and large baked potato are available to add more sweetness to your plate.
Cali Comfort BBQ
To qualify as the best BBQ in San Diego California, the Cali comfort had to do more than serve delicious bites. In every of their move, the Walchef family, Shawn, and Rositsa Walchef great work results. They have included all the Bulgarian traditions of hospitality.
For fall off the bone meat slices, the Cali comfort guarantees you many. Their pitmasters have dedicated themselves to the art of live-fire cooking. To ensure you get the tender ribs, these experts smoke their craft barbecue overnight. The process takes place on an ole hickory smoker. It has only the aromatic California cooking woods flaming.
Since 2008, the Cali comfort BBQ ranks among the best BBQ restaurants in San Diego. On the wings section is the delicious lip-licking west coast bones. BBQ tri-tip salad is an amazing option for salads. It is a combination of Cali tri-tip salad served with tomatoes and red onions. Feta cheese is then added on a bed of mixed greens. All barbecue plates come with your choice of sides and jalapeno cornbread. Tasty sandwiches are also available.
On the kid's menu is mac and cheese with bacon bits. This option is for kids under 12 years old. And the fishbowls dishes are tempting. You can order a Mai Tai fishbowl, and melon margarita. The new strawberry-mango Saladino fishbowl is amazing too.
Don't forget the "wicked" peach cobbler and Cali BBQ cocktails to go when you pick up your takeout.
Iron Pig Alehouse
Address: 1520 Garnet Ave, San Diego, CA 92109, United States
Website: ironpigalehouse.com
Now with a dine-in seating, the hot spot hopes to serve you their divine meals at their comfy seats. From the main menu to a breakfast menu, the iron pig restaurants will have you catered for all-day meals. Kid's sized dishes are also available so make sure you tag with your little one.
All their dishes come from scratch to ensure you get the freshest scoop on your plate. For barbecue meals, their meats are low and cooked. Your ribs or beef will be tender as mother's love. That's why it tops as the best barbecue in San Diego.
Bull's Smoking BBQ
Even with the COVID situation, bull's smoking BBQ will amaze you. The spot has taken the necessary measures to put the best bites on your tray. They make all their dishes in the restaurant to ensure no delays and you get warm and fresh food. If you need the company of your dog, the barbecue is the perfect choice for you.
Their dog-friendly patio will provide you with a cool environment for you and your cute dog. So, during happy hour every weekday, guide your dog, and have more fun at this joint. And it will sure enjoy the free dog bones. With such credits, should this hideout miss out on the best BBQ restaurants in the San Diego list?
This 2009 founded barbecue specializes in real Carolina-style slow-cooked meats gourmet sides. Also, for ribs lovers, the hideout will serve you the juiciest and largest ribs you could ever have.
The barbecue will serve you the most tender and soft meats, their pulled meat, and brisket. They smoke their meats for 11-14 hours. Chicken, salmon, and beef ribs will be ready and salivating after three hours of smoking.
There are endless foods to enjoy straight from the restaurant. Choices include bull's fries, fresh beans, Caesar salads, sweet corn, and steamed rice. Coleslaw, cornbread, and mac and cheese are other dishes made within the joint's walls.
Bubbas Smokehouse BBQ
Address: 888 Prospect St, La Jolla, CA 92037, United States
Website: bubbassmokehouseBBQ.com
The food may be great, but an unfriendly welcome chases away customers. At bubbas smokehouse, a warm smile accompanies your tray. Isn't that enough to make you feel at home?
The food is tastier than the smile. Wondering what's the secret?
In April 2009, Jeffrey Nicoletta- a US navy veteran embraced the idea of being a restaurant owner. Partnering with Ali Nicolletta who had unshakeable experience opened the Bubba's smokehouse. Since then, the joint is famous for the most delectable, salivating fall off the bone ribs.
The family restaurant hopes to serve you divine southern-style ribs, and tri-tip. Brisket tender enough to allow a blunt fork is available. Flavored chicken and a variety of homemade sides will have you nodding at your plate till the last bite.
And for lighter fare, the barbecue offers diverse options for hearty sides. They craft them well to give you a healthy barbecue experience.
Your little one will enjoy the mini burgers, chicken tenders, baby back ribs, or the dual BBQ sliders.
Bottled drinks will help you drain down the aftertaste. Delicious foods, divine drinks, and warm smiles are what makes it the best barbecue in San Diego.
Wood French BBQ and Grill
Address: Hazard Center, 7510 Hazard Center Dr #215, San Diego, CA 92108, United States
Website: woodranch.com
The award-winning restaurant features "the food that makes America great!" The menu comprises of top quality salivating dishes. They will have you coming back again and again. And it is among the best BBQs in San Diego CA, tasty dishes and drinks are a must find.
Tasty dishes to order are the American baby back ribs and the certified Angus beef steaks and burgers. Their top-selling entree- USDA choice tri-tip roast is worth a bite. The sweet aroma of fresh fish, a well-cooked chicken will have you forgetting your eating manners. Roll up your sleeves and hold firmly the buckeye brisket till the last bite. Take-out specials are available.
Kid's ribs, sandwiches, mac- cheese, chicken tenders, and grilled cheese. Beverage choices fountain drink, milk, chocolate milk, and fresh lemonade. A sundae dessert and signature sides are available.
Hand-crafted cocktails, and tequilas are all made to complement well with your barbecue meal. Other drinks available are margaritas, soft drinks, and non-alcoholic drinks. Enough options that you won't miss your favorite choice. As it should be with any best BBQ in the San Diego area.
Lil Piggy's Bar-B-Q
The best BBQ restaurant in San Diego should not only serve you the tastiest bites but also introduce to you other great cuisines. Inspired by a family tour, Lil piggy's barbecue brings you all the Memphis style barbecue flavors to you.
After a visit to all notable joints in Memphis, the spot is happy to serve you the best of Memphis, Carolina, and Kansas style barbecue dishes. Blues music, a cool park, and varieties of drinks to choose from will aid intensify the greatness of being at Lil piggy.
Memphis meat nachos or Tennessee street tacos for starters will wake up your barbecue cravings.
Get ready to mess your hands with delicious A la Carte, premium combos, and fresh sides. Barbecue plates include pulled meat, beef brisket, chicken, and baby back ribs.
A great menu for your young one is available. Sweets and banana pudding are nicely made to ensure they deliver the perfect dessert taste.
Traditional sammiches are also available.
Rei Do Gado Brazillian Steak House
Address: 939 Fourth Ave, San Diego, CA 92101, United States
Website: reidogado.net
Since 1999, Rei Do Gado has been the only San Diego restaurant with Mesquite charcoal grill with authentic Churrascaria. A Churrascaria is a spot serving diverse meat slices, grilled in a skewer that came from southern Brazil. A characteristic that makes it stand out as the best BBQ in San Diego.
Lunch specials include top sirloin cap, loin, spicy meat sausage, and cinnamon honey-glazed pineapple. Premium options to add on your plate are filet mignon with bacon, Ribeye steak, tri-tip, and top sirloin with garlic.
For seafood lovers, dinner dishes are available. They include Alaskan king crab legs, baked salmon, king crab chowder, and jumbo shrimp cocktail. Fruity salads, sweet-tasting sides, and delicious sauces are available to add more flavor on your plate. A variety of dessert selection to meet your preferences are served. Red and white, champagnes, will not only drain down your bites but also add more laughter in your dining experience.
To experience a legit Brazilian experience and a selection of premium dishes, visit this steak house.
Gaslamp BBQ
Address: 524 Island Ave, San Diego, CA 92101, United States
Website: gaslamp.org
Outdoor dining space will ensure you enjoy the cool air while you dig on those warm meat steaks. At Gaslamps, every of your bite is accompanied by the soothing cool music playing in the background. Great affordable dishes ranging from American cuisines to divine Mexican meals are served.
Whether its breakfast, quick bites, or a pizza slice, this top best BBQ in San Diego is your perfect spot. It will serve you the best of sushi, seafood, and desserts. You can also try their tasty Italian and Persian dishes. Their full pub sure contains your favorite drink. Tag with your friends and toss while at your nearest gas lamp BBQ branch.
Late for dinner? Pass by the joint, and be sure to get fresh yet warm late-night mouth-watering dishes.
Dickey's BBQ Pit
Address: 5604 Balboa Ave Ste 105-106, San Diego, CA 92111, United States
Website: dickeys.com
The best BBQ restaurants in San Diego hold onto their cooking styles no matter how good the trends are. The year 1941 is the year when Travis dickey opened the first Dickey's BBQ in Dallas, Texas. Despite more expansions, the dickeys have held onto some old ways.
Since 1941, the joint still slow smokes all meats on-site. The menu comprises pulled meat, beef brisket, St Louis style ribs, and polish sausage.
Spicy cheddar sausage smoked turkey and marinated are other great choices to add on your plate. Numerous choices of homemade sides will leave you licking your lips. Not only will you find your favorite nut also it will be tastier than you ever imagined.
Delicious choices include jalapeno beans, macaroni, and cheese. Spare ribs and butt with zero artificial colors, flavors, and hormones yet tasty will awe you.
For a perfect blend, every meal contains the butterfly rolls with complimentary ice cream. As if the credits aren't enough, your young one gets to eat free on Sunday.
Grand Ole BBQ Y Asado
"I fell in love with Central Texas BBQ flavors as a kid and often wondered why there wasn't a venue that combines those flavors with great music in an outdoors setting in San Diego,"
– said Andy Harris, owner of Grand Ole BBQ y Asado.
Maybe you too have been looking for the same.
Enjoy a taste of St Louis with a bite of their juicy spare ribs served by the pound.
A Texas hotlink which is also available as a sandwich is the perfect option for meat nerds. Still, at lunch, you can order the pulled meat sandwich, smoked Kentucky lamb, and tri-tip sandwich.
For dinner fresh slice Texas-style brisket, beef short ribs, and Texas turkey sandwich are some delicious options. On Sundays at lunch, you can enjoy a taste of Argentina. Order the saucy Morcilla and get ready to order another. The tastiest bites ever.
The barbecue is currently closed for renovations.
BBQ House Grill
Address: 5025 Newport Ave, San Diego, CA 92107, United States
Website: BBQhouseob.com
The BBQ house is the best BBQ restaurant in San Diego California that will have barbecue nerds, seafood lovers, and vegetarians happy. Since 1991, the award-winning meals have been drawing masses from all corners of the world. The family-friendly restaurant has been working tirelessly to bring you the best meals. Slow-smoked meats and homemade dishes are examples.
Buffalo chicken fries or wings work great for starters. Other options are garlic bread brisket and BBQ house fries. Beef ribs cooked low and slow served tender. They are also well flavored to add more sweetness to your plate.
Take a nod to the most colorful and welcoming combos, tasty chicken bites, and fat sandwiches. For delicious links order among Louisiana, bratwurst, and hot dog options. Seafood lovers and vegetarians are not left out. For sea lovers, chose between the fish and chips and shrimp and chips option. Wondering how that tastes? The combination is not only well blending but also heaven tasting.
Get rid of the stubborn aftertaste with the sweet can and bottled drinks.
Coaster Saloon
This authentic Texas-style BBQ will sate your cravings. Also, quench your thirst with over 40 taps of sweet drinks. The family-owned restaurant has been operating for over 33 years. With such experience, it has brought San Diego dining experience to a higher level.
With such determination to serve you the best, the joint hasn't gone unnoticed. The joint has scooped numerous awards in the form of best restaurants in the San Diego area. The awards are San Diego medallion awards and Gaslamp quarter association lamplighter awards.
The restaurant has over 24 branches while each has a different menu. So, make sure to check which menu favors you more.
Despite the many alluring barbecue choices, a choice should be made. So which tops as the best barbecue restaurant in the San Diego area. Is it the Coaster salon or Lil piggy?
The choice is all yours! Try the barbecue in the best BBQ restaurants in San Diego.