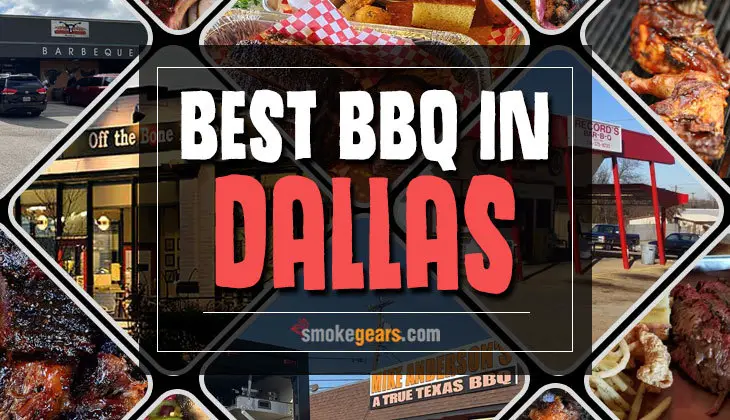 Best BBQ in Dallas, TX: 20 Best Barbecue Joints in Town for Takeout & Delivery
Texas is undoubtedly the reigning champion of barbecue in the country. And you're a real BBQ lover, you should visit one of its cities, say Dallas for instance, and taste its BBQ! From spicy sausage and brisket with a crispy bark to juicy turkey breast and ribs, Dallas has it all! Not to forget the endless list of several transcendent sides served at the top Dallas BBQ restaurants.
There is one challenge though! With so many BBQ joints in Dallas, which one serves the best BBQ in town? Worry no more! As I've carefully selected some of the best BBQ joints in Dallas! Without further ado, let's get right into it!
More...
Top 20 Best BBQ Restaurants in Dallas, TX
18TH & Vine BBQ
Address: 4100 Maple Avenue, Dallas, TX 75219
Website: 18thandvinebbq.com
If you'd like to taste authentic Kansas City-style BBQ while in Dallas, then this joint is the ideal destination. It's located to the east of downtown blocks at the intersection of Vine and 18th streets. The joint was opened by Matt Dallman, who stayed in Dallas for 13 years after moving from Kansas City.
This upscale restaurant serves traditional Kansas City BBQ plates and a selection of seasonal dishes. Their smoked meats include; brisket, chicken, turkey, sausage, and cauliflower steak. As well as various salads, sandwiches, dinner entrees and soups.
In addition to serving barbecue, the restaurant has a full-service bar. This goes well with the live music played every night. The entire restaurant occupies a space of about 3400 sq. ft. with a 100-seating capacity downstairs in its main dining space. While the bar space upstairs accommodates 30 seats. Also, the joint has a cool setting since the whole place is located indoors.
The restaurant is open for dinner and lunch every day! And you can either sit at the upstairs living space or the gorgeous patio. 18th & Vine is one of the few Dallas barbecue restaurants that offer full sit-down service. Be sure to sample out the best Kansas City style in Dallas here!
CattleAck Barbeque
Address: 13628 Gamma Road, Dallas, TX 75244
Website: cattleackbbq.com
CattleAck BBQ is located in an improbably mysterious location near the Galleria. Yet, this has not stopped crowds from gathering at this joint. And it's even listed among the most celebrated BBQ restaurants in Dallas.
Owned by Todd David, most people think that this joint is Dallas' best-kept BBQ secret. Some of the meats offered at the joint include; pulled meat, ribs, turkey, brisket, and home-made sausages. With all meats being prepared using Todd's SPECIAL Reserve barbecue sauce. Moreover, the menu includes desserts, sandwiches, sides as well as non-alcoholic beverages.
This restaurant is only open on Thursdays, Fridays & the 1st Saturday of every month starting from 10.30 am to 2 pm. You'll find many people lining at this joint waiting to be served their beef ribs. Long lines at BBQ joints usually indicate that their BBQ is amazing! I advise visitors to get at the joint early to avoid the long lines and get the best selection!
The Slow Bone BBQ
Address: 2234 Irving Boulevard, Dallas, TX 75207
Website: slowbone.com
Since it was first opened in 2013, the Slow Bone has been serving Texas-style BBQ to BBQ lovers in Dallas! The joint is located in the Design District. But it's the assembly line-style service and plastic trays that make it unique from the other joints. Also, the Slow Bone is a lunch-only BBQ restaurant and it closes at 3 pm.
Their meats, which include smoked chicken, ribs, sausages, and brisket, are smoked on-site daily. But it's their fried chicken that has impressed many critics and patrons alike, always listed among the best BBQ in Dallas, TX! That said, their sides are also exceptional and they include items like Brussels sprouts and potato salad.
With the joint serving the best-fried chicken in Dallas, expect to find a line here. So, make sure you get at the joint early before they're sold out!
Besides serving the best-fried chicken and other meats in town, The Slow Bone also offers on-site events and catering services. You can also look at their daily special on their website!
Hard Eight BBQ
Address: 688 Freeport Parkway, Coppell, TX 75019
Website: hardeightbbq.com
Started by Phillip and Vicki Nivens in 2003, Hard Eight BBQ is a family-owned and run barbecue business. The joint has a rustic and friendly atmosphere. While its wide selection of Texas-style meats include; turkey, brisket and 2 kinds of sausage. All their meat is smoked in a pit using fresh mesquite wood.
In addition to barbecue, the joint serves other customer favorites like the 16-ounce hand-cut ribeye and prime ribs. With the menu featuring may kinds of side dishes, desserts, kabobs, and poppers. The restaurant has both outdoor and indoor seating. And there is live music being played on the patio on Friday & Saturday evening.
Hard Eight BBQ is available in various locations, including The Colony, Roanoke, Stephenville, Burleson, and Coppell. Yet, they all serve the same BBQ since it's prepared in bulk at the Southern Prides.
If you're ever craving for a classic Texas-style BBQ experience while in Dallas, this is the joint to check out!
Pecan Lodge
Address: 2702 Main Street, Dallas, TX 75226
Website: pecanlodge.com
Once a simple farmer's market stall, this restaurant was started by Justin and Diane Fourton in 2010. Now, this popular joint is smoking an award-winning BBQ in a large spot on Main St. in Deep Ellum.
Whether you're craving for sausage, brisket, or ribs, Fourton's low and slow-cooked moist meat will leave you weak in your knees. Especially if you enjoy them alongside the home-made side prepared from scratch.
Their BBQ pit burns up for 24 hours and it's only fueled by fire and timber. And all their foods are made from scratch including the in-house sausage which is milled and filled at the joint. The joint's BBQ is perfectly complemented by various sides like mac n' cheese, coleslaw, and fried okra.
Moreover, there's live music being played at the joint on Saturday and Friday nights while the bar serves Texas beers. Thus making Pecan Lodge a legendary dinner and lunch destination!
Due to its popularity, this joint attracts many people from all over Dallas. So, expect to find a waiting line. But depending on the quality of their BBQ, it's worth the wait!
Off the Bone Barbeque
Address: 1734 South Lamar St., Dallas, TX 75215
Website: offthebonebbq.com
After retiring, Dwight Harvey decided to start a BBQ restaurant in 2008, together with his wife, Rose. Today, the joint attracts a crowd of cops and Cedars workers at lunchtime.
It's located on the southern side of Fort Worth in downtown Dallas, an area that was previously occupied by a gas station. This has seen it being listed among the top joints that serve the best BBQ in Dallas Fort Worth!
The pitmaster smokes all the meats for about 5 hours using pecan wood. They're then cooked for another hour and coated with sauce to create deliciously tender fall-off-the-bone ribs. But, it is not only the ribs that make this joint so great. Since their brisket, which is pit-smoked for 14 hours and coated in a spicy rub, is a great option too!
This intimate counter-service BBQ joint also serves free samples of their popular baby back ribs smoked over pecan wood. And there are other popular items on the menu like smoked chicken, pulled meat, sausage, and smoked brisket. While their combo platters include sides such as blue cheese & bacon coleslaw, deep-fried corn and spicy charro beans.
At this restaurant, you can either order your meats by weight or in a Texan-style taco/ hearty sandwich. Also, there are cobblers and cakes for dessert that you can either buy by the slice or whole.
Lockhart Smokehouse BBQ
Address: 400 W Davis Street, Dallas, TX 75208
Website: lockhartsmokehouse.com
Widely known as the official BBQ capital of Texas, Lockhart Smokehouse the most genuine Central Texas-style BBQ in the city! But, what do you expect from a person whose family is behind the legendary Kreutz Market?
Jill Bergus, the owner of this joint, is a descendant of Edgar Schmidt. Edgar purchased the Kreuz Market in 1948 and passed it to his children in the 1980s. For those who don't know, Kreuz Market is a BBQ joint in Lockhart that has been serving smoked meat since 1901. More than 100 years ago! That's why the joint is legendary in Texas!
But we're not talking about Kreuz Market, are we? Lockhart Smokehouse has been serving excellent taste and aromas to people in the Greater Dallas area. With the help of Kreuz Market of course. The meats are smoked with Texas post oak and then served with various upscale southern sides.
Haven't made up your mind what to order yet? Don't worry! This joint allows you to sample their items to help you decide. Lockhart Smokehouse opens daily starting from 11 am until everything is sold out!
One90 Smoked Meats
Address: 10240 Northwest Highway, Dallas, TX 75238
Website: one90smokedmeats.com
If there is any BBQ spot that's perfectly suited for the new area of delivery and takeout in Dallas, it's One90. It's owned by Herman Guerra, Kyle St. Clair, and Adam Weatherread, who went to the same high school. They started cooking and selling vacuum-packed BBQ after finishing college at St. Clair's Garage. And they didn't even know anything to do with the BBQ restaurant back then.
Named for the excellent internal temperature of its perfectly smoked brisket, this East Dallas BBQ serves the best small-batch BBQ in town! And it has received several accolades for its BBQ over the years since its opening. Not forgetting it was featured on the Diners, Drive-Ins, Diners & Dives by the Food Network.
The place has a single counter and a few stools, indicating that most of their items are for meant enjoying at home. If you can't wait to get home, you can enjoy the sandwich in your car's front seat.
Some of the favorite dishes served here include pulled meat, salmon tacos, brisket, and the spicy brisket sandwich. With the sandwich featuring green leaf lettuce, vine-ripened tomatoes on rustic bread and smoked duck breast.
As the name suggests, One90 Smoked Meats is not a BBQ joint! And they usually pile their smoked meats in a sandwich. So, don't expect to find a combo plate with beans and slaw served on a plastic tray here! But if you love a great smoked meat sandwich with several bold flavors, you will love this spot!
Odom's BBQ
Address: 1971 Singleton Boulevard, Dallas, Texas 75212
Website: odomsbbq.com
Odom's BBQ is a casual family-run BBQ joint that was started way back in the 1930s. Popular for its tasty ribs, this joint is linked to the legendary Hardeman's BBQ restaurant that was established in the 1940s. As Hardeman's joint expanded to various locations, then this spot is West Dallas was opened in the 1960s.
In 1990, the Odoms bought this restaurant from the Hardeman family. Since then, the Odoms have been offering luscious, smoked, fall-off-the-bone ribs to locals and tourists alike. The joint serves a wide selection of meats including smoked turkey legs, Texas hot link sausages, chicken ribs, and beef. You can either order the meats by the pound or by the plate!
Side dishes served at this restaurant include potato salad, baked potatoes, and ranch beans. If you're a first time, you can choose to carry out your meal or dine in. besides serving smoked meats, Odom's offers catering services for various events!
Smokey John's BBQ and Home Cooking
Address: 1820 West Mockingbird Lane, Dallas, TX 75235
Website: smokeyjohns.com
This family-owned and run BBQ joint has been serving Texas-size portions of home-made dishes at affordable prices since 1976. However, in 2017, the business stopped its operation because of a fire accident, but it's now back in business. It's located near the airport of Dallas Love Field. This ideal spot ensures that you take a quick bite you take your flight.
The joint has a perfect selection of meats smoked over hickory woods that you can choose from. These meats include; beef brisket, ribs, and hot links. While their side dishes include cornbread, mac n' cheese and candied yams. Other popular items on the menu are; butter bomb cake, burgers and fried American catfish. If you're a vegetarian, you'll also get something to eat at this spot. Especially since most of their side dishes aren't prepared with meat products.
Smokey John's BBQ is open from Monday to Saturday, starting from 11 am to 7 pm. This restaurant is reputable for providing quick and friendly service in town!
Dylan's BBQ Saloon
Address: 2110 W Northwest Highway Suite b, Dallas, TX 75220
Website: dylansbarbecuesaloon.com
Owned by Bryan Mahoney and Dylan Johnson, Dylan's BBQ is a unique BBQ restaurant and bar with traditional saloon-style décor and customized smoker. The joint features multiple booths and tables. A large bar and one unique seating area.
You can easily see how the food is prepared as you line up. Also, the dining space has a large viewing window where you can see what's going on in the kitchen.
Just like most BBQ restaurants Dallas TX, Dylan's is popular for its brisket. They rub certified Texas Angus with high-quality black pepper and salt and then slow-smoke it over oak wood. Dylan's serve smoked meats on a plate or in a sandwich. Most people coming at this joint prefer the smoked meatloaf (available on Fridays only), St. Louis ribs, and tipsy chicken.
The restaurant also offers delicious sides in both individual and family sizes. While the bar has a great selection of beers. This saloon is open from 11 am to midnight every day! However, the kitchen hours tend to vary depending on the day of the week.
Apart from traditional barbecue meats, you can enjoy other popular dishes like burnt ends and Rind Pulled Nachos. Although this charming saloon is located in a modest part of Dallas, it's certainly worth the trip.
Lakewood Smokehouse
Address: 1901 Abrams Road, Dallas, TX 75214
Website: lakewoodsmokehouse.com
Lakewood Smokehouse is not your typical BBQ spot where you wait in line and pick your smoked meats. Instead, you get in, take your seat and order off the extensive menu. Besides serving barbecue, the joint has other items like sandwiches, salads, and pizzas among others.
This joint is located in a low-key neighborhood and it serves delicious desserts, classic BBQ, and craft beers. Their barbecued meats include; burnt ends, smoked chicken, baby back ribs, turkey and pulled meat. Moreover, the restaurant has a great selection of side dishes.
With the family-style dining at this joint, you can seat in groups of 4 or more. And did I mention there is a happy hour between 2 pm and 6 pm on weekdays? Make sure you check out this joint and enjoy the unique food items, liquor drinks, draft beers, and glasses of drink.
Sammy's BBQ
Address: 2126 Leonard Street, Dallas, TX 75201
Website: sammysbarbeque.com
When Marshall Prichard was opening this joint in 1992, the neighborhood was occupied by empty houses. Today, Sammy's BBQ is surrounded by office buildings and townhomes. Since its establishment, Sammy's has developed to become one of the best BBQ places in Dallas.
This country-style BBQ restaurant is open for lunch daily, except on Sundays. Their barbecued meats served here include; chicken, brisket, ribs, and sausage. Not forgetting the joint carefully smokes natural prime meats over hickory wood.
The side dishes on offer include; spinach salad, okra, potato casserole, and barbeque beans. With these sides being made from scratch every day. Their desserts such as lemon bars, 3 types of pie and brownies are also prepared from scratch.
Check this joint out and joint the lunchtime crowd waiting to be served some tasty barbecue. If you want to beat the lunch rush, get there early and enjoy your brisket, sides, and dessert!
Baby Back Shak
Address: 1800 S Akard Street, Dallas, TX 75215
Website: babybackshak.com
To honor his hometown, pitmaster Clarence Cohens decided to open this BBQ joint in Dallas about 20 years ago. Unlike most BBQ joints in Dallas, Baby Back Shak specializes in Memphis-style BBQ and it's one of the best BBQ in Dallas area!
Both the exterior and interior decors of Baby Back Shak have been upgraded. And you cannot miss the bright red building that was recently painted in Akard Street.
They prepare their meats with a unique blend of spices, sauces, and herbs, which is the family's secret recipe. Similar to the ribs, the brisket is low and slow-cooked over a combo of pecan, oak, mesquite, hickory and fruit woods.
You can either order your meats in a sandwich or by the pound on a combo plate. And even add some salads and side dishes offered by the menu. If you're intending to check out the joint for the first time, know that it closes at 5.45 pm from Monday to Thursday. While on Friday and Saturday, the joint closes at 6.45 pm.
Mike Anderson's BBQ
Address: 5410 Harry Hines Boulevard, Dallas, TX 75235
Website: mikeandersonsbbq.com
Mike Anderson's BBQ has been serving smoked meats in this city for more than 30 years now. And its classic Texas barbecue has attracted a large following of loyal fans. The best BBQ is made the hard way! And that's why Mike Anderson's BBQ prepares his dishes from scratch every day! This also makes their BBQ much more authentic.
This cafeteria-style BBQ joint offers ribs smoked over hickory wood, beef brisket, polish sausage and turkey breast. The meats are smoked for hours and carefully monitored by the pitmaster. While the ribs are dry-rubbed and finished off with the moist baste, resulting into the famous 'toe curlin' dish. You can also top off your food with fried okra and cheddar mashed potatoes or rice and jalapeno pinto beans. However, with a long list of desserts and side dishes, you might have a hard time choosing what you want!
You'll find hungry crowds squeezing into vinyl booths and tables in this joint. And they may even be occupying the picnic tables on the covered patio. Regardless of whatever dish you want, this joint is worth the stop! Their large portions and great prices make it a perfect destination for families.
Record's BBQ
Address: 2405 S Lancaster Road, Dallas, TX 75216
Website: recordsbbq.net
Record's BBQ is a small restaurant that has been serving delicious smoked meats since 1969. It's located off Lancaster Road, mostly operating as a drive-thru BBQ restaurant. The restaurant was started by Albert Isaiah. Before opening this joint, Albert worked at Pappy Dad's Barbecue, which is also in Dallas.
Besides serving delicious food, this joint prides itself on its dedication to supporting the community. This is by ensuring members of the community can access something to eat at affordable prices.
You can choose from the diverse variety of smoked meats including, sausage links, chicken, ribs, and chopped beef. And complement your meal with side dishes like baked beans and potato salad. For dessert, the joint offers pies, cobblers and cakes. Even better, all these items are available at decent prices!
This restaurant also offers its services to late-night customers. It is open every day, except on Mondays, starting from 10 am to 3 am. Record's is definitely among the best BBQ joints in Dallas!
Soulman's BBQ
Address: 8018 S Lancaster Road, Dallas, TX 75241
Website: soulmans.com
Established in 1974, Soulman's BBQ is a well-known chain restaurant for having the best BBQ in North Dallas. Since its opening, this joint has been preparing its dishes according to the classic family recipes. It's one of the biggest local barbecue chains in the state!
Currently, Soulman's operates 19 locations in North and East Texas including, Allen, Forney, Mesquite, Terrell, and Greenville among others.
Their menu serves 8 different types of meats slow and low smoked over hickory wood. You can choose from the wide selection that includes; ribs, pulled meat, chicken, turkey, sausage, beef brisket, and hot ribs.
Other items served at the joint are; stuffed baked potatoes, sandwiches, classic BBQ sides, and 2 types of pie for dessert. This joint is also kid-friendly since it has a special kid's menu.
But, how did Soulman's BBQ become a popular BBQ destination for residents in Dallas? That would be because of its old family recipes that it still uses to date, and the timeless barbecue techniques. Check this joint out and see for yourself!
 JD's BBQ and Grill
Address: 311 W Jefferson Boulevard, Dallas, TX 75208
Website: jdsbbqgrill.com
Last on the list is yet another family-owned BBQ restaurant that serves healthy meals at affordable prices. Although the joint was started in 2015, it had initially opened its doors in 2012 in Oak Cliff neighborhood on Central St. However, this location was closed in 2013, only to reopen 2 years later. Since then, the joint has developed to join the best Dallas BBQ restaurants.
However, this one main thing that makes this restaurant unique from the other joints in town. It does not smoke meats like the other BBQ restaurants! Instead, the remove the fat meat and prepare the meat in a manner that lets them retain their texture and flavor. These meats are then served with their unique homemade barbecue sauce!
Their menu serves everything, starting from barbecue burgers and grilled salmon to baby back ribs. And you can also choose from several sides, salads and appetizers available.
If you want to taste their delicious dishes, the joint has happy hours every day, starting from 3 pm to 7 pm. And do you know that this joint also serves drinks? Well, now you know!
Babb Brothers BBQ & Blues
Address: 3015 Gulden Lane #105, Dallas, TX 75212
Website: babbbrothers.com
Situated in Trinity Groves near the Bridge of Margret Hunt Hill, Babb Bros serves a hickory-smoked barbecue in an authentic southern atmosphere. This restaurant combines blues and barbecue in a casual setting, ensuring you get the best from both worlds.
Their menu has a great selection of smoked meats, desserts, and side dishes. One can either order the meats as part of the combo plate or in a sandwich. The combo plate comes with your 2 of your favorite side dishes and 1-3 portions of meat.
Moreover, the joint has a full-service bar that serves your favorite cocktails and drinks. Not to forget there is live blues music being played here every Saturday and Friday night by local musicians. This live music starts from 7 pm to 11 pm.
So, get to the restaurant, enjoy your ribs, sausage, ribs, and your choice of side dishes. Then order your favorite drink and enjoy the live music being played here every Saturday and Friday night!
Smoky Rose
Address: 8602 Garland Road, Dallas, TX 75218
Website: smokyrose.com
Smoky Rose is one of the best BBQ restaurants in Dallas, located in East Dallas just opposite Dallas Arboretum. This chef-driven BBQ joint serves various smoked meats including brisket, sausage, and pulled meat. Moreover, the joint offers salads, appetizers and seasonal side dishes.
It has a rustic, yet modern farmhouse setting that features a cozy bar serving drink on tap, craft cocktails, and local beers. Drinks you can enjoy comfortably in their expansive outdoor spaces.
If you want more than the usual smoked meats and side dishes, you'll get it here! The joint offers pick-up and delivery orders. This includes their popular BBQ favorites alongside pulled meat quesadillas, grilled salmon salad, chicken fried steak and Reuben sandwiches.
Conclusion:
If you'd like to sample some of the best BBQ restaurants in Texas, Dallas is the perfect destination for you. Especially considering that there are so many BBQ joints in the city. Therefore, you'll not have any problems finding a good BBQ joint in Dallas. But, there is a difference between good and best, right? So, for the best BBQ experience in Dallas, check out the Dallas BBQ restaurants listed above!