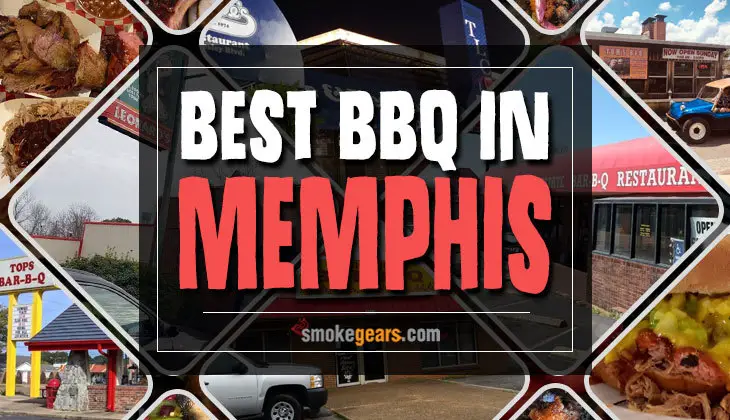 Best BBQ in Memphis TN: 15 Must-Try Barbecue Joints
"Slowly cooked ribs" is a phrase associated with most Memphis barbecues. Whether is the finely grilled ribs, shoulders, many would gladly go for the best BBQ in Memphis TN.
However, what defines the best Memphis BBQ restaurants?
Hard-core barbecue lovers reveal the secret. Memphis barbecue style entails slowly cooking of mostly meat products in a pit barbecue. Besides the taste, Craig Blondis believes the wood also makes Memphis barbecues unique.
While all of them will serve you the delicious ribs you madly love, trying different tastes would be thrilling. As a good number offer dry or wet ribs, Central BBQ among others has opted for both.
More...
In addition, to be known from the world championship barbecue cooking contest, the Memphis barbecues have unanimously stood out. So will you head to Marlowe's or to The Rendezvous? With the many overwhelming choices, you may probably spend a couple of hours battling your contrasting barbecue choices.
In this town with suffocating smoky barbecues, there is still BBQ which has turned to be dwelling places for most residents and tourists. Despite the hard to choose choices, a great choice can be made. Here is a list of the best BBQ places in Memphis.
So will you stick your teeth to Neely's ribs or Charles's Greek chili-rubbed ribs? You decide.
15 Best BBQ Restaurants in Memphis TN
Central BBQ
Address: 2249 Central Ave, Memphis, TN 38104
Website: eatcbq.com
The dry rub spice on the meat slices will have you nodding on your place till the last bite. From great founders to warm hospitality, the central BBQ has proofed to many what an ideal barbecue experience entails. The award-winning barbecue has five branches which will serve you the same incomparable taste.
Craig Blondis and Rogers Sapp are the powerful founders who unleashed the tastiest meat flavors.
Since its establishment in 2002, the central BBQ has justified the "smoke is our sauce" slogan. While utilizing the pecan and hickory this cool stop has managed to deliver the most delicious meat junks. Whether flavored or not, the central staff grills patiently to ensure another visit is worth it. With such hospitality and comfortably, you will surely sate your meat cravings.
Having been born and nurtured during the fires of barbecue steel-tough competitions, the barbecue has managed to maintain the continuous stream of happy customers. With its appearance on national TV shows like Pitmasters, the Centrals have drawn masses from other nationalities. The best thing I have ever eaten and BBQ with Booby Flay are other places the barbecue has been featured.
With such a mouth-watering meal one may not resist the urge to write on this memorable experience. The US today, Southern Living, Men's Health, and Garden & Un are some publications that vividly explain the central barbecue sweetness.
Great effort and firmly grasping to their original premium taste, the central barbecue has opened five branches. This has enabled us to easily serve the masses of happy customers within Memphis and also tourists.
On your plate, you can have the marinated slow-smoked pulled meat or the dry spice hot wings. From the appetizing desserts to mouth-watering rib-full plates, central BBQ is your hot spot. To escort your barbecue meal are coke, Pepsi, lemonade among other drinks. Looking for those slowly cooked brisket? The central barbecue is beckoning you.
To non-residents, the smoked turkey smell on-air will pull you close. Don't shut it up. Take your little one with you. The grilled cheese experience is unmissable.
Cozy Corner Restaurant
Address: 735 North Parkway Memphis TN 38105
Website: cozycornerbbq.com
Cozy corner's perfectly smoked Cornish game hen is a must-try. Co-founder Desiree Robinson ushers all in as he promises to serve you the best BBQ and also the sweetest test of Memphis. Since 1977, the Cozy's are already taking their big slice of barbecue fans from all nationalities. Serving American, Italian, and Greek cuisines, the Cozy will make you feel at home.
With endless choices of their dinner and sandwich plates, Desiree's spot aims to serve the best of every dish. For meat nerds, you may need to try the meats only dishes. It is where your irresistible craving to crash more bones yet tastier ones are met.
Starting from the killer ribs to the bottled drinks, the Cozy barbecue has undoubtedly managed to grab some well-known publication's attention. Food and drinks, The New American Cooking, southern living vividly proves why Cozy should be your top choice.
You can also enjoy your favorite drinks from the full bar with a lounge.
Cozy restaurant for Cozy servings. To seal up your satisfaction, a banana pudding or a sweet potato pie dessert is superb.
For call-ins and catering services, Cozy is on standby to serve you.
Corky's Ribs & Bbq
Address: 5259 Poplar Ave Memphis, TN 38119
Website: corkysbbq.com
Wet? Dry? Or both? Whatever you want, we've got you covered. It is because of such varieties that have made Corky win the best ribs awards.
Owning ten branches, it is explicit that the Corky barbecue has been embraced by many. What's the secret? The Corky's works tooth and nail to ensure they serve the best of your favorite. To meet your taste and flavor. With such dedication, great awards, great features, and more customers streaming have been their sweet fruits.
With an aim to serve the best BBQ ever, the corky has managed to grab 22 awards since establishment. From the local's Corky experience, you sure want to head there. Locals don't lie.
Even with over 30 years ago, Don Pelt's Corky BBQ spot still awes many. Whether is those warm, soft ribs or great combos, Corky barbecue has got you covered. The barbecue has set pulled meat slider, spaghetti with homemade meat sauce among others to cater for your kid's dish.
Charlie Vergos Rendezvous
Address: 52 South 2nd Street, Memphis, TN 38103
Website: hogsfly.com
...and that's how Charles Vergos established the Rendezvous BBQ. From a coal chute, Charles started a legend.
In 1948, just in his diner's basement, Charles set the Memphis barbecue rib standards. After a vinegar wash, Charles slowly grilled the ribs for an hour and fifteen minutes to seal the flavor. A Greek chilli recipe rub and Cajun spices were his newly discovered rub after visiting New Orleans. He then applied paprika which gave the ribs a traditional barbecue color. And that's why barbecue lovers can't get enough of Charles's ribs.
With the world's everyday evolution, The Vergos family has firmly held on its customs since its establishment.
Kicking off from appetizing appetizers to crashing those ribs and beef brisket, every bite screams "come again". The smoky savor of grilled meat accompanied by Memphis blues will definitely lure you in. While meat is their main card, the barbecue still offers salads, sandwiches.
For shrimp lovers, Rendezvous only needs a 24-hour notice. Within a short time, your ancient skillet full of shrimp barbecue will be delivered.
In addition to the laughter-filled dishes, toss with a quality glass of drinks.
Tops Bar-B-Q
Address: 4183 Summer Ave #4043, Memphis, TN 38122
Website: topsbarbq.com
Why us? Because you acknowledge the premium taste of patiently grilled, real pit BBQ. A common question which the top's BBQ has gladly answered and proofed since 1952. With over 65 years since establishing the top's has managed to keep its primeval BBQ tasty taste.
Tops' 15+ barbecue spots have contentedly satisfied the mid-southern BBQ lovers. This has handed them the ability to serve the mid-southerners and keep the huge swarm of customers streaming in every day.
The Tops offers you great combos, sandwiches, a variety of ribs types, and also beverages. In addition to the famous smoked ribs, sandwiches and party packs are also available.
Tops have ensured you got to test their unique sides despite what's your taste is. With beans, slaw, potato salad, fries or chips complete your meal with these great sides.
The Bar-B-Q Shop
Address: 1782 Madison Avenue, Memphis, TN 38104
Website: thebar-b-qshop.com
Less than a mile from Overtone Square Entertainment District stands the Bar-B-Q Shop. Founded in the denouement of the year 1987, this warm place is mostly known for those antiquated, authentic-pit BBQ.
This barbecue shop is popularly known for its antiquated barbecue sauces and Coleslaw crafted from scratch. The incomparable taste of this barbecue has resulted in grabbing of various awards. Having being voted as the number one ribs in America in Food Network "Top Five Restaurants" the ribs are worth a try. They offer wet, dry, and also glazed ribs. Pick out your favorite.
Moreover, you can still enjoy their sandwiches, salads, diners among other dishes.
Considering your kid, the shop offers delicious Bar-B-Q Boston Butt Shoulder Sandwich, and chicken tender all served with fries.
With its unique relish, this BBQ shop will have you nodding with every bite.
Leonard's Pit Barbecue
Address: 5465 Fox Plaza Drive Memphis, TN 38115
Website: leonardsbarbecue.com
"Oh, my, I have eaten barbecue all over the country, and absolutely nowhere have I found anything to remotely compare with Leonard's Pit BBQ". Gayle (Wooten) Vyskocil recalls his moment at Leonard's and urges you to create a memorable moment with the Leonard's too.
From his name, Leonard Heurberger would name his 1922-founded BBQ. Up to date, Leonard enjoys the masses of BBQ loves pouring in his spot.
The dining menu comprises pasta and combination plates, sandwiches, salads, side orders, and appetizers. Their sweet beverages will not only quench your thirst but also give you the unique taste of the Leonard's.
For their BBQ specialties, the offer quality fresh meat, patiently cooked. Ribs are served wet or dry.
Being popularly known for the ambrosial pit-cooked ribs and shoulders, why not try a visit. Head over and popularize the next item on the menu whilst you enjoy it.
The kid's menu carries All Beef Hot Dog & Shoe String Fries, Jr. BBQ Sandwich & Shoe String Fries, and BBQ Ribs & Shoe String Fries. Spaghetti, and fried chicken fingers and shoestring fries are also offered.
Whether is a dining, kid's menu, or catering menu you need, Leonard's got your back.
Payne's Bar-B-Q
Address: 1762 Lamar Ave, Memphis, TN 38114
Facebook: facebook.com/paynesbarbqueshak/
"This place is truly one-of-a-kind. It feels like you're in rural west Tennessee with the dim lighting, checked tablecloth, old flooring, alcohol-free menu, and smoke pit — but you're actually in the urban city! The chopped meat sandwich is beyond special.
The meat is Smokey with a nice tenderness, while the slaw is like nothing you'll ever eat. The slaw adds the perfect crunch to the soft meat and bread. Their beans have an extra helping of meat inside, but that's what makes them tremendous. The service was quite nice too. Five stars", praises Jay Rogers.
"We went for meat sandwiches, and they were everything we hoped they would be. The staff was super friendly behind the counter, and the lunch came out quickly. Their slaw and beans and meat is our favorite lunch meal of the trip." says another satisfied customer.
With such great customer reviews, Payne's is worth a visit. Serving mouth-watering Bologna, delicious ribs, and smoked sausage, the barbecue beckons all to enter. For meat lovers, the hot spot prepares the best-sliced meat you will ever have. Other meals on their menu include smoked sausage, beef hot dogs, sandwiches, and sauces.
Visit Payne's and let's hear your review of the happiest customers. You won't be disappointed.
A&R Bar-B-Que
Address: 3721 Hickory Hill Rd, Memphis, TN 38115 (EAST MEMPHIS)
Website: aandrbbq.com
"Anyone can put the heat to the meat but only a few can barbecue". With such a catchy slogan, the A&R BBQ already draws customers across seas. The pollard's, Andrew and Rose, decided on the A&R BBQ. Since 1983, the BBQ has surprisingly grown and became one of the most known grilling spots.
With Kevin Hart being one of the employees, you sure want to test his kitchen skills. You may get a chance to laugh more as you enjoy those finely grilled meat slices. The barbecue has two menus, a regular and catering menu, which both got that dish you yearn for.
In the regular, sandwiches, plates, sides, ribs, and also drinks are available to fill your growling stomach. For burger lovers, A&R offers both beef and turkey burgers. Your kid will remember A&R experience with those chicken tender basket, Jr.BBQ sandwiches, and overwhelming hot dogs offered.
In case you are near Whitehaven, Elvis Presley Branch will serve the same pollard's taste.
"I love A&R BBQ, they have the best ribs and their tea taste like heaven!" One of their happy customer's remarks.
Tom's Barbecue Memphis
Address: 4087 New Getwell Road, Memphis, Tennessee 38118
Website: tomsbarbeque.com
With great testimonials and reviews, Tom's Barbecue will have you planning a visit. With a barbecue vision in 1982, Tom Stergios changed Taylor's grocery store into a paradise for grilled ribs lovers. Since Fier's visit, many have travelled to confirm his tales. Fortunately, Tom's never disappointing.
Guy Fieri's visit to Tom's has highly contributed to its accomplishment. From the great rants on his show to being featured publications, Fieri calls you to confirm his tom's review. The barbecue was included in the Food Network show and Mentioned in The best thing I have ever eaten.
Ranging from shoulder sandwiches, sausages to great- tasting ribs, Tom's premium will keep you yearning for more. Either is a beef, bologna, or a regular sandwich you need, knock at Tom's barbecue.
Jim Neely's Interstate Bar-B-Q
Address: 2265 S. 3rd Street Memphis, Tennessee 38109
Website: interstatebarbecue.com
Tap on the Interstate website and Wow! The warmest welcome ever, Neely's warm smile along with appetizing ribs. In 1978, James N. Neely embraced the idea of a barbecue.
Outstandingly built barbecue pits and its unrevealed secret sauce is among the secrets behind its greatness. With his vividly defined aims and dedication to serving you, Neely proofs your stomach satisfaction is what matters most to him.
The interstate is greatly known for the tender and moist slowly cooked ribs. Nicely cooked spaghetti, pulled meat and the premium pecan pie, clearly shows intestate knows what works for you. Still, on their endless menu are salads, dinners, sandwiches, and desserts.
In the child's plate, Interstate serves chicken nuggets, hot dogs, and small BBQ sandwiches. You can tag iced tea, Pepsi, Coke, lemonade, or any other drink on your meal.
The barbecue has been second-rated nationally in the People's Magazine, The best commercial Memphis barbecue by Vogue Magazine. To add on the list of awards, it has been named the best place for meat sandwiches in America.
Visit one of Neely's three branches for breath-taking meals.
POLLARD'S BAR B-Que
Address: 4560 Elvis Presley Blvd, Memphis, TN 38116
Website: pollardsbbq.com
When customers demand, you should deliver. On the 26th of September 2011, Tarrance and Torria pollard, parents of the football star Tony, satisfied the overwhelming demand. Since then Pollard's barbecue has become the hot spot of many locals and also foreigners. For football lovers, the Pollards have created the best environment for you whilst you enjoy your order
Growing from a small catering business, Pollard has massively grown to a lip-smacking barbecue spot. With lots of options on their menu, this paradise will ensure you got all your barbecue fantasies fulfilled.
Desserts, well-grilled ribs, turkey, chicken are among Pollard's dishes. For fish admirers, the barbecue will serve the tastiest fish you could ever have.
Marlowe's Ribs & Restaurant
Address: 4381 Elvis Presley Boulevard, Memphis, TN 38116
Website: marlowesmemphis.net
A father story told by his daughter. Tony Gigliotti encourages many by his enticing founding story. "During my teenage years (1974), dad started experimenting with his skills with a barbecue.
With their award-winning ribs among other meals, the Marlowe's have secured a large mass of food lovers.
Rack of ribs, Elvis burger, BBQ beef brisket, and peanut banana sandwich are among the most Marlowe's popular dishes. Marlowe BBQ chips, Buffalo wings, combination platter, appetizers, and salads are other meals you can enjoy at Marlowe's.
Marlowe's wood panelled-walls welcomes you to try the Italian style BBQ spaghetti. For Elvis's fans, you got to pay a visit to Marlowe's and meet other fans.
Germantown Commissary
Address: 2290 South Germantown Road Germantown, TN 38138
Website: commissarybbq.com
To convert a small store into a globally reputable BBQ spot is fascinating. This thought came crossed Walker Taylor in 1981.
With both the main menu and a kid's menu, the Commissary barbecue welcomes all your family to enjoy the great meals. The main menu delivers to you a variety of BBQ shoulder choices, combo platters, cat & shrimps, and also salads. To add on to the vacillating menu choices are beef brisket, BBQ combos, ribs and, hot links.
The Commissary barbecue has two locations where you can enjoy their delicious dishes. On your kid's table, Chicken Drummies, Peanut Butter and Jelly Sandwich, Baby BBQ Sandwich, and Hot Dog are served.
One and Only BBQ
Address: 1779 Kirby Parkway Memphis, Tn 38138
Website: oneandonlybbq.com
A great move always starts with a deep discussion. During the fall of the year 2011, while playing poker, a BBQ decision popped up among the members. With the combined energy, Alan Katzen and Joel Banes bore one and only five years after.
As the name suggests, Alan and Joel wish their three locations become your one and only BBQ destination.
The one and only barbecue will accelerate your appetite with heaven-tasting starters to lip-licking deserts. The barbecue will serve you the best of its BBQ meats, dinners, sides, and salads. It also has a variety of parks. They include rib park, game park, pyramid park, super 6/12 park for families and parties.
By just filling a catering form and confirming you are not a robot, the staff is ready to give an exclusive service.
What now then?
It is a common saying that patiently cooked ribs yield the tastiest taste. Most Memphis have embraced the phrase. However, does it only entails slowly grilled meat? With the variety of choices, landing your next favorite barbecue spot would be a tussle.
So will you head to Corner's or to best BBQ in Memphis food network? The choice is all yours. Your flavor and taste preference is your key? However, would it be more fun to try all Memphis different flavors? Unlock those mouth-watering meat slices.
Grab your coat and head Memphis-way.