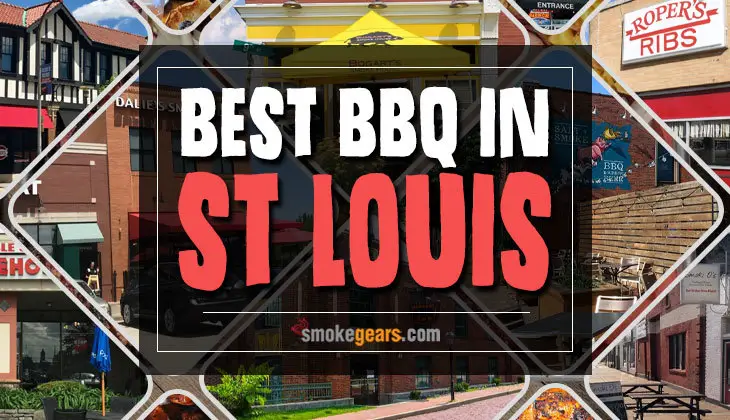 Top 15 Best BBQ Restaurants in Saint Louis, MO
Located along the bank of River Mississippi, Saint Louis is a meeting point of various cultures and cuisines. It's surrounded by Memphis to the south, Kansas City to the west, and the Carolinas to the east. All these cities have one thing in common- they've got the best BBQ in America! Also, these cities have their barbecue styles.
These styles from surrounding areas have inspired the popular St. Louis BBQ style! And you'll find it being served in the several great BBQ joints in the St. Louis area.
While visitors know the specific joints they can authentic St. Louis BBQ, you may find it a bit difficult if you're a visitor to the area. But, don't worry, I'm here to help! Here are the 15 best BBQ restaurants in St Louis, MO!
More...
Top 15 Best BBQ in St Louis MO
Pappy's Smokehouse
Address: 3106 Olive Street, St. Louis, MO 63103
Website: pappyssmokehouse.com
Owned by Mike Emerson, Pappy's Smokehouse was first opened in 2008. And it has been serving Memphis-style BBQ in the Saint Louis area since that day. The joint is usually busy and you may find a long waiting line. But, the friendly staff and relaxed atmosphere make their service pleasant and quick.
The restaurant has a highly experienced pitmaster and chefs with several years of culinary expertise. Their menu mainly focuses on smoked meats. But, you can find other options like Frito Pies as well as sides such as green beans and potato salad.
If you love BBQ sauces, this restaurant has 3 house-made sauces that you can choose from. These BBQ sauces include; HooDoo, Original, and Sweet Baby Jane sauce. Their meats are smoked for about 14 hours using a combination of cherry wood and sweet apple for deep flavor and vibrant color.
This joint has won various BBQ awards including the Food Network's 'best ribs in America' award. Check this restaurant out or make your order online to taste their delicious Memphis style BBQ!
Sugarfire Smokehouse
Address: 605 Washington Avenue, St. Louis, MO 63101
Website: sugarfiresmokehouse.com
Co-founded by Mike Johnson and Charlie Downs in 2012, Sugarfire Smokehouse has gathered fans in Saint Louis and BBQ awards. The joint has expanded and it's currently available in various locations across Missouri and other states like Kentucky, Indiana, Colorado, and Illinois.
Rather than focusing on the regional BBQ style, this restaurant adopts the best traditions from the best BBQ American cities. This results in a unique St. Louis BBQ style. Their menu serves smoked pulled meat, house-made sausage, ribs, brisket, salmon, portobellos, and turkey, crafted in signature salad and sandwiches.
Also, the joint offers 'Artisan BBQ', consisting of add-ons like jalapeno cheddar sausages, smoked Portabello sandwich and balsamic smoked onions. One of the restaurant's creations, the Cuban Reuben won the 'best sandwich award' at the World Food Championships. It was also ranked among the best BBQ joint in St. Louis, 2018. 
The restaurant opens at 11 am and closes when everything sold out, which happens a lot. For that, I suggest that you go to the restaurant early if you don't want to miss their delicious dishes.
The Shaved Duck
Address: 900 Virginia Avenue, St Louis, MO 63118
Website: theshavedduck.com
The Shaved Duck is located in the warm neighborhood of Tower Grove. It's one of the few BBQ restaurants in St. Louis, MO that prepares its barbecue with a twist, different from the tradition.
The joint offers its guests a mixture of modern dishes and classic BBQ flavors. Baby back ribs and pulled meat sandwiches are served with home-made salmon potato cakes and smoked jalapeno chili. Meats are smoked over a combination of hickory and cherry wood. This combination of styles and tastes creates a unique dining experience at the restaurant that attracts BBQ enthusiasts from all over. You can also access their full bar and a great selection of wine and craft beer.
Besides serving great food, this joint has an electric and warm atmosphere. Especially with the live music entertainment that is played here from Monday to Thursday evening as well as Saturday afternoons. The modest acoustics and size of the restaurant make each live concert feel intimate. This is one of the many things that attract and family to this location.
Their fantastic menu will satisfy BBQ lovers. However, it may not be the best option if you're looking for the old authentic St. Louis style BBQ. If you decide to check this restaurant out, I suggest you try out their moist, delicious, tender burnt ends!
Bogart's Smokehouse
Address: 1627 South 9th, St. Louis, MO 63104
Website: bogartssmokehouse.com
With highly experienced pitmasters and chefs, Bogart's Smokehouse is committed to serving the best BBQ they can offer. The kitchen staff's culinary experience combined with delightful servers creates a friendly and relaxing atmosphere that's ideal for the entire family.
Their meat-focused menu comprises of classic BBQ offering; pulled & slow-smoked beef brisket, and other dishes like smoked pastrami. Their sides vary and served on heaping offerings, including BBQ skins and deviled egg potato salad, to complement the BBQ perfectly. Moreover, the menu features many delicious home-made sauces that you can also enjoy.
Bogart's is a lunch-only BBQ joint and it opens from 11 am to 4 pm. You'll find a line stretching around this block waiting to be served its delicious BBQ and sweet, fruity sauces. But don't the line stop you from tasting some of the best barbecues in town!
Salt & Smoke
Address: 6525Delmar Boulevard, St. Louis, MO 63130
Website: saltandsmokestl.com
With 2 locations in St. Louis, Salt & Smoke BBQ joint has a menu serving house-made items that are prepared every day. This ensures that diners get fresh and authentic flavors. The 1st location on the Delmar Loop was opened in 2014 while the 2nd joint on Hampton Avenue was opened in 2017.
Although the menu is not large, it consists of classic BBQ dishes. These dishes are made with high-quality ingredients like St. Louis cut ribs, poultry, and prime brisket. You'll also find a collection of exciting home-made desserts and side dishes. Other available options include; brisket chili, herb fries and garlic. Not to forget the 5 unique house sauces such as tangy, spicy, classic and Alabama ranch.
Their brisket is slow-smoked for at least 14 hours using post oak wood. Thus resulting in delicious, tender, and juicy meat!
If you want a break from the local BBQ or St. Louis ribs, Salt and Smoke is the joint you should go to! And enjoy their Texas-style BBQ served alongside bourbon, craft beer, and artisan cocktails.
BBQ Saloon
Address: 4900 Laclede Avenue, St. Louis, MO 63108
Website: bbqwhiskeysaloon-stl.com
For the love of slow and low cooking, Phil Czarnec opened this BBQ restaurant in 2015. Phil's BBQ approach was to gather followers in the Central West End neighborhood and beyond. For this reason, the joint has a varied menu that delights any diner, regardless of their dietary preferences.
The restaurant's menu includes wedge salads, hot dogs as well as a weekend brunch. BBQ saloon isn't your typical BBQ joint! As it serves to a more flexible and modern demographic. However, you can still find traditional barbecue cuts like cold smoked salmon, and smoked chicken at this restaurant. Moreover, although this doesn't happen every day, their menu frequently serves unusual cuts of kangaroo, wild boar, shark, alligator, etc.
Enough with the food, now let's look at another interesting feature of BBQ Saloon: a full back bar! This back bar has more than 700 types of whiskey that you can choose from. And the dedicated staff at the bar will happily recommend the best whiskey for you, based on the dish you've ordered!
Beast Craft BBQ Co.
Address: 4156 Manchester Avenue, St Louis, MO 63110
Website: beastcraftbbqstl.com
When husband-and-wife David and Meggan Sandusky opened the first Beast Craft BBQ in 2014, they had one goal: serving the best BBQ in the area! And their hard work is paying off since they're getting validation from various publications.
The joint is also dedicated to serving exceptional BBQ dishes & sides that are 100% handmade from scratch every day. Thus ensuring authenticity and freshness to their brand. Not forgetting that their cuts of meat are sourced from the best suppliers. Also, if you want raw cuts for competition cooking or grilling/ smoking at home, you'll get it here.
The prime brisket and wagyu beef are then prepared alongside traditional cuts like poultry and ribs. Some of the joint's side dishes include bacon mac n' cheese, candied bacon, kielbasa, and more.
If you're a beer enthusiast, then you're in luck! Since BBQ Craft BBQ joint has more than 60 craft beers that you can choose from. And their trained staff and tasting notes are ready to suggest the ideal beverage depending on your order.
Dalie's Smokehouse
Address: 2951 Dougherty Ferry Road, St Louis, MO 63122
Website: daliessmokehouse.com
Dalie's Smokehouse is a casual BBQ joint that offers a variety of tasty, protein-laden meals. Opened in 2015, this joint has some of the best St Louis barbecue in the area. It's located in Valley Park and the joint was named after Skip Steele's grandfather.
The menu has options like salads, smoked turkey, BBQ sandwiches, ham, pastrami, and ribs among others. You can also choose from 6 different sauces including Papa Joe's Original, cranberry-cayenne and Carolina Sweet. If you want to recreate the restaurant's signature taste, buy these BBQ sauces and use them at home.
Dalie's slow-smokes their meat using cherry wood for 22 hours, resulting in tender cuts that will melt in your mouth. With 10 outdoor tables, you can come to this joint with your dog. And they'll even provide a doggie water bowl to your pet!
The joint is open from 11 am to 8 pm Tuesday through Saturday and from 11 am to 4 pm on Sunday. When you get to this point, I suggest that you check out their daily specials. This could range from chili-smoked salmon to burnt ends and brisket Philly. But, regardless of what you order, their dishes are always delicious and high quality!
Adam's Smokehouse
Address: 2819 Watson Road, St Louis, MO 63139
Website: adamssmokehouse.com
Owners Mike and Frank named this BBQ restaurant after one of their close friends. Mike and Frank were inspired to open this join by their love of BBQ foo and their desire to offer a fantastic dining service.
The most popular dishes at this joint include; ribs, and brisket. They always cook fresh food and their menu includes other BBQ staples like slow-smoked chicken and ribs.
While ribs are common in various BBQ restaurants, Adam's Smokehouse doesn't serve them how other joints do. They're smeared with apple butter, torched, and caramelized to hold in the delicious flavors. You can also try their beef brisket which is served with your favorite sauce (cane vinegar, Sweet Jane or Cranberry Cayenne). And sides such as potato salad, pasta salad, bean, chips, coleslaw and applesauce.
This restaurant is pet-friendly since it has 2 outdoor tables where you can enjoy your smoked meat alongside your pet.
However, Adam's Smokehouse is only open for lunch and they close their doors when they run out. So, make sure you get to the joint early enough or miss out!
Gobble Stop Smokehouse
Address: 1227 Castillon Arcade Plaza
Website: gobblestopsmokehouse.net
Unlike the other BBQ joints that I've looked at so far, Gobble Stop Smokehouse is a bit different. Since its menu only focuses on turkey and chicken! They smoke the chicken whole and sell it in halves. While breasts are smoked, marinated in sauce, and then piled with fried onion rings and melted provolone.
This family-owned restaurant was established in 2009 to bring great food and memorable experience to diners in St Louis. Their menu caters to every diner that walks into the restaurant.
Specialty sides like Fried Turkey Meatballs come alongside vegetarian choices such as Veggie Sampler. But that's not all there's at this restaurant! As you can sample their gourmet cookies selection.
Specializing in turkey and chicken cuts might appear a bit odd. But it has enabled this joint to excel. Moreover, you'll find unique items like turkey tips and turkey ribs here. Things you'll not find in other St Louis BBQ restaurants!
Smoki O's Bar-B-Que & Catering
Address: 1545 North Broadway, St. Louis, MO 63102
Website: smokiosbbq.com
The 1st Smoki O's restaurant was opened by Earline and Otis Walker in 1997 in the Soulard Market. This BBQ joint is popular for its rib tips and snouts. Years later, the joint gained a large following and outgrew the market stall. This is what prompted it to move to the current location in the St. Louis area, a few minutes' drive from downtown.
Rib tips and snouts (popularly known as snoots in the city) first became well-known in the country due to their affordability. And with the expertise of Earline and Otis, they're still one of the signature BBQ items in the city.
Today, Smoki O's serves Minnie's Potato salad, snoots, and rib tips. But if you're not a fan of snoots, try out their pulled meat sandwich. This sandwich is smoked for ten hours and then served with mild or hot sauce.
Next time you're in St. Louis, I suggest that you check this joint out and taste their snoot and rib tips. And you might just become a regular at this amazing BBQ joint!
Roper's Ribs
Address: 6929 West Florissant Avenue, St. Louis, MO 63136
Website: ropersribs.com

As you can tell from the name, Roper's ribs BBQ joint specializes in serving the ribs. And it has been serving them to hungry diners in St. Louis since 1976. So whether you're craving for the famous Saint Louis ribs, beef back ribs or baby back ribs, this is the place to go to!
But this doesn't mean that you won't find other meats at the joint. If you're not in the mood for ribs, order their pulled meat sandwich. This sandwich is made with dry-rubbed smoked shoulder meat. The meat is then smoked over hickory wood for 12-20 hours.
Another satisfying dish you can try at the joint is their snoots and ribs combo. The sweet and sticky ribs served at this pace has amassed a lot of praise from across the country.
The joint has about 12 seating spaces only, but you can order the snoots to go! Although Roper's ribs seem out of reach for most guests, don't be discouraged by its location. And if you truly a food tourist, you've to make sure you get to this joint!
Botleggin BBQ
Address: 1933 Washington Avenue, St Louis, MO 63103
Website: bootlegginbbq.com
Located in Downtown St Louis, Bootleggin' BBQ was first opened in 2005. This restaurant specializes in serving KC (Kansas City)-style BBQ, which is very rare around this area.
Their favorite dish is the pulled meat sandwich which is dry-rubbed with Booty Rub. It's then slow-smoked over hickory wood, topped with coleslaw and offered on a bun. Also, you can order their sliced brisket and burnt ends, which are also delicious!
Besides offering some juicy barbecue dishes, this local joint is a great place for spending your evening. And you'll find several grown-up games filling up the space. You will be able to meet and interacts with the locals and even share a drink with them.
With a happy crowd, this joint is a must-visit while you're in St. Louis, especially if you love some good company. And their smoked Kansas city-style BBQ is simply the best in the area!
Ms Piggies Smokehouse
Address: 10612 Page Avenue, St Louis, Mo 63132
Website: mspiggiessmokehouse.com
Ms. Piggies Smokehouse is located at a spacious storefront on Page Av. near Olivette. Since its establishment in 1999, the joint has been offering quality barbecue to its customers. Unlike some BBQ joints in St. Louis. Ms. Piggies has a more classic feel, with several tables, a separate dining space, and 2 flat-screen TVs displaying games throughout the day.
Some of the things you should taste at this joint include their rib tips, brisket, and pulled meat. But their menu serves other dishes like pulled beef, shredded chicken, steak and catfish strips. Not to forget their traditional side dishes which include; potato salad, baked beans and coleslaw. You can either choose to build a meal or a sandwich with your meats.
Currently, Ms. Piggies has 2 are locations, all of which offer St. Louis-style BBQ! Check these joints out and sit down with your barbecue as you watch a game on one of the 2 TVs. Also, if you need catering services, Ms. Piggies offers them!
The Stellar Hog
Address: 5623 Leona Street, St. Louis, MO 63116
Website: thestellarhog.com
Owned by Alex Cupp, the Stellar Hog is a full-fledged barbecue joint that started as a weekend project in 2016. In 2017, the joint was featured on Ian Froeb's list of the best new restaurants of 2017 in St. Louis. And the business was only 1 year old back then! Yeah, that's just how good this BBQ joint is!
Whether you want baby back ribs, beef brisket, or even pulled meat, you will get it here! Even better, everything is smoked in house! The pulled meat is smoked for up to 14 hours and then finished in house-made juices and vinegar.
This spot is currently located in a former dive bar in South City. Check it out and try their toasted ciabatta bun filled with smoked Gouda, caramelized onions and pulled meat!
Conclusion:
As you've seen, the best BBQ joints in ST. Louis served different offerings. For that, there is something for every diner to enjoy their favorite barbecue in this city! Some people only think of St. Louis ribs when it comes to barbecue in this area. But I suggest that you try out other unusual items offered at the restaurants' menus. You may be surprised to discover that they're more delicious than the main dish.
All in all, these are the best BBQ restaurants in St Louis at this moment! Feel free to try any of them out and, trust me, you'll love their barbecue!