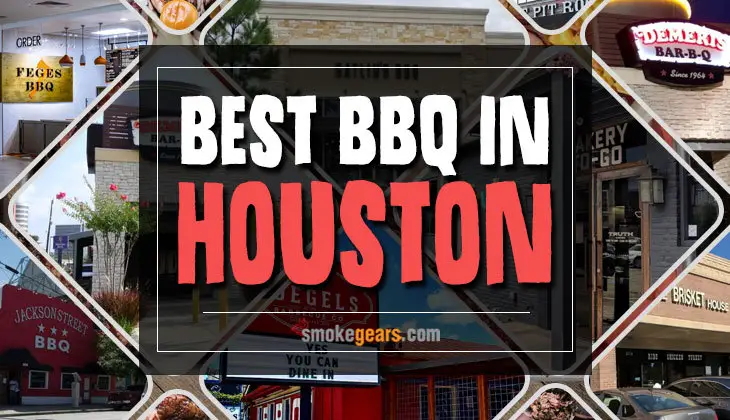 Best BBQ in Houston TX: Best Barbecue Joints for Takeout and Delivery
Barbecue is a very popular dish across various cities in Texas including Houston. In fact, Houston has some of the best barbecues in the country. Popular for their ribs, sausages, and briskets, pitmasters in Houston serve up large portions of meats smoked to perfection every day! 
Over the past few years, the smoked meat scene in Houston has been elevating, with more and more BBQ joints coming up. With so many joints in the city, which are the best BBQ restaurants in Houston? In this article, I will take you through some of the best joint in town. These joint serving nothing but the best BBQ, while you're in Houston! Let's dive in and check these joints one-by-one!
More...
15 Best BBQ Places in Houston TX
Truth BBQ
Address: 110 South Heights Boulevard, Houston, TX 77007
Website: truthbbq.com
Truth be told, pitmaster Leonard Botello put a lot of effort to establish this BBQ joint. Especially because he worked by himself most of the time on his 500-gallon smoker. Yet, he was able to gather a following in the 1st Truth BBQ's location in Brenham.
However, that smoker would not operate in Houston, where there are 5, 1000-gallon meat smokers which require constant tending. Botello has built a professional team that replicates his barbecuing standards. And the quality of the barbecue speaks for itself! Since it's deeply flavorful and precisely cooked just like any other Truth BBQ joint in other states. 
The menu includes pulled-to-order meat, brisket, home-made sausage, spicy pepper Jack sausage, and brisket boudin. While sides like mac n' cheese, tater tot casserole and corn pudding are also available.
Also, before you leave this joint, make sure you try the layer cook, prepared by Janel Botello, Leonardo Botello's mother! As it makes the joint seem vegetarian friendly!
The Pit Room
Address: 1201 Richmond Avenue, Houston, TX 77006
Website: thepitroombbq.com
Located in Montrose, this joint is owned by pitmaster Bramwell Tripp and Michael Sambrooks. And just like any good barbecue, meats at The Pit Room are smoked low and slow. They have 2 customized barrel-style smokers. With their menu serving oak-smoked brisket and prime short ribs, house-made sausages, and ribs. 
Although those are their favorites, you can also try out their killer tacos, which include tortillas filled with turkey, chicken, or brisket drippings. House-made vinegar-&jalapeno potato chips, as well as chicharrones with sauce, are ideal for your salty side. And the ice cream sandwich and home-made cookies are perfect for your sweet side.
This BBQ spot shares a patio and a building with The Patio, its sister business. The Patio is an open concept bar that gives the restaurant a fascinating weekend drinking vibe.
Sambrook and Trip have turned this joint into one of the best BBQ in Houston in 2019. For that, The Pit has even earned a spot among the top BBQ joints in Texas, published in the Texas Monthly.
Visit this joint and enjoy their Central Texas-style smoked meats including tasty ribs, sausage, brisket, and pulled meat. And leave some room for the savory sides too!
Feges BBQ
Address: 3, Greenway Plaza Suite C-210, Houston, TX 77046
Website: fegesbbq.com
Setting up a food joint in Greenway Plaza might seem like an absurd location for such a top BBQ joint. But owners Erin Smith and Patrick Feges were not bothered by that when they opened this joint in 2018. Feges BBQ is among the few local joints that offer Carolina-style whole hog every day! Together with other vegetable sides that make this joint an ideal choice for vegetarians!
The diverse location and menu result in things that cannot be seen at several other BBQ restaurants in town. You'll find many people lining up at this joint for ribs, brisket, smoked chicken, Moroccan-spiced carrots and Brussels sprouts.
Check out this counter-service joint at 3 Greenway Plaza in the underground food court and taste their meat offerings. Also, expect the 2nd location of Feges BBQ in Spring Branch come 2021! But for now, enjoy their delicious meat offerings at this Greenway Plaza joint!
Gatlin's BBQ
Address: 3510 Ella Boulevard Building C Ste A, Houston, TX 77018
Website: gatlinsbbq.com
With the Texas vibe, this family-first BBQ joint has been serving barbecue enthusiasts since 2010. And based on its frequent diners and constant, this joint doesn't seem like slowing down any time soon.
Gatlin's BBQ was first launched by Greg Gatlin, a former football player of Rice University, and his parents ten years ago. In 2015, the joint advanced from its initial 700 sq. ft. digs in Heights to the Oak Forest's 4200 sq. ft. location with a seating capacity of 150 diners. Dishes served at the joint include; 2 different ribs (baby back & St Louis) and smoky brisket. And 3 types of sausage (venison, spicy and traditional) and various Louisiana-influenced sides.
Just get into Gatlin's BBQ, taste their brisket and you'll understand why this joint is loved by so many people. You can also order from their diverse menu of creative specials, sandwiches, and chicken wings! And you don't even have to go down to the joint as you can place your order online!
Roegels Barbecue Company
Address: 2223 South Voss Road, Houston, TX 77057
Website: roegelsbarbecue.com
Managed by Misty and Rusty Roegel, this joint serves perfectly smoked fat-capped beef ribs and brisket a jet-black bark. Russell started his barbecuing career more than 2 decades ago in Longview, where he worked at the Bodacious BBQ. But it was not until 2003 when he started his entrepreneurial journey by opening the Baker's Ribs in the lone Houston area.
After running that franchise for more than 10 years, Russells decided to change gears and renamed the joint Roegels BBQ co. in 2014. Since then, this joint has become one of the most respected members of the BBQ elite in Houston. And it has even won awards for smoking some of the best BBQ in Houston, TX!
You will find brisket with stellar ribs, crunchy bark, and whole barbecue chicken. Together with addictive sides such as collard greens and marinated tomatoes. Then wrap up the tasty meal by ordering Misty's bourbon banana pudding!
Besides the delicious dishes, this joint has a true country aesthetic that covers the place. While the combo of the dimly-lit dining room and covered patio with picnic tables provides the best dining experience!
Even after changing its name, Russell Roegel's BBQ has been a local barbecue royalty in Houston for some time. And with innovative daily specials and ever-improving menu, it may remain among the top Houston BBQ restaurants for many years to come!
Pinkerton's Barbecue
Address: 1504 Airline Drive, Houston, TX 77009
Website: pinkertonsbarbecue.com
Just less than 5 miles from downtown is Pinkerton's BBQ, which is located in the Heights-area building. The joint is owned by pitmaster Grant Pinkerton, who lives in the same building. Before opening this place in 2016, Pinkerton was preparing meals at pop-ups events.
The restaurant serves meats complying with the halal strictures. Also, they accommodate vigilant Muslims by utilizing separate cutting boards and knives to avoid contacting the pork.
This joint showcases the fantastic works of Pinkerton. This ranges from perfectly rubbed beef short ribs and Central Texas brisket to pulled meat and glazed ribs made daily. While their sides include duck jambalaya and jalapeno-cheese rice. This sophisticated restaurant also features an expansive list of carefully selected wine and whiskey.
Everything at this joint is prepared, smoked, and blended the same way you would do it at home. From its killer beef, chicken to the home-made sides, dining at Pinkerton's BBQ is just like dining at home!
The Brisket House
Address: 5775 Woodway Drive, Houston, TX 77057
Website: thebriskethouse.com
The Brisket House is housed by a strip mall that looks simple from outside. Inside, the joint is similarly simple, with wooden chairs and tables, and a brick counter. Yet, you'll find many Houstonians going there to taste pitmaster Wayne Kammerl's BBQ mastery.
Wayne Kammerl produces some of the best and the most consistent BBQ in the city! The Brisket house has 3 locations across Greater Houston at the moment.
While the joint doesn't focus so much on frills, it's committed on BBQ flavors, including pulled brisket that is smoked for over 16 hours. And this is not even the only thing on their menu. Since it also features spicy jalapeno sausage, peppery rib, and beef short ribs. And various sides like mac n' cheese, mustard potato salad, and pinto beans.
If you're a first-timer at this joint, go with the Brisket house special. This includes your meats selection with a slab of cheddar onions, bread, and Kosher pickle served on a butcher paper!
Tejas Chocolate & Barbecue
Address: 200 North Elm Street, Tomball, TX 77375
Website: tejaschocolate.com
Situated in the oldest town, Tomball, this smoky chocolate and BBQ restaurant is way ahead of the competition. Tomball is a small city about 40-minutes' drive from downtown Houston.
As the name 'Tejas Chocolate Craftory, suggests, this joint started as a bean-to-bar chocolate enterprise that produced fantastic chocolate. It then made its way into the smoked meats business after realizing the BBQ scene in Tomball was lacking.
Now, it's considered to be one of the best BBQ places in Houston metropolitan area. The joint specializes in slow-smoking all-natural USDA certified Prime grade briskets, alongside ribs and belly. You'll also find chile Relleno sausages as well as daily specials like pastrami beef ribs, Tejas cheesesteak wraps, and barbacoa tacos.
The house mole BBQ is made using chocolate and valuable sides like carrot soufflé. Most people line up at this joint for its barbecue. But I recommend that you don't leave without taking some of their bean-bar chocolate truffles!
Jackson Street BBQ
Address: 209 Jackson Street, Houston, TX 77002
Website: jacksonstbbqhouston.com
Opened in 2015, Jackson St. BBQ is a joint venture between pitmaster Greg Gatlin and chef Bryan Caswell. Bryan and Greg joined forced to create a menu with various options. They aimed Astros enthusiasts heading to the Minute Maid Park, which is just a few steps from the restaurant. This spot is a great option if you're looking for a great Texas BBQ in downtown Houston.
The joint has established itself as a great option for great, yet simple Texas BBQ! While their menu is a bit small, it's well-executed with entrée options only including brisket, ribs, sausage, and 'yardbird'. You can order any kind of meat either by the pound or on a sandwich. To warp up your dish, add a side of fried mac and cheese, a slice of pecan pie, and dirty rice.
Also, you'll be glad to know that you don't have to worry about parking. Since there is a parking lot adjacent to this joint, which is free for about one and a half hours.
Most Texas cities are experiencing a rapid increase in great barbecue. But this is not the case in Downtown locations where most people are looking for quick and cheap options for weekday lunch. This has made Jackson St. BBQ to become one of the best BBQ options in the downtown Houston area.
Barbecue Inn
Address: 116 West Crosstimbers Road, Houston, TX 77018
Website: thebarbecueinn.com
Established in 1946 by Nell and Louis Skrehot, this BBQ joint has been a pillar of Houston's BBQ scene for over 70 years. When it was first opened, the menu only served beer and barbecue. This family-operated joint has gained a significant following over the years.
Today, the restaurant is owned by Wayne and his son, David Skrehot. Unlike the original menu, the joint has improved the quality of its barbecue over the years and developed new rub recipes. The 50-style diner has tile floors and leather chairs that contribute to the local color. Regardless of the joint being very popular in Houston, owners have not felt the need to glitz up this place. 
The joint serves traditional BBQ dishes in an old-fashioned setting. Their straightforward menu includes a collection of BBQ dinners, fried chicken, salads, sandwiches, and seafood plates.
Besides, you can order your preferred smoked meat by the pound to go. They also have a collection of traditional barbecue sides like baked beans, French fries, and baked potatoes among others. Then finish your favorite meal with a slice of cheesecake or pie.
Triple J's Smokehouse BBQ
Address: 6715 Homestead Road, Houston, TX 77028
Website: triplejsmokehouse.com
Triple J's is located in North-east Houston and it has been serving barbecue since its doors were first opened in 1994. The joint is so good and it even took part in the BBQ cooker at the Super Bowl in 2004.
This casual joint is popular for its smoked meats, ribs, and burgers. And it only smokes its meats using oak in the rotisseries and smokers. Its dining room is a bit small and it features bar seating and few tables. 
Their delicious smoked sausage includes smoked boudin and a peppery link that will keep you coming backing for more. Not to forget their tender ribs are perfectly cooked.
It's also worth noting that every dish served at this joint comes in massive serving and includes the smoked meats, homemade peach cobbler, and sides.
Ray's BBQ Shack
Address: 3929 Old Spanish Trail, Houston, TX 77021
Website: raysbbqshack.com
This popular restaurant is managed by pitmaster Rayford S. Busch. The restaurant serves barbecue that dates back to the 1980s when it operated from a food trailer. Rayford is well-known in the Houston BBQ scene for setting East Texas-style barbecue's standard in the city.
Since 2011, the restaurant has been operating from a causal storefront situated on the Old Spanish Trail. From that day, Ray's has been serving items like Chicago-style rib tips, slow-smoked brisket and Texas Lott Links to hungry Houstonians.
Ray's BBQ specializes in serving hickory-smoked dishes like chicken, sausage, ribs, and brisket. Moreover, they serve burgers, seafood specials, sandwiches, and desserts.
If you're with family members or friends, order one of the joint's family packs. Alternatively, you can make arrangements to get the full-service catering package, which comes with Ray's flavors.
Blake's BBQ and Burgers Blake
Address: 2916 Jeanetta St, Houston, TX 77063
Website: blakesbbqburgers.com
When Blake's BBQ & Burgers restaurant was being erected, Jeanetta Street was just a dirt road. Years later, the street has been paved, but the joint hasn't changed a bit and it still has that old-fashioned look. The simple embellished interior still looks the same way it did when the restaurant was first opened in the 1980s. But, the same cannot be said for its barbecue!
Over the years, pitmaster Don Blake has established himself in the Texas BBQ scene by offering simple, yet delicious BBQ. If you want to get a good taster of their menu, order the 3 meat dinner.
Besides serving BBQ, the joint also offers fantastic salads and burgers. Therefore, there is everything for every diner at this restaurant. And to wash down the burger or barbecue, wrap up your meal with their Arnold Palmers.
Demeris BBQ
Address: 1702 West Loop North, Houston, TX 77008
Website: demeris.com
Since its establishment in 1964, Demeris BBQ has been Houstonians' favorite BBQ spot. This casual concept BBQ joint serves traditional BBQ like sausage, turkey, ribs, and chicken. They also serve a sampler platter with mixed barbecue including sausage, brisket, and pulled meat with 2 sides of corn and coleslaw.
Besides the original location in Shepherd Drive, there is a new location in the Heights on the West Loop. The Shepherd location serves a few extras including fajitas, steaks, and shrimp. With the most popular item on the menu being a sliced beef sandwich.
Another great thing about this joint is that they offer a quick drive-thru service and dining room service. But the thing that has made this joint so popular among the locals is that they offer catering services. They frequently cater to local events like rehearsal dinners, weddings, and other special events.
If you want to take home dishes, order a gallon of any side, including the house-made BBQ sauce. Alternatively, you can order their Big Puma Tater, a baked potato loaded with turkey and BBQ sauce off their menu. This joint is open for dinner and lunch from Monday to Saturday, starting from 11 am to 8.30 pm.
Blood Bros BBQ
Address: 5425 Bellaire Boulevard, Bellaire, TX 77401
Website: bloodbrosbbq.com
This joint was started by 2 brothers Terry and Robin Wong and their best friend Quy Hoang. And it has developed to become one of the most loved joints in town!
The 'blood bros' opened the brick-&-mortar spot in 2018 in Bellaire. They were inspired by their Vietnamese and Chinese roots (as well as Houston) to establish the next-generation barbecue. Something that will change how everyone perceives smoked meats.
Seeing that they have won awards for their barbecue, I'd say they've succeeded! Not forgetting that they've received national recognition from the likes of Bon Appetit, Smithsonian, Texas Monthly, and the New York Times.
Their menu offers ingenious specials such as smoked turkey banh mi, thit nuong belly, brisket burnt ends, and glazed ribs. With everything being sold by the pound and cooked to perfection!
Items served at this joint are a bit different as compared to lots of other Texas BBQ. Thus, you will find hints of Vietnamese, Chinese, and some other diverse cultures in Houston.
When you get to the restaurant, you'll probably see a waiting line. This means it will take you about 30 minutes until it's your turn to be served. Considering that and the fact that everything is sold out by afternoon, I recommend you get to the joint early!
Conclusion:
Houston's barbecue scene has experienced rapid growth over the past few years. Something that can be seen in the booming popularity of BBQ trailers as well as pop-up restaurants. Houston has various BBQ options ranging from food trailers with picnic dining tables to more elegant establishments.
Whether you're looking for perfectly smoked brisket, pulled meat sandwich, or house-made sausage in Houston, you'll get them at the BBQ joints listed above!